Babeş, Aurel A. (1886–1961)
Living reference work entry
Latest version View entry history
DOI:
https://doi.org/
10.1007/978-3-319-28845-1_4075-2
Keywords
Cervical Cancer 
Uterine Cervical Cancer 
Cervical Smear 
Romanian Academy 
Paternal Uncle 
These keywords were added by machine and not by the authors. This process is experimental and the keywords may be updated as the learning algorithm improves.
Date, City, and Country of Birth
Date, City, and Country of Death
Early Life and Professional Work
Aurel Babeş was born in Bucharest, Romania (not Hungary!), in 1886. There is conflicting information about the exact day and month of his birth and even of his death. He was the child of a well-educated, upper-mid class family. Aurel's paternal grandfather served as a supreme court judge. His father was Aurel V. Babeş, professor of chemistry at the Faculty of Veterinary Science in the University of Bucharest (Tasca et al. 2002). Both the father and the son have the same name, but "our" Aurel Babeş took the first letter of his father's first name as his middle name. His real name is "Aurel A. Babeş." A paternal uncle was Victor Babeş (1854–1926) who first defined the disease babesiosis (www.enciclopediaromaniei.ro/wiki/VictorBabeş). Aurel A. Babes was a contemporary of the Greek physician George Papanicolaou (1883–1962).
Aurel A. Babeş completed his high school education at the Gheorghe Lazăr National College, the most prestigious school of that time, and graduated from the Faculty of Medicine of the "Carol Davila" School of Medicine and Pharmacy, also in Bucharest, in 1911; he completed his PhD degree with great honor with his thesis on the "Cerebrospinal fluid: Clinical and experimental study" in 1915 (Tasca et al. 2002; Naylor et al. 2002; Petrea 1962). His graduation thesis was awarded with the "Hillel Award" of the Faculty of Medicine and the "Lazar Award" of the Romanian Academy of Sciences.
Between 1919 and 1922, Babeş received his specialization training at the Institute of Pathology of the Faculty of Medicine from which he graduated. His study entitled "The diagnosis of epidemic typhus by means of Weil-Felix reaction with proteus X19" was rewarded by the Romanian Academy of Sciences in 1919. He worked on a voluntary base during summer holidays, among others, in the laboratories of Otto Lubarsch (1860–1933) and Robert Meyer (1864–1947) in Berlin, Germany, which were regarded as the famous centers of that time. In 1921 he was appointed as an "assistant lecturer" at the gynecology clinic of the Coltea Hospital, the oldest hospital in Bucharest. The director of the clinic was Dr. Constantin Daniel, one of the famous gynecologists of that period (1876–1973). Daniel and Babeş conducted the first studies that demonstrated that cervical cancer could be diagnosed via smears; the Coltea Hospital is therefore defined as the "birthplace of cervical smear" (Tasca et al. 2002; Naylor et al. 2002).
Aurel Babeş was subsequently appointed as lecturer at the Institute of Pathology of the Faculty of Medicine in Bucharest. He received the title of "Dozent" with his thesis on the "Study of the fine morphology of Negri corpuscles". In 1929 he joined the staff of "assistant professors"; he retired from this position before his official retirement age in 1941. Until 1948 he worked at the "Center for Diagnosis and Care of Cancer" and subsequently as a pathologist and researcher at the Institute of Endocrinology. He continued to serve in this position for 9 years until his death in 1961 (Petrea 1962).
Babeş married the gynecologist Lucia Serbanescu in 1930. They did not have children of their own, but they adopted a girl who later became a famous opera singer and settled in the city of Galati in Romania (Tasca et al. 2002). Babeş and his family lived in an own villa in one of the prestigious districts of Bucharest, until the death of Babeş. However, when the country adopted the communist regime, they were obliged to live in one room of the villa, and the other rooms were used by communist officials. The villa is currently used by its new owners at the address Ankara Street 2, in the diplomatic district of Bucharest (Naylor et al. 2002).
Aurel Babes died in Bucharest in 1961. The joint tomb of Babeş and his wife is located at the Serban Vodă Cemetery close to the city center. Dr. Ion Petrea, a co-worker of Babeş, remembered him with the following words: "a tireless physician, research worker and professor, a warm and honorable man who pursued all of his professional activities to his last day with passion, probity and devotion" (Naylor et al. 2002).
Main Achievements to Medicine/Pathology
Scholarly Achievements
Babeş was a versatile and productive scientist interested in different aspects of pathology. He has approximately 300 publications including ones on pellagra, typhus, tuberculosis, syphilis, cancer pathology/pathogenesis, gynecopathology, endocrine pathology, and the association between thymus and cancer. He was a real diagnostician, who placed importance to pre-graduation pathology training and elaborated on raising pathology assistants after graduation (Petrea 1962). He published in 1922 the three-volume "Treatise of Pathological Anatomy," cowritten with his uncle Victor Babeş, and reprinted in 1924 and 1926. In addition he published the book General Pathological Anatomy in 1929 (Babeş 1929). During the last 9 years of his life, Babeş conducted research on the possible relationship between endocrine organs, especially the thymus, and carcinogenesis (Parhon et al. 1955a, b, c, 1957a, b, c; Babes et al. 1956).
Babeş is regarded as a pioneer in experimental cancer studies in Romania. It is said that he carried out experimental studies claiming that tar could lead to cancer and published these between 1927 and 1930. The fascination of Babeş with cancer was not only limited to academic activities. He established the Romanian Society of Cancer Research in Bucharest in 1929 and the Romanian Association Against Cancer in 1933. For this work he was selected as a board member of the International Union Against Cancer (today, the Union for International Cancer Control) and as a member of the Royal Society for Cancer in London in 1934.
His studies were deemed worthy of many scientific awards. In addition to the already mentioned awards, he also won in 1922 an award of the Romanian Academy of Sciences for his research on "The diagnosis of typhus exanthematicus," and a year later his study "The pathogenesis of pellagra" was honored with the "Serfrotti" award of the Faculty of Medicine at the University of Bucharest. For his studies on pellagra (Babeş and Babeş 1924), he also received the "Motyon" award of the Academy of Medicine in Paris in 1923.
Contributions to Cervical Cytology
During his period at the Department of Gynecology of the Coltea Hospital, Aurel A. Babeş claimed that cervical cancer might be diagnosed by a cervical smear. The study, comprising ten cases, was presented at the meeting of the Romanian Society of Gynecology in Bucharest on January 23, 1927, and the abstract was published in the proceedings (Dabiel and Babeş 1927). An article by Naylor et al. (Naylor et al. 2002) includes the English translation of the second paragraph of the abstract by Babeş: "For the purpose an attempt has been made to establish a diagnosis in 10 cases, some with and some without cancer, by means of smears from the lesions. This new procedure, from the results that have been obtained up to present, truly promises to become a procedure of practical usefulness." The method used is described as follows: "a swap was taken from the lesion on the cervical canal with a platinum loop and spread on the slides. Air-dried slides were stained with Giemsa. The morphological characteristics of the cells were evaluated. It was demonstrated that cancer could be diagnosed"(Spriggs 1977). This happened a year before George Papanicolaou's (1883–1962) first publication on this subject. Daniel and Babeş presented this study again at a meeting of the Romanian Society of Gynecology on April 5, 1927, and the abstract was also published in the proceedings (Daniel 1927). It was subsequently internationally published as an article in La Presse Médicale in April 1928 (Babeş 1928). In the latter publication covering 20 cases, Babeş included findings and illustrations clearly defining in detail the microscopic characteristics of tumor cells in smear samples. This article is considered in the medical history records as the first publication demonstrating that cervical cancer could be diagnosed by means of cervical smears. An English translation was nearly 40 years later published by Douglas along with the original illustrations (Douglas 1967). A well-known chief cytotechnologist serving at New York Memorial Hospital emphasized in the preface of the publication that "chronologically, this was the first publication on this topic" and stated that "In respect of the memory of the author, he (Douglas) translated this important article in English into the world literature."
In a study on superficial carcinoma of the cervix (now "in situ carcinoma"), in 1931, Babeş once more referred to his publication in 1928 (Babeş 1931). Following his death in 1961, his wife Lucia mentioned in two articles, published in Romanian and French, that her husband was the first person to define the relationship between cervical smear and carcinoma (Tasca et al. 2002; Babeş 1963). However, the few publications were in Romanian and French only and not easily accessible for the international readership. Also some articles in Europe, South America, and the USA referred to his work before and after 1961 (Naylor 2000).
Although these techniques of Babeş and Papanicolaou differ in technical design and concept, Babeş is generally considered as the first person who defined that uterine cervical cancer could be diagnosed by means of a cervical smear. There are, however, also some publications that object this view (Diamantis et al. 2010a, b). These discussions did modify the contribution and value of Papanicolaou who dedicated his professional life to cytology. Babeş indicated that he was informed about Papanicolaou's work, yet he was not bothered by the fame gained by Papanicolaou. He did not display an extra effort in order to prove himself. He remained silent in a dignified manner (Tasca et al. 2002; Naylor et al. 2002; Naylor 2000).
In respect of his memory, cervical smear is known as "Babeş-Papanicolaou test" in Romania.
The Babeş-Papanicolaou Controversy
The question whether Papanicolaou was aware of Babeş has been a topic of debate in cytopathological literature. Prof. Bernard Naylor, who knew Babeş and worked with Papanicolaou and was closely interested in the history of cytopathology, believed that Papanicolaou did not know Babeş and summarized his memory regarding this topic as follows
:
I found an article of Babeş in a French medical journal dated 1928 in the Library of the University of Miami, on February 16, 1962. Dr. Papanicolaou had just started to work in Miami. I told him I had found this article. It was Friday and I told him I would bring the article on Monday. He did not say anything. He had work to do. I did not get the impression in my short visit that he was informed about Babeş. When I was getting ready to bring the article on Monday I received the news that he died of a heart attack on the same day (February 19, 1962). (Naylor 2000)
The American cytopathologist Koprowska wrote in an article of 1985 that Papanicolaou was nominated for a Nobel Price five times. He stated that although the Nobel Prize records were confidential and that they would never be able to unveil the truth, D.E. Carmichael, who wrote the biography of Papanicolaou, mentioned that the debate concerning Babeş and Papanicolaou could be one of the reasons that Papanicolaou never got the Nobel Prize (Koprowska
1985
) (Figs.
1
and
2
).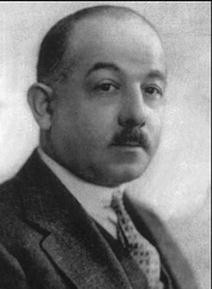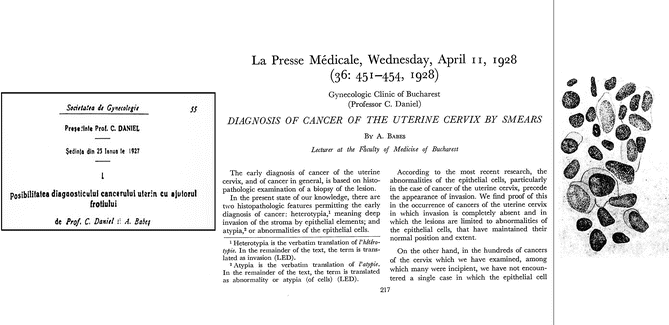 References and Further Reading
Copyright information
© Springer International Publishing AG 2017