Embryology of the Parathyroid Glands
Abstract
The parathyroid glands develop from the pharyngeal pouches, transient endodermal outpocketings that also form the thymus and ultimobranchial bodies in vertebrates. The parathyroids vary in number and final location in different vertebrates, including in humans and mice. Despite its importance in calcium physiology, the molecular regulators and cellular events underlying parathyroid organogenesis have only recently begun to be elucidated, in part due to their small size, nondescript shape, and variable locations. Recent work has identified some of the key molecular regulators of parathyroid organogenesis, including the transcription factors GCM2, GATA3, and TBX1, and the sonic hedgehog (SHH) signaling pathway, and the morphogenetic events leading to their development have begun to be defined. The parathyroids develop from a shared initial organ primordium with the thymus glands, leading to interesting connections between these two organs with diverse functions. Finally, a recent study has shown that parathyroid cell fate may be unstable during late fetal development. Further understanding of the mechanisms controlling parathyroid specification and embryonic development could contribute to better understanding of parathyroid biology and improved treatment for hyoparathyroidism in humans.
Keywords
Organogenesis 
Morphogenesis 
Pharyngeal endoderm 
Gcm2 
Sonic hedgehog 
Notes
Acknowledgments
The author thanks Jena Chojnowski and Zhijie Liu for generating the images in Fig.
2.1
. The author also thanks John O'Neil for providing helpful comments on the manuscript.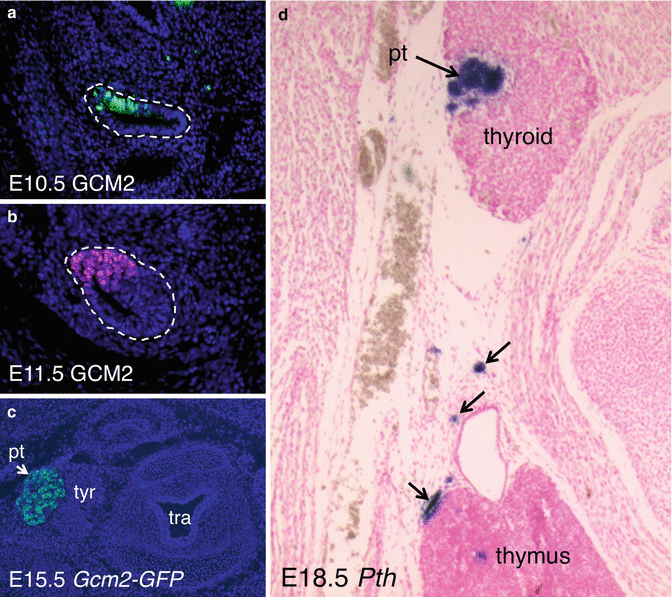 Copyright information
© Springer-Verlag Italia 2015