Sex Steroids and Stem Cell Function
Open Access
Review Article
Abstract
Gender dimorphisms exist in the pathogenesis of a variety of cardiovascular, cardiopulmonary, neurodegenerative, and endocrine disorders. Estrogens exert immense influence on myocardial remodeling following ischemic insult, partially through paracrine growth hormone production by bone marrow mesenchymal stem cells (MSCs) and endothelial progenitor cells. Estrogens also facilitate the mobilization of endothelial progenitor cells to the ischemic myocardium and enhance neovascularization at the ischemic border zone. Moreover, estrogens limit pathological myocardial remodeling through the inhibitory effects on the proliferation of the cardiac fibroblasts. Androgens also may stimulate endothelial progenitor cell migration from the bone marrow, yet the larger role of androgens in disease pathogenesis is not well characterized. The beneficial effects of sex steroids include alteration of lipid metabolism in preadipocytes, modulation of bone metabolism and skeletal maturation, and prevention of osteoporosis through their effects on osteogenic precursors. In an example of sex steroid-specific effects, neural stem cells exhibit enhanced proliferation in response to estrogens, whereas androgens mediate inhibitory effects on their proliferation. Although stem cells can offer significant therapeutic benefits in various cardiovascular, neurodegenerative, endocrine disorders, and disorders of bone metabolism, a greater understanding of sex hormones on diverse stem cell populations is required to improve their ultimate clinical efficacy. In this review, we focus on the effects of estrogen and testosterone on various stem and progenitor cell types, and their relevant intracellular mechanisms.
Introduction
Gender differences, represented in large measure by the differential effects of sex-specific hormones, exist in a variety of cardiovascular,(1, 2, 3, 4) cardiopulmonary, (5,6) neurodegenerative, (7, 8, 9) endocrine (10) and metabolic bone diseases such as osteoporosis (11, 12, 13). Indeed, the role of sex steroids in cardiovascular disease has been studied extensively (14, 15, 16, 17, 18, 19, 20, 21, 22, 23, 24, 25, 26, 27). Clinically, female patients show relative cardiac protection from acute infarctions and better outcome following myocardial infarction compared with males (21). Such gender dimorphisms may be due to the beneficial effects of estrogens or to the absence of the deleterious effects of androgens (28,29). Differences in estrogen receptor (ER) signaling also may play a significant role in outcome following cardiovascular diseases (21,30, 31, 32). In addition, gender differences in proinflam-matory signaling and immune responses have been described (33,34). Elegant work by Chaudry (4) and other investigators demonstrate that alteration of immune function by sex steroids can lead to therapeutic interventions and improved outcomes. A better understanding of sex hormone regulation from a cell biology perspective will be critical therefore in improving patient outcomes.
Stem cell transplantation has revolutionized the treatment of hematological disorders such as myelodysplastic syndrome and acute myeloid leukemia (35,36). In recent years, stem cell therapy has been used to improve postmyocardial infarction, ventricular repair, and remodeling mechanisms (37). In this context, stem cell therapy may be associated with better functional recovery of the infarcted ventricles in treated patients (38, 39, 40).
Recent studies reported the presence of estrogen and testosterone receptors on stem cells (
41
,
42
,
43
), suggesting that estrogen and testosterone may modify the function of those cells (
18
,
19
,
44
,
45
) (Figures
1
and
2
). 17β-estradiol enhances the proliferation and migration of endothelial progenitor cells (EPCs) to the injured vessels, or ischemic myocardial tissues, which, through the process of homing, help in repair and regeneration to compensate for the lost tissue. It also has been postulated that vascular endothelial growth factor (VEGF) might be responsible for EPC migration in response to 17β-estradiol (
44
). On the contrary, the role of androgens on stem cells is controversial, but most studies suggest that androgens have inhibitory effects on stem cell functions, and anti-androgens could negate these effects (
41
). Thus, modification of the function of stem cells through estrogenic or anti-androgenic stimulus may help formulate "super stem cells" with better therapeutic efficacy. To achieve this goal, the role of sex hormones on stem cell function must be elucidated. It is the purpose of this review to summarize the current knowledge of the effects of estrogens and androgens on various stem cell populations.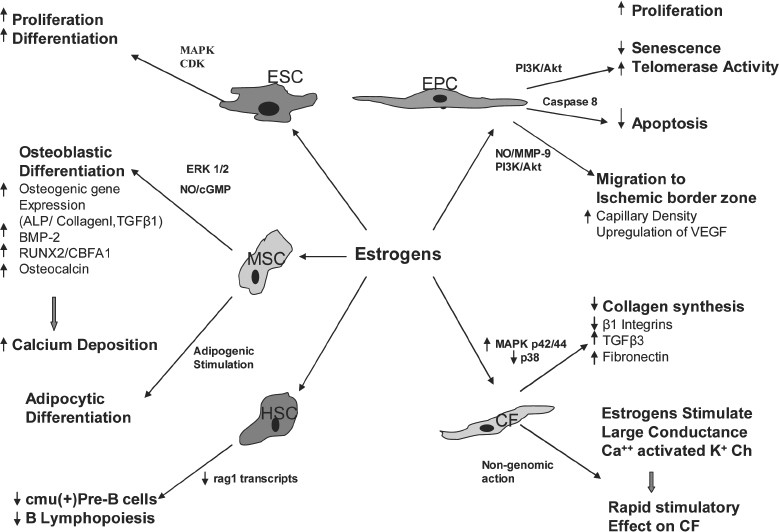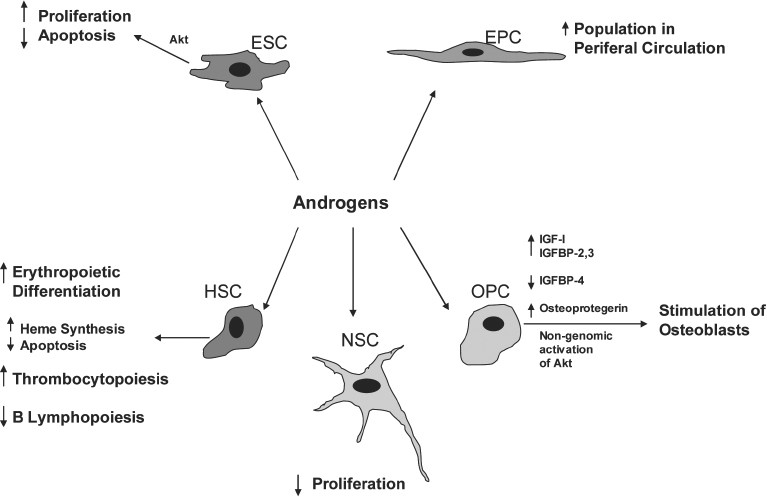 Conclusion
Sexual dimorphism clearly influences the function of various stem cell types throughout the body. A better understanding of the effects of estrogen and testosterone on these cells will allow investigators and clinicians to modulate the functions of these cells directly, with the ultimate goal of generating more potent stem cell applications for the treatment of human disease.
Notes
Acknowledgments
This work was supported in part by NIH R01GM070628, NIH R01HL085595, NIH K99/R00 HL0876077, NIH F32HL085982, AHA Grant-in-aid, and AHA Post-doctoral Fellowship 0725663Z.
Copyright information
© Feinstein Institute for Medical Research 2008