Corporate practices and health: a framework and mechanisms
Part of the following topical collections:
Abstract
Background
The Global Burden of Disease estimates that approximately a third of deaths worldwide are attributable to behavioural risk factors that, at their core, have the consumption of unhealthful products and exposures produced by profit driven commercial entities. We use Steven Lukes' three-dimensional view of power to guide the study of the practices deployed by commercial interests to foster the consumption of these commodities. Additionally, we propose a framework to systematically study corporations and other commercial interests as a distal, structural, societal factor that causes disease and injury. Our framework offers a systematic approach to mapping corporate activity, allowing us to anticipate and prevent actions that may have a deleterious effect on population health.
Conclusion
Our framework may be used by, and can have utility for, public health practitioners, researchers, students, activists and other members of civil society, policy makers and public servants in charge of policy implementation. It can also be useful to corporations who are interested in identifying key actions they can take towards improving population health.
Keywords
Non-communicable diseases 
Transnational Corporations 
Macrosocial Determinants of Health 
Corporate Influence 
Corporate Tactics 
Background
"We learn that your country is a 60 or 7000 lee away from China and yet foreign vessels come here to make great profit out of the wealth of our country. But by what right, in return, do they sell us this poisonous drug that does so much harm to the Chinese people? They may not necessarily intend to hurt us, but by putting profit above all things they are disregarding the harm they do to others".
Commissioner Kin to Queen Victoria soon before the start of the first Opium War [1820–1840].1.
The Global Burden of Disease estimates that approximately a third of deaths worldwide are attributable to behavioural risk factors, including alcohol, drug and tobacco use, and poor dietary profile. Underlying these risk factors is a common aetiology: overconsumption of unhealthful products and exposures all of which are, essentially, produced by commercial entities. It therefore seems apposite to consider the role these commercial entities play in shaping their products, driving consumption, and in turn, influencing population health.
Naturally, not all corporate products are unhealthful. Lifesaving medical technologies and medicines are produced and distributed by corporations, as are some high nutrient-low calories content foods. Furthermore, in recent years, demand for more corporate responsibility has increased and numerous companies have stated their commitment to a "Triple Bottom Line" approach of People, Planet and Profit. The operative question therefore is: how can we better understand corporate practices to the end of promoting salutary practices and minimize negative consequences of corporate influences on health.
Research in this area has documented corporate practices of influence in particular industries such as tobacco [1, 2, 3, 4, 5, 6], alcohol [7, 8, 9, 10, 11, 12], food and drink [13, 14, 15, 16, 17], chemicals [18, 19, 20, 21], automobile, weapons, extractive industries and pharmaceuticals [22, 23, 24, 25, 26]. Another field of inquiry has shown commonalities across corporate behaviour in different industries [27, 28, 29, 30, 31].
What is missing from this analysis is an overarching theoretical framework to systematically study commercial interests as distal, structural, societal factors that cause disease and injury. This framework will help guide the study of these practices in the wider social, political and economic context [27].
A comprehensive framework is needed to ensure that no aspect of corporate action is left unexamined by academics and practitioners alike. For example, in their otherwise thorough framework for conducting corporate health impact assessment Baum and colleagues do not mention how corporations may interfere with the research process and redefine what constitutes scientific evidence for policy making. Neither do they include a measure of how corporations engage in changing the social discourse around the role of the state or the social value of regulation [32, 33].
We put forward such a contribution using the work of Steven Lukes as a starting point. Lukes proposes a three-dimensional view of power that builds on the one and two-dimensional views of his predecessors. The study of these dimensions can be guided by a focus on four features of power. The One-Dimensional view focuses on Power over decision making and control over the political agenda [not necessarily through decisions]. The Two-Dimensional View focuses on Power to define what constitutes an issue and a potential issue. The Three Dimensional View expands its focus to encompass the Power to avert observable conflict [overt or covert] and Power to keep conflict between the interests of the powerful and those over whom power is exerted latent [
34
]. [See Fig. 
1
].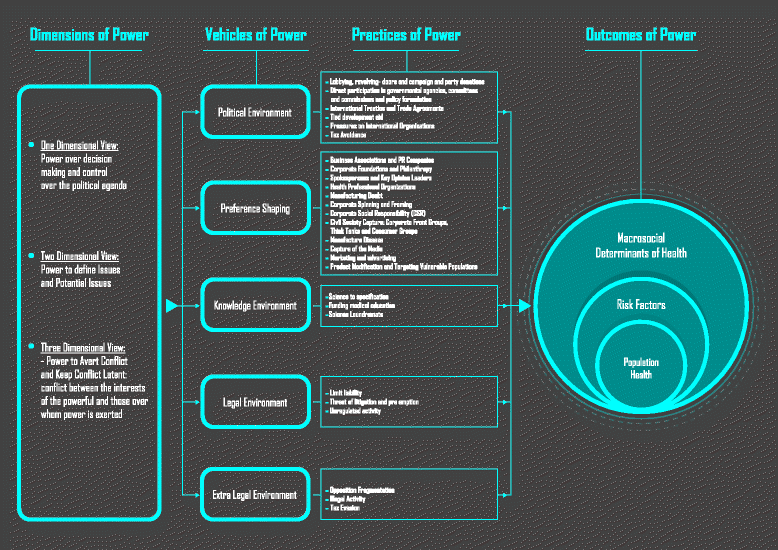 The power lens structures our thinking and inquiry around the practices through which commercial power is exerted and ultimately, how population health is influenced. To this end, we suggest five vehicles through which each of the Dimensions of power express themselves, as well as the specific practices that enable that expression. The One Dimensional View of Power focuses on decision-making, and how influencing decision-making exerts control over the political agenda. The Two Dimensional View refers to the ability to keep issues out of the political and social spheres by shaping public perceptions, cognitions, and preferences in such a way that no other options are deemed possible or desirable. The Three Dimensional View extends its focus beyond that of the One and Two Dimensional Views to encompass the aversion of conflict over issues that may harm the interests of those in power. The aversion of conflict results in latent conflict between the interests of the powerful and those of society at large, often to the detriment of the latter.
Power, in its three Dimensions, may be exerted through five vehicles that we named as follows: the Political Environment, Preference Shaping, the Knowledge Environment, the Legal Environment and the Extra Legal Environment. These vehicles will find their expression through technical means of implementation which we call Practices of Power. Practices of Power are the tools that corporations use to operationalize their agenda. They include, for example, lobbying activities and campaign donations as well as illegal activities. The distal outcome of the exertion of power is an unbalance in the macrosocial determinants of health, which in turn, have an effect in the incidence of risk factor for disease. The proximal outcome is a deterioration of population health.
In the rest of this paper we discuss what constitutes each of the vehicles of power and how they find their expression through examples of the use of different enablers.
Conclusion
Corporate activities have immediate and observable effects on perceptions and behaviour patterns that can lead to increased consumption of unhealthful corporate products and subsequently to changes to individual and population health. We caution that this should not be interpreted as suggesting that corporate activities are necessarily harmful to health, nor that there is anything untoward about most corporate action, which with few exceptions, operates well within legal and culturally acceptable bounds. Our intention in critically and systematically studying the mechanisms of corporate action is to highlight how corporations may influence population health to the end of mitigating corporate action on poor health.
Our framework offers a systematic way of mapping corporate action as a way of guiding research and practice. It is meant to be used by public health practitioners, researchers, students, activists and other members of civil society, policy makers and public servants in charge of policy implementation. It can also be useful to corporate managers who wish to establish or improve triple bottom line principles.
Notes
Acknowledgements
The authors do not wish to acknowledge anyone.
Funding
Joana Lima [JL] is funded by a Doctoral Scholarship from the Portuguese Foundation for Science and Technology and a Fulbright Scholarship. Sandro Galea [SG] is the Dean of the Boston University School of Public Health. The funding bodies had no role in the design, analysis, interpretation of data nor in writing the manuscript.
Availability of data and materials
N/A
Authors' contributions
JL chose the theoretical framing and conducted the literature review JL and SG conceptualized the paper and developed the framework. Both authors read and approved the final manuscript.
Ethics approval and consent to participate
N/A
Consent for publication
N/A
Competing interests
Both authors declare that they have no competing interests.
Publisher's Note
Springer Nature remains neutral with regard to jurisdictional claims in published maps and institutional affiliations.
Copyright information
© The Author(s). 2018
Open AccessThis article is distributed under the terms of the Creative Commons Attribution 4.0 International License (http://creativecommons.org/licenses/by/4.0/), which permits unrestricted use, distribution, and reproduction in any medium, provided you give appropriate credit to the original author(s) and the source, provide a link to the Creative Commons license, and indicate if changes were made. The Creative Commons Public Domain Dedication waiver (http://creativecommons.org/publicdomain/zero/1.0/) applies to the data made available in this article, unless otherwise stated.