Clinical evaluation of thrombotic microangiopathy: identification of patients with suspected atypical hemolytic uremic syndrome
Abstract
Atypical hemolytic uremic syndrome (aHUS) is a rare genetic disorder caused by defective complement regulation resulting in thrombotic microangiopathy (TMA). Patients can present as children or adults. The syndrome consists of hemolytic anemia with schistocytosis, thrombocytopenia, significant renal damage, and/or other organ system dysfunction(s). Patients with aHUS may succumb to the complications of the disease with the very first manifestation; surviving patients often suffer from progressive organ dysfunction with significant morbidity and mortality despite plasma infusion or plasma exchange. Eculizumab, a humanized monoclonal antibody to C5, was approved for treatment of aHUS in 2011. This is an expensive but highly effective therapy changing the lives and improving the outcome of patients with aHUS. Making timely and accurate diagnosis of aHUS can be life-saving if eculizumab treatment is begun promptly. Finding a genetic mutation in a complement regulatory protein is diagnostic with the appropriate clinical syndrome, but at least 30 % of patients do not have defined or reported mutations. Thus the diagnosis rests on the clinical acumen of the physician. However, the clinical manifestations of aHUS are shared by other etiologies of thrombotic microangiopathy. While laboratory finding of undetectable ADAMTS13 activity defines TTP, distinguishing aHUS from the other causes of TMA remains an art. In addition, aHUS can be unmasked by conditions with enhanced complement activation, such as systemic lupus erythematosus, pregnancy, malignant hypertension, and hematopoietic stem cell transplantation. Thus if TMA occurs in the setting of enhanced complement activation, one must consider aHUS as an underlying etiology, especially if treatment of the condition does not resolve the TMA.
Keywords
Thrombotic microangiopathy 
Atypical hemolytic uremic syndrome 
Thrombotic thrombocytopenic purpura 
Complement dysregulation 
Abbreviations
ADAMTS13

A dysintegrin and metalloproteinase with thrombospondin type 1 motif, member 13

AFLP

Acute fatty liver of pregnancy

aHUS

Atypical hemolytic uremic syndrome

APS

Antiphospholipid syndrome

CFH

Complement factor H

CFI

Complement factor I

DAT

Direct antiglobulin test

DIC

Disseminated intravascular coagulation

GvHD

Graft versus host disease

HELLP

Hemolysis elevated liver enzymes and low platelets

HSCT

Hematopoietic stem cell transplantation

HTN

Hypertension

LDH

Lactate dehydrogenase

MAHA

Microangiopathic hemolytic anemia

MCP

Membrane cofactor protein

SLE

Systemic lupus erythematosus

TM

Thrombomodulin

TMA

Thrombotic microangiopathy

TTP

Thrombotic thrombocytopenic purpura
Background
The clinical syndrome of organ dysfunction, microangiopathy hemolytic anemia and thrombocytopenia, most often caused by various forms of thrombotic microangiopathy, is a diagnostic enigma for the clinicians at the frontlines evaluating the critically ill. Historically, with poor understanding of pathophysiologic mechanisms, and plasma exchange being the only accepted therapy, recognition of the clinical syndrome was all that was needed to manage such patients. The precise understanding of the diagnostic entities within this syndrome in the last two decades, and availability of a specific therapeutic option, are forcing clinicians to retool their knowledge base in order to better serve their patients. This article reviews the distinction between atypical hemolytic uremic syndrome and other causes of thrombotic microangiopathy, especially thrombotic thrombocytopenic purpura, and proposes a diagnostic/management algorithm.
Conclusion
Atypical or complement-mediated HUS is a TMA caused by mutations affecting the regulation of alternative complement pathway. Clinical presentation with MAHA, thrombocytopenia, and significant organ dysfunction can mimic other TMA-causing entities. Absent ADAMTS13 activity rules in TTP, while diarrheal illness with Shiga-toxin producing bacteria points toward infectious HUS. When TMA occurs in the setting of conditions with enhanced complement activity such as pregnancy, rheumatic disorders, malignant hypertension, and HSCT, persistence or worsening TMA despite treatment of the associated conditions should raise the clinical suspicion for aHUS (Fig. 
2
). If aHUS is reasonably suspected, early intervention with anti-complement therapy should be considered especially when extra-renal complications are present; such patients are at increased risk of sudden death due to brain ischemia or cardiac complications.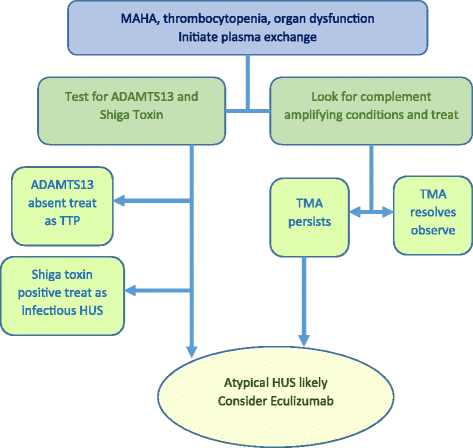 Notes
Acknowledgements
None.
Availability of data and materials
Not applicable.
Author's contributions
Yu-Min Shen fully contributed to the manuscript.
Competing interests
Yu-Min Shen serves on the speakers' bureau and advisory boards of Alexion Pharmaceuticals Inc.
Consent for publication
Not applicable.
Ethics approval and consent to participate
Not applicable; manuscript is a review.
Copyright information
© The Author(s). 2016
Open AccessThis article is distributed under the terms of the Creative Commons Attribution 4.0 International License (http://creativecommons.org/licenses/by/4.0/), which permits unrestricted use, distribution, and reproduction in any medium, provided you give appropriate credit to the original author(s) and the source, provide a link to the Creative Commons license, and indicate if changes were made. The Creative Commons Public Domain Dedication waiver (http://creativecommons.org/publicdomain/zero/1.0/) applies to the data made available in this article, unless otherwise stated.