Durability of Olyset campaign nets distributed between 2009 and 2011 in eight districts of Tanzania
Abstract
Background
Long-lasting insecticidal nets (LLINs) are the first line choice for malaria vector control in sub-Saharan Africa, with most countries adopting universal coverage campaigns. However, there is only limited information on LLIN durability under user conditions. Therefore, this study aimed to assess the durability of Olyset® LLINs distributed during campaigns between 2009 and 2011 in Tanzania.
Methods
A retrospective field survey was conducted in eight districts in Tanzania mainland to assess the durability of Olyset campaign nets. Household questionnaires were used to assess attrition, i.e. net loss. All nets remaining in households were collected. A sub-sample of 198 Olyset campaign nets was examined for bio-efficacy against Anopheles gambiae s.s. mosquitoes, permethrin content and physical integrity following standard World Health Organization (WHO) methods.
Results
Of 6067 campaign nets reported to have been received between 2009 and 2011, 35 % (2145 nets) were no longer present. Most of those nets had been discarded (84 %) mainly because they were too torn (94 %). Of the 198 sub-sampled Olyset LLINs, 61 % were still in serviceable physical condition sufficient to provide personal protection while 39 % were in unserviceable physical condition according to WHO proportionate Hole Index (pHI). More than 96 % (116/120) of nets in serviceable condition passed WHO bioefficacy criteria while all nets in unserviceable condition passed WHO bioefficacy criteria. Overall mean permethrin content was 16.5 g/kg (95 % CI 16.2–16.9) with 78 % of the sub-sampled nets retaining recommended permethrin content regardless of their age or physical condition. Nets aged 4 years and above had a mean permethrin content of 14 g/kg (95 % CI 12.0–16.0). The only statistically significant predictor of reduced physical net integrity was rats in the house.
Conclusions
Two-to-four years after a mass campaign, only 39 % of distributed nets remain both present and in serviceable physical condition, a functional survival considerably below WHO assumptions of 50 % survival of a 'three-year' net. However, the majority of nets still retained substantial levels of permethrin and could still be bio-chemically useful against mosquitoes if their holes were repaired, adding evidence to the value of net care and repair campaigns.
Keywords
Durability 
LLINs 
Olyset 
Universal coverage campaign 
Attrition 
Physical integrity 
Chemical content 
Bio-efficacy 
Tanzania 
Background
Long-lasting insecticidal nets (LLINs) have significantly contributed to the success of malaria control in malaria-endemic countries in Africa [1]. In Tanzania in particular, mosquito nets contributed to a 45 % reduction in all-cause mortality in children less than 5 years of age from 146/1000 live births in 1999 to the recent level of 81/1000 live births in 2010 [2]. Since 2009, two LLIN mass distribution campaigns have been implemented in Tanzania, namely the under-five catch-up campaign (U5CC), which provided Olyset® nets to all children under the age of five between 2009 and 2010 [3], and the universal coverage campaign (UCC), between 2010 and 2011 [4], which provided Olyset nets for all sleeping spaces that had not been previously covered during the U5CC campaign. As recommended by the World Health Organization (WHO) [5], LLINs are expected to provide both personal and community protection resulting in a decline in malaria transmission. In addition to the mass distribution campaigns described above, two continuous distribution strategies have been implemented in Tanzania. The Tanzania National Voucher Scheme (TNVS) from 2004 to 2014 provided pregnant women and infants with LLINs at a greatly reduced price [6]. The currently ongoing annual School Net Programme (SNP) in the Southern zone provides every school child in specific grades one free LLIN for distribution to their households [7]. In addition, a universal replacement campaign (URC) is currently ongoing in 2015 and 2016, and is expected to provide 22 million nets to all households in Tanzania not covered by the SNP. All these distribution campaigns aim to reduce malaria transmission in the country through sustainable distribution mechanisms. Since LLINs have a limited serviceable life through loss of chemical insecticide and physical damage, net replacement campaigns are necessary to maintain high coverage, and the timing of these campaigns is of crucial importance.
The useful life of LLINs depends on properties of the net including physical integrity and persistence of insecticide and is not simply a matter of how long the net remains in the house [8]. Durability of LLINs is affected by variation in physical wear, which in turn depends on environmental and social factors like climate, type of sleeping space, presence of rodents or other animals, frequency of use and washing of nets; all of which vary between locations and populations [9, 10, 11]. This means that Tanzania's management decisions regarding LLIN replacement should be based on local LLIN performance data [12]. Information on the durability of different LLIN brands under user conditions will help malaria control programmes by providing information needed to plan the timing of future net replacement campaigns, and the procurement of the most durable LLIN for a country. In addition, information on appropriate net use and care (through improved behaviour change communication) might help to prolong the life of LLINs and reduce the costs of procurement and distribution [13, 14].
In Tanzania, the first choice of LLINs has historically been Olyset® nets, developed by Sumitomo in Japan and manufactured by A–Z Textile Mills Limited in Arusha, Tanzania. Olyset nets, made from 150 denier polyethylene material with permethrin incorporated in the yarn, were the first LLINs to receive the full recommendation of WHOPES in October 2001 for use in prevention and control of malaria [15]. This study aimed to assess the durability of Olyset campaign nets (old knitting pattern) distributed between 2009 and 2011 in eight districts in Tanzania by measuring attrition (net loss), biological efficacy against anopheline mosquitoes (blood feeding inhibition and mortality), chemical content (amount of active ingredient) and physical integrity (number of holes and resulting physical condition of nets).
Methods
Study areas
This study was conducted as part of a long-term project on LLIN durability in Tanzania [
16
]. The study took place in eight districts (Fig. 
1
) selected from 23 districts enrolled in the population arm of the sentinel panel of Districts (SPD), sample vital registration with verbal autopsy (SAVVY) [
17
]. Ten SAVVY villages per district were selected based on their proximity to district council headquarters, except for Kinondoni district where SAVVY only covered six villages. Using SAVVY baseline household information, 45 households per village (3420 households in total) were randomly selected using the 'sample' function in the statistical software R 3.1.1. [
16
].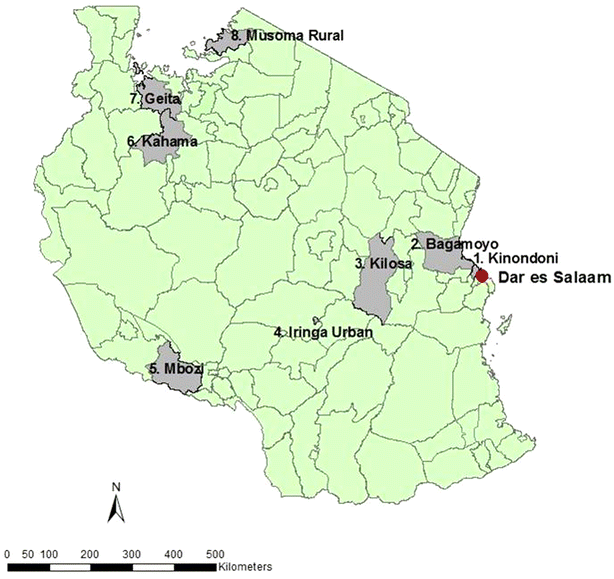 Data collection
Cross-sectional household surveys were conducted between October and December 2013. The surveys involved collections of two sets of data. First, household information was collected by a pre-tested semi-structured household questionnaire using Google Nexus tablet computers programmed with the open-source survey tool kit ODK Collect [18]. Information collected included household characteristics (household assets and housing conditions), number of mosquito nets (including Olyset campaign nets) received, any net lost since initial distribution and reasons for losing them. Second, all nets present in the sampled households were collected and replaced with new nets. All collected nets were returned to Bagamoyo Research and Training Centre (BRTC), part of Ifakara Health Institute (IHI), and their colour, size, product and manufacturing date (if available on label) were recorded to establish the total number of campaign nets that were still present in households at the time of the survey. Government Olyset campaign nets could be distinguished from nets from other sources because they were light-blue in colour and of single size (4 × 6 × 7 feet). However, it was not possible to identify which mass campaign the nets originated from (U5CC or UCC) as very few nets retained labels with legible manufacturing dates. Net age was estimated from data on when nets had been distributed to each district during the UCC campaign. This underestimates the age of nets obtained during the U5CC campaign, which took place approximately 12 months before the UCC campaign. This is believed to be a reasonable assumption since the UCC was a considerably bigger campaign distributing 17.6 million nets compared to U5CC's 7.8 million [4]. From all light-blue single sized Olyset campaign nets collected, 200 nets (25 nets per district) that still had legible manufacturing labels attached were selected for counting holes (for physical integrity) and bio-efficacy testing. All Olyset nets distributed in Tanzania and tested in this study were of the old knitting pattern, which was replaced by a new knitting pattern in 2014.
Data analysis
Results from WHO cone and tunnel bioassays, insecticide content and physical condition of nets were recorded on standardized forms and double entered in Excel spreadsheet for validation. Cleaning and analysis of data were done using Stata 13.0 statistical software (Stata Corp., College Station, USA).
Socioeconomic status (SES) of each sampled household was assessed by constructing a household wealth index based on household measures that included household assets and housing condition [24, 25]. A weighted sum of the factors and household assets for each sampled household was calculated using principal component analysis (PCA) and the best model was the one with the lowest Akaike Information Criterion (AIC) value [26]. The sample was then divided into wealth quintiles.
Attrition data was analysed by logistic regression with proportion of nets lost as the outcome variable and district as the explanatory variable. Data from the physical integrity assessment were analysed by logistic regression with the binary outcome of proportion of nets in serviceable condition (pHI <643) relative to nets in unserviceable condition (pHI ≥643) and SES wealth quintile, net age in months since UCC distribution grouped into four categories (<25 months group, 25–36 months group, 37–48 months group and >48 months group), number of sleepers per bed, presence of rats, and type of sleeping space set as explanatory variables. A likelihood ratio test was used to compare two models in order to test the significance of particular explanatory variables.
Data from WHO cone and tunnel assays were analysed using logistic regression with the proportion that passed WHO cone or tunnel criteria as outcome variables. Net age categories in months since UCC distribution and net condition by pHI were explanatory variables.
Data from chemical tests were analysed using logistic regression with the proportion of nets exceeding WHO cut-off for permethrin content. Net age categories in months since UCC distribution and net condition by pHI as explanatory variables. Different relationships were also explored in a multivariate analysis model. In all analyses, robust standard errors were used to account for clustering in the data at the district level.
Ethics
Ethical approval was obtained from the London School of Hygiene and Tropical Medicine (LSHTM—UK) Research Ethics Committee (Reference number 6333), Ifakara Health Institute in Tanzania (Reference number IHI/IRB/No: 19-2013), and the Tanzanian National Institute for Medical Research (Ref: NIMR/HQ/R.8a/Vol. IX/150 and NIMR/HQ/R.8c/Vol. I/285). Before household interviews, the study was explained in Kiswahili or the local language and written informed consent was obtained from each household head or other adults above the age of 18 years. Questionnaires were coded with a unique ID code and names were not taken to ensure confidentiality. All sampled households received free replacement nets for each sleeping space.
Discussion
This retrospective study in 3398 households in Tanzania found that more than a third of campaign nets had been lost since the government campaigns in 2009 and 2011, and that a further 39 % of the nets had large hole surface areas, leading to an urgent need to replace LLINs in Tanzania.
In this study, attrition of LLINs was higher than that observed in Western Kenya after 5 years [27], but similar to net loss in Rwanda [28] and Nigeria [11]. In Tanzania, net condition (i.e. the number and size of holes) was the primary reason given by study households for discarding of nets, a finding mirrored in a recent multi-country investigation, which found that 63 % of lost nets had been discarded, primarily because they were perceived as too torn (93 %) [19].
More than half of nets were still in a serviceable physical condition, hence theoretically effective in protecting individuals against mosquito bites. Percent of nets with holes observed in this study was higher than in Western Uganda where the majority (87 %) of polyester nets were in serviceable conditions after three and a half years and 23 % of nets had no holes at all after 36–42 months of use [9]. In Zambia, on the other hand, 30 % of polyester and poly-ethylene nets were classed as 'too torn' after 30 months in the field [29]. Unlike other studies [13, 26], this study did not find a relationship between net age and its physical condition. This may be because very worn nets are more likely to be discarded, resulting in lower hole counts in older nets as was found in Zambia [30]. The only statistically significant determinant of a net being unserviceable was the presence of rats, a parameter often associated with poor physical condition of mosquito nets [14, 31]. With differences in geographical settings between different study villages, assessing degradation using only 198 nets is likely to have been an insufficient sample size to detect differences between nets of different ages, although it is sufficient to demonstrate that nets do need to be replaced.
The low rates of repair observed in this study have also been observed in Ethiopia [10] and in Kenya [14], suggesting that barriers to net care and repair may exist [32]. Such low repair rates, which probably result in more nets becoming unserviceable, are particularly important because more than two-thirds of the unserviceable nets still contained permethrin concentrations above 15 g/kg—the lowest permethrin threshold set by WHO for brand-new nets. This means that these nets, if repaired, could still provide good individual protection and it is likely that these nets continue to provide community protection by killing mosquitoes [33, 34] or inhibiting blood feeding [35] despite containing holes. However, it should be noted that the nets collected in the households and tested for bio-efficacy are those that have been retained by households, probably precisely because of their better condition and may have been stored for later use.
Despite not being able to plot LLIN survival due to the collection of data during only one time point, this study nevertheless adds a useful data point to the growing table of net durability in various countries and of numerous net products [29, 36]. This study showed a functional LLIN survival of 39 % two-to-four years after the distribution campaigns, which is lower than the median survival of 50 % after 3 years of a 'three-year net' [14]. This survival estimate is based on two facts: (a) Hole counts were performed on a sub-sample of 198 nets; and (b) the WHO cut-off criteria of a 'serviceable' net is in terms of protection against malaria. The relevance of the hole index as a measure of personal protection is currently lacking hard evidence and requires further investigation [37]. The relative contribution of insecticide and pHI to personal and community protection will be further studied by this study team.
The results from this study could have several implications for the LLIN strategy of the Tanzanian National Malaria Control Programme (NMCP). Firstly, a clear challenge observed from this and other studies was that owners discard nets mostly because they are perceived to be in too torn condition (unserviceable). However, two-thirds of the sampled nets in the unserviceable category were found to have permethrin concentrations above the recommended WHO threshold criteria, which could pose environmental problems when discarded inappropriately [38]. Therefore, the government needs to introduce a better mechanism of collecting and disposing of unserviceable nets to prevent environmental pollution and introduction of insecticides to the environment. As a first step, the manufacturer A–Z Textile Mills Limited recycled all Olyset nets collected by the study team, but a more widely applicable system of net recycling by the government or industry should be developed. A second challenge observed was the functional LLIN survival rate, which fell 11 % short of the expected median survival of a 'three-year' net. In addition, target net coverage goals of at least 80 % coverage by 2020 as set by the Tanzanian NMCP will not be maintained through mass campaigns taking place in 3 year cycles. Therefore, continuous net replenishment has been implemented through the TNVS between 2004 and 2014 and through schools in Southern Tanzania since 2013. A new free LLIN distribution mechanism through reproductive and child health clinics will be rolled out in 2016 to replace the TNVS (K. Kramer, pers. comm.). Thirdly, given the bio-efficacy and permethrin contents of the collected nets, the government and NMCP need to improve their behavioural change communication strategy so it delivers locally appropriate education messages on net care and repair, which could serve to increase net retention and personal protection and hence prolong the lifespan of LLINs.
A limitation of this study was its retrospective sampling design. Data collection on attrition relied on respondents' recall information (hence recall bias), because it was not known how many Olyset nets had been distributed to each household. In addition, it was impossible to establish the exact age of nets due to difficulties in distinguishing between U5CC and UCC Olyset nets. Therefore, the attrition rate presented in Fig. 2 is a conservative estimate of the smallest possible age gap. A large prospective study is currently on-going in Tanzania to compare three net brands in the same study households over three years [16], which will be able to capture attrition and physical degradation more precisely and accurately.
Conclusions
The findings from this study highlight that the functional survival of Olyset nets two-to-four years after campaigns is 39 %, which is below the median survival of a 'three-year' net of 50 % as recommended by WHO. Therefore, LLINs are urgently needed in Tanzania to substantially increase access to serviceable mosquito nets. A universal mass campaign is currently ongoing to increase baseline levels, but high coverage must be maintained through continuous distribution mechanisms. When all the measurements of LLINs durability are taken together, it can be concluded that around 65 % of LLINs distributed between 2009 and 2011 were still present in households, and a majority of them had retained target insecticide levels and were biologically effective against anopheline mosquitoes. This means that these nets could still be useful if they were repaired and they may pose environmental problems if incorrectly disposed of. Therefore, it is recommended the implementation of more targeted care and repair campaigns and investigations into means of encouraging net re-use, net recycling and safe disposal.
Notes
Authors' contributions
Conceived and designed the experiment SJM, LML, HJO, JM, KK, RM. Performed the experiments DJM, ZM, EJM, OP. Analysed the data DJM, SJM, LML. Contributed to data analysis JB. Wrote the manuscript DJM, LML. Critically reviewed the final manuscript LML, WK, HJO, KK, OP, JB, SJM. All authors read and approved the final manuscript.
Acknowledgements
Thanks to our advisory panel Albert Kilian and Jo Lines for invaluable input in the design of this study. We acknowledge and thank Nick Brown from A–Z Textiles Mills Ltd for asking us to answer these questions in the first place. Our special thanks are addressed to Hassan Ngonyani, Edgar Mbeyela, Anthony Mseka, Emmanuel Simfukwe, Peter Ngwasi and Bernard Liseki for data collection in the field and in the laboratory. We wish to thank the SAVVY management team including coordinators, enumerators and participating villagers in all study districts. This paper is published with the permission of the Director-General of the National Institute for Medical Research (NIMR) in Tanzania. The study was funded by Research Council of Norway through the ABCDR Project no. 220757.
Competing interests
The authors declare that they have no competing interests.
Copyright information
© Massue et al. 2016
Open AccessThis article is distributed under the terms of the Creative Commons Attribution 4.0 International License (http://creativecommons.org/licenses/by/4.0/), which permits unrestricted use, distribution, and reproduction in any medium, provided you give appropriate credit to the original author(s) and the source, provide a link to the Creative Commons license, and indicate if changes were made. The Creative Commons Public Domain Dedication waiver (http://creativecommons.org/publicdomain/zero/1.0/) applies to the data made available in this article, unless otherwise stated.