Repertoire of free-living protozoa in contact lens solutions
Open Access
Research article
Part of the following topical collections:
Abstract
Background
The repertoire of free-living protozoa in contact lens solutions is poorly known despite the fact that such protozoa may act as direct pathogens and may harbor intra-cellular pathogens.
Methods
Between 2009 and 2014, the contact lens solutions collected from patients presenting at our Ophthalmology Department for clinically suspected keratitis, were cultured on non-nutrient agar examined by microscope for the presence of free-living protozoa. All protozoa were identified by 18S rRNA gene sequencing.
Results
A total of 20 of 233 (8.6 %) contact lens solution specimens collected from 16 patients were cultured. Acanthamoeba amoeba in 16 solutions (80 %) collected from 12 patients and Colpoda steini, Cercozoa sp., Protostelium sp. and a eukaryotic more closely related to Vermamoeba sp., were each isolated in one solution. Cercozoa sp., Colpoda sp., Protostelium sp. and Vermamoeba sp. are reported for the first time as contaminating contact lens solutions.
Conclusion
The repertoire of protozoa in contact lens solutions is larger than previously known.
Keywords
Acanthamoeba
Keratitis 
Contact lens solution 
Protozoa 
Background
Contact lens (CL) wearers are at risk of developing infectious keratitis [1]. In particular, the prevalence of amoebic keratitis has been shown to be significantly higher in CL wearers than in the general population living in the same geographic area [2]. Accordingly, it has been suspected that CL solution could be the source of amoeba in this situation [3]. Indeed, several studies have reported detecting amoeba in CL solutions [2]. Thus far, only amoeba of the genus Acanthamoeba have been documented in CL solutions [1, 4, 5].
Here, we prospectively search for free-living unicellular protozoa in CL solutions collected from patients with suspected keratitis, in an effort to broaden the repertoire of free-living protozoa as potential cornea pathogens.
Results
Free living protozoa
A total of 20/233 (8.6 %) CL solution specimens collected between 2009 and 2014 from 16 patients, cultured at least one free-living protozoa (Table 
1
). Protozoa identifications were made by partial sequencing of the 18S rRNA gene and by establishing the percentage of similarity of these sequences with reference sequences. authenticated by the validity of positive and negative controls. With one exception, confident identification was obtained at the genus level only. These identifications include
Acanthamoeba
in 16 (80 %) solution specimens collected from 12 different patients,
Colpoda steini
in specimen n°14,
Cercozoa
sp. in specimen n°12,
Protostelium
sp. in specimen n°15, and an identical 99 % sequence similarity with both
Hartmanella
and
Vermamoeba
genus in specimen 13.
Table 1
List of protozoa identified in 16 contact lens solution specimens, along with co-cultured bacteria and fungi
Patient

CL case

Protozoa

Co-cultured bacteria

Co-cultured fungi

Patient 1

1

Acanthamoeba sp.

Serratia liquefaciens

Stenotrophomonas maltophilia

Pseudomonas aeruginosa

None

Patient 2

2

Acanthamoeba sp.

Pseudomonas aeruginosa

Stenotrophomonas maltophila

Chryseobacterium dacguense

Citrobacter freundi

Sacrocadium kiliense

Patient 3

3

Acanthamoeba sp.

Pseudomonas aeruginosa

Chryseobacterium gleum

Delftia acidovorans

None

Patient 4

4

Acanthamoeba sp.

Pseudomonas fluorescens

Mycobacterium chimaera

Stenotrophomonas maltophila

None

Patient 5

5

Acanthamoeba sp.

None

None

Patient 6

6-1

Acanthamoeba sp.

None

None

6-2

Acanthamoeba sp.

None

None

Patient 7

7

Acanthamoeba sp.

None

Candida guilliermondii

Fusarium oxyporum

Patient 8

8

Acanthamoeba sp.

Stenotrophomonas maltophilia

Raoultella ornithinolytica

Sphingobacterium multivorium

Agrobacterium tumefaciens

Klebsiella terrigena

Pseudomonas hibiscicola

Shewanella putrefaciens

Sphingobacterium siyangense

None

Patient 9

9-1

Acanthamoeba sp.

None

None

9-2

Acanthamoeba sp.

None

None

Patient 10

10

Acanthamoeba sp.

Klebsiella pneumonia

Enterobacter cloacae

Stenotrophomonas maltophila

Candida parapsilosis

Candida lipolytica

Patient 11

11-1

Acanthamoeba sp.

Sphingobacterium multivorum

Aeromonas veronii

Aeromonas caviae

Raoutella ornitolytica

Klebsiella pneumoniae

None

11-2

Acanthamoeba sp.

Pseudochrobactrum asaccharolyticum

Aeromonas caviae

Wausteriella falsenii

None

Patient 12

12

Cercozoa sp.

Klebsiella oxytoca

Stenotrophomonas maltophila

Alcaligenes xylosidans

Pseudomonas aeruginosa

Candida colliculosa

Patient 13

13

Vermamoeba sp.

Enterobacter cloacae,

Stenotrophomonas maltophila

Xanthobacter flavus

Pseudomona aerouginosa

Mycobacterium chelonae

None

Patient 14

14

Colpoda steini

None

None

Patient 15

15

Protostelium sp.

Alcaligenes xylosoxidans

Stenotrophomonas maltophila

Pseudomonas aeruginosa

Sphingomonas multivorum

Aeromonas culicicola

Hicrobacterium flavum

Chryseobacterium hominis

Microbacterium testaceum

None

Patient 16

16-1

Acanthamoeba sp.

Microbacterium oxydans

Penicillium chrysogenum, Candida parapsilosis

Fusarium oxysporum

16-2

Acanthamoeba sp.

None

None
Further phylogenetic analysis (Fig. 
1
) confirmed these identifications and indicated that the protozoa isolated in specimen n°13 was more closely related to
Vermamoeba
. Furthermore, phylogenetic analysis indicated that the same
Acanthamoeba
was isolated in left and right contact lens solutions in patients 6, 11 and 16.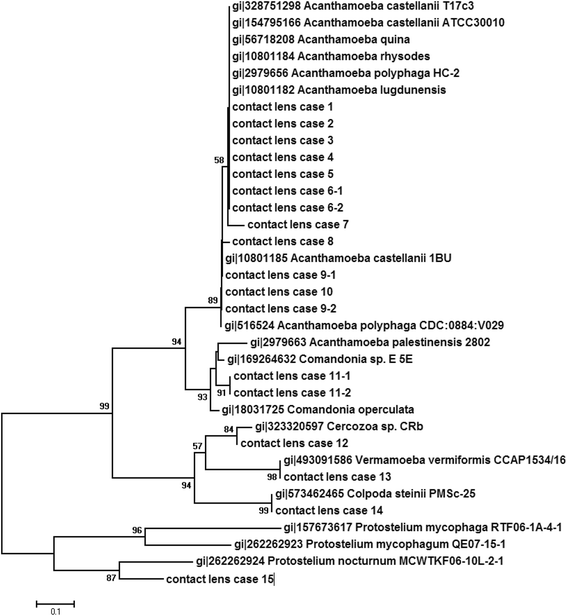 Bacteria and fungi
Twelve of the 20 protozoa-positive (60 %) CL specimens cultured bacteria, while eight protozoa-positive CL specimens did not. Stenotrophomonas sp. and Pseudomonas sp. were most frequently identified and found in 8/20 (40 %) specimens, followed by Klebsiella sp. in 4/20 (20 %) specimens, Aeromonas sp. in 3/20 (15 %) specimens, Chryseobacterium sp. and Sphingobacterium sp. in 2/20 (10 %) specimens and Achromobacter sp., Agrobacterium sp., Alcaligenes sp., Citrobacter sp., Delftia sp., Enterobacter sp., Microbacterium sp., Mycobacterium sp., Raoultella sp., Serratia sp., Shewanella sp. and Wautersiella sp. in 1/20 specimens. Fungi were cultured in five protozoa-positive CL specimens. Fungi included Candida guilliermondii, Candida parapsilosis, Candida lipolytica and Candida colliculosa, Fusarium oxyoprum, Sacrocadium kiliense and Penicillium chrysogenum. In three cases, several fungi were co-cultured, including P. chrysogenum, C. parapsilosis and F. oxysporum in case 16–1, C. guilliermondii and F. oxyoprum in case 7 and C. parapsilosis and C. lipolytica in case 10.
Discussion
We embarked upon a prospective study of the repertoire of free-living protozoa in the CL solutions. In this study we observed that, unsurprisingly, the vast majority of positive specimens grew an Acanthamoeba amoeba. A previous study reported 28 Acanthamoeba isolates from CL solutions, including A. lugdunensis, A. hatchettii and A. castellani [4]. Further species were later found to contaminate CL solutions of residents in Southern Korea [5]. Also, amoeba morphologically identified as A. rhysodes, A. polyphaga and A. hatchetti were reported in CL specimens of patients with clinical keratitis in Austria [8]. Here, we additionally observed that it is most likely that the same amoeba contaminates both the right and the left CL solutions. These observations are of clinical interest, as Acanthamoeba are known to cause keratitis [9, 10, 11, 12].
However, we failed to find Colpoda sp., Protostelium sp., and Vermamoeba sp. in these CL solutions. Likewise, we found no cases of keratitis which were due to any of these three species: non-Acanthamoeba keratitis were found to be due to Valkampfia and Hartmanella amoeba [13, 14].
Amoeba, and Acanthamoeba in particular, have been shown to host so-called amoeba-resisting bacteria [15, 16], making them a source of polymicrobial keratitis which may involve the amoeba itself in addition to bacteria and viruses [17]. Several bacteria here co-cultivated with Acanthamoeba, are amoeba-resisting bacteria, including P. aeruginosa [18] Mycobacterium sp. [19, 20, 21] and Aeromonas sp. [16, 22]. We also co-cultivated several bacteria with Cercozoa sp., Vermamoeba sp. and Protostelium sp., but not with C. steini, suggesting further studies of the relationships between these protozoa and bacteria may be required.
Conclusions
In conclusion, the spectrum of protozoa contaminating CL solutions is broader than previously thought. These protozoa may also host ocular pathogens including bacteria and fungi. Some of these emerging protozoa escape the current routine detection of amoeba in clinical specimens collected from corneal lesions, underscoring the need to develop additional laboratory tools for the diagnosis of keratitis.
Notes
Acknowledgements
This study was supported by Unité de Recherche sur les Maladies Infectieuses et Tropicales Emergentes, UM63, CNRS 7278, IRD198, Inserm 1095, 13005 Marseille, France.
Funding
This study was supported by URMITE, Aix Marseille University, Marseille, France.
Availability of data and materials
Original sequences have been submitted to GenBank.
Authors' contributions
All of the authors contributed substantially to this study. LH and MD conceived and designed the experiments. IB and AA performed the experiments. IB, AA, LH and MD analyzed the data. MD contributed reagents/materials/analysis tools. IB, AA, LH and MD wrote the paper. All authors read and approved the final manuscript.
Competing interests
The authors declare that they have no competing interests.
Consent for publication
Not applicable.
Ethics approval and consent to participate
The research does not involve any patient data or any clinical specimens and hence does not require approval from the Ethics Committee.
Copyright information
© The Author(s). 2016
Open AccessThis article is distributed under the terms of the Creative Commons Attribution 4.0 International License (http://creativecommons.org/licenses/by/4.0/), which permits unrestricted use, distribution, and reproduction in any medium, provided you give appropriate credit to the original author(s) and the source, provide a link to the Creative Commons license, and indicate if changes were made. The Creative Commons Public Domain Dedication waiver (http://creativecommons.org/publicdomain/zero/1.0/) applies to the data made available in this article, unless otherwise stated.