Low-Cost and High-Productivity Three-Dimensional Nanocapacitors Based on Stand-Up ZnO Nanowires for Energy Storage
Abstract
Highly powered electrostatic capacitors based on nanostructures with a high aspect ratio are becoming critical for advanced energy storage technology because of their high burst power and energy storage capability. We report the fabrication process and the electrical characteristics of high capacitance density capacitors with three-dimensional solid-state nanocapacitors based on a ZnO nanowire template. Stand-up ZnO nanowires are grown face down on p-type Si substrates coated with a ZnO seed layer using a hydrothermal method. Stacks of AlZnO/Al2O3/AlZnO are then deposited sequentially on the ZnO nanowires using atomic layer deposition. The fabricated capacitor has a high capacitance density up to 92 fF/μm2 at 1 kHz (around ten times that of the planar capacitor without nanowires) and an extremely low leakage current density of 3.4 × 10−8 A/cm2 at 2 V for a 5-nm Al2O3 dielectric. Additionally, the charge-discharge characteristics of the capacitor were investigated, indicating that the resistance-capacitance time constants were 550 ns for both the charging and discharging processes and the time constant was not dependent on the voltage. This reflects good power characteristics of the fabricated capacitors. Therefore, the current work provides an exciting strategy to fabricate low-cost and easily processable, high capacitance density capacitors for energy storage.
Keywords
Three dimensional 
Nanocapacitors 
ZnO nanowires 
Capacitance density 
Energy storage 
Background
Even after decades of research, energy storage technology continues to be a major challenge for advanced modern society. The development of small size, lightweight, and environmentally friendly energy storage devices has attracted great attention owing to fast-growing energy demands for portable and wearable electronics [1]. Therefore, energy storage systems including fuel cells, batteries, and supercapacitors are being adapted and optimized with nanostructured components [2]. Among various nanostructure-based energy storage devices, nanocapacitor arrays have been extensively studied for the next generation of energy storage systems because of their moderate energy density and high power density [3].
According to the well-known equation for a parallel-plate capacitor, C = ε 0 ε r A/d, where C is the capacitance, ε 0 and ε r are the dielectric constants of the vacuum and dielectric, respectively, A is the surface area of the electrode, and d is the thickness of the dielectric; the capacitance density can be increased by including high-permittivity dielectrics such as Al2O3, HfO2, and TiO2, including various hybrid dielectric stacks to increase ε r and using three-dimensional (3D) capacitor designs to achieve a larger capacitor electrode area to increase A [4]. Decreasing d is not usually an option for capacitors in power applications because this could lead to a higher leakage current and a lower breakdown voltage. Therefore, 3D nanocapacitor arrays with a high aspect ratio are considered to be a robust candidate to achieve a high capacitance density. To date, many methods have been proposed for the fabrication of 3D nanocapacitors, mainly focusing on different nanostructured templates such as anodic aluminum oxide (AAO) [5, 6, 7, 8, 9, 10, 11], carbon nanotubes (CNTs) [12, 13], silicon-based nanowires, nanoholes and nanopillars [14, 15, 16, 17, 18], and InAs nanowires [19]. The AAO template has been widely used because nanopore arrays exhibit a high degree of regularity and uniformity. However, conventional AAO fabrication needs a relatively long time, the use of resources is inefficient, and the chemicals can be toxic, which restrict their practical application [20]. Although a CNT template has a good electrical conductivity and can be used as capacitor electrodes, the production of CNTs usually needs quite a high growth temperature (>750 °C) [13]. The leakage current characteristics of the CNT-based nanocapacitors are usually unsatisfactory, which is attributed to the top connection of stand-up CNTs when they become long enough, thus resulting in an increase in leakage paths [12]. Silicon-based nanostructures are easily integrated with current silicon technologies. Nevertheless, silicon nanoholes with a high aspect ratio are difficult to etch and the definition of multilayered structure capacitors requires costly lithography processes [16]. The growth of silicon nanowires usually requires a relatively high temperature (>400 °C), which is not suitable for flexible devices [14].
During the past decade, ZnO nanostructures such as nanoparticles, nanorods, nanoforests, and nanowires (NWs) have been investigated intensively for various applications because of their wide bandgap, excellent thermal and chemical stability, and special electrical and optoelectronic characteristics [21, 22, 23]. For instance, ZnO nanoforests have been explored for photoelectrochemical applications because of their large surface area [24], and long stand-up ZnO nanowires or nanorods are necessary for piezoelectric devices or solar cells [25, 26]. Nevertheless, there are no reports of using stand-up ZnO NW templates for the fabrication of 3D nanocapacitors. Various synthesis methods of ZnO NWs have been reported such as the vapor-liquid-solid process [27], chemical vapor deposition (CVD) [28], pulse laser deposition [29], and hydrothermal synthesis [30, 31]. Among these growth processes, the hydrothermal synthesis is preferred because of its low cost, low growth temperature, and large growth area and because it is environmentally benign. On the other hand, the selection of electrode materials also plays an important role in the preparation of 3D nanocapacitors. Transparent conducting oxides (TCOs), including indium oxide and aluminum-doped zinc oxide (AZO), have many attractive properties such as good thermal stability, relatively low resistivity, and high transmittance [32, 33]. Introducing TCOs as electrodes of 3D nanocapacitors could make it possible for the integration of energy storage devices and optoelectronic devices.
Therefore, this article reports the preparation of stand-up ZnO nanowires on a silicon substrate using a hydrothermal synthesis. Using the ZnO nanowire as a template and the AZO film as an electrode, high-density 3D solid-state capacitors were fabricated and characterized physically and electrically for energy storage applications.
Methods
The experimental procedure for the fabrication of the ZnO NW-based nanocapacitor arrays is illustrated schematically in Fig. 
1
. The whole fabrication procedure included six key steps: deposition of a ZnO seed layer, growth of ZnO nanowires, deposition of a thin bottom electrode layer, deposition of a dielectric layer, deposition of a top electrode layer, definition of a top contact layer, and formation of the capacitors. The detailed process steps are described as follows.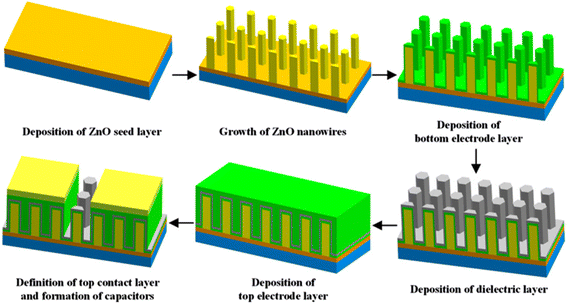 Growth of the Stand-Up ZnO Nanowires
ZnO nanowires were synthesized via a modified hydrothermal method, which was described in our previous paper [34]. First, p-type Si wafers were cleaned with the standard Radio Corporation of America (RCA) cleaning process, and then, around 18 nm of a ZnO thin film was grown on the Si substrate at 200 °C using atomic layer deposition (ALD). This was then used as the seed layer of ZnO NWs. Zn(C2H5)2 and deionized water (DI water) were employed as the precursors for the ALD ZnO. Subsequently, the ZnO seed layer-coated Si substrate was transferred into a Teflon-lined stainless steel autoclave filled with aqueous solution consisting of 0.025 M zinc nitrate hexahydrate [Zn(NO3)2·6H2O)] and 0.025 M hexamethylenetetramine (C6H12N4). It is worthwhile emphasizing that the ZnO seed layer should be face down in the solution. The autoclave was sealed tightly and kept in a stove at 80 °C for 8 h. After that, the resulting sample was removed from the solution and thoroughly rinsed with DI water. It was then dried using a slow high-purity nitrogen flow.
Deposition of the Conducting and Insulating Thin Films
First, a 10-nm AZO layer was deposited on the as-grown ZnO NWs using thermal ALD at 200 °C, which served as the bottom electrode layer. Herein, the AZO layer was composed of alternate 20 cycles of ZnO and 1 cycle of Al2O3, giving a resistivity of 1.8 × 10−3 Ω cm. ZnO and Al2O3 were grown from the Zn(C2H5)2/H2O and Al(CH3)3/H2O precursors, respectively. To investigate the effect of dielectric thickness, various thicknesses of Al2O3 layers (5, 10, 15, and 20 nm) were deposited using ALD at 200 °C, acting as the insulator for the nanocapacitors. After the deposition of Al2O3, a 150-nm AZO layer was deposited by ALD for the top electrode. Thus, the AZO/Al2O3/AZO capacitor stack was formed. To ensure full diffusion of the precursor molecules into and the gaseous byproducts out of the gaps among the ZnO NWs, five precursor-pulsing and purging durations were adopted in comparison with those normally used for a flat substrate.
Formation of the Contact and Definition of Capacitors
A 150-nm Mo layer serving as the top contact was deposited using radio frequency magnetron sputtering, and the shape and size of the contact pad were defined using photolithography and a metal lift-off process. Subsequently, the top AZO film outside the pads was etched using dilute hydrochloric acid, and thus, the separated capacitors consisting of nanocapacitors were formed for electrical characterization.
Characterization Methods
The top view and cross-sectional morphologies of the as-grown ZnO NWs and those coated with different thin films were characterized with scanning electron microscopy (SEM) (Zeiss SIGMA HD microscope, Germany). The cross-sectional images of the fabricated capacitors were observed using field-emission TEM (FEI Tecnai G2 F20 S-TWIN) with an accelerating voltage of 200 kV. Capacitance-voltage (C-V) and impedance measurements were carried out on a precision impedance analyzer (4294A; Agilent Technologies, Malaysia). Current-voltage (I-V) was measured on a semiconductor device analyzer (Agilent B1500A; Agilent Technologies, Japan). Charging-discharging characteristics of the capacitors were measured on a function/arbitrary waveform generator (Agilent 33250A; Agilent Technologies, Germany).
Conclusions
In summary, high-density 3D solid-state nanocapacitors based on stand-up ZnO NWs were fabricated successfully for the first time. For a 5-nm Al2O3 insulator, the capacitor had a high EPCD of up to 92 fF/μm2, an extremely low leakage current density of 3.4 × 10−8 A/cm2 at 2 V, and an RC time constant of 550 ns. These data reveal that the fabricated nanocapacitors have a high capacitance density, good power characteristics, and a low power consumption. In particular, such a low leakage current density means that the current nanocapacitor structure is very promising for energy storage applications. All the fabrication steps were carried out with a maximum processing temperature of 200 °C; thus, this can facilitate the manufacture of nanocapacitors on flexible substrates.
Notes
Acknowledgements
The authors thank the financial support of the National Natural Science Foundation of China (Grant Nos. 61274088, 61474027) and the Research Fund for the Doctoral Program of Higher Education of China (Grant No. 20120071110033).
Copyright information
© Wei et al. 2016
Open AccessThis article is distributed under the terms of the Creative Commons Attribution 4.0 International License (http://creativecommons.org/licenses/by/4.0/), which permits unrestricted use, distribution, and reproduction in any medium, provided you give appropriate credit to the original author(s) and the source, provide a link to the Creative Commons license, and indicate if changes were made.