Gene expression response in target organ and whole blood varies as a function of target organ injury phenotype
Abstract
This report details the standardized experimental design and the different data streams that were collected (histopathology, clinical chemistry, hematology and gene expression from the target tissue (liver) and a bio-available tissue (blood)) after treatment with eight known hepatotoxicants (at multiple time points and doses with multiple biological replicates). The results of the study demonstrate the classification of histopathological differences, likely reflecting differences in mechanisms of cell-specific toxicity, using either liver tissue or blood transcriptomic data.
Keywords
Support Vector Machine 
Gene Ontology 
Gene Expression Data 
Additional Data File 
Galactosamine 
These keywords were added by machine and not by the authors. This process is experimental and the keywords may be updated as the learning algorithm improves.
Abbreviations
ANOVA

analysis of variance

CEBS

Chemical Effects in Biological Systems

GO

Gene Ontology

PCA

principal component analysis

RBC

red blood cell

SVM

support vector machine

WBC

white blood cell.
Background
The use of genomic approaches to better understand the adverse effects of environmental and xenobiotic exposures on human injury and disease processes engendered a great deal of early enthusiasm and excitement. This research initially focused on using gene expression alterations as measured by microarray analyses and is often referred to as 'toxicogenomics' [1]. Quite early on, investigators were able to demonstrate that exposure to different toxicants could be discriminated or classified in rodent model systems by microarray profiling of gene expression alterations in the target tissues, that is, tissues that display visible adverse effects in response to toxicant exposure [2, 3, 4, 5].
Gene expression microarrays have developed over the past decade into a powerful tool for investigating biological, mechanistic, and disease processes in addition to developing genomic classifiers. Recent standardization efforts by the Microarray Quality Control Consortium, the Toxicogenomics Resource Consortium as well as other groups have clearly demonstrated the reproducibility of transcript level data generated using these approaches [6, 7, 8, 9]. However, in most instances these studies have understandably been based on reference samples with little or no biological significance. The Microarray Quality Control Consortium did substantiate their findings by performing a cross-platform study using samples from a multi-agent rat toxicogenomics study at a single dose and time point and the Toxicogenomics Resource Consortium did perform a cross-laboratory, time course assessment using samples from a single toxic agent [10, 11]. However, there are still open questions regarding the utility and applicability of the microarray technology in biological research and in particular with respect to understanding and classifying injury processes that arise as a consequence of exposures to various agents. For example, can gene expression data distinguish similar biological responses that occur in different physiological regions within an organ (for example, necrosis within different zones of the liver lobule) or similar lesions that are the result of exposure to different compounds?
Linking gene expression changes with more traditional toxicological measurements of adverse biological responses to toxicants (for example, histopathology and clinical chemistry), referred to as 'phenotypic anchoring', allowed investigators to gain new insight into the processes involved in the adverse effects on target tissues [12, 13, 14, 15]. In addition to analysis of target tissues, the use of whole blood as a tissue source for gene expression profiling is extremely appealing and already has been demonstrated for a variety of diseases and exposures [16, 17, 18, 19, 20, 21, 22]. This has tremendous potential in a therapeutic setting - the use of blood as a surrogate for the primary tissue of interest greatly facilitates sample collection and analysis. The benefits would be realized in basic research studies as well. If transcript data in whole blood can function as a surrogate for the target organ, a researcher would be able to collect serial time points from an animal as opposed to harvesting tissue at a single time point after sacrifice. This would not only decrease the number of animals being used in a study, but would increase the amount and value of the data generated from a single animal as early transcriptional events could be phenotypically anchored to histopathological observations or clinical chemistry data that were not observed until later time points within the same animal. The amount of total RNA required to perform microarray-based gene expression profiling from whole blood continues to decrease, thereby increasing the potential for practical applications. Thus, one question of interest is whether expression data from whole blood can serve as a surrogate for a target organ through either an ability to detect the same transcript changes or an ability to identify different transcript biomarkers with similar or enhanced classification utility.
While much progress has been made in the application of toxicogenomics to the classification of toxicants and the investigation of mechanisms of toxicity, a full realization of its potential in a systems biology context, sometimes referred to as 'systems toxicology' [23], has yet to be accomplished. A primary obstacle has been the lack of truly robust data sets that capture not only genome-wide gene expression measurements but also traditional biological and toxicological information associated with exposures that vary over dose and time. This need was recently highlighted in the National Research Council's report on toxicogenomics [24]. Here we present a comprehensive, public dataset of gene expression and accompanying data (histopathology, clinical chemistry, hematology) from a standardized study to serve as a resource to further advance the development of systems toxicology. The present report details the experimental design and the different data that were collected, and provides examples of how these data can be used to address important biological questions. This investigation of eight known hepatotoxicants was designed to evoke acute liver injury with similarities as well as differences in the type and location of injury that result.
The eight compounds are all acute hepatotoxins that cause hepatocellular necrosis following a single administration at a suitable dose. Most of the compounds target hepatocytes; however, monocrotaline targets endothelial cells leading to hemorrhage and activation of the coagulation system. The toxicity of bromobenzene, 1,2- and 1,4-dichlorobenzene, N-nitrosomorpholine, monocrotaline, and thioacetamide require metabolic activation by various cytochrome P450s to reactive intermediates [25, 26, 27, 28, 29]. Since cytochrome P450 expression occurs primarily in the perivenous to centrilobular region of the hepatic plate, these agents generally damage the centrilobular region of the liver. The toxicity of diquat is associated with a one electron reduction/oxidation reaction that is catalyzed by NADPH cytochrome c reductase and leads to the production of high levels of reactive oxygen species [30]. The mechanism responsible for the toxicity of galactosamine is not as well understood but is thought to be associated with depletion of UTP caused by the conversion of galactosamine to UDP-hexosamines and UDP-N-acetylhexosamines [31].
The work was performed in its entirety using standardized procedures for the in-life work and for the generation of gene expression microarray data (n = 1,704 hybridizations). Doses that ranged from 'sub-toxic' to 'toxic' exposures were selected. Additionally, gene expression profiling was performed on two commercially available platforms (Agilent and Affymetrix) for one of the tissues (liver), thereby providing an opportunity to corroborate findings across platforms. In-life observations were recorded and clinical chemistry, hematology, and liver histopathology were also assessed for all 426 animals. These additional data facilitate the phenotypic anchoring of the gene expression data and confirm that the goal of the study to evoke different types of liver injury was achieved. Gene expression levels in whole blood were also assayed to evaluate whether biomarkers of different types of liver damage could be identified in this readily accessible bio-fluid.
The analyses presented here further demonstrate the utility of using microarrays as a tool for gene expression profiling to address biological questions. Specifically, this experiment was designed to provide a means to generate mechanistic and predictive measures of toxicity by integrating multiple data streams that were recorded within this standardized study. These model chemical exposure studies also provide a comprehensive data set with a well defined phenotypic anchor (liver injury) that is needed to assess the utility of gene expression profiling from whole blood samples. These data can now serve as a rich resource to the scientific community to test and validate these as well as other hypotheses, and have been made freely available in a public repository [32, 33, 34]. While the experimental design is based on a common model for toxicogenomics studies, the findings and/or the results of mining these data can be applied to other fields using microarrays as a research tool.
Results and discussion
Experimental design
The motivation for this study was the need for a rich, public dataset consisting of multiple types of data (gene expression, histopathology, and so on) that could be interrogated to test hypotheses regarding the application of gene expression profiling data generated from microarrays. We therefore designed a study with multiple compounds (n = 8) that would induce a common phenotype (liver injury), while also differing in the extent and/or severity of the injury and/or the co-occurrence of other noted histopathological observations, such as the type of inflammatory cell infiltrates, the presence of bile duct hyperplasia, and so on (Table
1
). The selected compounds are acute hepatotoxicants, requiring only a single administration at a suitable dose to elicit a toxic response. All eight compounds are rapidly absorbed from the gastrointestinal tract following administration, but are not direct acting in that they require biotransformation to toxic-reactive intermediates within the liver. From a preliminary dose finding study, three doses were selected corresponding to a 'sub-toxic', 'moderately toxic' and 'toxic' dose for each compound (Table
2
). Separate groups of four to six animals were treated with compound at each of these doses or with a vehicle control at time 0, and then sacrificed either 6, 24, or 48 hours later. Blood and liver were harvested at the time of sacrifice for clinical chemistry, hematology, histopathology and gene expression profiling using standardized procedures across all compounds. Additional data file 1 details all of the measurements that were collected, except the gene expression profiling data, for all of the animals in this study. All data, including the gene expression data, are available through a publicly accessible website [
34
].
Table 1
Hepatotoxicants studied
| Compound | Low dose 'sub-toxic' (mg/kg) | Medium dose 'moderately toxic' (mg/kg) | Medium high dose (mg/kg) | High dose 'toxic' (mg/kg) | Vehicle | Delivery method | Primary site of livery injury |
| --- | --- | --- | --- | --- | --- | --- | --- |
| Bromobenzene | 25 | 75 | NA | 250 | Corn oil | Oral gavage | Centrilobular |
| 1,2-Dichlorobenzene | 15 | 150 | NA | 1,500 | Corn oil | Oral gavage | Centrilobular |
| 1,4-Dichlorobenzene | 15 | 150 | NA | 1,500 | Corn oil | Oral gavage | NA* |
| N-nitrosomorpholine | 10 | 50 | NA | 300 | PBS | Oral gavage | Centrilobular |
| Diquat | 5 | 10 | 20 | 25 | PBS | Intraperitoneal injection | Mid-zonal to centrilobular |
| Monocrotaline | 10 | 50 | NA | 300 | PBS | Oral gavage | Centrilobular |
| Thioacetamide | 15 | 50 | NA | 150 | PBS | Oral gavage | Centrilobular |
| Galactosamine | 25 | 100 | NA | 400 | PBS | Intra-peritoneal injection | Random |
Table 2
Summary of histopathological diagnoses and severities
 

Severity

Histopathological diagnosis

None

Minimal

Mild

Moderate

Marked

Centrilobular hepatocyte necrosis

304

65

15

8

26

Centrilobular, mid-zonal hepatocyte necrosis

399

8

5

4

2

Mid-zonal hepatocyte necrosis

417

1

0

0

0

Focal hepatocyte necrosis

392

11

12

2

1

Centrilobular cellular infiltrates

333

50

17

13

5

Centrilobular, mid-zonal cellular infiltrates

400

5

8

5

0

Portal cellular infiltrates

394

16

5

3

0

Focal cellular infiltrates

370

34

10

4

0

Depletion glycogen

324

19

33

16

26

Centrilobular hepatocyte degeneration

403

9

3

3

0

Centrilobular, mid-zonal hepatocyte degeneration

402

4

7

5

0

Hepatocyte apoptosis

410

7

1

0

0

Hepatocyte hypertrophy

382

10

16

0

10

Hepatocyte fatty change

416

2

0

0

0

Bile duct hyperplasia

405

11

2

0

0

Congestion

397

10

5

6

0

Hemorrhage

384

34

0

0

0

Hepatocyte regeneration

412

3

0

2

1

Mitosis

393

12

5

4

4
The expected result of exposure to both the moderately toxic and toxic doses of these compounds (except for 1,4-dichlorobenzene) was necrosis within the liver lobule. For most compounds it was expected that the necrosis would be localized to the centrilobular region, whereas with diquat the damage was expected to extend into the midzonal region, and with galactosamine it was expected to be randomly distributed throughout the liver. The histopathology data confirmed these expectations; however, some individual animal variability was observed (Table 1 and Additional data file 1). Variability in the evoked phenotypic response is commonly observed in these types of in-life studies, despite conducting the experiments in an in-bred population using highly standardized procedures. Although such variability can be confounding when the data are analyzed using dose, time, and compound to organize groups, here we consider this variability to be an asset in that it provided an opportunity to examine molecular responses and mechanisms not only according to the mode of action of the included compounds, but also according to the severity and character of the response irrespective of inducing compound. Furthermore, this variability in response provides an opportunity to identify biomarkers that correlate with hyper- and hyposensitivity in individual animals.
Compound-specific responses
Previous work has demonstrated that toxicants can be classified using gene expression data derived from the primary target tissue [2, 3, 35, 36]. The compounds in this study were chosen based on their ability to induce acute hepatotoxicity and the similarities and differences in the type and location of the damage resulting from exposure. Since the compounds in this study are acute hepatotoxicants resulting in hepatocyte necrosis, we wanted to corroborate these findings with chemicals that could be considered closely related based on the damage they evoke.
For each compound there are three doses and three time points for a total of nine dose/time groups with four to six animals in each group (the additional dose for diquat was omitted from these analyses). A support vector machine (SVM) approach was used to identify compound-specific classifiers within each dose/time group for each tissue type (blood and liver). The resulting classifiers (Additional data file 2) were then used to group samples based on principal component analyses and hierarchical clustering to determine whether or not the classifiers functioned well at separating all of the animals within a dose/time group into different compound groups.
In order to assess the biological themes within each set of classifiers, a Gene Ontology (GO) enrichment analysis was performed on the classifiers for each tissue/time point/dose group using GoMiner [37, 38]. The enrichment p-values for all GO categories that had at least five members measured by the microarray are detailed in Additional data file 3. The GO categories that were found to be enriched in multiple tissue/time point/dose groups revealed some interesting aspects of the biology underlying the molecular response to the exposure to these acute hepatotoxicants. Not surprisingly, categories like 'response to chemical stimulus' and 'response to wounding' were found to be enriched in many of these groups. 'Taxis' and 'chemotaxis' were the most prevalently enriched GO categories in both tissue types, which likely reflects the differential response with regards to the inflammatory cell infiltrates across the compounds. 'Wound healing' was significantly enriched in many of the time point/dose groups in the liver, except at the time points associated with the high dose exposure, which is consistent with the histopathological observations with the sub-toxic and moderately toxic doses. Interestingly, this category was enriched at the 24 and 48 hour time points for the high dose exposures in blood. Also surprising was the observation that classifiers annotated to 'wound healing' were different for each of these time points in blood, potentially suggesting that the differences in the identity of the genes may represent some of the temporal responses to the healing and repair processes that occurred between the 24 and 48 hour time points.
Cumulatively, these results support the previous findings that toxicants can be classified and differentiated based on gene expression profiling data from the target organ [2, 3, 35, 36], but extends our understanding by determining that such results can also be obtained using whole blood. Importantly, in instances where a specific dose of a compound resulted in variable severity of liver injury, it was found that the specifics of the injury were a more significant determinant of expression levels than were compound-specific patterns of expression. This strongly reinforces the need to phenotypically anchor gene expression data in order to appropriately interpret the results.
Transcript profiles of toxicity in whole blood
Having demonstrated the utility of performing gene expression profiling on whole blood samples as an effective surrogate for the target organ to classify compound exposures, we sought to further explore the utility of this readily available sample source by establishing whether blood transcript data could provide insights into the presence and severity of injury within a target organ upon toxicant exposure. In previously published work using these same in-life studies, we detailed an approach to compile histopathological diagnoses into common biological themes and to appropriately weigh and score these observations [
39
]. Using this approach, the diagnoses involving 'glycogen depletion', 'hypertrophy', 'fatty change', and 'necrosis' were combined in a 'Response to hepatocellular injury' category. For each individual animal in this study, a score was calculated for this category based on the absence or presence (and associated severity score) of the histopathological observation comprising this category (Additional data file 1). These scores were used as the factor level in a one-way analysis of variance (ANOVA) involving the gene expression data from whole blood. A total of 30 transcripts was found to vary significantly (
p
-value ≤ 1 × 10
-7
) across the factor levels. Interestingly, over 60% of these transcripts (n = 19) overlap with the set of 3,659 transcripts that were identified using the same ANOVA approach with the liver gene expression data [
39
]. The gene expression data from all 318 rats for this group of 30 transcripts were then used in a principal component analysis (PCA). The resulting visualization from this analysis (Figure
4
) reveals that the variability contained in the first principal component (the combination of variables that explains the greatest amount of variation) provides good separation of the individuals based on their 'Response to hepatocellular injury' score as indicated by the increasing trend from left to right in the figure. The separation is not perfect, which is expected when one considers that this is only a portion of the biological response to treatment that these animals undergo. However, this clearly illustrates the power to be able to detect not only the presence of liver injury, but also an indication of severity using transcript data from whole blood.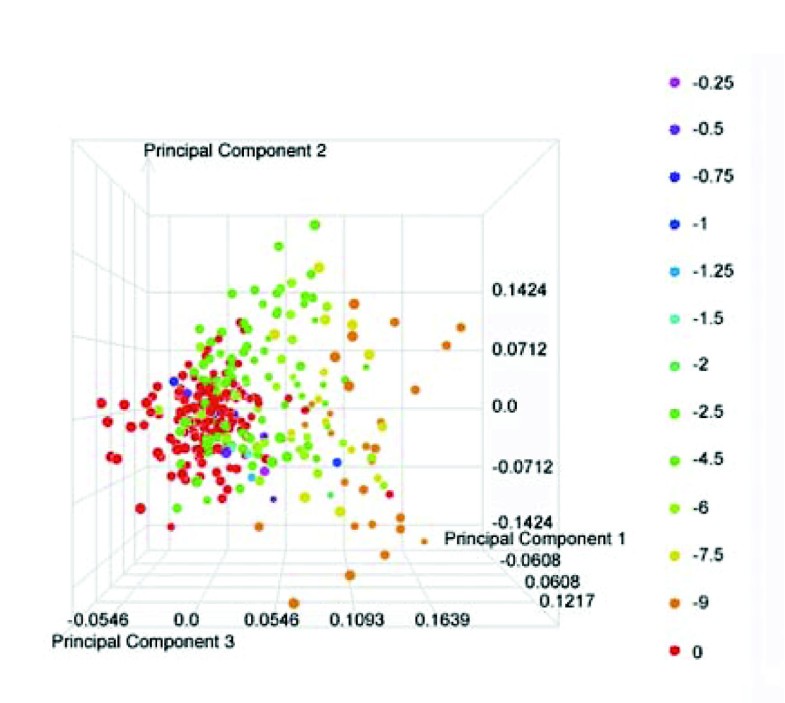 Conclusion
We have generated a data set that will be a unique and valuable resource for the environmental health and toxicological research community. The results of the study presented here demonstrate that, using this data set, differences in the phenotypic manifestation of diverse hepatotoxicants can be resolved by microarray analysis. It was possible to classify histopathological differences, most likely reflecting differences in mechanisms of cell-specific toxicity, using either liver tissue or blood. Such data may allow for mechanistic inference and lead to a more precise definition of the potential hepatotoxicity of new compounds. In addition, the availability of public access to the data derived from these studies provides a resource to other investigators pursuing these and related issues.
Additional data files
The following additional data are available with the online version of this paper. Additional data file 1 is a table detailing the histopathological scores as well as the clinical chemistry and hematology data that were generated for each animal in this project. Additional data file 2 is a table detailing the Agilent probe identifiers that resulted from the SVM analyses detailed in the Results section. Additional data file 3 is a table detailing the enrichment p-values that resulted from performing a GO enrichment analysis on the list of classifiers for each dose/time/tissue group. GO categories must have had at least five associated genes measured on the microarray in order to be included. Additional data file 4 is a table detailing all of the observations and measurements that were made during the in-life portion of the project. Additional data file 5 is a table detailing the scoring method that was used for the histopathological observations that were made in this project.
Notes
Acknowledgements
The authors would like to express their appreciation to the entire ToxPath team of the National Center for Toxicogenomics for stimulating discussions about the design of the study, the Investigational Genomics Group of Cogenics, a Division of Clinical Data, for performing all of the microarray work, and Drs Ivana Yang and Michael Humble for insightful comments and critical review of the manuscript. This research was supported in part by the Intramural Research Program of the National Institute of Health and the National Institute of Environmental Health Sciences and has been funded in part with Federal funds from the National Institute of Environmental Health Sciences, National Institute of Health, under Contract Number N01-ES-25497 and NIH-ES-33515.
Copyright information
© Lobenhofer et al.; licensee BioMed Central Ltd. 2008
This article is published under license to BioMed Central Ltd. This is an open access article distributed under the terms of the Creative Commons Attribution License (http://creativecommons.org/licenses/by/2.0), which permits unrestricted use, distribution, and reproduction in any medium, provided the original work is properly cited.