Endothelial glycocalyx disruption after cardiac surgery in infants
Keywords
Congenital Heart Disease 
Congenital Heart 
Cardiopulmonary Bypass 
Systemic Inflammation 
Biochemical Marker 
These keywords were added by machine and not by the authors. This process is experimental and the keywords may be updated as the learning algorithm improves.
Introduction
The endothelial glycocalyx (EGX) modulates vascular permeability and inflammation. It is disrupted by ischaemia-reperfusion. We hypothesised that cardiopulmonary bypass would elevate markers of EGX shedding, which would be associated with increased postoperative inflammation.
Methods
A prospective cohort of 25 infants (median weight 5 kg) undergoing surgery for congenital heart disease. Blood temporal pro-files of two markers of EGX disruption - heparan sulphate (HEP) and syndecan-1 (SYND) - were correlated with a biochemical marker of systemic inflammation (IL-6) and clinical outcome variables.
Results
Infants showed a dramatic rise in SYND, which peaked at the end of bypass, returning to baseline at 48 hours (Figure
1
). The median (IQR) peak SYND levels were 144 ng/ml (113 to 190), representing a sixfold rise from baseline. A less pronounced rise was seen for HEP (median 22.5 μg/ml), which approximately doubled. Peak IL-6 occurred at 12 hours post bypass: median 118 pg/ml (44 to 217). Absolute peak values of both SYND and HEP correlated poorly with IL-6 and all clinical variables. Conversely, peak IL-6 correlated with bypass time (
r
= 0.53), length of ventilation (
r
= 0.69) and ICU stay (
r
= 0.58).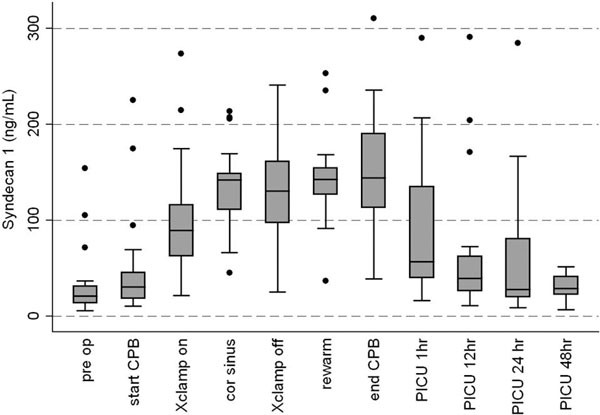 Conclusions
Although markers of EGX disruption show a reproducible temporal profile after bypass, the lack of correlation with IL-6 and clinical markers means that their significance is unclear.
Copyright information
© Sheward et al. 2011
This article is published under license to BioMed Central Ltd. This is an Open Access article distributed under the terms of the Creative Commons Attribution License (http://creativecommons.org/licenses/by/2.0), which permits unrestricted use, distribution, and reproduction in any medium, provided the original work is properly cited.