Combined use of pumpless extracorporeal lung assist system and continuous renal replacement therapy with citrate anticoagulation in polytrauma patients
Keywords
Continuous Renal Replacement Therapy 
Vascular Access 
Trisodium 
Plateau Pressure 
Ventilation Strategy 
These keywords were added by machine and not by the authors. This process is experimental and the keywords may be updated as the learning algorithm improves.
Introduction
The usefulness of a pumpless extracorporeal lung assist system (pECLA) and continuous renal replacement therapy (CRRT) in critically ill patients has been demonstrated in previous studies [1, 2]. The aim of this report was to examine combined use of pECLA and CRRT to improve carbon dioxide and inflammatory mediator removal, which allows for lung protective ventilation strategies.
Methods
In our 10 patients with ARDS due to polytrauma and sepsis, pECLA was established by insertion of cannulae to the femoral artery and vein. CRRT cannulae were introduced by venous line of the same vascular access (Figure
1
). We preferred regional anticoagulation with trisodium citrate for both CRRT and ILA.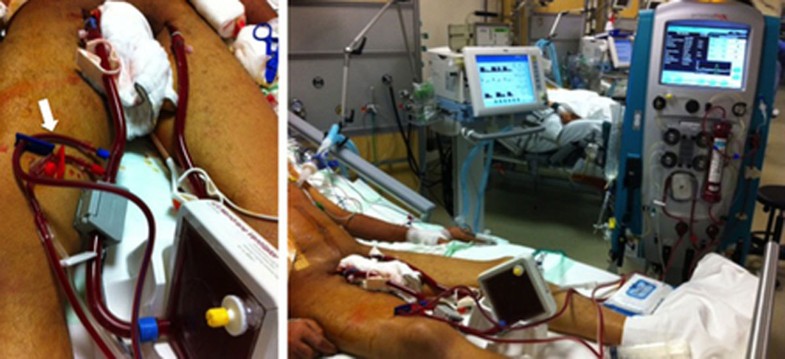 Results
Mean SAPS II and APACHE II scores were 55 and 23 respectively. Mean time on mechanical ventilation was 22 days. Mean ICU stay was 30 days for survivors and 38 days for nonsurvivors. When compared with baseline values most relevant parameters were the improvement in tidal volumes, plateau pressures, PaCO
2
levels and pH (Figure
2
). Four patients survived while six patients died from sepsis-MOF.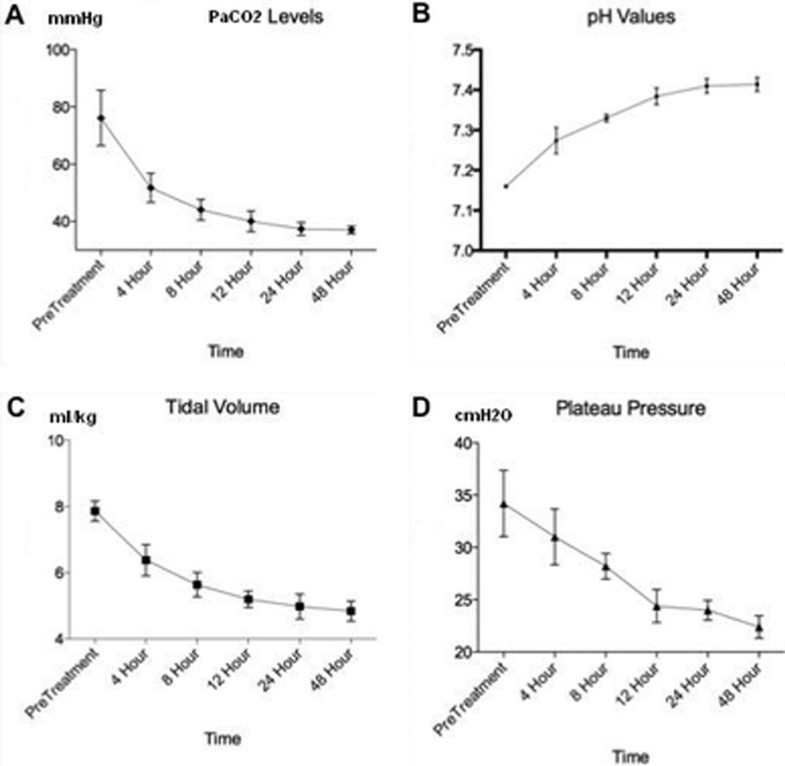 Conclusion
We concluded that pECLA can effectively address the impaired gas exchange in ARDS and CRRT is a safe procedure with potential therapeutic value for treating MOF. Citrate anticoagulation was well tolerated and filter life was appropriate. The use of the same vascular access for ILA and CRRT may minimize invasive procedures and related side effects.
Copyright information
© Atalan et al.; licensee BioMed Central Ltd. 2013
This article is published under license to BioMed Central Ltd. This is an Open Access article distributed under the terms of the Creative Commons Attribution License (http://creativecommons.org/licenses/by/2.0), which permits unrestricted use, distribution, and reproduction in any medium, provided the original work is properly cited.