TGF-beta1 on osteoimmunology and the bone component cells
Abstract
TGF-β1 is an immunoregulatory cytokine that regulates immune cell proliferation, survival, differentiation, and migration. Compelling evidence has demonstrated a strong association between the immune and skeletal systems (so called Osteoimmunology), such as the critical role of TGF-β1 in the development and maintenance of the skeletal tissue. This review provides an overview of the mechanisms in which TGF-β1 interacts with bone component cells, such as osteoblasts, osteoclasts, chondrocytes, mesenchymal stem cells, and hematopoietic stem cells, in concert with other cytokines and hormones.
Keywords
Bone Formation 
Bone Resorption 
Osteoclast Precursor 
Osteoblast Proliferation 
Bone Marrow Niche 
These keywords were added by machine and not by the authors. This process is experimental and the keywords may be updated as the learning algorithm improves.
Introduction
Bone is a rigid organ that constitutes part of the endoskeleton of vertebrates. It serves multiple functions; providing mechanical support for joints and tendons, protecting soft tissue or various organs from mechanical stress or trauma, storing minerals, generating hematopoietic cells, and producing hormones. These many functions are regulated by several soluble factors. Interestingly, accumulated evidence indicates that transforming growth factor beta 1 (TGF-β1) plays a critical role in bone formation, mineral storage, and hematopoietic cell generation. In addition, recent progress in the study of the cross-talk between the skeletal system and the immune system (termed osteoimmunology) has revealed shared components and mechanisms between the two systems [
1
]. This review highlights recent findings focusing on the role of TGF-β1 in bone metabolism and osteoimmunology.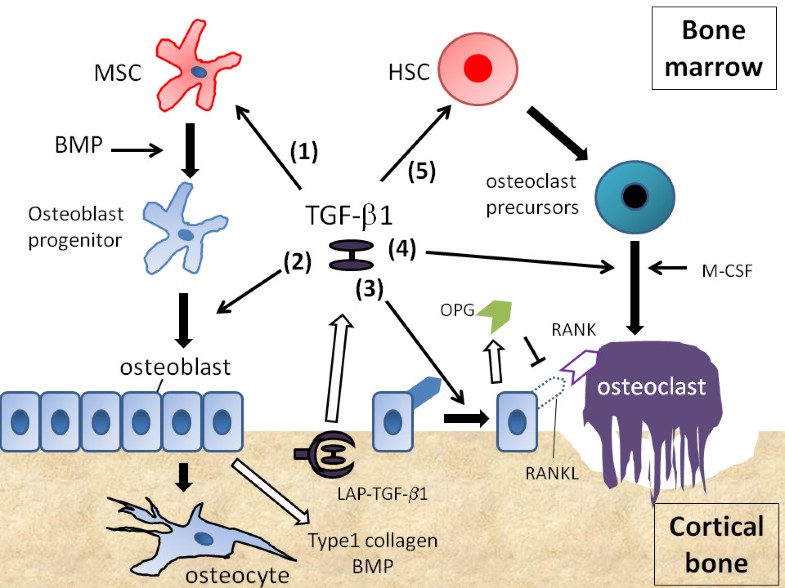 Notes
Acknowledgement
We thank Dr. Eric Tu, and Dr. Joanne Konkel for their comments on the manuscript.
This research was supported by the Intramural Research Program of the NIH.
Copyright information
© Kasagi and Chen; licensee BioMed Central Ltd. 2013
This article is published under license to BioMed Central Ltd. This is an Open Access article distributed under the terms of the Creative Commons Attribution License (http://creativecommons.org/licenses/by/2.0), which permits unrestricted use, distribution, and reproduction in any medium, provided the original work is properly cited.