Intrauterine growth retardation - small events, big consequences
Open Access
Letter to the Editor
Part of the following topical collections:
Abstract
Intrauterine growth retardation refers to a rate of growth of a fetus that is less than normal for the growth potential of a fetus (for that particular gestational age). As one of the leading causes of perinatal mortality and morbidity, intrauterine growth retardation has immense implications for the short term and long term growth of children. It is an important public health concern in the developing countries. Health statistics encompassing parameters for maternal and child health in the Indian subcontinent have shown improvement in the past few years but they are still far from perfect. Maternal health, education and empowerment bears a strong influence on perinatal outcomes including intrauterine growth retardation and should be the primary focus of any stratagem targeted at reducing the incidence of intrauterine growth retardation. A concerted liaison of various medical and social disciplines is imperative in this regard.
Keywords
Antenatal Clinic 
Intrauterine Growth Retardation 
Megaloblastic Anemia 
Meconium Aspiration Syndrome 
South Asian Population 
These keywords were added by machine and not by the authors. This process is experimental and the keywords may be updated as the learning algorithm improves.
Background
Intrauterine growth retardation (IUGR) is defined as a rate of growth of a fetus that is less than normal for the growth potential of a fetus (for that particular gestational age) [
1
]. It is diagnosed by two direct intrauterine growth assessments (ultra-sonographically) or when the fetal length (height) is less than two standard deviations (or third percentile) below the mean for gestational age [
2
]. IUGR can virtually be caused by any aberration in the normal biological processes that occur during the course of pregnancy and contribute to the growth of the fetus. It can be categorized as being either symmetric or asymmetric depending on the timing of the insult during pregnancy (Figure
1
).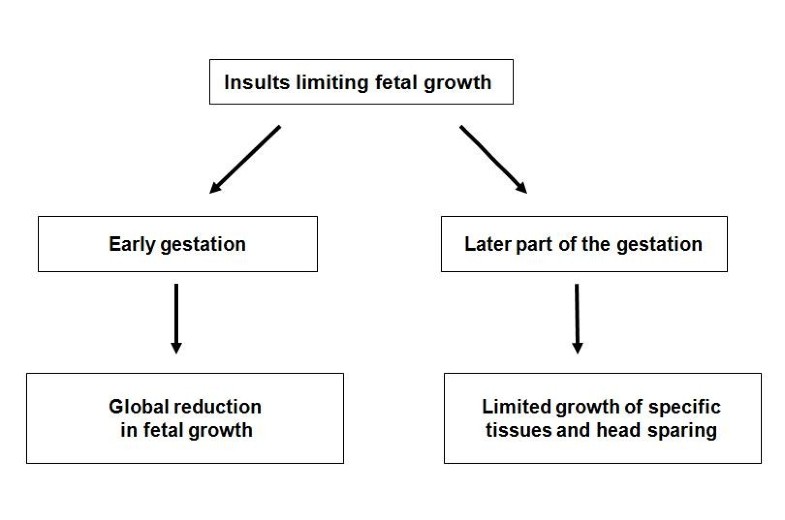 A fetus affected by IUGR forms a subset of cases of Small for Gestational Age (SGA) infants [3]. In SGA, the estimated weight of the fetus is below the 10th percentile for its gestational age and abdominal circumference (AC) is below the 2.5th percentile [4]. In accurately dated pregnancies, approximately 80-85% of fetuses identified as being IUGR are constitutionally small but healthy, 10-15% are 'true' IUGR cases, and the remaining 5-10% of fetuses are affected by chromosomal/structural anomalies or chronic intrauterine infections [5]. IUGR can complicate 10% to 15% of all physiologic pregnancies [6]. However, it must be remembered that the incidence of such cases varies depending on the population, geographic location being scrutinized and the standard growth curves used as reference [4].
Copyright information
© Saleem et al; licensee BioMed Central Ltd. 2011
This article is published under license to BioMed Central Ltd. This is an Open Access article distributed under the terms of the Creative Commons Attribution License (http://creativecommons.org/licenses/by/2.0), which permits unrestricted use, distribution, and reproduction in any medium, provided the original work is properly cited.