A genetic network model of cellular responses to lithium treatment and cocaine abuse in bipolar disorder
Open Access
Research article
Abstract
Background
Lithium is an effective treatment for Bipolar Disorder (BD) and significantly reduces suicide risk, though the molecular basis of lithium's effectiveness is not well understood. We seek to improve our understanding of this effectiveness by posing hypotheses based on new experimental data as well as published data, testing these hypotheses in silico, and posing new hypotheses for validation in future studies. We initially hypothesized a gene-by-environment interaction where lithium, acting as an environmental influence, impacts signal transduction pathways leading to differential expression of genes important in the etiology of BD mania.
Results
Using microarray and rt-QPCR assays, we identified candidate genes that are differentially expressed with lithium treatment. We used a systems biology approach to identify interactions among these candidate genes and develop a network of genes that interact with the differentially expressed candidates. Notably, we also identified cocaine as having a potential influence on the network, consistent with the observed high rate of comorbidity for BD and cocaine abuse. The resulting network represents a novel hypothesis on how multiple genetic influences on bipolar disorder are impacted by both lithium treatment and cocaine use. Testing this network for association with BD and related phenotypes, we find that it is significantly over-represented for genes that participate in signal transduction, consistent with our hypothesized-gene-by environment interaction. In addition, it models related pharmacogenomic, psychiatric, and chemical dependence phenotypes.
Conclusions
We offer a network model of gene-by-environment interaction associated with lithium's effectiveness in treating BD mania, as well as the observed high rate of comorbidity of BD and cocaine abuse. We identified drug targets within this network that represent immediate candidates for therapeutic drug testing. Posing novel hypotheses for validation in future work, we prioritized SNPs near genes in the network based on functional annotation. We also developed a "concept signature" for the genes in the network and identified additional candidate genes that may influence the system because they are significantly associated with the signature.
Keywords
Lithium 
Cocaine 
Bipolar Disorder 
Clozaril 
Lithium Treatment 
These keywords were added by machine and not by the authors. This process is experimental and the keywords may be updated as the learning algorithm improves.
Abbreviations
BD

Bipolar Disorder

PDG-ACE

Prioritizing Disease Genes by Analysis of Common Elements

GRAIL

Gene Relationships Across Implicated Loci

GAD

Genetic Association Database
Background
Bipolar Disorder (BD) is characterized by severe mood swings, from deep depression to mania, and shows familial transmission patterns consistent with multiple genetic influences on susceptibility [1]. It poses a significant cost to affected individuals, including ~15% rate of suicide, and to society as a whole, affecting 1% to 3% of the population. Lithium is effective in preventing mania in many BD patients, although the molecular basis of lithium's action is not well understood and not all BD patients respond to lithium treatment [2, 3]. Since lithium treatment exerts an environmental influence on cells, and differential gene expression is one important mechanism of cellular response to environmental influences, we hypothesized that lithium activates signal transduction pathways leading to differential expression of genes related to BD mania [3, 4, 5].
Microarray analysis provides an unbiased approach to identifying genes that are differentially expressed in cells with treatment, relative to untreated cells [6]. BD is thought to be a brain disorder, however, accessing the most appropriate tissue (live human brain) for expression studies is unlikely, so a model system is necessary. Some researchers have used brain tissue from animal models [7, 8], although expression patterns may be different in animals than in humans. Alternately, studies have been conducted with postmortem human brain tissue [8, 9], although expression in postmortem tissue may differ from expression in living tissue. As a third option, researchers use peripheral blood cells from humans to extrapolate genetic variants associated with brain disease [10, 11, 12]. Since expression in brain may be different from expression in peripheral blood cells, this third approach necessitates a follow-up analysis to maximize the likelihood that differential expression seen in peripheral cells is consistent with differential expression in brain. In spite of this extra step in the analysis, we chose peripheral blood cells because they are readily available from live human participants. Equally, while these cells are available, each sample represents a finite resource, so transformation to form Lymphoblast Cell Lines (LCLs) produces a resource that can be used in follow-on studies. EBV-transformed lines exhibit chromosomal stability [13] while providing ease of handling and availability for repeated DNA preparations for follow-on studies [13]. Further, they are consistent with samples derived from repositories such as the Coriell Institute [14] or the Rutgers University Cell and DNA Repository [15], so comparisons can be made based on samples from a range of phenotypes. Notably, transformation could influence gene expression. However, the virus is incorporated randomly into the genome, so this influence would not be likely to produce consistent changes of expression of any particular genes. As such, while imperfect, we believe that LCLs represent the most appropriate model for this work.
In this work (Figure
1
), based on our initial hypothesis of lithium activating signal transduction pathways important in BD etiology, we used microarray analysis to look for differential expression in untreated LCLs, relative to the same LCLs treated with a therapeutic dose of lithium. We confirmed that these candidate genes are expressed in brain and confirmed differential expression with rt-QPCR. We then looked for interactions among these candidate genes and used a systems biology approach to reveal a genetic network consistent with the hypothesized response to lithium treatment. This lithium response network is consistent with the neurotransmitter theory of BD, models responders and non-responders, and shows statistically significant over-representation of genes annotated for signal transduction. Interestingly, we also find a relationship with comorbid cocaine abuse, consistent with high rates of substance abuse in BD patients [
16
]. Based on this network, we nominate: a) known therapeutic targets for drug testing, b) SNPs for validation testing, and c) additional candidate genes that share the "concept signature" of the network genes.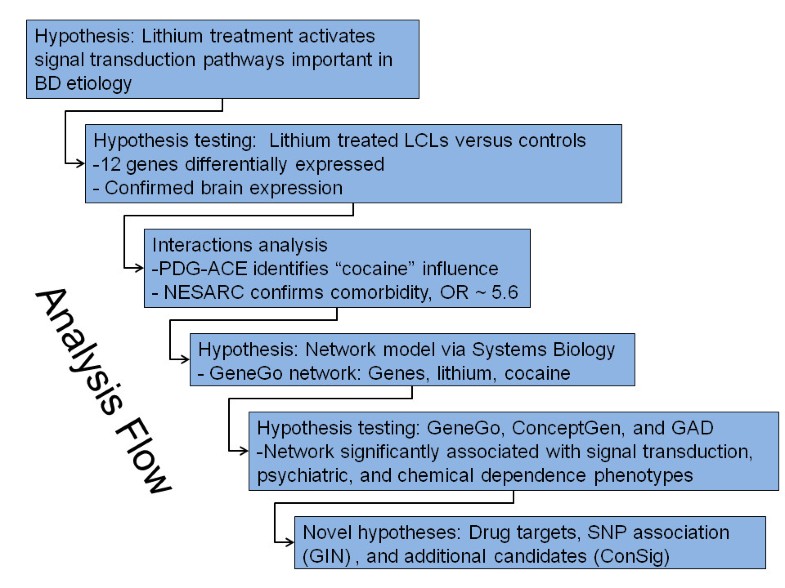 Discussion
Based on our initial hypothesis that lithium treatment poses an environmental influence on cells through activation of signal transduction pathways, we investigated differential gene expression in response to lithium treatment. Microarray analysis revealed 12 genes that were significantly differentially expressed in LCLs with lithium treatment. The resulting list of candidate genes may provide insight to the etiology of lithium's effectiveness in BD. Seeking to put these genes into context, we first looked for interactions (commonality) among them via PDG-ACE and GRAIL analyses. PDG-ACE identified significant commonality between FOS and FOSB, serving as a positive control consistent with their roles as members of a single gene family. Notably, the keyword "forebrain", common across the FOS/FOSB pair, is also consistent with impulsivity seen in BD patients where variations in neurotransmitter signaling within forebrain regions may influence impulsivity associated with mania [32, 33]. In addition, PDG-ACE revealed a significant interaction between FOS and NR4A2 based on the keyword "cocaine". Pursuing this result via the NESARC survey, we found that the odds ratio for cocaine abuse among "manic" BD patients is more than 5 times that of the general population [23]. This is also consistent with a number of studies that have documented association between BD and cocaine abuse [34, 35, 36, 37, 38, 39, 40, 41, 42]. GRAIL results are consistent with the psychiatric implications of the candidate genes but do not suggest novel hypotheses.
Based on our MiSearch publications search, we find that both FOS and FOSB are well established as candidate genes for both lithium response and cocaine abuse. Relatively little research currently associates NR4A2 with BD, lithium response, or cocaine abuse. However, Xing, et al., showed a reduction of NR4A2 in the prefrontal cortex of patients with BD [43] and Buervenich, et al., found that NR4A2 mutations caused a 30-40% reduction of in-vitro transcriptional activity in one case of BD [44]. In both cases, the data are consistent with lithium having a therapeutic effect in BD, by normalizing deficient NR4A2 levels. Contrary to this effect, chronic lithium treatment was shown to decrease NR4A2 expression in rat brain [45], though this effect was localized to the CA1 hippocampal subregion. Much more research has been published on potential effects of FOS on BD susceptibility and/or lithium response. Rao, et al., [46] recently reported increased expression of FOS in postmortem brain tissue from BD patients, relative to controls. St. Andre, et al., reported induction of FOS in multiple brain regions with LiCl treatment [47], along with Spencer and Houpt [48], Hammamura, et al., [49], Swank [49], and Portillo [50]. These results are consistent with the multiple genetic and environmental interactions influencing lithium etiology in BD. However, while lithium appears to influence FOS expression, the multiple positive and negative feedback loops evident in the network model likely make simple predictions unreliable.
PDG-ACE points us in the direction of lithium's influence on dopamine signaling via NR4A2 and FOS, consistent with the catecholamine theory of BD etiology[51]. NR4A2 also regulates dopaminergic neuron development [52, 53]. Cocaine represses NR4A2 expression [54, 55, 56, 57] as well as DAT expression [57]. Lithium may increase NR4A2 expression [45, 46, 47, 48, 49, 50, 51, 52, 53, 54, 55, 56, 57, 58] and reduces mania, so we speculate that lithium may function in BD by increasing expression of DAT and other neurotransmitter related genes though, as with FOS, it is likely that simple predictions are unreliable. Interestingly, both lithium and cocaine pose environmental influences on cells, consistent with the hypothesized antagonism of these two substances [59, 60, 61], as well as the potential for using lithium treatment in cocaine abuse [62, 63, 64]. Notably, the keyword "forebrain" characterizing the interaction between FOS and FOSB is also consistent with cocaine abuse. Zahm, et al., showed that FOS expression in basal forebrain was "recalibrated" with cocaine use [65].
Network hypothesis
The network developed provides a model of the multiple interacting genetic and environmental influences involved in lithium etiology, as well as the influence of cocaine on this system. It is strongly consistent with our initial hypothesis that signal transduction plays an important role in lithium etiology, and also models related pharmacogenomic, psychiatric, and chemical dependence phenotypes. Variation in any of the genes in this network could influence an individual's response to lithium treatment or susceptibility to substance abuse, explaining the approximate 70% rate of lithium response in BD patients, as well as high rates of comorbid substance use disorders. Since substance use poses an environmental influence on cells, signal transduction is implicated along with neurotransmitter signaling and metabolism, consistent with our previous work in BD comorbid with tobacco use disorder [66], and depression comorbid with alcohol use disorders [67]. In addition, as we observed in these previous studies, this network is enriched for genes associated with phenotypes that are not normally considered psychiatric disorders (ageing, cancer, immune disorders, etc) (Table3). This result challenges our traditional view of psychiatric and substance use disorders as being distinct from medical disorders.
Clinical implications for BD
Our network model reveals multiple pathways for both lithium and cocaine to influence the genetic network, as well as both positive and negative feedback loops. This is consistent with BD's characterization as a complex disease, where multiple genetic and environmental influences interact in predisposition to disease and in modulating sensitivity to drug therapies. In addition, individuals with certain constellations of genetic variants in the network genes may be more likely to respond to lithium treatment and/or be more vulnerable to comorbid cocaine abuse. Of the genes in the network, 28 are known therapeutic drug targets (Additional file 1 - GeneGo Network details).
Given the network of interactions, the genes associated, and the drugs known to target these genes, the potential exists for novel applications of known drugs in BD and cocaine abuse treatment. We know that psychosis may be present in mood episodes of bipolar patients, including both mania and depression [68]. In addition, there is evidence [69] linking the use of anti-psychotic medications to treatment efficacy in bipolar depression and bipolar mania. Lithium appears to have an interaction with genes whose expression is also believed to be altered by treatment with certain antipsychotic medications (i.e. perphenazine, thioridazine, asenapine, chlorpromazine, and clozaril) [69]. Clozaril, known for its potential side effect of neutropenia, is a medication purported to be effective in treatment resistant schizophrenia illness [70]. The onset of such neutropenia is frequently managed successfully with the stoppage of clozaril treatment and the initiation of lithium treatment. This is consistent with lithium's known effect on white blood cell (WBC) elevation and subsequent neutrophilia, believed to be induced via lithium's induction of Granulocyte Macrophage-Colony Stimulating Factor (GM-CSF)[71].
Sex hormone changes are widely believed to be associated with mood changes, both pathological and non-pathological. Indeed, the dysphoria often present in relation to the female menstrual cycle is well known to clinicians. In addition, pathological changes in the post-partum period are often present and particularly insidious in their severity and presentation. It would thus be logical to believe that medications that can alter sex hormone levels would influence mood. Indeed clomiphene and diethylstilbestrol treatment have both been observed to be associated with potential side effects of depression [72, 73] and anxiety [73, 74]. Abortifacients such as mifepristone have been investigated for their potential effect in the treatment of neurocognitive functioning and mood stability in bipolar disorder [75]. Prednisone treatment is believed to be associated with the side effects of development of both depression and manic psychosis [76]. Notably, both measured cortisol levels and results of the dexamethasone suppression test (DST) have been shown in bipolar subjects to differ from healthy controls [77], but are somewhat consistent across either depressive or manic episodes in a particular bipolar patient.
Among the other drugs that may be important in the treatment of BD, scopolamine has received some attention as an investigation treatment in the relief of bipolar depressive episodes[78]. Treatment with TNF-alpha (Tumor Necrosis Factor alpha) has the frequent side effect of inducing depression and there have been reports of mania [79]. As such, anti-TNF-alpha medications would potentially reverse this side effect. In addition, two of the genes that link cocaine to the network, PKC-epsillon and PYK2, are therapeutic targets of KAI1455 and PF562271, respectively, and may offer insight into the comorbidity of BD with cocaine abuse.
Novel hypotheses
Based on the genes in our network, GIN analysis nominates ~5,000 SNPs for follow-up analysis, prioritized by functional annotation (Additional file 2 - GIN details). In addition, depending on the threshold set by the user, ConSig identifies hundreds of candidate genes that are significantly associated with the signature of the network genes (Additional file 3 - Genes nominated by Concept Signature). These genes represent novel candidates for validation in follow-up studies.
Conclusions
In this work, we hypothesized that signal transduction is significant in the etiology of lithium response in BD. Consistent with this hypothesis, we identified 12 genes that are differentially expressed with lithium treatment, then explored their likely roles in BD. In the course of this exploration, we identified a significant influence on comorbid cocaine abuse in BD, consistent with the epidemiological evidence. Using a systems biology approach to place the 12 differentially expressed genes into context, we developed a novel network model of the multiple interacting genetic and environmental influences on BD, lithium response, and comorbid cocaine abuse. Consistent with our hypothesis, this network is significantly associated with signal transduction, as well as pharmacogenomic, psychiatric, and chemical dependence phenotypes. Of the genes in this network, 28 are therapeutic drug targets, making them immediate candidates for follow-up drug testing. We also pose new hypotheses in the form of SNPs prioritized by functional annotation and novel candidate genes that are significantly associated with the concept signature of our network candidates.
Notes
Acknowledgements
This work was supported by National Institutes of Health grant #U54 DA021519 and the Prechter Bipolar Research Fund at the University of Michigan. SFS was supported by K01 DA024722. HC is supported by grants from the NIH (MH064596), the University of Michigan Comprehensive Depression Center Rachel Upjohn Clinical Scholars Award (2007), and Stanley Medical Research Institute's research grant (2005).
Copyright information
© McEachin et al; licensee BioMed Central Ltd. 2010
This article is published under license to BioMed Central Ltd. This is an Open Access article distributed under the terms of the Creative Commons Attribution License (http://creativecommons.org/licenses/by/2.0), which permits unrestricted use, distribution, and reproduction in any medium, provided the original work is properly cited.