Joubert Syndrome and related disorders
Abstract
Joubert syndrome (JS) and related disorders (JSRD) are a group of developmental delay/multiple congenital anomalies syndromes in which the obligatory hallmark is the molar tooth sign (MTS), a complex midbrain-hindbrain malformation visible on brain imaging, first recognized in JS. Estimates of the incidence of JSRD range between 1/80,000 and 1/100,000 live births, although these figures may represent an underestimate. The neurological features of JSRD include hypotonia, ataxia, developmental delay, intellectual disability, abnormal eye movements, and neonatal breathing dysregulation. These may be associated with multiorgan involvement, mainly retinal dystrophy, nephronophthisis, hepatic fibrosis and polydactyly, with both inter- and intra-familial variability. JSRD are classified in six phenotypic subgroups: Pure JS; JS with ocular defect; JS with renal defect; JS with oculorenal defects; JS with hepatic defect; JS with orofaciodigital defects. With the exception of rare X-linked recessive cases, JSRD follow autosomal recessive inheritance and are genetically heterogeneous. Ten causative genes have been identified to date, all encoding for proteins of the primary cilium or the centrosome, making JSRD part of an expanding group of diseases called "ciliopathies". Mutational analysis of causative genes is available in few laboratories worldwide on a diagnostic or research basis. Differential diagnosis must consider in particular the other ciliopathies (such as nephronophthisis and Senior-Loken syndrome), distinct cerebellar and brainstem congenital defects and disorders with cerebro-oculo-renal manifestations. Recurrence risk is 25% in most families, although X-linked inheritance should also be considered. The identification of the molecular defect in couples at risk allows early prenatal genetic testing, whereas fetal brain neuroimaging may remain uninformative until the end of the second trimester of pregnancy. Detection of the MTS should be followed by a diagnostic protocol to assess multiorgan involvement. Optimal management requires a multidisciplinary approach, with particular attention to respiratory and feeding problems in neonates and infants. Cognitive and behavioral assessments are also recommended to provide young patients with adequate neuropsychological support and rehabilitation. After the first months of life, global prognosis varies considerably among JSRD subgroups, depending on the extent and severity of organ involvement.
Keywords
Intellectual Disability 
Primary Cilium 
Polydactyly 
Retinal Dystrophy 
Bardet Biedl Syndrome 
These keywords were added by machine and not by the authors. This process is experimental and the keywords may be updated as the learning algorithm improves.
List of abbreviations used
JS

Joubert syndrome

MTS

molar tooth sign

JSRD

Joubert syndrome and related disorders

CNS

central nervous system

LCA

Leber congenital amaurosis

NPH

nephronophthisis

CDK

cystic dysplastic kidneys

CHF

congenital hepatic fibrosis.
Disease name and synonyms
The term Joubert Syndrome and Related Disorders (JSRD) has been recently adopted to describe all disorders presenting the "molar tooth sign" (MTS) on brain imaging. Thus, JSRD include Joubert syndrome (JS, also known as Joubert-Boltshauser syndrome [OMIM#213300]), as well as any related condition showing the MTS, such as the cerebello-oculo-renal syndrome, Dekaban-Arima syndrome [OMIM%243910], COACH syndrome [OMIM216360], Varadi-Papp syndrome (or Orofaciodigital type VI, [OMIM%277170]), Malta syndrome and a minority of cases with Senior-Loken syndrome [OMIM#266900].
Definition and diagnostic criteria
Joubert syndrome (JS) was originally described in 1968 in four siblings with agenesis of the cerebellar vermis presenting episodic hyperpnoea, abnormal eye movements, ataxia and intellectual disability [1]. Several years later, a pathognomonic midbrain-hindbrain malformation, the "molar tooth sign" (MTS), was detected first in JS [2], and then in several other conditions previously considered as distinct entities [3] (see section "Disease name and synonyms"). The term "Joubert Syndrome and Related Disorders" (JSRD) was then coined to group all conditions sharing the MTS [4], and this neuroradiological sign now represents the mandatory criterion to diagnose JSRD.
The MTS results from hypo-dysplasia of the cerebellar vermis, abnormally deep interpeduncular fossa at the level of the isthmus and upper pons, and horizontalized, thickened and elongated superior cerebellar peduncles [
5
] (Figure
1
). At the pathological level, these abnormalities correspond to a picture of severe hypo-dysplasia of the cerebellar vermis with midline clefting, fragmentation of cerebellar nuclei and heterotopia of Purkinje-like neurons, along with dysplasia of pontine and medullary structures such as the basis pontis, reticular formation, inferior olivary, dorsal column and solitary tract nuclei. Moreover, typical findings are represented by the lack of decussation both of the superior cerebellar peduncles and of the corticospinal tracts at the medullary pyramids [
1
,
6
].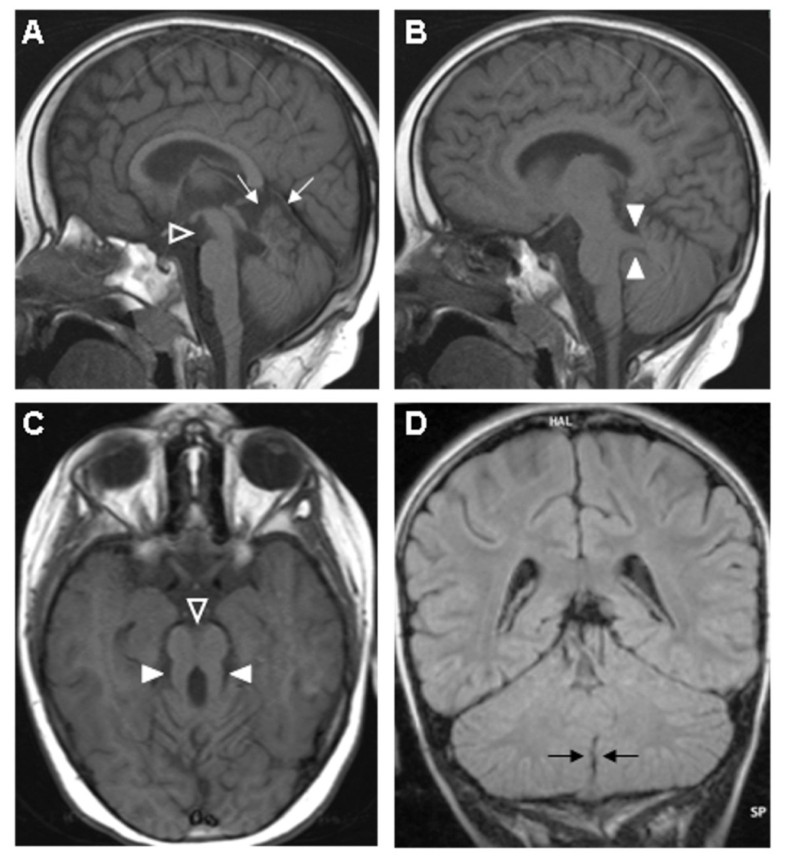 JSRD are clinically heterogeneous and combine neurological signs with variable multiorgan involvement, mainly of the retina, kidneys, liver and skeleton. This marked pleiotropism can probably be explained by the genetic basis of these syndromes. Ten causative genes have been identified to date: JBTS1/INPP5E [OMIM*613037], JBTS2/TMEM216 [OMIM*613277], JBTS3/AHI1 [OMIM*608894], JBTS4/NPHP1 [OMIM*607100], JBTS5/CEP290 [OMIM*610142], JBTS6/TMEM67 [OMIM*609884], JBTS7/RPGRIP1L [OMIM*610937], JBTS8/ARL13B [OMIM*608922], JBTS9/CC2D2A [OMIM*612013], JBTS10/OFD1 [OMIM*300170]. All these genes encode for proteins of the primary cilium, including JSRD in the group of "ciliopathies". Primary cilia are known to play key roles in the development and functioning of several cell types, including retinal photoreceptors, neurons, kidney tubules and bile ducts [7, 8]. In the developing cerebellum and brainstem, these organelles regulate major signal transduction pathways, and have been implicated both in neuronal cell proliferation and axonal migration [9].
JSRD present genetic and clinical overlap with other ciliopathies, in particular with Meckel syndrome, a lethal malformative condition characterised by encephalocele, other posterior fossa anomalies, ductal plate malformation of the liver and polycystic kidneys. JSRD and Meckel syndrome phenotypes may represent the two ends of a continuum and, indeed, mutations in at least five genes (TMEM216, CEP290, TMEM67, RPGRIP1L and CC2D2A) cause both disorders, with distinct mutation types variably correlating with the phenotypic severity [10, 11, 12, 13, 14, 15]. Interestingly, preliminary genotype-phenotype correlates indicate that Meckel syndrome fetuses nearly invariably harbor truncating mutations, while at least one hypomorphic (e.g. missense) mutation is found in almost all JSRD cases [11, 13, 14].
Classification of JSRD
The classification system of JSRD is still evolving due to the discovery of novel genes and the improved understanding of genotype-phenotype correlations.
The MTS has been initially described as part of distinct syndromes termed classical JS, JS plus LCA or retinal dystrophy, JS plus polymicrogyria, Senior-Loken, Dekaban-Arima, COACH, Varadi-Papp, and Malta syndromes [
4
]. Although useful in the past, we now discourage the continued use of such eponyms in favor of a more practical, clinical-genetic classification. The one proposed here defines six subgroups based on the main organ(s) involvement and the established genotype-phenotype correlates (Table
1
). Additional features such as facial dysmorphism, polydactyly, colobomas, and other CNS malformations (e.g. encephalocele, abnormal neuronal migration, etc.) can be detected within all the following subgroups.
Table 1
Classification of Joubert syndrome and related disorders based on associated clinical features
| Clinical subtypes | Mandatory features | Preferentially associated features* | Previously used nosology | Major gene(s)** |
| --- | --- | --- | --- | --- |
| Pure Joubert syndrome (JS) | MTS |   | JS | Mutations in many genes |
|   |   |   | JS type A |   |
| JS with ocular defect (JS-O) | MTS |   |   |   |
|   | Retinal dystrophy (including LCA) |   | JS type B | AHI1 |
| JS with renal defect (JS-R) | MTS |   |   | NPHP1 |
|   | NPH |   |   | RPGRIP1L |
|   | MTS |   | Cerebellooculorenal s. |   |
| JS with oculorenal defects (JS-OR) | Retinal dystrophy (often LCA) | (CHF reported in few cases) | SLS plus MTS | CEP290 |
|   | NPH |   | JS type B |   |
|   |   |   | Dekaban-Arima s. |   |
| JS with hepatic defect (JS-H) | MTS | Colobomas | COACH s. | TMEM67 |
|   | CHF | NPH | Gentile s. |   |
| JS with orofaciodigital defects (JS-OFD) | MTS |   | Váradi-Papp s. |   |
|   | Lobulated/bifid tongue (incl. hamartomas) | Cleft lip/palate | Orofaciodigital VI s. | TMEM216 (2 patients only) |
|   | Polydactyly |   |   |   |
Diagnosis
A diagnosis of JSRD should be suspected in all infants presenting with hypotonia, abnormal eye movements (in particular oculomotor apraxia, but also nystagmus) and developmental delay. The occurrence of abnormalities in the respiratory pattern, i.e. hyperpneas alternating with periods of apnea, reinforces the clinical suspicion of the disease. In these children, a brain MRI is sufficient to confirm or exclude the diagnosis, based on the detection of the MTS (Figure
2
).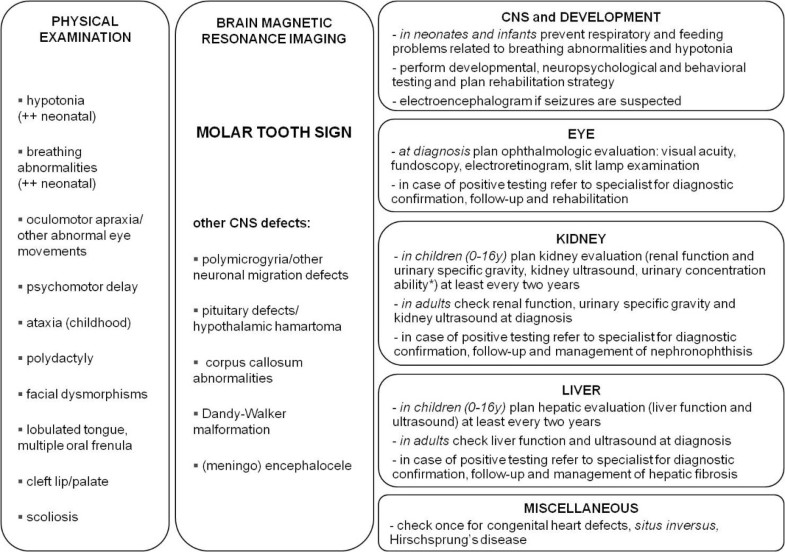 Once a diagnosis of JSRD has been made, children should enter a diagnostic protocol to assess the possible multiorgan involvement. Ocular investigations include evaluation of visual acuity, ocular motility, fundus oculi and, whenever possible, electroretinogram. Slit lamp examination can disclose abnormalities of the anterior segment of the eye. Kidney and liver function should be tested. Standard urine analysis is also necessary, and special attention should be given to urine specific gravity; should this value be abnormal or towards the lower normal range, a challenge test to assess urinary concentration ability is recommended. This is usually performed with water restriction or, even better, by evaluating urinary specific gravity after stimulation with Desmopressin. Abdominal ultrasound will explore the kidneys (to detect small cysts and loss of corticomedullar differentiation, suggestive of NPH), and the liver (to identify hepatomegaly or structural abnormalities that could underlie CHF). If hepatic involvement is suspected, further liver imaging techniques (such as magnetic resonance imaging) can support the diagnosis by demonstrating bile ducts proliferation or fibrotic nodules. Diagnosis is then confirmed by liver biopsy.
Possibly associated signs need to be investigated, including pituitary defects, cleft palate, lobulated tongue, congenital heart defects, situs inversus and Hirschsprung disease. A careful assessment of brain imaging is also requested to search for associated CNS malformations (Figure 2).
To date, diagnostic genetic testing is available only for a few genes, while selected laboratories offer molecular testing of known genes on a research basis. Genes to be tested should be prioritized by taking into account the clinical subgroup to which the patient belongs and the available genotype-phenotype correlates (Table 1).
Differential diagnosis
All conditions displaying neurological (hypotonia, abnormal breathing, abnormal eye movements and developmental delay) and/or organs manifestations seen in JSRD (retinal dystrophy, NPH, CHF, polydactyly) should be considered. In particular, these include other ciliopathies such as isolated nephronophthisis, Senior-Loken syndrome and Bardet Biedl syndrome, as well as cerebellar and brainstem congenital malformations and cerebro-oculo-renal syndromes [48, 89, 90, 91].
Genetic counseling and prenatal diagnosis
With the exception of rare cases following X-linked recessive inheritance [70], JSRD are transmitted in autosomal recessive fashion, and the recurrence risk for a couple with an affected child is one in four. Prenatal diagnosis is feasible through chorionic villus sampling at around eleven weeks gestation, only in families in which the molecular defect had been previously identified in the proband. To date, published mutation screenings of known genes have allowed the identification of mutations in less than half JSRD patients, making prenatal diagnosis still limited to a subset of families [92].
In the remaining families, fetal ultrasound may be useful in at-risk pregnancies, allowing the detection of hypoplasia of the cerebellar vermis and, when present, occipital encephalocele. Polydactyly may also represent a suggestive, although non-specific, feature possibly associated with all JSRD phenotypes [93, 94]. Recently, fetal MRI has been acknowledged as the method of choice to delineate posterior fossa malformations, facilitating the diagnosis of the disease before 24 weeks of gestation [95, 96, 97].
Management and follow-up
In neonates and infants particular care should be taken in managing respiratory and feeding problems related to either breathing abnormalities or hypotonia. Rehabilitation strategies must be planned for cognitive and behavioral difficulties and specific manifestations such as the visual impairment.
Any abnormal feature identified during the diagnostic assessment should be carefully followed up over time. In particular, the detection of decreased urinary concentration ability often represents the first clue to a diagnosis of NPH in otherwise asymptomatic patients. This requires a close monitoring to timely recognize and treat early signs of renal failure and to delay the onset of complications such as growth defect or bone disease. If CHF is diagnosed, specific follow-up should be planned to manage possible complications, including portal hypertension and esophageal varices.
Prognosis
Soon after birth, prognosis is related to the extent and severity of breathing dysregulation. In particular, recurrent episodes of prolonged apneas can be life-threatening and require assisted ventilation. In most cases, these respiratory abnormalities resolve spontaneously in the first months or years of life. Feeding difficulties may represent a problem in a number of patients. Afterwards, prognosis depends mostly on renal and hepatic complications that, if not timely diagnosed and managed, represent the major causes of death in JSRD patients.
Notes
Acknowledgements
The authors wish to thank Drs. Enrico Bertini and Andrea Rossi for their helpful suggestions and Sheila Pierce for her assistance in writing the manuscript. This work was supported by grant from the Italian Ministry of Health (Ricerca Corrente 2010 to EMV) and by Telethon Foundation (grant # GGP08145 to EMV).
Copyright information
© Brancati et al; licensee BioMed Central Ltd. 2010
This article is published under license to BioMed Central Ltd. This is an Open Access article distributed under the terms of the Creative Commons Attribution License (http://creativecommons.org/licenses/by/2.0), which permits unrestricted use, distribution, and reproduction in any medium, provided the original work is properly cited.