The plants, rituals and spells that 'cured' helminthiasis in Sicily
Abstract
Background
The author reports on the plants, rituals and spells used against worms and the so-called scantu (fright) in some areas of Sicily. The work is based on ethnobotanical research carried out, prevalently, between 2002-2006, in some areas of Eastern, South-Eastern, North-Central and South-Central Sicily.
Methods
This research is based on dialogue. Senior 'healers' were contacted; furthermore, doctors, teachers, farmers and in general 'experts' with herbs and 'magic' rituals. Information was collected about the way the plants of folk medicine are prepared. The interviewees were also invited to recite prayers and spells against helminthiasis.
Results
The author has highlighted the importance of how, in some parts of Sicily, some ailments like helminthiasis and other correlated pathologies like scantu are 'treated' and, especially within the rural social classes, by folk medicine remedies, herbal practises, particular prayers, rituals and spells.
Conclusion
As regards health/illness, it should be noted that in the last ten years conventional medicine has provided very satisfactory results even resolving potentially mortal pathologies. However, in certain social classes, there is no real collaboration between conventional and folk medicine; so for some senior citizens, the 'healer' with his rituals and empirical and magical herbs is still the person to turn to for the 'cure' of particular ailments. Interest in these practises from ancestral heritage in an advanced country like Italy, is only relevant if the aim is to recoup a cultural identity which is already in decline.
It is significant to report a piece: on 14 October 2007 the news on a well-known national Italian TV channel reported an interview with a 94 year-old man from Arbatax (Sardinia) referred to as a 'healer' because both his townspeople and others from all over the world go to him for his cures. He is not paid except in kind and has been known to cure St. Anthony's fire, burns, scalding and marine fungal infections, by smearing his saliva over the infected part and reciting 'special words'.
Keywords
Intestinal Parasite 
Pitcher Plant 
Ailanthus Altissima 
Chenopodium Ambrosioides 
Vine Shoot 
These keywords were added by machine and not by the authors. This process is experimental and the keywords may be updated as the learning algorithm improves.
Background
This work, carried out by the Botany Department of the University of Catania, forms part of a series of ethnobotanical investigations in several zones of Eastern Sicily (Mount Etna [1, 2]); North-Eastern (Nebrodi Mountains [3]); South-Eastern Sicily (Caltagirone and Ragusa), North-Central Sicily (Madonie mountains) and South-Central Sicily (Caltanisetta) [4, 5, 6, 7, 8].
The research highlights how even nowadays, in Sicily, above all in some inland areas and rural communities, an illness like helminthiasis is still considered 'magical' according to some popular beliefs and is cured by either remedies from medicine and folk herbal preparations, or by certain practises (of 'healers') like prayers or 'medicinal spells'. Among these the most common are those which pircantari or ciarmari i vermi where 'pircantari' means to recite a spell to keep away the bad spirits which carry disease, and 'ciarmari i vermi' means to carry out magical practises to cure children of worms [9].
It has been identified that [10] illnesses from 'magical' or spiritual causes can be cured by means of either oral formulae together with biological and non-biological material (used as medicines or applied as ritual objects) or oral formulae with Western pharmaceutical products [10].
If the therapies do not work within nine days in the case of spiritual illness the patient can look for another 'healer' to find a different cause of the illness. The failure of the first healer is proof that he did not identify the reason for the onset of the illness. However, if even the second cycle of treatment does not produce the desired result, most people then refer to conventional medicine [10].
As regards helminthiasis specifically, it should be remembered that conventionally, it is a parasitosis due to which some part of the body is infested by worms. In general, helminths are found in the alimentary canal, but could reside in other organs like the liver. In some countries, worms are associated with illnesses which affect various parts of the body; in Austria, for example, four types of worms have been described one of which – considered able to attack the heart – has been held to be particularly dangerous for the general health of the patient [11].
In many areas of Sicily (the Madonìe mountains, Ragusa and Enna), helminthiasis which is commonly contracted in childhood is still today considered a 'psychological' illness. According to certain beliefs, helminthiasis onset in children, follows a strong attack of the jitters (scantu) which would cause 'a shaking up of the worms' ('a-rriminiata rê vièrmi') which usually live intertwined in the stomach. This movement would produce symptoms like swelling, stomach pain, vomiting, halitosis, convulsions, persistent cough, sneezing, itchy nose and respiratory problems, due to the disturbed worms climbing along the airways and threatening to suffocate the child ('fari accupari u picciriddu') [4]. However, it seems that children on a diet of sweet food, milk, vegetables and dried fruit are exempt from the malady.
With the jitters or a strong fright as its basis, not surprisingly there are numerous dialectal sayings which refer to strongly shocked people like 'they've made his wicked worms jump' ('Cci ficiru sautari i vermi maligni') or, 'Don't give him the worms!' ('Nun-cci fari pigghjari na virmina!') and 'Don't stir up his worms!' ('Nu-cci fari arriminiari li vermi'). In adults, worms are less dangerous than for children, but can cause blepharitis, dental decay and otitis [12] whose symptoms are prevalently related to the nervous system which would explain: 'Worms and nerves – they're the same thing!' ('Vermi e-nnervi sunu tutta na cosa').
The jitters which follow an emotional outburst is a pathology which as a 'psychological illness' finds its counterpart in the folk medicine of Latin America as "susto" (Portugese and Spanish for 'fright') [13, 14], in Sardinia as 'assuto' [15] and as 'assichidu' [16] in the province of Ragusa and other Sicilian provinces.
Methods
"Areas analysed"
Research was carried out in the following localities (provinces): Acquedolci, Alcara Li Fusi, Alimena, Caronia, Castel di Lucio, Casalvecchio Siculo, Cesarò, Galati Mamertino, Militello Rosmarino, San Fratello (Messina); Sperlinga, Villarosa, Valguarnera (Enna); Capo Scalambri, Modica, Monterosso Almo, Punta Braccetto, Punta secca (Ragusa); Belpasso, Caltagirone, Sant'Alfio, Santo Pietro di Caltagirone (Catania); Calcarelli, Castellana Sicula, Ganci, Petralia Soprana, Polizzi Generosa (Palermo).
Furthermore, bibliographical references were obtained from (provinces): Acicatena (Catania); Naro, San Biagio Platani, Sciacca (Agrigento); Mistretta, Tortorici (Messina) Cefalà Diana, Corleone, Lascari, Mezzojuso, Monterosso Almo [
17
], Partinico, Prizzi (Palermo); Ispica (Ragusa); Noto (Siracusa) (Figure
1
).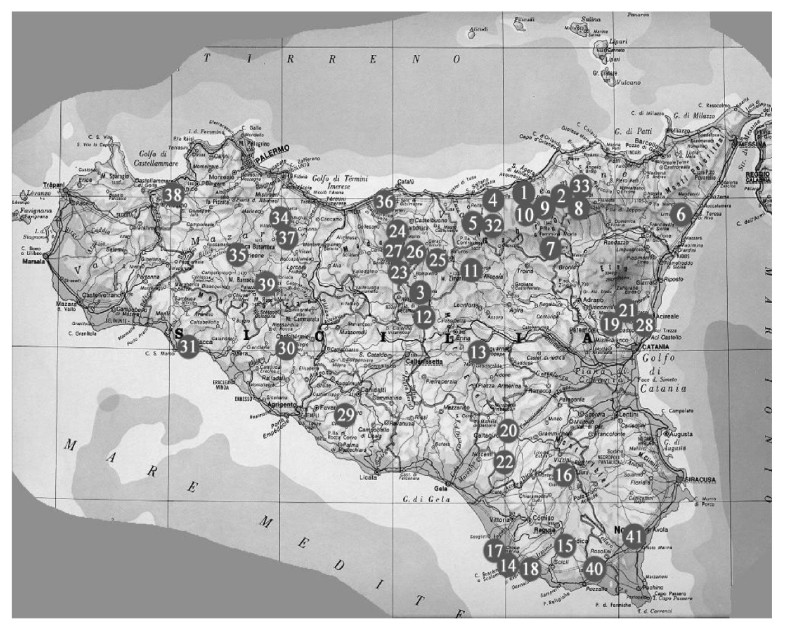 "Research method"
During several stays in the above mentioned areas, research was carried out in the form of interviews (some videotaped) with local folk who were mostly elderly (men & women) and in particular with those well-known as 'healers' or would-be healers (Figure
2
). About twenty-five consenting 'healers' were interviewed. Most, known as [
18
] 'those who help' – were elderly (60+) unmarried women or married with families. Some were younger (40 – 50): daughters, granddaughters, or anyway relatives or godparents. These women helped out with the rituals. Since they had demonstrated their belief in them, they were asked to comment on their various phases. So, these 'helpers' – speaking in good Italian thanks to a reasonable education – gave a lot of very detailed information about the rituals, the type of patients who seek out elderly 'healers', the frequency of encounters, 'therapy' duration and its outcome.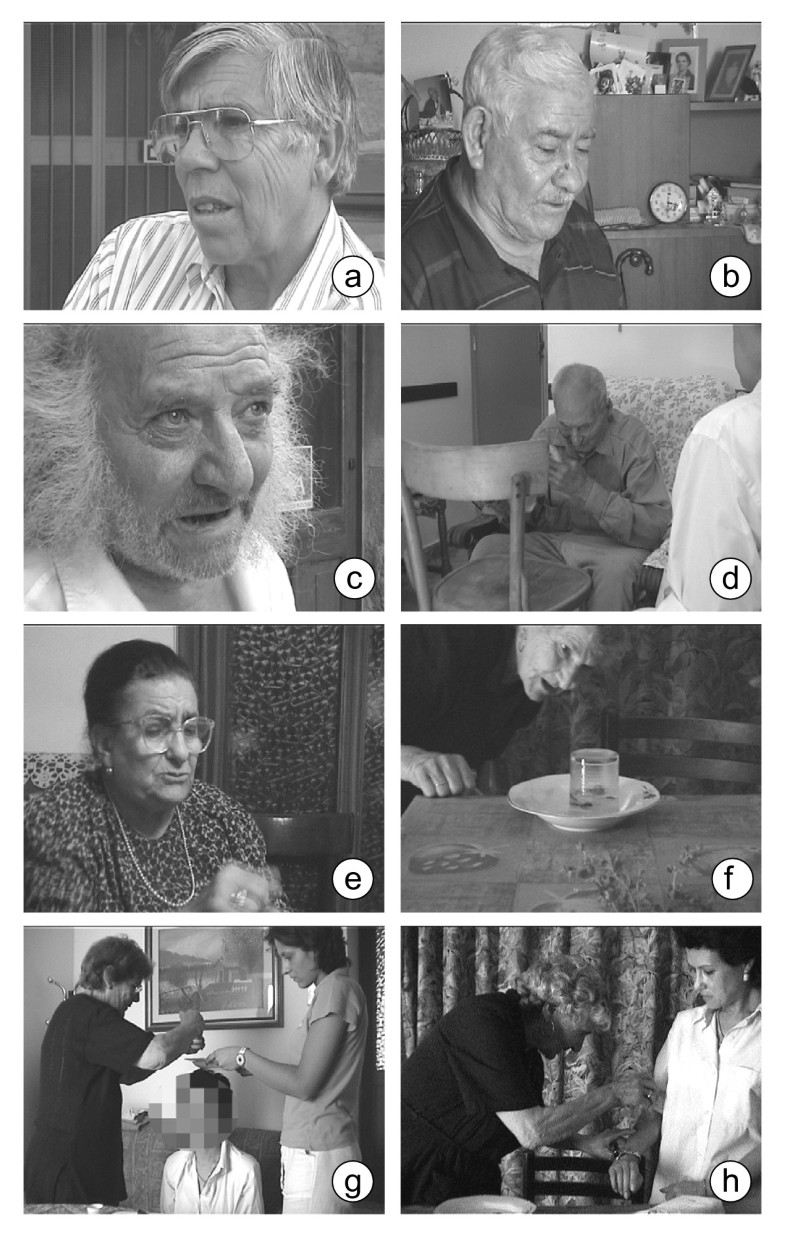 Some healers were men between seventy and eighty, except for one who was nearly a hundred! They were doctors, pharmacists, teachers, farmers, priests, shopkeepers, and one old colourful second-hand dealer (Madonìe mountains) with an unruly white beard who was an expert with herbs and 'magic' rituals. The figure of healer, still today and not just in the countryside but also in the city, emerged from our interviews as one who offered his services to cure trapped nerves, dislocations and strained muscles ('sfilatini'). Moreover, the worm-charmers or ciarmavermi (those who practise anti-helminthiasis rituals), other 'specialist' healers of particular illnesses and their helpers were contacted when pathologies other than those for helminthiasis presented like hernias, cuts, abrasions, burns, mycoses and skin eczema.
Various interviewees were asked about the use of plants, their local names and where they grew. They were also asked to recite prayers, songs and spells enacted to cure patients. Some were transcripted directly as they were recited, others were filmed during the ritual. Originally, the transcripts were in Sicilian dialect. In a case of treating helminthiasis in San Fratello with garlic and a spool thread, the prayer (a-rrazzioni) recited for the occasion (see below), was transcribed in the local dialect, according to phonetic and handwriting suggestions from a local healer.
Since most patients prefer ritualised treatment at home, we were guests there. In some cases, patients had to travel away from home to the healer's town where we too observed the rituals, sometimes staying for over an hour. The diagnostic process in most cases was based on questioning the patient about their symptoms and careful attention to descriptive detail. If the illness was physically manifested like in dermatitis, a wound, a mycosis or other, the healer accurately examined the infected area annotating the location and symptom type, the period of onset, and its possible regression or reappearance. If helminthiasis was the illness, the healer would ply the intestines to quantify the parasites, localise them and identify their orientation whether curled up (a-gghiuòmmaru) or ring-shaped (a-ccuddùra). The accompanying administration of phyto-remedies, decoctions, infusions or other folk medicine preparations were also carefully monitored. Whenever possible, the author made sure that the healers' therapies were witnessed in order to personally document and in some cases film the 'cures' prepared for 'healing' helminthiasis.
For the nomenclature of the taxa, 'Flora d'Italia' [19] was the primary reference, a work in three volumes, which provided morphological and bio-ecological information. In some cases, its nomenclature was updated [20].
All the corresponding dialect, common and scientific names are reported in the index. Various Italian texts were consulted for phytotherapeutic, ethnobotanical and dialectal data [9, 21, 22, 23, 24, 25, 26, 27, 28, 29, 30].
Results
The results of this research have highlighted how folk beliefs regarding the fascinating study of folk medicine and herbal practises connected with apotropaic therapeutic rituals still play a part today in the cultural heredity of the areas under study and, passed on by word of mouth, still survive in the rural habitat in farming areas. Casting 'spells' (dialectical variations: ciarmu, cirmu, cirmata, pircantu, pircantata) and reciting particular incantations, words or prayers is considered a medico-magical heredity which is passed on from woman to man and vice versa and can only be practised by the 'disciple' upon the death of the 'master'. To be able to cast a spell, according to a healer in the Madonìe, you would need to visit the trustee of that spell every Friday for seven consecutive Fridays. Healers are not be paid in money at risk of losing their powers but only in kind if offered. Data confirms [18] that healers are paid a small offering made by the family of the patient or with some food, maybe oven-made cakes, or with jams or vegetables.
Conclusion
Today in Sicily, as regards illness/health, it may be highlighted that over the last decade conventional medicine has been widely adopted with satisfying results as in recovery from cases of even mortal pathologies. In some social classes, 'conventional' and traditional medicine co-exist even though they do not really collaborate. It still holds true that the elder members of certain lower and less well-educated social groups consult 'healers' who practise rituals and use herbal concoctions which are both 'magical' and empirical to cure some pathologies.
Nowadays, interest in ancestral folk medicine in a civilised country like Italy only makes sense if the end is to recoup a cultural heritage that may be in irreversible decline. In reality, the reinforcement of industrial culture and the weakening of folk culture is increasingly the case, although it is still possible to find people in many areas who resort to traditional medical therapies. Such practices, fruit of the obsolete logic of an agricultural and pastoral society, might today seem primitive but they deserve respect and should be examined and re-evaluated from a medico-anthropological and socio-cultural point of view.
During the course of this research, magical beliefs and rituals particularly concerning helminthiasis have been documented and they have highlighted that although its aetiology – diagnosis and treatment – may not be accepted by 'official medicine', ancestral cures which amount to a psychotherapeutic effect could contribute to current medical therapy.
In the past, 'magical' illnesses and traditional cures were far more generally believed in than today. Nowadays, there is a raft of factors involved in the decline of traditional therapies among them, lessening religious fervour has reduced the psychotherapeutic efficacy of 'spells', 'signs' and rituals. Furthermore, the changing economic climate has brought about among younger and more educated men and women a disinterest in serving an apprenticeship as 'healers'.
Hospitals and clinics too, evermore highly equipped, with ever greater availability of specialised drugs, have lead the vanguard in the belief that empirical medicine was no longer necessary to eradicate many diseases among which the various intestinal parasites. Futhermore, the many psychotherapeutic treatments on offer have helped resolve a good number of 'magical' diseases or in some way those determined by psychic factors. Notwithstanding, it is important to note that magico-medical rituals persist from an anthropological-medical point-of-view above all considering this discipline as pivotal to a socio-anthropological interpretation of the medical act as a total doctor-patient relationship. Every clinical deed depends on twofold subjectivity – doctor-patient. When this relationship goes through a crisis the patient distances himself from the doctor in search of alternative solutions of the most diverse origin (ideological, psychological, socio-cultural, religious, magical-talismanic). When a person's equilibrium alters due to illness he can ask for help more or less explicitly to get over this event which is changing his existential models. At this point, a doctor must be willing to answer the patient's demands to overcome his temporary or chronic state of corporeal, human and social debilitation. Here, there is a fundamentally confidential role in the doctor-patient/diagnostic-therapeutic relationship which reduces the professional distance which all patients are insurmountably aware of. In the past, the doctor-patient approach was typically reciprocally discrete. Today, however, conditions are ripe for medical dialogue with the aim of optimising diagnostic and therapeutic effects.
From a medico-anthropological point of view, the persistence of the practises and rituals cited in this work may be due to the fact that medicine often communicates with its public without decoding its technical-scientific language making it often incomprehensible. The lack of linguistic and conceptual simplification, even more than that of professional shortcomings, can generate a lack of faith and a tendency to find 'refuge', remedies and security in practises and customs from the past. To complicate things, the need for a therapeutic rapport with a growing number of ethnic groups, will make the challenge of the 21st century not only a scientific one but also an anthropological one.
Appendix
Alphabetic list of the sicilian dialect denominations of named species and their corresponding popular and scientific names: in brackets, the botanical family and eventual synonyms.
Addauru, bay: Laurus nobilis L. (Lauraceae); agghiu, garlic: Allium sativum L. (Alliaceae); aina picciridda, corn cockle:Agrostemma githago L. (Caryophyllaceae); alivu, olive tree: Olea europaea L. var. europaea (Oleaceae); aruta, rue: Ruta chalepensis L. (Rutaceae); assìnziu-serìfiu, sea wormwood: Artemisia cretacea (Fiori) Pign. [(= A. maritima Bertol. (Asteraceae)]; canfuridda, wild chamomile: Achillea ligustica All. (Asteraceae); cardedda or cardedda d'invernu: snow thistle: Sonchus oleraceus L. (Asteraceae); ceùsu jancu, mulberry: Morus alba L. (Moraceae); cipudda, onion: Allium cepa L. (Alliaceae); curaddina, simenza-ppi-li-viermi or simenza rê viermi, coral moss: Corallina officinalis L. (Corallinaceae, Rhodophyta); erva di vermi or erva atanasia, tansy: Tanacetum vulgare L. (Asteraceae); erva-ianca, wormwood tree: Artemisia arborescens (Vaill.) L. (Asteraceae); erva pucciddana, green purslane, purslane Portulaca oleracea L. (Portulacaceae); erva-sciàtica, small flowered willow-weed: Epilobium parviflorum Schreb. (Onagraceae); filicia atirio, lady fern: Athyrium filix-foemina (L.) Roth (Athyriaceae); fìlici masculina, male-fern: Dryopteris filix-mas (L.) Scott (Aspidiaceae); frastunaca, wild carrot: Daucus carota L. (Apiaceae); fraulara, damascens nigella, love in a mist: Nigella damascena L. (Ranunculaceae); majurana, sweet marjoram: Origanum majorana (Lamiaceae); marrùbbiu, horehound: Marrubium vulgare L. (Lamiaceae); menta, menta, mint: Mentha × piperita L. (Lamiaceae); nipitedda o nièbbita: calamint [Calamintha nepeta (L.) Savi (Lamiaceae)]; panicaudu, snakeroot eryngo: Eryngium campestre L. (Apiaceae); piricò, St. John's wort: Hypericum perforatum L. (Clusiaceae); puddisinu, parsley: Petroselinum sativum Hoffm. = P. crispum (Mill.) A.W. Hill (Apiaceae); rrosamarinu, rosemary: Rosmarinus officinalis L. (Lamiaceae); rrosa sarvaggia, dog rose: Rosa canina L. (Rosaceae); simienza di viermi or cabbarrasi, stavesacre: Delphinium staphysagria L. (Ranunculaceae); sudda sarvaggia, erva-ri-pittrògghiu, scurfy pea: Bituminaria bituminosa (L.) E. H. Stirton (Fabaceae); summaccu arbòriu, tree of Heaven: Ailanthus altissima (Mill.) Swingle (Simaroubaceae); tamareddu, spanish origanum: [Coridothymus capitatus (L.) Rchb. (Lamiaceae)]; tè sicilianu, american wormseed: Chenopodium ambrosioides L. (Chenopodiaceae); viti, vine: Vitis vinifera L. subsp. vinifera (Vitaceae).
Notes
Acknowledgements
The Author warmly thanks:
-Prof. Andrea Pieroni – Division of Pharmacy Practice – University of Bradford (UK) for the numerous and precious suggestions given;
- Prof. Salvatore Brullo – Department of Botany at the University of Catania, for data concerning the Modica area;
- Prof. Gaetano Giovanni Cosentini – Liceo Umberto I° of Ragusa, for data regarding the Ragusa and Modica areas;
- Dr Sergio Borghese, pharmacist in Castellana Sicula;
- Mrs. Paola Calabrese, Curator of the "Museo della Memoria di Villa Lucrezia" (Etnoantropological Museum of Customs and Traditions of the Sicilian center region) for data regarding the Villarosa area and the so called "mano santa" (holy hand).
Also thanks to all the 'Healers' and Informants for their willingness and sensitivity shown.
Copyright information
© Napoli; licensee BioMed Central Ltd. 2008
This article is published under license to BioMed Central Ltd. This is an Open Access article distributed under the terms of the Creative Commons Attribution License (http://creativecommons.org/licenses/by/2.0), which permits unrestricted use, distribution, and reproduction in any medium, provided the original work is properly cited.