A trial on unruptured intracranial aneurysms (the TEAM trial): results, lessons from a failure and the necessity for clinical care trials
Part of the following topical collections:
Abstract
The trial on endovascular management of unruptured intracranial aneurysms (TEAM), a prospective randomized trial comparing coiling and conservative management, initiated in September 2006, was stopped in June 2009 because of poor recruitment (80 patients). Aspects of the trial design that may have contributed to this failure are reviewed in the hope of identifying better ways to successfully complete this special type of pragmatic trial which seeks to test two strategies that are in routine clinical use. Cultural, conceptual and bureaucratic hurdles and difficulties obstruct all trials. These obstacles are however particularly misplaced when the trial aims to identify what a good medical practice should be. A clean separation between research and practice, with diverging ethical and scientific requirements, has been enforced for decades, but it cannot work when care needs to be provided in the presence of pervasive uncertainty. Hence valid and robust scientific methods need to be legitimately re-integrated into clinical practice when reliable knowledge is in want.
A special status should be reserved for what we would call 'clinical care trials', if we are to practice in a transparent and prospective fashion a medicine that leads to demonstrably better patient outcomes.
Keywords
Unruptured Aneurysm 
Endovascular Management 
Team Trial 
Unruptured Intracranial Aneurysm 
Good Medical Practice 
These keywords were added by machine and not by the authors. This process is experimental and the keywords may be updated as the learning algorithm improves.
List of abbreviations used
TEAM

Trial on Endovascular Aneurysm Management

EVT

Endovascular Treatment

IA

Intracranial Aneurysm

RIA

Ruptured Intracranial Aneurysm

UIA

Unruptured Intracranial Aneurysm

RCT

Randomized Controlled Trial

P.I.

Principal Investigator

CIHR

Canadian Institutes of Health Research

NINDS

National Institute of Neurological Disorders and Stroke

DSMC

Data Safety and Monitoring Committee

NIH

National Institute of Health.
Background
Clinical research can be extremely difficult, especially when the aims are to appraise the real value of interventions that are widely judged to be justified by common sense, but that have yet to be proven effective or beneficial. This situation is common; it leaves a lot of room for error and patient harm, on a large scale. Hence few medical interventions need to be studied with more rigour and few deserve more support (from patients, physicians, agencies or institutions), than trials which aim to determine the value of commonly performed prophylactic surgical interventions. This becomes particularly pertinent when the intervention carries a small but definite risk of causing death or disability in asymptomatic individuals.
Yet the current clinical research environment has built a system that makes such studies virtually impossible, as will be exemplified here.
The Trial on Endovascular Aneurysm Management (TEAM) was such an enterprise that failed. We will first review the historical facts regarding the trial and then propose some of the potential causes for this failure, hoping to discover where things went wrong.
Perhaps some methodological choices were ill-advised and we will attempt to identify ways that the trial could have been more successful. Research that questions the merit of interventions that are currently offered to many patients but that remain of unproven benefit will always be difficult, but if we want to practice a scientific medicine in the best interests of patients this is exactly what should be done. In a last section, we will propose how this aim could be achieved: by recognizing a special status for this type of 'clinical care research'.
The TEAM trial
Endovascular treatment (EVT) with detachable coils has been a treatment option for intracranial aneurysms (IAs) since 1991. There is no dispute that ruptured aneurysms (RIAs) need to be treated if we are to prevent re-ruptures. A trial on RIAs, comparing surgical clipping and endovascular coiling (ISAT), started as a pilot study in 1994. It ceased recruitment in 2002 after enrolling 2143 patients. ISAT showed better clinical outcomes at one year for patients treated with coiling [1, 2]. However results of ISAT cannot be applied to unruptured aneurysms (UIAs) [3]. With the use and availability of non-invasive neuroimaging, particularly MRI, UIAs are increasingly discovered as incidental findings and coiling of UIAs has become the most frequent neuro-endovascular treatment performed in many centres [4]. A RCT on treatment options for UIAs has never been done; most clinicians and patients who have resorted to preventive clipping or coiling of UIAs have done so on the basis of fear of ruptures and purported efficacy in RIAs [3]. Because UIAs are much more frequent than RIAs (approximately 1-2% of the population as compared to 10/100 000) and because the hemorrhagic risks of UIAs are much lower than the risks of re-rupture of RIAs (1% per year compared to 30-50% within the first year), the main question, regarding UIAs, is not whether one treatment option is better than another, but whether any risky preventive treatment is justified. An earlier international effort to register the results of treatments and observation in 4060 patients recruited between 1991 and 1999 [5] suggested that treatment was rarely justified and proposed 5 year estimates of the risks of rupture for lesions of various sizes and locations, but the study was fraught with all the pitfalls of an uncontrolled observational study [6]. There are reasons to believe that coiling is initially less morbid than clipping, but the long term efficacy of coiling in prevention of bleeding has yet to be shown [7, 8]. Hence the main problem with coiling of UIAs is that while the intervention is frequently performed, nobody knows whether patients have better clinical outcomes with coiling or observation. The TEAM trial was designed to answer this specific question [9, 10, 11]. The objective of TEAM was to recruit 2000 patients with UIAs in 40-60 international centres within 3-4 years. The planned follow-up period was 10 years.
A calendar of selected events is shown in Table
1
.
Table 1
Calendar of selected events
| Date | Event |
| --- | --- |
| 2000-2003 | Discussion with peers regarding details of trial design |
| 2004 | Initial submission to NINDS and CIHR |
| Sept 2004 | Publication of protocol, version 1 (11) |
| Feb 2006 | Conditional approval by CIHR |
| Feb-Jun 2006 | DSMC Charter |
| Jun 2006 | Official approval for a third of support |
| Sept 2006 | Full financial support |
|   | Application to IRBs for trial initiation |
| May 2007 | Approval for French Centres |
| June 2008 | Approval for UK Centres |
| July 2008 | Publication of final protocol in Trials (10) |
| Sept 2008 | Letter of progress to CIHR |
|   | Application to NINDS for US Centres |
| Oct 31st 2008 | Unilateral trial interruption ordered by CIHR |
| November 6th 2008 | First International investigator meeting |
| June 2009 | Trial Interruption by Steering Committee |
| 2010-2011 | Preparation and publication of final report |
The first version of the proposed protocol was published in September 2004 [11]. Subsequent discussions with the CIHR for 2 years led to minor protocol modifications that, given the ultimate fate of the trial, can be judged inconsequential. In the meantime an invitation to submit to the NINDS was, after consultation with its officers, and given the CIHR intent, declined by investigators. The CIHR ultimately approved the protocol in February 2006, but requested that the Data Safety and Monitoring Committee submit a charter with predefined stopping rules before issuing a final decision. Support was officially granted in June 2006, but the CIHR offered 30% of the budget requested. The investigators claimed that such a large scale effort could not be launched without some assurance that resources would be sufficient to give it a good try and intensive negotiations over the summer months led to full financial support for 5 years in September 2006 (approximately $5 million for 5 years, a budget felt to be insufficient by a factor of 3-6 by most clinical research organizers). Trial coordination was to be performed in 2 centres: Oxford for European and Montreal for North-American sites. In 2006, the P.I. of the Oxford centre applied for financial support at the UK National Institute of Health Research (NIHR) Health Technology Assessment Panel (HTA) for additional support, which took one more year, but was successful [12]. The ultimate version of the TEAM protocol was finally published in 2008 [10]. Collaborating US physicians applied in 2008 to the NINDS for complementary support of a national coordinating centre to encourage U.S. participation. This would ultimately be refused, after CIHR interrupted funding in 2008. A small grant was also obtained by a centre in Brazil in 2008.
The CIHR had a non-voting representative at the Steering Committee, but the DSMC was composed of fully independent, voluntary members using the framework published by the DAMOCLES group [13].
Although letters of intent had been provided by more than 30 investigators in 25 centres as early as 2004, the official applications to local, regional, national Committees could not be initiated before September 2006. Official approval by all authorities necessitated between 6 months (in French and Canadian sites) and 2 years (for ethical committees and the UK Hospital's Research Governance departments). These delays, although excessive by any standard, are nowadays routine [14].
The first international investigator meeting was planned to occur in Amsterdam Thursday November 6th 2008, but on Friday October 31st at 16h00 the coordinating centre in Montreal received an email from the CIHR scientific officer ordering, without any prior notice or discussion with the Steering or Data Monitoring Committees, interruption of the trial as of October 31st 2008. The CIHR decision, made after consultation with a secret, anonymous peer-review committee, we were told, was based on an interim report (September 2008) showing insufficient recruitment of patients.
It was too late to cancel the Amsterdam meeting, where participants were keen to continue recruitment. A Steering Committee meeting on December 4th, 2008, voted for continuation of recruitment until a response to our request for revision of the CIHR decision, and until results of other applications were known. Discussions regarding trial continuation despite interruption of funding can be found in reference [15]. Appeal of the CIHR decision was refused and in view of withdrawal of funding, the additional support from the NINDS was denied. The trial was officially stopped June 28th 2009. By that date, 50 centres were registered and 80 subjects had been recruited. This poor performance can hardly be explained by a lack of visibility: Between 2004 and 2009, the trial had been presented at 18 annual meetings of 9 different major professional international associations (sometimes repeatedly), at 25 annual meeting of 19 national associations, and at 20 Grand Rounds of various participating centres. In each country a collaborator was responsible for discussing TEAM at all possible regional or national meetings. Two press conferences in Europe and North America led to articles in 36 different magazines and newspapers, sometimes on the front page of major public newspapers. The TEAM collaborative group published 21 manuscripts related to various aspects of the trial, scientific and ethical concerns, and reviews on unruptured aneurysms in peer-reviewed journals between 2004 and 2010.
Poor recruitment combined a) severe delays in trial initiation mainly caused by bureaucratic barriers in many countries and institutions; b) low recruitment rates even in those centres that did initiate the trial, caused by a reluctance of participating physicians to recruit all or most eligible patients, and by patients' refusal to participate in many cases. For example, a survey performed at the first recruiting site showed that the trial was proposed to 55% of eligible patients, but only 18% of patients that were approached agreed to participate. Figure
1
show the time course of centre and actual as well as projected subject accrual, and their distribution by country. Table
2
gives baseline data on randomisation as well as number of outcome events (0) and mean duration of follow-up. There was one peri-procedural complication (a brachial hematoma), but no disease or treatment-related neurological event in either endovascular or conservative management groups.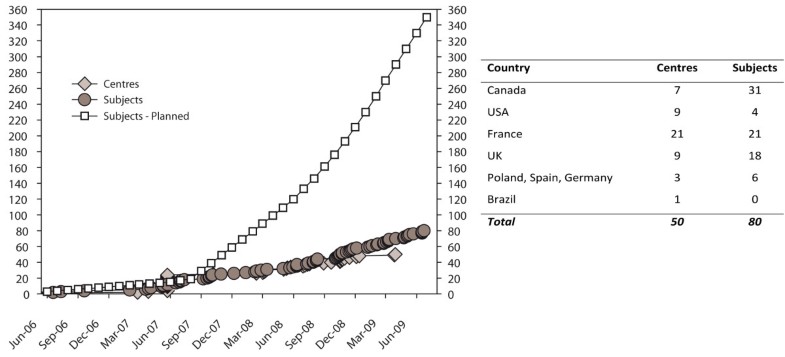 Table 2
Baseline data on randomization, number of outcome events and mean duration of Follow-up
 

EVT

CT

Total

 

N = 42

N = 38

N = 80

Age - yr

 
 
 

   Mean (SD)

56 (10)

54 (10)

56 (10)

   Range

34 - 73

26 - 78

26 - 78

Gender - %

 
 
 

   Female

60

71

65

   Male

40

29

35

Number of unruptured aneurysms (untreated) - %

   1

83

89

86

   2

14

8

11

History of SAH - %

 
 

   Yes

14

5

10

   No

86

95

90

Target aneurysm size - mm

 
 

   Mean (SD)

6 (2)

7 (3)

7 (3)

   Range

3 - 11

3 - 16

3 - 16

Target aneurysm location - %

 

   Posterior

5

13

9

   Anterior

95

87

91

Ophthalmic region

35

30

32

Middle Cerebral artery

 
 
 

25

30

29

(% for anterior normalized to 100%)

 

Outcome events

 
 

   Number

0

0

0

Duration of follow-up - months

 
 

   Mean (SD)

14.6 (11.0)

12.6 (9.4)

13.6 (10.2)
Discussion
The failure of the TEAM trial is multi-factorial. All potential causes cannot be reviewed here.
Before addressing some of the potentially generalizable causes for the premature interruption of this particular trial, causes that may be pertinent to other clinical endeavours, the senior authors, who are primarily clinicians rather than professional trialists, take full responsibility for the end-result. We could perhaps have done a better job at promoting TEAM. Although most clinicians of the field acknowledged the necessity for doing the trial, formal barriers and cultural resistances were so numerous and entrenched that many thought the entire enterprise was 'ideal but, given the current clinical environment, bound to fail'. Although this experience may be used as an example of what not to do if the ultimate goal is a successful research career, the present article was rather written to explore what could be attempted to make a necessary trial a clinical reality for the benefit of present patients.
We first discuss some of the problems with the design and some of the obstacles that were encountered. For each problem, a piecemeal solution will be suggested, as well as a global, revolutionary one at the end of this review. As we experience these formidable difficulties, the reader should keep in mind that the two treatment options TEAM was proposing were entirely standard ways of managing patients with UIAs, in day to day use in all centres. The only difference from standard care was that there would be i) randomized allocation of treatment in the minority of patients willing to participate and ii) centralized web-based collection of simple anonymous data on follow-up visits that are part of normal clinical routine.
Conclusion
Trials like TEAM will remain extremely difficult, but they will become impossible if the current trends towards an explosive bureaucracy are not reversed. A special category for this type of trials should be created, and the process for implementing clinical care trials greatly facilitated, if the community of clinicians is to be able to correctly identify what could be a good medical practice.
Appendix
TEAM Collaborative group
Steering committee
Pr Jacques Moret, Paris; Dr Alejandro Berenstein, New York; Dr Herman Zeumer/Jens Fiehler, Hamburg; Dr In Sup Choi, Boston; Dr Cameron McDougall, Phoenix; Dr Gabriel J. E. Rinkel, Utrecht; Pr Ling Feng, Beijing; Dr Julian Spears, Toronto; Dr Jean Raymond, Montreal; Dr Andrew Molyneux, Oxford; Dr S. Claiborne Johnston, San Francisco; Dr Isabelle Rouleau, Montreal; Dr Allan J. Fox, Toronto; Dr Jean-Paul Collet, Vancouver; Dr Yves Lepage, Montreal; Antonieta Gasparini (CIHR, Ottawa); Guylaine Gevry, Ruby Klink and Marcia Loor, Montreal.
Data Safety and Monitoring Committee
Pr Luc Picard, Nancy (Chair); Dr Michael Eliasziw, Calgary (clinical statistician); Dr Louise-Hélène Lebrun, Montreal (neurologist); Dr Gerald R. Winslow, Loma Linda (ethician); M. James Hosinec, Montreal (patient representative).
Clinical Events Committee
Dr Charles Strother, Madison (Chair); Dr Karl-Fredrik Lindegaard, Oslo (neurosurgeon); Dr Daniel Roy, Montreal (neuroradiologist); Dr Sylvain Lanthier, Montreal (neurologist).
EndPoint Review Committee
Dr Robert Coté, Montreal (neurologist); Dr Jeffrey Minuk, Montreal (neurologist);
Dr Ariane Mackey, Quebec (neuroradiologist).
Expert Committees
Imaging Center: Dr Allan J. Fox, Toronto; Dr Alain Weill, Montreal
Data Preparation and Masking Center: Dr Philip White, Edimburg
Neuropsychology: Dr Isabelle Rouleau, Montreal
Patient Support Group: Dr Maria Angeles de Miquel, Barcelona
Participating centres
France
Angers Hôpital Larrey (Pasco-Papon A.); Besançon CHU Jean Minjoz (Bonneville J.F.); Caen CHU Côte-de-Nacre (Courtheoux P.); Clermont-Ferrand Hôpital Gabriel Montpied (Chabert E.); Colmar Hôpital Pasteur (Tournade A.); Créteil Hôpital Henri Mondor (Gaston A., Blanc R.);
Grenoble Hôpital Albert Michalon (Le Bas JF.); Lille Hôpital Salengro (Pruvo J.P., Leclerc X.); Limoges Hôpital Dupuytren (Chapot R.); Lyon Hôpital Pierre Wertheimer (Turjman F., Lamy B., Tahon F.); Nancy Hôpital Central (Bracard S., Anxionnat R.); Nantes Hôpital Laennec (De Kersaint Gilly A., Desal H.); Paris CH Sainte-Anne (Meder J.F., Trystram D., Godon-Hardy S.); Paris Fondation Rothschild (Moret J., Piotin M., Spelle L., Mounayer C.); Paris Hôpital Saint-Joseph (Zuber M.); Paris Hôpital Lariboisière (Houdart E.); Paris Hôpital Pitié-Salpêtrière (Biondi A., Bonneville F., Jean B., Sourour N., Chiras J.); Reims Hôpital Maison Blanche (Pierot L., Gallas S.); Saint-Etienne Hôpital Bellevue (Manera L.); Suresnes Hôpital Foch (Rodesch G.); Toulouse Hôpital Purpan (Cognard C., Januel A.C., Tall P.); Tours Hôpital Bretonneau (Herbreteau D.)
United Kingdom
Bristol Frenchway Hospital (Molyneux A.J.); Oxford John Radcliffe Hospital (Byrne J., Kerr R.); Plymouth Derriford Hospital (Adams W.); Birmingham University Hospital (Lamin S.); Cardiff University Hospital of Whales (Halpin S.); Edinburgh Royal Infirmary Western General Hospital (White P., Sellar R.); Essex Centre for Neurological Sciences (Chawda S.); Liverpool The Walton Centre (Nahser H., Shaw D.); London Kings College Hospital (Jeffree M.); London University College Hospital (Grieve J., Kitchen N.); Newcastle General Hospital (Gholkar A.); Nottingham Queens Medical Centre (Lenthall R.); Preston Royal Preston Hospital (Patankar T.); Salford Hope Hospital and Manchester Royal Infirmary (Hughes D., Laitt R., Herwadkar A.); Southampton Wessex Neurological Centre (Millar J.); West Sussex Brighton and Sussex University Hospital (Olney J.)
Canada
Montréal CHUM Hôpital Notre-Dame (Raymond J., Roy D., Guilbert F., Weill A.); Montreal Neurological Institute (Tampieri D., Mohr G.); Québec Hôpital Enfant-Jésus (Milot G., Gariépy J.L.); Vancouver General Hospital (Redekop G.); Ottawa Hospital (Lum C.); Winnipeg Health Sciences Center (Silvaggio J., Iancu D.); Toronto St Michael's Hospital (Marotta T., Montanera W.)
United States
Chicago Rush University Medical Center (Chen M., Lee V., Temes R.); Iowa University of Iowa Hospitals and Clinic (Chaloupka J., Hayakawa M.); Houston The Methodist Hospital (Klucznik RP.); Boston Medical Center - Boston University School of Medicine (Kase C., Lau H.); New York INN Beth Israel (Berenstein A., Niimi Y.); Cornell Medical Centre (Gobin P.); SUNY Downstate Medical Center (Mangla S.); Phoenix Barrow Neurological Institute (McDougall C.); Charleston Medical University of South Carolina (Turk A.); Minneapolis University of Minnesota Medical Center (Tummala R., Qureshi A.)
Germany
Dresden Universitatsklinikum Carl Gustav Carus (Von Kummer R.); Hamburg Universitatsklinikum Hamburg-Eppendorf (Zeumer J., Fiehler H.)
Italy
Milano Ospedale Niguarda (Valvassori L., Boccardi E., Quillici L.)
Norway
Oslo Rikshopitalet University Hospital (Bakke S.J; Kindergaard K.F.)
Poland
Warsaw Instytute of Psychiatry and Neurology I Klinika Neurologiczna (Kobayashi A.)
Spain
Barcelone Hospital Bellvitge (de Miquel M.A.)
Brazil
Rio Grande do Sul Hospital de Clinicas de Porto Alegre (Stefani M.)
Hungary
Budapest National Institute of Neurosurgery (Szikora I.; Kulcsar Z.)
Copyright information
© Raymond et al; licensee BioMed Central Ltd. 2011
This article is published under license to BioMed Central Ltd. This is an Open Access article distributed under the terms of the Creative Commons Attribution License (http://creativecommons.org/licenses/by/2.0), which permits unrestricted use, distribution, and reproduction in any medium, provided the original work is properly cited.