A triple risk model for unexplained late stillbirth
Part of the following topical collections:
Abstract
Background
The triple risk model for sudden infant death syndrome (SIDS) has been useful in understanding its pathogenesis. Risk factors for late stillbirth are well established, especially relating to maternal and fetal wellbeing.
Discussion
We propose a similar triple risk model for unexplained late stillbirth. The model proposed by us results from the interplay of three groups of factors: (1) maternal factors (such as maternal age, obesity, smoking), (2) fetal and placental factors (such as intrauterine growth retardation, placental insufficiency), and (3) a stressor (such as venocaval compression from maternal supine sleep position, sleep disordered breathing). We argue that the risk factors within each group in themselves may be insufficient to cause the death, but when they interrelate may produce a lethal combination.
Summary
Unexplained late stillbirth occurs when a fetus who is somehow vulnerable dies as a result of encountering a stressor and/or maternal condition in a combination which is lethal for them.
Keywords
Stillbirth 
Triple risk 
Vulnerable fetus 
Abbreviations
AHI

Apnea-hypopnea index

DFM

Decreased fetal movements

IUGR

Intrauterine growth restriction

PSANZ

Perinatal Society of Australia and New Zealand

REM

Rapid eye movement

SIDS

Sudden infant death syndrome.
Background
Unexplained late stillbirth – at or beyond 28 weeks gestation - is a devastating event. In high resource countries the prevalence rate for late stillbirth ranges between 2 and 5 per 1000 births and has decreased very little in recent years [1]. Furthermore, between one third and one half of all late term stillbirths are unexplained, that is a specific cause cannot be identified, even in high income countries where autopsy and/or placental pathological examinations are available the unexplained rate can still be around 15% [2].
Unexplained stillbirth is a difficult problem to study because of the paucity of clues. Furthermore it is probable that there is heterogeneity of many of the antecedent causes. However, if improvements in prediction and prevention of stillbirth are to be made, specific risk factors which are modifiable should be targeted. Clinical practice and observational studies primarily target maternal risk factors such as maternal smoking, obesity and medical conditions. Studies of stillbirth have also identified the importance of placental problems. Furthermore, IUGR is well recognised as a risk factor for stillbirth.
However, few studies have focused on other factors that may impact on stillbirth risk such as fetal vulnerability and stressors which may heighten stillbirth risk. In this paper we propose a model which suggests that unexplained stillbirth occurs when three groups of factors (maternal, placental/fetal vulnerability and stressor) interrelate (see Figure 
1
).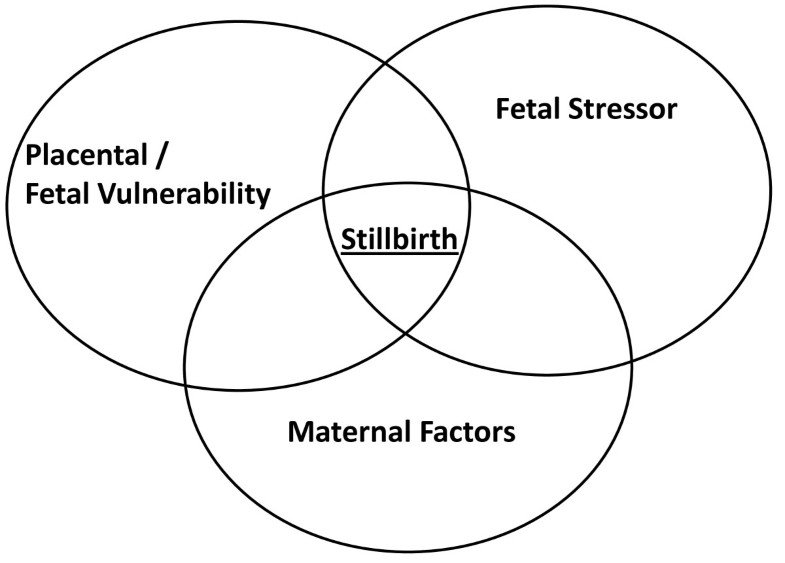 The concept of a triple risk model is not new, indeed Sudden Infant Death Syndrome (SIDS) researchers proposed such a model to provide a framework for understanding SIDS risk. For example, Bergman [3] suggested that SIDS may not depend on any "single characteristic that ordains an infant for death" (p.210), but on an interaction of risk factors. Wedgwood [4] grouped risk factors into the first triple risk hypothesis consisting of general factors which could be responsible for raising the risk of death from any cause such as socio-economic factors, age-specific risks related to the victims developmental age, and precipitating factors including respiratory tract infection. Then Emery [5] raised the issue of susceptibility by hypothesizing that relatively minor conditions such as respiratory tract infection could, in susceptible babies, trigger a lethal cycle of events. In 1993 Rognum and Saugstad [6] developed a 'fatal triangle,' with groupings similar to those of Wedgwood; namely a vulnerable developmental stage, predisposing factors and a trigger event. Finally, Filiano and Kinney [7] presented arguably the best known triple risk model illustrating their hypothesis with a Venn diagram consisting of three concentric circles labeled vulnerable infant, critical developmental period and exogenous stressor/s with SIDS occurring at the intersection of all three circles. They proposed that but for underlying vulnerabilities the infant would not succumb to SIDS. The utility of this triple risk model is demonstrated by its ongoing use to illustrate SIDS research papers (e.g. [8]).
Here we suggest an unexplained late stillbirth triple risk model, illustrated in figure one, where such a stillbirth occurs as a result of an intersection of maternal factors and fetal vulnerability in the presence of a fetal stressor. Just as Filiano and Kinney did we also propose that but for underlying fetal vulnerability the fetus would not succumb to intrauterine fetal death. Here we discuss the specifics of our triple risk hypothesis.
Summary
Our proposed triple-risk model can accommodate the complexity of a variety of intertwined factors that could work in concert to result in fetal death. Our model for late unexplained stillbirth is that it results from the intersection of: 1) maternal factors 2) fetal/placental factors, and 3) a fetal stressor. Death occurs only if all three factors intersect and only if the stressor and maternal factor match the specific vulnerability of the individual fetus. The latter explains why the same critical event and/or maternal factors are not always associated with stillbirth or even poor pregnancy outcome.
We suggest that unexplained late stillbirth occurs when a fetus who is somehow vulnerable dies as a result of encountering a stressor and/or maternal condition in a combination which is lethal for them. We propose that if a means of protecting the vulnerable fetus is found then this would essentially block the pathway to stillbirth in much the same way as laying all children supine protects the vulnerable infant from SIDS. The next advance in reduction of the rate of unexplained late stillbirth may require a more thorough understanding of the vulnerable fetus. Exploring factors which make the vulnerable fetus susceptible to stressors and specific maternal conditions and identifying a means to identify and protect the vulnerable fetus are therefore important areas for further research.
Notes
Acknowledgements
EAM is supported by Cure Kids.
Copyright information
© Warland and Mitchell; licensee BioMed Central Ltd. 2014
This article is published under license to BioMed Central Ltd. This is an Open Access article distributed under the terms of the Creative Commons Attribution License (http://creativecommons.org/licenses/by/2.0), which permits unrestricted use, distribution, and reproduction in any medium, provided the original work is properly credited. The Creative Commons Public Domain Dedication waiver (http://creativecommons.org/publicdomain/zero/1.0/) applies to the data made available in this article, unless otherwise stated.