An integrated database-pipeline system for studying single nucleotide polymorphisms and diseases
Abstract
Background
Studies on the relationship between disease and genetic variations such as single nucleotide polymorphisms (SNPs) are important. Genetic variations can cause disease by influencing important biological regulation processes. Despite the needs for analyzing SNP and disease correlation, most existing databases provide information only on functional variants at specific locations on the genome, or deal with only a few genes associated with disease. There is no combined resource to widely support gene-, SNP-, and disease-related information, and to capture relationships among such data. Therefore, we developed an integrated database-pipeline system for studying SNPs and diseases.
Results
To implement the pipeline system for the integrated database, we first unified complicated and redundant disease terms and gene names using the Unified Medical Language System (UMLS) for classification and noun modification, and the HUGO Gene Nomenclature Committee (HGNC) and NCBI gene databases. Next, we collected and integrated representative databases for three categories of information. For genes and proteins, we examined the NCBI mRNA, UniProt, UCSC Table Track and MitoDat databases. For genetic variants we used the dbSNP, JSNP, ALFRED, and HGVbase databases. For disease, we employed OMIM, GAD, and HGMD databases. The database-pipeline system provides a disease thesaurus, including genes and SNPs associated with disease. The search results for these categories are available on the web page http://diseasome.kobic.re.kr/, and a genome browser is also available to highlight findings, as well as to permit the convenient review of potentially deleterious SNPs among genes strongly associated with specific diseases and clinical phenotypes.
Conclusion
Our system is designed to capture the relationships between SNPs associated with disease and disease-causing genes. The integrated database-pipeline provides a list of candidate genes and SNP markers for evaluation in both epidemiological and molecular biological approaches to diseases-gene association studies. Furthermore, researchers then can decide semi-automatically the data set for association studies while considering the relationships between genetic variation and diseases. The database can also be economical for disease-association studies, as well as to facilitate an understanding of the processes which cause disease. Currently, the database contains 14,674 SNP records and 109,715 gene records associated with human diseases and it is updated at regular intervals.
Keywords
Amino Acid Change 
Unify Medical Language System 
Human Gene Mutation Database 
Disease Term 
HUGO Gene Nomenclature Committee 
These keywords were added by machine and not by the authors. This process is experimental and the keywords may be updated as the learning algorithm improves.
Background
Many researchers have studied the relationships between disease and biological variations such as single nucleotide polymorphisms (SNPs), copy number variation, sequence repeats and genetic rearrangement [1, 2, 3]. Recently, work on genetic (SNP) variation associated with diseases has become intense, as many genetic variations are thought to affect the structure and function of proteins, as a result of amino acid substitutions [4, 5]. Significantly, SNPs, which report over 90% of genetic variation in the human genome [6], can have a major impact on how humans respond to disease, to drugs, and to other therapies. Therefore, SNP information is a great resource in biomedical studies, diagnostics, and drug development [7].
Many researchers studying disease associated SNPs require integrated information on SNPs and disease for two reasons. First, in order to capture relationships between SNPs and diseases, and then, to understand which genes cause disease and how that is impacted by SNPs. Second, disease-association researchers can save much time and effort in identifying the candidate disease-causing genes.
Despite the needs, existing servers contain insufficient information about SNP-disease associations. Because public databases for SNPs and diseases are large, complicated, and difficult to use, their integration is challenging. Therefore, we developed an integrated database-pipeline system for studying SNP and disease-association. We constructed a large database with comprehensive data on genes and SNPs associated with disease. In particular, the database-pipeline system allows biologists to retrieve integrated information on diseases, SNPs, and amino acid changes, along with functional annotation.
Methods and results
The integrated database-pipeline system of genes and SNPs associated with diseases was developed in three parts as shown in Figure
1
. By using this pipeline system, we downloaded and extracted primary information from 13 public and private databases. Next, we unified complex disease terms and gene names, and constructed an integrated database which contains the three sub-categories of diseases; genes and proteins; and SNPs.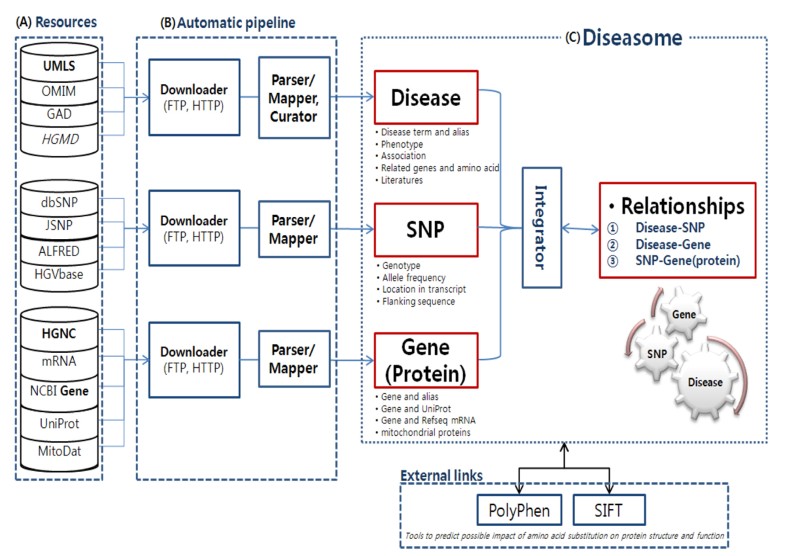 Web interface
The database server was implemented in JAVA and Java Server Pages connected to MySQL. The main web interface provides two ways to explore integrated disease-related information through a tree view of disease terms and through query searching. Users can look over all the disease terms together in the tree view. When users click on a disease term, they can obtain results consisting of targeted disease information (disease name, synonyms, and title), gene information, and SNP information directly. The web interface also allows querying with three kinds of terms: (1) a SNP identifier (rs number from dbSNP), (2) a gene ID (symbol and description), or, (3) a disease term. When the user submits a gene, the system will return a list of genes related to the query along with gene aliases and types. When selecting a specific gene, query results show the gene, gene transcripts, SNPs, and genetic variants through the genome browser [
24
]. The genome browser provides insights into the effects of genetic variations on transcripts. Transcripts and SNP marker information displayed in the genome browser facilitates the recognition of characteristics of disease-causing genes, especially if the SNP or genetic variation lies in the promoter region or in an intronic sequence [
25
]. A display of the gene, transcripts, SNPs, and disease information is shown in Figure
2
.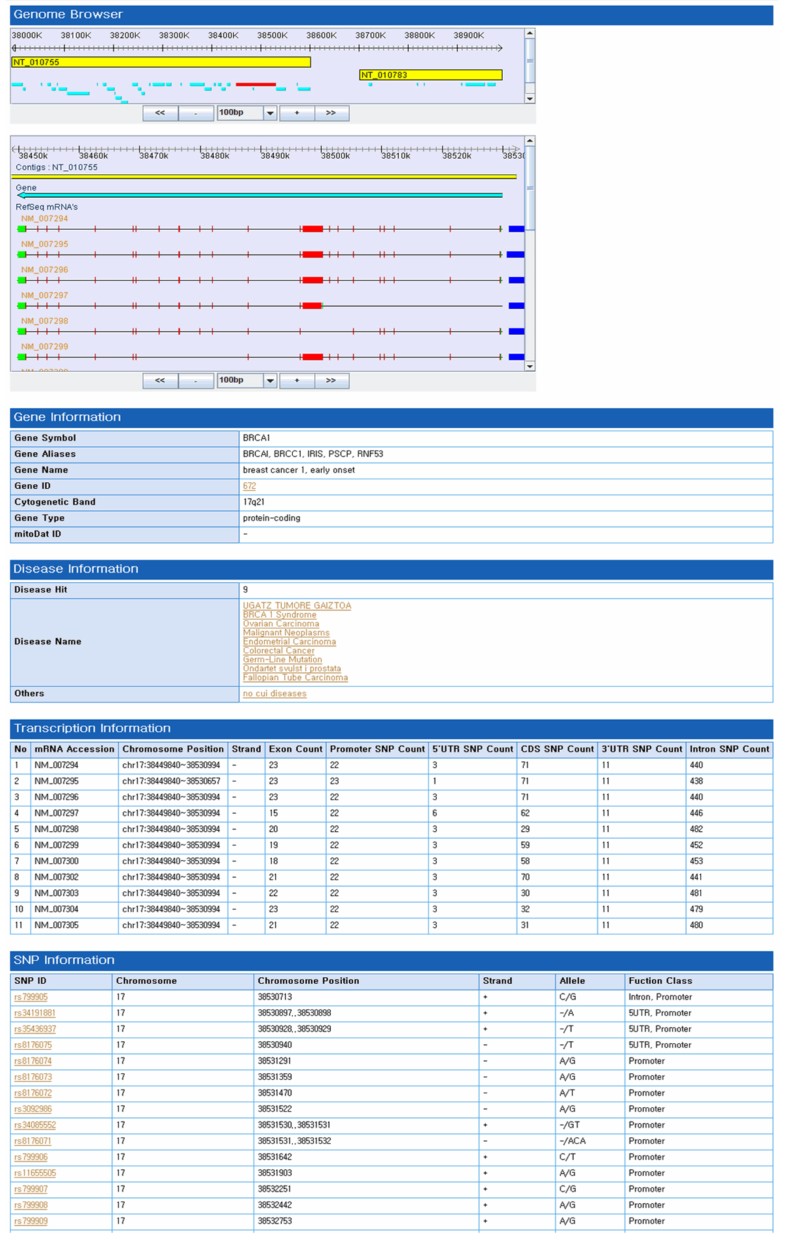 To show a disease search, we present query results for diabetes. The results from the integrated disease- and genetic variation-related databases are more helpful to researchers than results from one database only. It provides more comprehensive information on the genes and SNP markers associated with the disease. For example, when using only one disease-related database for diabetes, researchers can obtain either disease-association study information from GAD or information on disease-related literatures from OMIM. Conversely, when using the integrated database-pipeline system, we obtain a list of genes associated with diabetes, and an SNP marker (rs1805097) associated with diabetes by making both the integrated disease and the genetic variation information available simultaneously. This integrated information allows researchers to consider the SNP effects on the gene along with relationships between SNPs and disease. The SNP marker (rs1805097) is located in the human insulin receptor substrate-2 (IRS-2) gene, which is a primary progesterone response gene. This SNP can affect amino acid change (GLY1057ASP), which has the possible impact of an amino acid substitution on the structure and function of a human protein [26]. Because this also includes the genome locations of disease-associated genes, effects of non-synonymous SNPs at the protein level, and disease-causing risk scores, users can expect to have a better understanding of the molecular causes of the disease.
Conclusion and future direction
We constructed the integrated database for the study of genetic variation in disease, using an automatic integration pipeline system. Specifically, the database contains information on 124,389 disease, 12,445,925 SNP markers, and 38,597 genes, and includes 14,674 SNP records and 109,715 gene records associated with human diseases. A total of 1,319 SNPs cause amino acid changes, inevitably leading to severe disruptions of protein structure or function.
Consequently, the integrated database-pipeline system can be an indispensable resource. The system can economically facilitate disease-association studies by identifying candidate genes associated with disease, and genetic variation. It can aid the understanding of the genes which cause diseases and the impact of SNPs on diseases, by showing the relationships among genes, SNPs and diseases. The tool uses unified disease terms, which facilitates the outreach and extension of this database to various other medical sources. As the resources in this database-pipeline system are expanding continuously, we are planning to collect validated resources used in the detection of genetic variation for comparative studies.
Notes
Acknowledgements
We thank our colleagues at KOBIC, especially Areum Han, Jung-Sun Park, and Woo-Yeon Kim. The system was co-developed as a part of Diseasome pipeline by E-Gitec Inc. This work was supported by a grant from KRIBB Research Initiative Program, and the Korea Science and Engineering Foundation (KOSEF) grant funded by the Korea government (MEST) (No.M10869030002-08N6903-00210).
This article has been published as part of BMC Bioinformatics Volume 9 Supplement 12, 2008: Asia Pacific Bioinformatics Network (APBioNet) Seventh International Conference on Bioinformatics (InCoB2008). The full contents of the supplement are available online at http://www.biomedcentral.com/1471-2105/9?issue=S12.
Copyright information
© Yang et al; licensee BioMed Central Ltd. 2008
This article is published under license to BioMed Central Ltd. This is an open access article distributed under the terms of the Creative Commons Attribution License (http://creativecommons.org/licenses/by/2.0), which permits unrestricted use, distribution, and reproduction in any medium, provided the original work is properly cited.