CpGcluster: a distance-based algorithm for CpG-island detection
Open Access
Research article
Abstract
Background
Despite their involvement in the regulation of gene expression and their importance as genomic markers for promoter prediction, no objective standard exists for defining CpG islands (CGIs), since all current approaches rely on a large parameter space formed by the thresholds of length, CpG fraction and G+C content.
Results
Given the higher frequency of CpG dinucleotides at CGIs, as compared to bulk DNA, the distance distributions between neighboring CpGs should differ for bulk and island CpGs. A new algorithm (CpGcluster) is presented, based on the physical distance between neighboring CpGs on the chromosome and able to predict directly clusters of CpGs, while not depending on the subjective criteria mentioned above. By assigning a p-value to each of these clusters, the most statistically significant ones can be predicted as CGIs. CpGcluster was benchmarked against five other CGI finders by using a test sequence set assembled from an experimental CGI library. CpGcluster reached the highest overall accuracy values, while showing the lowest rate of false-positive predictions. Since a minimum-length threshold is not required, CpGcluster can find short but fully functional CGIs usually missed by other algorithms. The CGIs predicted by CpGcluster present the lowest degree of overlap with Alu retrotransposons and, simultaneously, the highest overlap with vertebrate Phylogenetic Conserved Elements (PhastCons). CpGcluster's CGIs overlapping with the Transcription Start Site (TSS) show the highest statistical significance, as compared to the islands in other genome locations, thus qualifying CpGcluster as a valuable tool in discriminating functional CGIs from the remaining islands in the bulk genome.
Conclusion
CpGcluster uses only integer arithmetic, thus being a fast and computationally efficient algorithm able to predict statistically significant clusters of CpG dinucleotides. Another outstanding feature is that all predicted CGIs start and end with a CpG dinucleotide, which should be appropriate for a genomic feature whose functionality is based precisely on CpG dinucleotides. The only search parameter in CpGcluster is the distance between two consecutive CpGs, in contrast to previous algorithms. Therefore, none of the main statistical properties of CpG islands (neither G+C content, CpG fraction nor length threshold) are needed as search parameters, which may lead to the high specificity and low overlap with spurious Alu elements observed for CpGcluster predictions.
Keywords
Transcription Start Site 
Test Sequence 
Median Distance 
Promoter CGIs 
High Local Cluster 
These keywords were added by machine and not by the authors. This process is experimental and the keywords may be updated as the learning algorithm improves.
Abbreviations
CC

Correlation Coefficient

CGI

CpG island

CpG O/E ratio

Ratio between observed and expected CpG frequencies

CpG

dinucleotide CG

G+C content

%G+C: Molecular fraction of guanine and cytosine

NG

non-genic islands

PhastCons

Phylogenetic Conserved Elements

Sn

Sensitivity – the proportion of island nucleotides which have been correctly predicted as islands

Sp

Specificity – the proportion of predicted island nucleotides that are actually islands

SPR

promoter of SERPINB5 gene

TES

Transcription End Site

TSS

Transcription Start Site

UTR

Untranslated Regions
Background
Given the inherent mutability of methylated cytosine, the human genome has only a fraction (≈ 20%) of the CpG dinucleotides expected on the basis of its G+C content [1, 2]. However, the resulting scarcity of CpGs is not uniform throughout the chromosome: there are many DNA tracts (CpG islands or CGIs), totaling 1% of the genome, where CpGs are abundant [3, 4, 5, 6]. The lack of methylation at CGIs, together with their elevated G+C content relative to the genome average, results in a frequency of CpG dinucleotides that is about 10-fold higher than in bulk DNA [5, 6]. About 60% of all genes have a CGI, normally unmethylated, in their promoter region [2, 6, 7]. However, in some physiological or pathological situations promoter-associated CGIs can be methylated, then provoking a change in the expression of the associated gene [8, 9, 10, 11]. The maintenance of a particular genomic pattern of methylated CpGs provides an epigenetic means for differential regulation of gene expression [2, 7, 12].
Approximately 80% of all CpGs are methylated in human and mouse genomes, which makes the hypomethylated and GC-rich CGIs an outstanding genomic property. Given their putative function in gene regulation and their importance as genomic markers in promoter prediction, over recent years there has been a considerable effort to predict CGIs in silico. Current algorithms (newcpgreport [13]; cpg [14]; CpGProD [15]; CpGIS [16, 17]; CpGIE [18]; CpGED [19]) rely on the ad hoc thresholds of length, CpG O/E ratio and G+C content early defined by Gardiner-Garden and Frommer [20]. These three thresholds lead to a parameter space which is relatively large and difficult to explore completely. Consequently, in many publications, these parameters have been fine-tuned in different ways -for example, to filter out spurious Alu elements or restricting the prediction to putative promoter CGIs. However, in every fine-tuning, "valid" CGIs also become filtered out, as a consequence of using the same parameters for both prediction and filtering; this suggests the use of different parameters in both steps, as proposed below in the CpGcluster algorithm. Another shortcoming, shared by the algorithms using the conventional moving-window approach (newcpgreport, CpGProdD, CpGIS and CpGIE), but not by the cpg script (which uses compositional segmentation) or CpGED (which uses a sliding double window), is that the island boundaries cannot be accurately defined to single base-pair resolution. As is well known (see, for example [21]), the methods using a moving window add another level of subjectivity in choosing both the length of the window and the step size. Taking this problem into account, the algorithm CpGcluster is able to predict the island boundaries to a single base-pair resolution by definition.
Bulk CpGs are thought to be in a dynamic equilibrium between the decay of methylated CpGs and the generation of new ones due to point mutations [2]. This is a random process and therefore the CpG distance distributions should be strikingly different for bulk and island CpGs, which motivated our approach. In particular, the distances between consecutive bulk CpGs, as the result of a random process, should follow the geometric distribution, while the distance distribution for in-island CpGs must contain information on the high local clustering. Taking advantage of this high local clustering of CpG dinucleotides at CGIs, CpGcluster directly predicts clusters of CpGs on the chromosome. Predicted clusters with high enough statistical significance can then be identified as CGIs (see Methods).
Discussion
"Stretches of DNA with a high G+C content, and a frequency of CpG dinucleotides close to the expected value, appear as CpG clusters within the CpG-depleted bulk DNA, and are now generally known as CpG islands". This original description of CpG islands by Gardiner and Frommer in 1987 [20] formulates the basic idea underlying the present work: CpG dinucleotides appear clustered within the CpG-depleted bulk DNA and these clusters should be able to be associated with CpG islands. In the same work [20], the above authors also proposed a criterion for CpG islands based on thresholds which later became the basic principle of practically all existing CpG island finders. They justify these criteria by assuming that CpG-rich regions over 200 bp in length are unlikely to have occurred by chance alone, which points out another important property of CpG islands implemented in this work: the statistical significance. Some years before, McClelland and Ivarie [3] had introduced a Chi-square test to assign a statistical significance to CpG islands. Therefore, our approach is probably more related to the original perception of CpG islands as statistically significant CpG clusters within CpG-depleted regions.
Both our distance approach (which directly predicts CpG clusters) and the threshold approach are derived from the same original idea stating that the CpGs form clusters in the genome. However, the main disadvantage of any threshold approach is that generally valid CpG islands may become discarded as well, an effect that is aggravated as the dimension of the parameter space grows. In our distance approach, we reduced the parameter space notably, furthermore linking the distance parameter to intrinsic statistical properties of the sequence. The chosen median distance between two CpGs in a given chromosome separates fairly well the CpG clustering from the inter-cluster distances (see Fig.
1
) and therefore affords certain objectivity to the choice of this parameter. Note furthermore that the median distance is correlated to the G+C content of the chromosome sequence. The higher the G+C content of the chromosome, the higher the probability that a CpG appears and consequently the lower will be the median distance. In this way, the median distance adjusts itself to the global conditions dictated by the given input sequence. This can hardly be achieved using the conventional large-dimension threshold parameter space and therefore, in previous work, the same threshold values were used indiscriminately for all the chromosomes.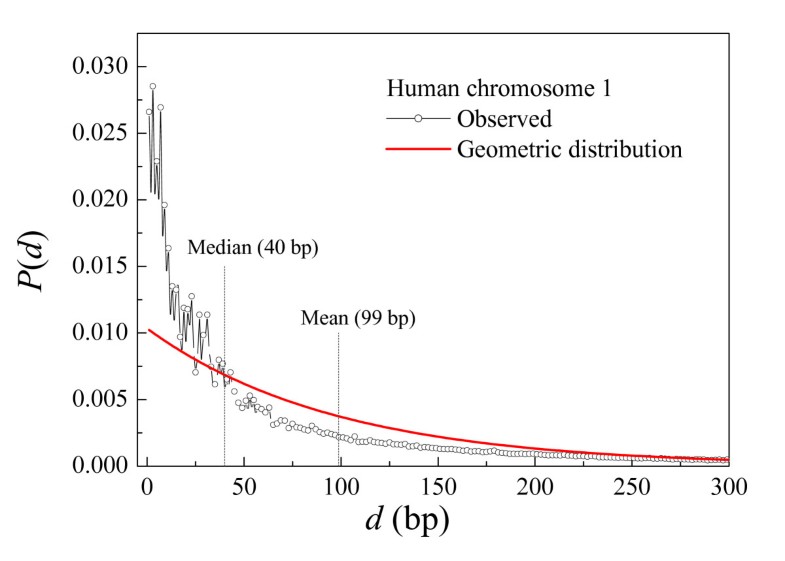 The first consequence of the difference between the distance and threshold approaches is that, on average, CpGcluster islands are shorter. However, they show higher mean G+C content, CpG density, and CpG fractions than do any of the other five tested algorithms (Table 2). The lower values shown by these threshold-based algorithms may be an inherited consequence of the general approach shared by most of them. To some extent, the chosen thresholds predetermine the statistical properties of the islands, since these usually become enlarged as long as the thresholds are not violated. This threshold-dependent enlargement in the search process may also lead to the observed over-prediction of CpG islands and high Alu overlap shown by most threshold-based algorithms. On the contrary, CpGcluster overcomes this drawback since statistical properties of the CGIs, such as G+C content or CpG fraction are not used as search parameters. Note furthermore that the p-value is a crucial filter parameter to sort out spurious Alu elements. Young Alus have p-values around 10-7 (with slight variations among chromosomes); therefore, the high substitution rates on the Alu CpG sites produce a fast loss of statistical significance, which explains the low overlap with spurious Alu elements shown by the islands predicted by CpGcluster.
Finally, we wish to discuss briefly the lack of any length filter in CpGcluster which allows the prediction of extremely short islands and which, at first glance, could be interpreted as a disadvantage. It should be noted that in all of the previous algorithms the length is not used for prediction purposes, and is considered only in the final filtering process. In fact, the original idea of the length threshold was to guarantee that the predicted islands are not just a mere product of chance alone. Instead, we change the length filter by a statistically stricter criterion: the p-value. In this way, all predicted CGIs are statistically significant CpG clusters. We are aware that the putative functional CGIs are on average very long (as for example the L1 class in Table 4). However, it is important to stress the conceptual difference between the detection of CpG clusters and the subsequent filtering for a particular subset (e.g. promoter overlapping CGIs). These two steps should be clearly distinguished.
Conclusion
The distance-based CGI-finder algorithm described here presents three outstanding features: i) all the predicted CGIs start and end with a CpG dinucleotide; ii) all the computations needed use integer arithmetic, thus leading to a fast and computationally efficient CGI finder, and iii) a p-value is associated with each of the predicted islands. When compared to other CGI finders,CpGcluster is able to predict CGIs with the highest global accuracy and specificity, thus indicating a low rate of false-positive predictions. Short but fully functional CGIs are also predicted by CpGcluster. Furthermore, the degree of overlap of predicted CGIs with Alu retrotransposons is minimal, while the overlap with vertebrate PhastCons is maximal. The promoter CGIs predicted by CpGcluster also show the highest statistical significance, thus qualifying CpGcluster as a valuable tool to distinguish functional CGIs from the remaining islands in the bulk genome.
Methods
The algorithm CpGcluster presented in this work consists of two main steps: i) a distance-based algorithm searches for clusters of CpGs in the chromosome sequence. ii) a p-value is associated with each of these clusters, then predicting as CGIs only those clusters with large enough statistical significance (i.e. for which their p-values are below the selected threshold). These two steps are explained in detail in the next subsections.
Notes
Acknowledgements
Helpful comments by Antonio Marín and two anonymous reviewers are greatly appreciated. This work was supported by the Spanish Government (BIO2005-09116-C03-01 to JLO, MH, PC and CP and BIO2002-04014-C03-03 to PLE and JMA) and Plan Andaluz de Investigación (CVI-162 and FQM-322). MH and CP acknowledge the grants from the University of Granada (Spain) and the German Academic Exchange Service (DAAD), respectively. CP is grateful for the use of the facilities of the German Cancer Research Center, Heidelberg, Germany). The help of David Nesbitt with the English version of the manuscript is also appreciated.
Copyright information
© Hackenberg et al; licensee BioMed Central Ltd. 2006
This article is published under license to BioMed Central Ltd. This is an Open Access article distributed under the terms of the Creative Commons Attribution License (http://creativecommons.org/licenses/by/2.0), which permits unrestricted use, distribution, and reproduction in any medium, provided the original work is properly cited.