Abstract
Despite their common historical roots, two higher education systems in Latin America differ dramatically in their financing mechanisms. In Argentina, the national government completely subsidizes undergraduate programs in public institutions, while Chile relies mostly on tuition fees charged to individuals attending public institutions. Through quantitative and qualitative secondary sources, this paper shows that class interests (structural approach) and economic policies (ideational approach) played a major role in explaining comparative policy outcomes in these nondemocratic regimes. The article makes an explicit contribution to the understanding of comparative policy choices in nondemocratic regimes.
This is a preview of subscription content, log in to check access.
Access options
Buy single article
Instant access to the full article PDF.
US$ 39.95
Price includes VAT for USA
Subscribe to journal
Immediate online access to all issues from 2019. Subscription will auto renew annually.
US$ 149
This is the net price. Taxes to be calculated in checkout.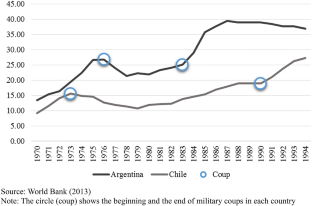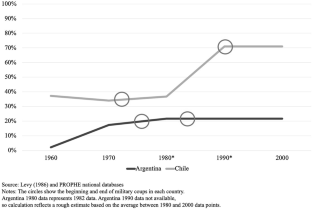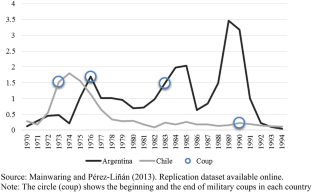 References
Altbach, P. G. (1993) 'The Politics of Students and Faculty', in B. Clark and T. N. Postlethwaite (eds.) International Encyclopedia of Higher Education, Oxford: Pergamon, pp. 1438–1445.

Amaral, A., and Magalhães, A. (2001) 'On markets, autonomy and regulation the Janus Head revisited', Higher Education Policy 14(1): 7–20.

Auderut, C., Carreño, N., Cometta, A. L., and Clavijo, M. (2001) 'La memoria cautiva. El caso de la Universidad Nacional de San Luis durante la última dictadura' [Captive memory. The case of the San Luis University during the last dictatorship], in C. Kauffman (ed.) Dictadura y educación. Depuraciones y vigilancia en las universidades nacionales argentinas [Dictatorship and education] (Vol. 2). Miño y Dávila Ediciones.

Berdahl, R. (1990) 'Academic freedom, autonomy and accountability in British universities', Studies in Higher Education 15(2): 169–180.

Bernasconi, A. (2007) 'Constitutional prospects for the implementation of funding and governance reforms in Latin American higher education', Journal of Education Policy 22(5): 509–529.

Bernasconi, A. (2019) 'Chile: The Challenges of Free College', in J. Delisle and A. Usher (eds.) International perspectives in higher education: Balancing access, equity, and cost, Cambridge, MA: Harvard Education Press, pp. 109–128.

Blyth, M. (2002) Great transformations: Economic ideas and institutional change in the twentieth century, Cambridge University Press.

Boix, C. (2001) 'Democracy, Development, and the Public Sector', American Journal of Political Science 45(1): 1–17.

Brunner, J. J. (1990) 'Universidad, Sociedad y Estado' [University, Society, and State], Educación Superior y Sociedad 1: 17–23.

Brunner, J. J., and Briones, G. (1992) 'Higher education in Chile: Effects of the 1980 reform', in L. Wolff and D. Albrecht (eds.) Higher Education Reform in Chile, Brazil and Venezuela, New York: The World Bank, pp. 1–44.

Canitrot, A. (1981) 'Teoría y práctica del liberalismo. Política anti-inflacionaria y apertura económica en la Argentina, 1976–1981 [Liberal theory and practice. Anti-inflationary policy and free trade in Argentina, 1976–1981]', Desarrollo Económico 21(82): 131–189.

Canitrot, A. (1983) Orden social y monetarismo [Social order and monetarism], Buenos Aires: Centro de Estudios de Estado y Sociedad.

Collier, D. (ed.) (1979) The New authoritarianism in Latin America, Princeton, NJ: Princeton University Press.

Cox, C., and Lemaitre, M. J. (1999) 'Market and State Principles of Reform in Chilean Education: Policies and Results', in G. Perry and D. M. Leipziger (eds.) Chile: Recent Policy Lessons and Emerging Challenges, New York: World Bank, pp. 149–188.

Dávila, J. (2013) Dictatorship in South America, Oxford: Wiley-Blackwell.

Filmus, D. (1998) 'La descentralización educativa en el centro del debate [Decentralization of education at the center of the debate]', in E. Isuani and D. Filmus (eds.) La Argentina que viene: Análisis y propuestas para una sociedad en transición, Buenos Aires: Grupo Editorial Norma, pp. 53–88.

Hall, P. A. (1993) 'Policy Paradigms, Social Learning, and the State: The Case of Economic Policymaking in Britain', Comparative Politics 25(3): 275–296.

Hira, A. (1998) Ideas and economic policy in Latin America: Regional, national, and organizational case studies, Westport, CT: Praeger.

ICHEFAP. (n.d.) Higher Education and Cost Sharing Country Profiles: Chile. Retrieved 10 October 2013 from http://gse.buffalo.edu/org/inthigheredfinance/project_profiles.html

King, R. (2007) 'Governing universities: Varieties of national regulation', in J. Enders and B. Jongbloed (eds.) Public-private dynamics in higher education: Expectations, developments and outcomes, Bielefeld: transcript Verlag, pp. 63–88

Krotsch, P. (2001) Educación superior y reformas comparadas. Quilmes: Universidad Nacional de Quilmes.

Levy, D. C. (1979) 'Review Article: Universities and Governments: The Comparative Politics of Higher Education', Comparative Politics 12: 99–121.

Levy, D. C. (1980) University and Government in Mexico: Autonomy in an Authoritarian System, Westport, CT: Praeger.

Levy, D. C. (1981) 'Comparing Authoritarian Regimes in Latin America: Insights from Higher Education Policy', Comparative Politics 14(1): 31–52.

Levy, D. C. (1986a) 'Chilean universities under the junta: Regime and policy', Latin American Research Review 21(3): 95–128.

Levy, D. C. (1986b) Higher Education and the State in Latin America, Chicago: The University of Chicago Press.

Lewis, P. H. (2006) Authoritarian regimes in Latin America: Dictators, despots, and tyrants, Lanham, MD: Rowman & Littlefield.

Mainwaring, S., and Pérez-Liñán, A. (2013) Democracies and Dictatorships in Latin America: Emergence, Survival, and Fall, Cambridge: Cambridge University Press.

Mizala, A., and Torche, F. (2012) 'Bringing the schools back in: The stratification of educational achievement in the Chilean voucher system', International Journal of Educational Development 32(1): 132–144.

Neave, G., and van Vught, F. A. (eds.) (1991) Prometheus bound: The changing relationship between government and higher education in western Europe, Oxford: Pergamon Press.

Nun, J. (1986) 'The Middle-Class Military Coup Revisited', in A. F. Lowenthal and J. S. Fitch (eds.) Armies and politics in Latin America, New York: Holmes & Meier, pp. 59–95.

O'Donnell, G. (1973) Modernization and bureaucratic-authoritarianism; studies in South American politics, Berkeley, CA: Institute of International Studies, University of California.

O'Donnell, G. (1993) 'On the state, democratization and some conceptual problems: A Latin American view with glances at some postcommunist countries',World Development 21(8): 1355–1369.

OECD (2019) Education at a Glance 2019, Paris: OECD.

Parker, D. S., and Walker, L. E. (2013) Latin America's middle class: Unsettled debates and new histories, Lanham, MD: Lexington Books.

Post, D. (2000) 'Student Movements and User Fees: Trends in the Effect of Social Background and Family Income on Access to Mexican Higher Education, 1984-1996', Mexican Studies/Estudios Mexicanos 16(1): 141–163.

Post, D. (2011) 'Constitutional Reform and the Opportunity for Higher Education Access in Ecuador Since 1950', Education Policy Analysis Archives 19(20): 1–24.

Rodríguez, L. G. (2015) Universidad, peronismo y dictadura: 1973–1983, Buenos Aires: Prometeo Libros.

Rodríguez, L. G., and Soprano, G. (2009) 'La política universitaria de la dictadura militar en la Argentina: Proyectos de reestructuración del sistema de educación superior (1976–1983) [University Policies of the Military Dictatorship in Argentina: Projects of Reconstruction of the Higher Education System (1976–1983)]', Nuevo Mundo Mundos Nuevos, published online 9 May. https://doi.org/10.4000/nuevomundo.56023.

Ruhl, J. M. (1982) 'Social Mobilization, Military Tradition and Current Patterns of Civil-Military Relations in Latin America: Testing Putnam's Major Conclusions', Political Research Quarterly 35(4): 574–586.

Schwartzman, S. (1993) 'Policies for higher education in Latin America: The context', Higher Education 25(1): 9–20.

Silva, P. (1991) 'Technocrats and Politics in Chile: From the Chicago Boys to the CIEPLAN Monks', Journal of Latin American Studies 23(2): 385–410.

Smith, W. C. (1989) Authoritarianism and the crisis of the Argentine political economy. Stanford, CA: Stanford University Press.

Snow, P. G. (1982) 'Military government in Argentina', in R. G. Wesson (ed.) New military politics in Latin America, Westport, CT: Praeger.

Thelen, K. (1999) 'Historical institutionalism in comparative politics', Annual Review of Political Science 2(1): 369–404.

Trincheri, A. (2001) 'Las tinieblas en la universidad: El "'adelantado' proceso" en el Comahue [Darkness at the university: The Comahue University during the dictatorship]', n C. Kauffman (ed.) Dictadura y educación. Depuraciones y vigilancia en las universidades inacionales argentinas [Dictatorship and education] (Vol. 2), Buenos Aires: Miño y Dávila Ediciones, pp. 67–91.

Trow, M. (1973) Problems in the Transition from Elite to Mass Higher Education, Berkeley, CA: Carnegie Commission on Higher Education.

Valdés, J. G. (1995) Pinochet's economists: The Chicago school in Chile, Cambridge: Cambridge University Press.

Verdugo, P. (2001) Chile, Pinochet, and the caravan of death, Miami: University of Miami North South Center Press.

Winn, P., and Kay, C. (1974) 'Agrarian Reform and Rural Revolution in Allende's Chile', Journal of Latin American Studies 6(1): 135–159.

Zirker, D. (1998) 'Jose Nun's "Middle-Class Military Coup" in Contemporary Perspective: Implications of Latin America's Neoliberal Democratic Coalitions', Latin American Perspectives 25(5): 67–86.
Acknowledgements
The author would like to thank Zsófia Barta for feedback on early drafts. The author would also like to thank the anonymous reviewers for their helpful and constructive comments that greatly contributed to improving the final version of the article. All views expressed in this article are those of the author.
Ethics declarations
Conflict of interest
The corresponding author states that there is no conflict of interest.
Additional information
Publisher's Note
Springer Nature remains neutral with regard to jurisdictional claims in published maps and institutional affiliations.
About this article
Cite this article
Salto, D.J. Comparative Higher Education Policy Under Nondemocratic Regimes in Argentina and Chile: Similar Paths, Different Policy Choices. High Educ Policy (2020). https://doi.org/10.1057/s41307-020-00194-x
Keywords
Higher education

Comparative policy

Dictatorships

Finance

Argentina

Chile