Abstract
The paper enhances micro-cognitive understandings of how organisational values can build internal reputation. Drawing-on a multi-method case study of a private hospital in Malaysia, we show the process of how values are internalised within organisations. We illustrate how different internal actors are important for embedding organisational values at various stages and show the interplay between them. We show leaders are important for role modelling and engaging, managers are important for embedding and reinforcing, and employees are important for empowering and reciprocating. We argue that in order for values to be internalised, leaders, managers and employees need to effectively create, communicate and enact those values. Rather than values being imposed by a single dominant internal actor, we show that they can be diffused by internal stakeholders at different hierarchical levels. We find that the internalisation of organisational values helps to form positive perceptions of the values and creates individual behaviours that correspond to those values. While the literature has focused on what dimensions and which stakeholders influence reputation building, we show how micro-cognitive processes build internal reputation from organisational values.
Access options
Buy single article
Instant access to the full article PDF.
US$ 39.95
Tax calculation will be finalised during checkout.
Subscribe to journal
Immediate online access to all issues from 2019. Subscription will auto renew annually.
US$ 259
Tax calculation will be finalised during checkout.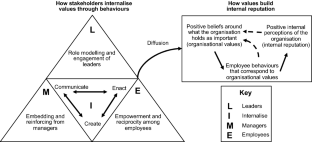 References
Abdullah, Z., Y.A. Aziz, and Y. Abdul Aziz. 2013. Institutionalizing corporate social responsibility: Effects on corporate reputation, culture, and legitimacy in Malaysia. Social Responsibility Journal 9 (3): 344–361.

Alexander, R. (1987). The biology of moral systems. New York: Aldine de Guyter.

Balmer, J.M.T. 2001. Corporate identity, corporate branding and corporate marketing—Seeing through the fog. European Journal of Marketing 35 (3/4): 248–291.

Balmer, J.M., and E.R. Gray. 1999. Corporate identity and corporate communications: Creating a competitive advantage. Corporate Communications an International Journal 4 (4): 171–177.

Barney, J.B. 1986. Organizational culture: Can it be a source of sustained competitive advantage? Academy of Management Review 11 (3): 656–665.

Bell, J. 2014. Doing your research project: A guide for first-time researchers. Berkshire: McGraw-Hill Education.

Bezrukova, K., S.M.B. Thatcher, K.A. Jehn, and C.S. Spell. 2012. The effects of alignments: Examining group faultlines, organizational cultures, and performance. Journal of Applied Psychology 97 (1): 77–92.

Bitektine, A.B. 2011. Towards a theory of social judgments of organizations: The case of legitimacy, reputation, and status. Academy of Management Review 36: 151–179.

Bolino, M.C., and A.M. Grant. 2016. The bright side of being prosocial at work, and the dark side, too: A review and agenda for research on other-oriented motives, behavior, and impact in organizations. Academy of Management Annals 6520 (February): 1–94.

Bourne, H., and M. Jenkins. 2013. Organization values: A dynamic perspective. Organization Studies 34 (4): 495.

Braun, V., and V. Clarke. 2006. Using thematic analysis in psychology. Qualitative Research in Psychology 3: 77–101.

Brown, T.J., P.A. Dacin, M.G. Pratt, and D.A. Whetten. 2006. Identity, intended image, construed image, and reputation: An interdisciplinary framework and suggested terminology. Journal of the Academy of Marketing Science 34 (2): 99–106.

Burnkrant, R.E., and A. Cousineau. 1975. Informational and normative social influence in buyer behavior. Journal of Consumer Research 2 (3): 206–215. https://doi.org/10.1086/208633.

Carter, S.M. 2006. The interaction of top management group, stakeholder, and situational factors on certain corporate reputation management activities. Journal of Management Studies 43 (5): 1145–1176.

Chatman, J.A. 1991. Matching people and organizations—selection and socialization in public accounting firms. Administrative Science Quarterly 36 (3): 459–484.

Chatman, J.A., and S.E. Cha. 2003. Leading by leveraging culture. California Management Review 45 (4): 20–34.

Cheyne, A., and J. Loan-Clarke. 2008. Organisational and corporate culture. In Contemporary human resource management, 3rd ed., ed. T. Redman and A. Wilkinson. Harlow: Financial Times/Prentice Hall.

Cialdini, R.B., and N.J. Goldstein. 2004. Social influence: Compliance and conformity. Annual Review of Psychology 55: 591–621.

Deephouse, D.L., and P. Jaskiewicz. 2013. Do family firms have better reputations than non-family firms? An integration of socioemotional wealth and social identity theories. Journal of Management Studies 50 (3): 337–360.

Dolphin, R.R. 2004. Corporate reputation—a value creating strategy. Corporate Governance 4 (3): 77–92.

Dortok, A. 2006. In practice a managerial look at the interaction between internal communication and corporate reputation. Corporate Reputation Review 8 (4): 322–339.

Flatt, S.J., and S.J. Kowalczyk. 2008. Creating competitive advantage through intangible assets: The direct and indirect effects of corporate culture and reputation. Journal of Competitiveness Research 16 (1/2): 13–30.

Fombrun, C. (1996). Reputation. Chichester: Wiley.

Fombrun, C.J., N.A. Gardberg, and J.M. Sever. 2000. The reputation quotient SM: A multi-stakeholder measure of corporate reputation. Journal of Brand Management 7 (4): 241–255.

Fombrun, C., M. Shanley, T. Academy, and M. Journal. 1990. What's in a name? Reputation building and corporate strategy. Academy of Management Journal 33 (2): 233–258.

Fombrun, C., and C. Van Riel. 1997. The reputational landscape. Corporate Reputation Review 1: 5–13.

Gebhardt, G.F., G.S. Carpenter, and J.F. Sherry Jr. 2006. Creating a market orientation: A longitudinal, multifirm, grounded analysis of cultural transformation. Journal of Marketing 70 (4): 37–55.

Giberson, T.R., C.J. Resick, M.W. Dickson, J.K. Mitchelson, K.R. Randall, and M.A. Clark. 2009. Leadership and organizational culture: Linking CEO characteristics to cultural values. Journal of Business and Psychology 24 (2): 123–137.

Goldstein, N.J., and R.B. Cialdini. 2007. The spyglass self: A model of vicarious self-perception. Journal of Personality and Social Psychology 92 (3): 402–417.

Gotsi, M., and A.M. Wilson. 2001. Corporate reputation: Seeking a definition. Corporate Communications: An International Journal 6 (1): 24–30.

Hall, R. 1992. The strategic analysis of intangible issues. Strategic Management Journal 13 (2): 135–144.

Harvey, W.S., T. Morris, and M. Müller Santos. 2017a. Reputation and identity conflict in management consulting. Human Relations 70 (1): 92–118.

Harvey, W.S., M. Tourky, E. Knight, and P. Kitchen. 2017b. Lens or Prism? How organisations sustain multiple and competing reputations. European Journal of Marketing 51 (4): 821–844.

Hatch, M.-J., and M. Schultz. 2002. The dynamics of organizational identity. Human Relations 55 (8): 989–1018.

Hatch, M.J., and M. Schultz. 2003. Bringing the corporation into corporate branding. European Journal of Marketing 37 (7/8): 1041–1064.

Hofstede, G. 2001. Culture's consequences: Comparing values, behaviors, institutions and organizations across nations. London: Sag.

Jones, O. 1996. Human resources, scientists, and internal reputation: The role of climate and job satisfaction. Human Relations 49 (3): 269–294.

Jourdain, G., & D. Chênevert. 2015. The moderating influence of perceived organizational values on the burnout-absenteeism relationship. Journal of Business and Psychology 30 (1): 177–191.

Kattara, H.S., D. Weheba, and O.A. El-Said. 2008. The impact of employee behaviour on customers' service quality perceptions and overall satisfaction. Tourism & Hospitality Research 8 (4): 309–323.

Keysar, B., B.A. Converse, J. Wang, and N. Epley. (n.d.). reciprocity is not give and take asymmetric reciprocity to positive and negative acts. Psychological Science 19 (12): 1280–1286.

Kim, Y., M. Kang, E. Lee, and S.U. Yang. 2019. Exploring crisis communication in the internal context of an organization: Examining moderated and mediated effects of employee-organization relationships on crisis outcomes. Public Relations Review 45 (3): 101777.

Kotter, J.P. 1996. Leading change. Boston, MA: Harvard Business Press.

Kowalczyk, S.J., and M.J. Pawlish. 2002. Corporate branding through external perception of organizational culture. Corporate Reputation Review 5 (2–3): 159–174.

Lepak, D.P., K.G. Smith, and M.S. Taylor. 2007. Value creation and value capture: A multilevel perspective. Academy of Management Review 32 (1): 180–194.

Lines, V.L. 2004. Corporate reputation in Asia: Looking beyond bottom-line performance. Journal of Communication Management 8 (3): 233–245.

Mahon, J. F. (2002). Corporate reputation: Research agenda using strategy and stakeholder literature. Business & Society, 41 (4): 415–445.

Mahon, J.F., and S.L. Wartick. 2003. Dealing with stakeholders: How reputation, credibility and framing influence the game. Corporate Reputation Review 6 (1): 19–35.

Meglino, B.M., and E.C. Ravlin. 1998. Session 5: Individual values in organizations: Concepts, controversies, and research. Journal of Management 24 (3): 351–389.

Men, L.R. 2014. Internal reputation management: The impact of authentic leadership and transparent communication. Corporate Reputation Review 17 (4): 254–272.

O'Reilly, C.A., III., J. Chatman, and D.F. Caldwell. 1991. People and organizational culture: A profile comparison approach to assessing person-organization fit. Academy of Management Journal 34 (3): 487–516.

Olmedo-Cifuentes, I., I.M. Martínez-León, and G. Davies. 2014. Managing internal stakeholders' views of corporate reputation. Service Business 8: 83–111.

Paarlberg, L.E., and J.L. Perry. 2007. Values Management: Aligning employee values and organization goals. The American Review of Public Administration 37 (4): 387–408.

Patton, M.Q. 2002. Qualitative interviewing. Qualitative Research and Evaluation Methods 3: 344–347.

Patton, M.Q. 2005. Qualitative research. Thousand Oaks, CA: Sage.

Pollock, T.G., K. Lashley, V.P. Rindova, and J.H. Han. 2019. Which of these things are not like the others? Comparing the rational, emotional, and moral aspects of reputation, status, celebrity, and stigma. Academy of Management Annals 13 (2): 444–478.

Qu, S., and J. Dumay. 2011. The qualitative research interview. Qualitative Research in Accounting and Management 8 (3): 238–364.

Ravasi, D., J. Cornelissen, V.P. Rindova, and M. Etter. 2018. The formation of organizational reputation. Academy of Management Annals 12 (2): 574–599.

Ravasi, D., and M. Schultz. 2006. Responding to organizational identity threats: Exploring the role of organizational culture. Academy of Management Journal 49 (3): 433–458.

Rindova, V.P., I.O. Williamson, A.P. Petkova, and J.M. Sever. 2005. Being good or being known: An empirical examination of the dimensions, antecedents, and consequences of organizational reputation. Academy of Management Journal 48 (6): 1033–1049.

Schneider, B., M.G. Ehrhart, and W.H. Macey. 2013. Organizational climate and culture. Annual Review of Psychology 64: 361–388.

Scott, T., R. Mannion, M. Marshall, and H. Davies. 2003. Does organisational culture influence health care performance? A review of the evidence. Journal of Health Services Research & Policy 8 (2): 105–117.

Sullivan, T., and B. Hogge. 1987. Instruments of adjustment in recession: The case of R and D personnel. R&D Management 17 (4): 289–299.

Susskind, A.M., K.M. Kacmar, and C.P. Borchgrevink. 2007. How organizational standards and coworker support improve restaurant service. Cornell Hotel and Restaurant Administration Quarterly 48 (4): 370–379.

Thevissen, F. 2002. Belgium: Corporate reputation in the eye of the Beholder. Corporate Reputation Review 4 (4): 318–326.

Velamuri, R.S., S. Venkataraman, and W.S. Harvey. 2017. Seizing the ethical high ground: Ethical reputation building in corrupt environments. Journal of Management Studies 54 (5): 647–675.

Walsh, G., V.W. Mitchell, P.R. Jackson, and S.E. Beatty. 2009. Examining the antecedents and consequences of corporate reputation: A customer perspective. British Journal of Management 20 (2): 187–203.
Ethics declarations
Conflict of interest
We declare that there are no conflicts of interest.
Additional information
Publisher's Note
Springer Nature remains neutral with regard to jurisdictional claims in published maps and institutional affiliations.
About this article
Cite this article
Harvey, W.S., Osman, S. & Tourky, M. Building Internal Reputation from Organisational Values. Corp Reputation Rev (2021). https://doi.org/10.1057/s41299-020-00109-x
Keywords
Internal reputation

Organisational values

Hospital

Case study

Qualitative research