Abstract
The grafting success of commercial brinjal F1 hybrids on disease-resistant varieties and wild Solanum species has enumerated the effect of rootstock combinations with scions on the fruit yield of brinjal. The Galine F1 (4.25, 35.75) hybrid took significantly lesser days, and it was at par with Mahy-11 F1 hybrid (4.75, 37.50), whereas varieties and wild species recorded maximum number of days for germination and reaching to the grafting stage, thus synchronization of grafting stage of scions and rootstocks could be achieved by staggered sowing. The significantly highest graft success noted Galine F1 (96.67%) and Mahy-11 (94.44%) grafting on Solanum torvum rootstock, thus these combinations were highly suitable for grafting. The highest number of branches (15.29), fruits per plant (30.18), yield per plant (4.40 kg) and yield per hectare (61.11 t) were found by scion Mahy-11 grafting on Solanum torvum rootstock and differed significantly from the other scion and rootstock graft combinations. For the grafting characteristics, growth and yield traits were found to be superior and were influenced by the grafts i.e. Mahy-11 and Galine F1 scion grafted on rootstock Solanum torvum. Thus, Solanum torvum rootstock is highly suitable for brinjal grafting compared to other rootstocks.
Access options
Buy single article
Instant access to the full article PDF.
US$ 39.95
Tax calculation will be finalised during checkout.
Subscribe to journal
Immediate online access to all issues from 2019. Subscription will auto renew annually.
US$ 119
Tax calculation will be finalised during checkout.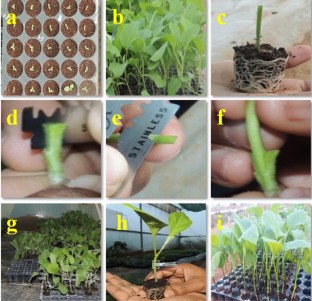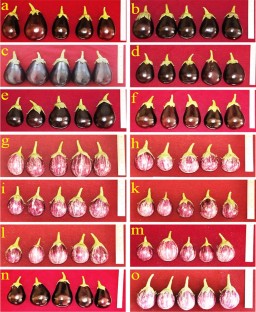 References
Alan O, Ozdemir N, Gunen Y (2007) Effect of grafting on watermelon plant growth, yield and quality. J Agron 6(2):62–65

Aloni B, Cohen R, Karni L, Aktas H, Edelstein H (2010) Hormonal signalling in rootstock–scion interactions. Sci Hort 127:119–126

Arwiyantoa T, Lwin K, Maryudani Y, Purwantoro A (2015) Evaluation of local Solanum torvum as a rootstock to control Ralstonia solanacearum in Indonesia. Acta Hort 1086:101–106

Biswas MK, Ghosh T (2018) Screening of brinjal genotypes for their resistance against fungal and bacterial wilt and integrated management of the disease. Plant Cell Biotechnol Molec Bio 19(1 & 2):61–71

Bletsos FA (2005) Use of grafting and calcium cyanamide as alternatives to methyl bromide soil fumigation and their effects on growth, yield, quality and Fusarium wilt control in melon. J Phytopathology 153:155–161

Bletsos F, Thanassoulpoulos C, Roupakias D (2003) Effect of grafting on growth, yield and Verticillium wilt of eggplant. HortScience 38(2):183–186

Daunay MC (2008) Eggplant. In: Prohens J, Nuez F (eds) Handbook of plant breeding: vegetables II. Springer, New York, pp 163–220

Davis AR, Perkins-Veazie P, Hassell R, Levi A, King SR, Zhang XP (2008) Grafting effects on vegetable quality. HortScience 43:1670–1672

Deb DB (1979) Solanaceae in India. In: Hawkes JG, Lester RN, Skelding AD (eds) The biology and taxonomy of the solanaceae. Academic Press, Linnean Society of London, London, pp 87–112

Djidonou D, Zhao X, Simonne EH, Koch KE (2013) Yield, water and nitrogen-use efficiency in field-grown, grafted tomatoes. HortScience 48(4):485–492

FAO (2017) FAOSTAT Website (http://faostat3.fao.org/home/E), NHB data base-2017, p 459

Fernandez CL, Hernandez HG, Colin CAN, Lopez JLA, Reyes SV, Castellanes JZ (2013) Morphological response and fruit yield of sweet pepper (Capsicum annuum L.) grafted commercial rootstocks. Biol Agric Hortic 29(1):1–11

Gisbert C, Prohens J, Nuez F (2011) Performance of eggplant grafted onto cultivated, wild and hybrid materials of eggplant and tomato. Int J Plant Product 5(4):367–380

Gisbert C, Prohens J, Raigón MD, Stommel JR, Nuez F (2011) Eggplant relatives as sources of variation for developing new rootstocks: effects of grafting on eggplant yield and fruit apparent quality and composition. Sci Hort 128:14–22

Gousset C, Collonnier C, Mulya K, Rotin GL, Besse P, Servaes A, Sihachkar D (2005) Solanum torvum, as a useful source of resistance against bacterial and fungal diseases for improvement of eggplant (S. melongena L.). Plant Sci 168:319–327

Hayati NE, Sukprakarn S, Juntakool S (2005) Seed germination enhancement in Solanum stramonifolium and Solanum torvum. Kasetsart J (Nat Sci) 39:368–376

Heo YC (1991) Effects of rootstock on exudation and mineral elements contents in different parts of Oriental melon and cucumber (in Korean with English summary). Dissertation: MSc thesis, Kyung Hee University, Seoul, South Korea, p 53

Honna S (1977) Grafting eggplants. Sci Hort 7:207–211

Hu CM, Zhu YL, Yang LF, Chen SF, Huang YM (2006) Comparison of photosynthetic characteristics of grafted and own-root seedling of cucumber under low temperature circumstances. Acta Botanica Boreali-Occidentalia Sinica 26:247–253

Ibrahim M, Munira MK, Kabir MS, Islam AKMS, Miah MMU (2001) Seed germination and graft compatibility of wild Solanum as rootstock of tomato. J Biol Sci 1:701–703

Ioannou N (2001) Integrating soil solarisation with grafting on resistant rootstocks for management of soil borne pathogens of eggplant. J Hort Sci Biotechnol 7:396–401

Jangam AK, Thali P (2010) ICAR Research Complex, Goa, Old Goa, Goa, India, pp 402–403

Kato T, Lou H (1989) Effect of rootstocks on yield, mineral nutrition and hormonal level in xylem sap in eggplant. J Jpn Soc Hort Sci 58:345–352

Khah EM, Kakava E, Mavromatis A, Chachalis D, Goulas C (2006) Effect of grafting on growth and yield of tomato (Lycopersicon esculentum Mill.) in greenhouse and open-field. J Appl Hort 8(1):3–7

King SR, Davis AR, Liu W, Levi A (2008) Grafting for disease resistance. HortScience 43:1673–1676

King SR, Davis AR, Zhang X, Crosby K (2010) Genetics, breeding and selection of rootstocks for Solanaceae and Cucurbitaceae. Sci Hort 127:106–111

Lee JM (1994) Cultivation of grafted vegetables-I. Current status, grafting methods, and benefits. HortScience 29:235–239

Lee JM, Oda M (2003) Grafting of herbaceous vegetable and ornamental crops. Hort Rev 28:61–124

Leonardi C, Giuffrida F (2006) Variation of plant growth and macronutrient uptake in grafted tomatoes and eggplant on three different rootstocks. Europ J Hort Sci 71(3):97–101

Marsic NK, Osvald J (2004) The influence of grafting on yield of two tomato cultivars (Lycopersicon esculentum Mill.) grown in a plastic house. Acta Agriculturae Slovenica 83:243–249

Miceli A, Sabatino L, Moncada A, Vetrano F, D'Anna F (2014) Nursery and field evaluation of eggplant grafted onto unrooted cuttings of Solanum torvum Sw. Sci Hort 178:203–210

Miguel A, Maroto JV, San Bautista A, Baixauli C, Cebolla V, Pascual B, López S, Guardiola JL (2004) The grafting of triploid watermelon is an advantageous alternative to soil fumigation by methyl bromide for control of Fusarium wilt. Sci Hort 103(1):9–17

Moncada A, Miceli A, Vetrano F, Mineo V, Planeta D, D'Anna F (2013) Effect of grafting on yield and quality of eggplant (Solanum melongena L.). Sci Hort 149:108–114

Oda M (1995) New grafting methods for fruit bearing vegatables in Japan. JARQ (Japan) 29:187–194

Ramesh R, Achari G, Asolkar T, Dsouza M, Singh NP (2016) Management of bacterial wilt of brinjal using wild brinjal (Solanum torvum) as root stock.Indian Phytopath 69(3):260–265.

Sabatino L, Iapichino G, Maggio A, Bruno M, Anna FD (2016) Grafting affects yield and phenolic profile of Solanum melongena L. landraces. J Integr Agric 15(5):1017–1024

Sabatino L, IapichinoG AFD, Palazzolo E, Mennella G, Rotino GL (2018) Hybrids and allied species as potential rootstocks for eggplant: effect of grafting on vigour, yield and overall fruit quality traits. Sci Hort 228:81–90

Sabita JN, Boruah BM, Rachid HA (2000) Yield potentiality of some brinjal cultivars in severely bacterial wilt infected condition. Veg Sci 27:76–77

Sahoo S (2015) Studies on bacterial wilt of brinjal plant (Solanum melongena L.) and is management. Dissertation: MSc in Agriculture, Orissa University of Agricultural and Technology, Bhubaneswar, Orissa, India

Sherly J (2011) Studies on grafting of brinjal accessions (Solanum melongena L.) with wild solanum rootstocks. Dissertation: Ph.D. (Hort.) Tamil Nadu Agricultural University, Coimbatore, Tamil Nadu, India

Singh PK, Gopalakrishnan TR (1997) Grafting for wilt resistance and productivity in brinjal (Solanum melongena L.). Hortic J 10:57–64

Singh HP, Malhotra SK (2010) Research and development in vegetable crops issue and strategies. Indian J Hortic 55(1):3–9

Singh TH, Lakshmana Reddy DC, Anand Reddy C, Sadashiva AT, Pandyaraj P, Manoj YB (2019) Evaluation of Solanum species and eggplant cultivated varieties for bacterial wilt resistance. J Hortl Sci 14(1):13–19

Wang S, Yang R, Cheng J, Zhao J (2007) Effect of rootstocks on the tolerance to high temperature of eggplants under solar greenhouse during summer season. Acta Hort 761:357–360
Ethics declarations
Conflict of interest
We, the authors declare that we have no conflict of interest and we have no interests to declare with this manuscript.
Additional information
Publisher's Note
Springer Nature remains neutral with regard to jurisdictional claims in published maps and institutional affiliations.
About this article
Cite this article
Sudesh, K.S., Anjanappa, M., Manjunathagowda, D.C. et al. Grafting in brinjal (Solanum melongena L.): a sustainable way of increasing the yield. Vegetos (2021). https://doi.org/10.1007/s42535-020-00171-0
Received:

Revised:

Accepted:

Published:
Keywords
Brinjal

Grafts

Resistant varieties

Rootstock

Scion

Solanum torvum