Protein-Ligand Interaction by Ligand Titration, Fast Photochemical Oxidation of Proteins and Mass Spectrometry: LITPOMS
Abstract
We report a novel method named LITPOMS (ligand titration, fast photochemical oxidation of proteins and mass spectrometry) to characterize protein-ligand binding stoichiometry, binding sites, and site-specific binding constants. The system used to test the method is melittin–calmodulin, in which the peptide melittin binds to calcium-bound calmodulin. Global-level measurements reveal the binding stoichiometry of 1:1 whereas peptide-level data coupled with fitting reveal the binding sites and the site-specific binding affinity. Moreover, we extended the analysis to the residue level and identified six critical binding residues. The results show that melittin binds to the N-terminal, central linker, and C-terminal regions of holo-calmodulin with an affinity of 4.6 nM, in agreement with results of previous studies. LITPOMS, for the first time, brings high residue-level resolution to affinity measurements, providing simultaneously qualitative and quantitative understanding of protein-ligand binding. The approach can be expanded to other binding systems without tagging the protein to give high spatial resolution.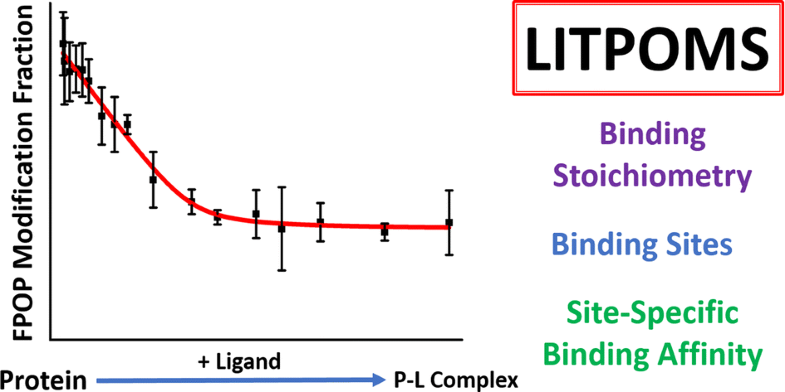 Keywords
LITPOMS 
Fast photochemical oxidation of proteins (FPOP) 
Ligand titration 
Binding affinity 
Melittin Calmodulin 
Site-specific binding 
Notes
Acknowledgements
This work is financially supported by National Institute of Health NIGMS Grant 5P41GM103422 and 1S10OD016298-01A1 (to M.L.G.). Authors are grateful to Dr. Jagat Adhikari for helpful discussions and to Protein Metrics for software support.
Copyright information
© American Society for Mass Spectrometry 2018