Abstract
The objective was to study the optimization of fermentation conditions for fermented green jujube wine and quality analysis. This study investigated the fermentation process conditions, the changes in physicochemical indexes, antioxidant capacity and volatile compounds measured from green jujube wine during winemaking. The optimized conditions (the initial sugar, yeast addition, fermentation time and SO2 treatments) for green jujube wine were 24%, 0.3%, 8 d, 80 mg/L, respectively. The results showed that the variation trend of different substances in green jujube wine in different fermentation periods were different. In the process of alcohol fermentation, the green jujube wine had a high 2,2-diphenyl-1-picrylhydrazyl (DPPH) free radical scavenging ability, 2,2′-amino-di (2-ethyl-benzothiazoline sulphonic acid-6) ammonium salt (ABTS) free radical scavenging ability and reducing power. Furthermore, a total of 50 volatile compounds were identified in green jujube wine, in which the relative content of aldehydes, ketones, heterocyclic and aromatic compounds were significantly reduced after fermentation.
Access options
Buy single article
Instant access to the full article PDF.
US$ 39.95
Tax calculation will be finalised during checkout.
Subscribe to journal
Immediate online access to all issues from 2019. Subscription will auto renew annually.
US$ 79
Tax calculation will be finalised during checkout.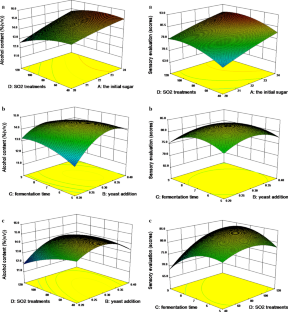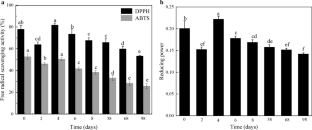 References
Arnous A, Makris DP, Kefalas P (2001) Effect of principal polyphenolic components in relation to antioxidant characteristics of aged red wines. J Agric Food Chem 49(12):5736–5742

Aydin C, Mammadov R (2017) Phenolic composition, antioxidant, antibacterial, larvacidal against Culex pipiens, and cytotoxic activities of Hyacinthella lineata steudel extracts. Int J Food Prop 20(10):2276–2285

Balthazar CF, Santillo A, Guimarães JT (2019) Novel milk–juice beverage with fermented sheep milk and strawberry (Fragaria × ananassa): Nutritional and functional characterization. J Dairy Sci 102:10724–10736

Cagno RD, Filannino P, Gobbetti M (2017) Lactic acid fermentation drives the optimal volatile flavor-aroma profile of pomegranate juice. Int J Food Microbiol 248:56–62

Cheung JKH, Li J, Cheung AWH, Zhu Y, Zheng KYZ, Bi CWC, Duan R, Choi RCY, Lau DTW, Dong TTX, Lau BWC, Tsim KWK (2009) Cordysinocan, a polysaccharide isolated from cultured Cordyceps, activates immune responses in cultured T-lymphocytes and macrophages: signaling cascade and induction of cytokines. J Ethnopharmacol 124(1):61–68

Czyzowska A, Pogorzelski E (2002) Changes to polyphenols in the process of production of must and wines from blackcurrants and cherries. Part I. Total polyphenols and phenolic acids. Europ Food Res Technol 214(2):148–154

Eklund P, Langvik O, Warna J, Salmi T, Willfor S, Sjoholm R (2005) Chemical studies on antioxidant mechanisms and free radical scavenging properties of lignans. Org Biomol Chem 3(18):3336–3347

Eom I, Choi J, Kim I, Kim TH, Kim S (2016) Changes in the physicochemical and antioxidant characteristics during the fermentation of jujube wine using hot water extract of dried jujube. J Life Sci 26(11):1298–1307

Guo J, Yan Y, Wang M, Wu Y, Liu S-Q, Chen D, Lu Y (2018) Effects of enzymatic hydrolysis on the chemical constituents in jujube alcoholic beverage fermented with Torulaspora delbrueckii. LWT 97:617–623

Hou F, Mu T, Ma M, Blecker C (2019) Optimization of processing technology using response surface methodology and physicochemical properties of roasted sweet potato. Food Chem 278:136–143

Koley TK, Kaur C, Nagal S, Walia S, Jaggi S, Sarika, (2016) Antioxidant activity and phenolic content in genotypes of Indian jujube (Zizyphus mauritiana Lamk.). Arab J Chem 9:S1044–S1052

Kwaw E, Ma Y, Tchabo W, Apaliya MT, Wu M, Sackey AS, Xiao L, Tahir HE (2018) Effect of lactobacillus strains on phenolic profile, color attributes and antioxidant activities of lactic-acid-fermented mulberry juice. Food Chem 250:148–154

Lan Y, Wu J, Wang X et al (2017) Evaluation of antioxidant capacity and flavor profile change of pomegranate wine during fermentation and aging process. Food Chem 232:777–787

Li JW, Fan LP, Ding SD, Ding XL (2007) Nutritional composition of five cultivars of Chinese jujube. Food Chem 103(2):454–460

Li J, Liu Y, Fan L et al (2011) Antioxidant activities of polysaccharides from the fruiting bodies of Zizyphus Jujuba cv. Jinsixiaozao Carbohydr Polym 84(1):390–394

Liu SQ, Holland R, Crow VL (2004) Esters and their biosynthesis in fermented dairy products: a review. Int Dairy J 14(11):923–945

Liu G, Sun J, He X et al (2018) Fermentation process optimization and chemical constituent analysis on longan (Dimocarpus longan Lour.) wine. Food Chem 256:268–279

Loganayaki N, Siddhuraju P, Manian S (2013) Antioxidant activity and free radical scavenging capacity of phenolic extracts from Helicteres isora L. and Ceiba pentandra L. J Food Sci Technol Mysore 50(4):687–695

Neafsey EJ, Collins MA (2011) Moderate alcohol consumption and cognitive risk. Neuropsychiatr Dis Treat 7(1):465–484

Nyanga LK, Nout MJR, Smid EJ, Boekhout T, Zwietering MH (2013) Fermentation characteristics of yeasts isolated from traditionally fermented masau (Ziziphus mauritiana) fruits. Int J Food Microbiol 166(3):426–432

Re R, Pellegrini N, Proteggente A et al (1999) Antioxidant activity applying an improved ABTS radical cation decolorization assay. Free Radical Biol Med 26(9):1231–1237

Schaich KM, Tian X, Xie J (2015) Hurdles and pitfalls in measuring antioxidant efficacy: a critical evaluation of ABTS, DPPH, and ORAC assays. J Funct Foods 14:111–125

Siriamornpun S, Weerapreeyakul N, Barusrux S (2015) Bioactive compounds and health implications are better for green jujube fruit than for ripe fruit. J Funct Foods 12:246–255

Song J, Bi J, Chen Q et al (2019) Assessment of sugar content, fatty acids, free amino acids, and volatile profiles in jujube fruits at different ripening stages. Food Chem 270:344–352

Styger G, Prior BA, Bauer F (2011) Wine flavor and aroma. J Ind Microbiol Biotechnol 38(9):1145–1159

Tian T, Yang H, Yang F et al (2018) Optimization of fermentation conditions and comparison of flavor compounds for three fermented greengage wines. LWT 89:542–550

Wang C, Cheng D, Cao J, Jiang W (2013) Antioxidant capacity and chemical constituents of Chinese jujube (Ziziphus jujuba Mill.) at different ripening stages. Food Sci Biotechnol 22(3):639–644

Wang Y, Liu X, Zhang J et al (2015) Structural characterization and in vitro antitumor activity of polysaccharides from Zizyphus jujuba cv. Muzao RSC Adv 5(11):7860–7867

Wang B, Huang Q, Venkitasamy C et al (2016) Changes in phenolic compounds and their antioxidant capacities in jujube (Ziziphus jujuba Miller) during three edible maturity stages. LWT Food Sci Technol 66:56–62

Wang L, Fu H, Wang W et al (2018) Analysis of reducing sugars, organic acids and minerals in 15 cultivars of jujube (Ziziphus jujuba Mill.) fruits in China. J Food Compos Anal 73:10–16

Xu L, Tang Z, Wen Q et al (2019) (2019) Effects of pulsed electric fields pretreatment on the quality of jujube wine. Int J Food Sci Technol 54(11):3109–3117

Zhang H, Jiang L, Ye S et al (2010) Systematic evaluation of antioxidant capacities of the ethanolic extract of different tissues of jujube (Ziziphus jujuba Mill.) from China. Food Chem Toxicol 48(6):1461–1465

Zhao L, Ren J, Wang L et al (2019) Evolution of sensory attributes and physicochemical indexes of Gouqi fermented wine under different aging treatments and their correlations. J Food Process Preserv 43(3):e13873

Zheng H, Zhang Q, Quan J, Zheng Q, Xi W (2016) Determination of sugars, organic acids, aroma components, and carotenoids in grapefruit pulps. Food Chem 205:112–121
Funding
This work was financially supported by project of the Food nutrition and health quality program of Shanxi Normal University (2018YZKC-07).
Ethics declarations
Conflicts of interest
The authors declare no conflict of interest.
Consent for publication
Written informed consent for publication was obtained from all participants.
Ethics approval
This article does not contain any studies with human or animal subjects.
Additional information
Publisher's Note
Springer Nature remains neutral with regard to jurisdictional claims in published maps and institutional affiliations.
About this article
Cite this article
Yuan, L., Li, G., Yan, N. et al. Optimization of fermentation conditions for fermented green jujube wine and its quality analysis during winemaking. J Food Sci Technol (2021). https://doi.org/10.1007/s13197-021-05013-8
Revised:

Accepted:

Published:
Keywords
Response surface methodology

Green jujube wine

Nutritional composition

Flavor compounds

Alcoholic fermentation