Abstract
Pectin, found in the cell walls of fruits and vegetables, is a complex colloidal polysaccharide. In this study, pectin was extracted using ultrasound and microwave-assisted extraction methods from waste lemon, mandarin, and kiwi peel to investigate their use as alternative source of pectin. Hydrochloric acid (HCl) and nitric acid (HNO3) were used as the extracting agents. The effects of microwave power (360–600 W) and irradiation time (1, 2, 3 min) for microwave-assisted extraction (MAE) and of temperature (60 and 75 °C) and sonication time (15, 30, 45 min) on ultrasound-assisted extraction (UAE) on the yield of extracted pectin from the peels were investigated. Optimum conditions were determined for the extraction of pectin from all of the peel samples with the two extraction methods. The produced pectin yield and the degree of esterification were determined and, FT-IR and SEM analyses were performed. Kiwi peel gave the highest yield of extracted pectin using HCl as the solvent with 17.30% yield via UAE at 75 °C for 45 min and 17.97% yield via MAE at 360 W for, 3 min. It was concluded that lemon, mandarin, and kiwi peels all contained pectin and that MAE gave a better yield than UAE and could thus be used as an efficient and rapid technique for the extraction of pectin from the peels. The chemical structures of the pectin obtained using the two different extraction methods were similar and showed a high degree of methoxylation.
This is a preview of subscription content, log in to check access.
Access options
Buy single article
Instant access to the full article PDF.
US$ 39.95
Price includes VAT for USA
Subscribe to journal
Immediate online access to all issues from 2019. Subscription will auto renew annually.
US$ 99
This is the net price. Taxes to be calculated in checkout.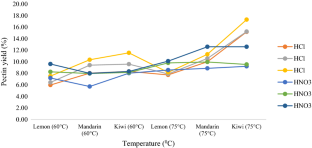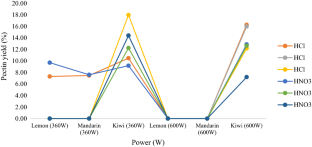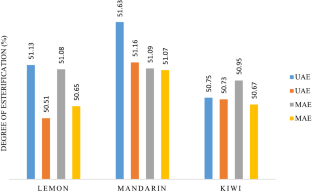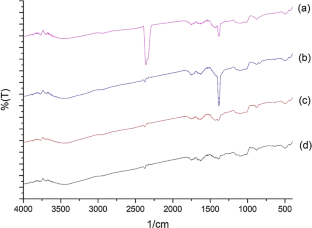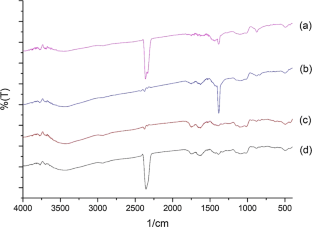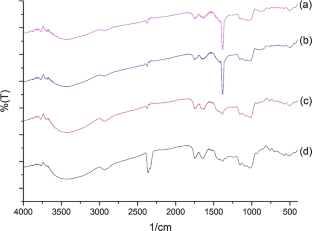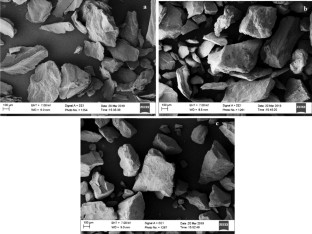 References
Bayar N, Bouallegue T, Achour M, Kriaa M, Bougatef A, Kammoun R (2017) Ultrasonic extraction of pectin from Opunta ficus indica cladodes after mucilage removal: optimization of experimental conditions and evaluation of chemical and functional properties. Food Chem 235:275–282

Cho E, Jung H, Lee B, Kim H, Rhee J, Yoo S (2019) Green process development for apple-peel pectin production by organic acid extraction. Carbohyd Polym 204:97–103

Ciriminna R, Carnaroglio D, Delisi R, Arvati S, Tamburino A, Pagliaro M (2016) Industrial feasibility of natural products extraction with microwave technology. Chem Select 3:549–555

Colodel C, Petkowicz C (2019) Acid extraction and physicochemical characterization of pectin from cubiu (Solanum sessiliflorum D.) fruit peel. Food Hydrocoll 86:193–200

Committee IFT (1959) Pectin standardization. Food Technol 8:496–500

Dranca F, Vargas M, Oroıan M (2020) Physicochemical properties of pectin from Malus domestica 'Fălticeni' apple pomace as affected by non-conventional extraction techniques. Food Hydrocoll 100:105383

Gharibzahedia SMT, Smith B, Guo Y (2019) Ultrasound-microwave assisted extraction of pectin from fig (Ficus carica L.) skin: optimization, characterization and bioactivity. Carbohyd Polym 222:114992

Guzel M, Akpinar Ö (2017) Turunçgil Kabuklarından Elde Edilen Pektinlerin Karakterizasyonu ve Karşılaştırılması. Akad Gıda 15(1):17–28

Hosseini SS, Khodaiyan F, Yarmand MS (2016) Optimization of microwave assisted extraction of pectin from sour orange peel and its physicochemical properties. Carbohyd Polym 140:59–65

Kazemi M, Khodaiyan F, Hosseini SS (2019) Utilization of food processing wastes of eggplant as a high potential pectin source and characterization of extracted pectin. Food Chem 294:339–346

Kusrini E, Wicaksono W, Gınawan C, Daud NZA, Usman A (2018) Kinetics, mechanism and thermodynamics of lanthanum adsorption on pectin extracted from durian rind. J Environ Chem Eng 6:6580–6588

Lefsih K, Giacomazza D, Dahmoune F, Mangione MR, Bulone D, San Biagio PL, Passantino R, Costa MA, Guarrasi V, Khodir M (2017) Pectin from Opuntia ficus indica: optimization of microwave-assisted extraction and preliminary characterization. Food Chem 221:91–99

Liew SQ, Ngoh GC, Yusoff R, Teoh WH (2016) Sequential ultrasound-microwave assisted acid extraction (UMAE) of pectin from pomelo peels. Int J Biol Macromol 93:426–435

Maran JP, Prakash KA (2015) Process variables influence on microwave assisted extraction of pectin from waste Carcia papaya L. peel. Int J Biol Macromol 73:202–206

Maran JP, Sivakumar V, Thirugnanasambandhama K, Sridhar R (2013) Optimization of microwave assisted extraction of pectin from orange peel. Carbohyd Polym 97(2):703–709

Maran JP, Sivakumar V, Thirugnanasambandhama K, Sridhar R (2014) Microwave assisted extraction of pectin from waste Citrullus lanatus fruit rinds. Carbohyd Polym 101:786–791

Maran JP, Swathi K, Jeevitha P, Jayalakshmi J, Ashvini G (2015) Microwave-assisted extraction of pectic polysaccharide from waste mango peel. Carbohyd Polym 123(5):67–71

Maran JP, Priya B, Al-Dhabi NA, Ponmurugan K, Moothy I, Sivarajasekar N (2017) Ultrasound assisted citric acid mediated pectin extraction from industrial waste of Musa balbisiana. Ultrason Sonochem 35:204–209

Mohnen D (2008) Pectin structure and biosynthesis. Curr Opin Plant Biol 11:266–277

Ponmurugan K, Al-Dhabi NA, Maran JP, Karthikeyan K, Moothy IG, Sivarajasekar N, Manoj JJB (2017) Ultrasound assisted pectic polysaccharide extraction and its characterization from waste heads of Helianthus annus. Carbohyd Polym 173:707–713

Rahmati S, Abdullah A, Kang OL (2019) Effects of different microwave intensity on the extraction yield and physicochemical properties of pectin from dragon fruit (Hylocereus polyrhizus) peels. Bioact Carbohyd Diet Fibre 18:100186

Rascon-Chu A, Martinez-Lopez AL, Carvajal-Millan E, Leon-Renova N, Marquez-Escalante J, Romo-Chacon A (2009) Pectin from low quality 'golden delicious' apples: composition and gelling capability. Food Chem 116:101–103

Rodsamran P, Sothornvita R (2019) Microwave heating extraction of pectin from lime peel: characterization and properties compared with the conventional heating method. Food Chem 278:364–372

Sengar AS, Rawson A, Muthiah M, Kalakandan SK (2020) Comparison of different ultrasound assisted extraction techniques for pectin from tomato processing waste. Ultrason Sonochem 61:104812

Shivamathi CS, Moorthy IG, Kumar RV, Soosai MR, Maran JP, Kumar RS, Varalakshmi P (2019) Optimization of ultrasound assisted extraction of pectin from custard apple peel: potential and new source. Carbohyd Polym 225:115240

Sila DN, Van Buggenhout S, Duvetter T, Fraeye I, De Roeck A, Van Loey A, Hendrickx M (2009) Pectins in processed fruits and vegetables: part II-structure–function relationships. Compr Rev Food Sci Food Saf 8:86–104

Singthong J, Cui SW, Ningsanond S, Goff HD (2004) Structural characterization, degree of esterification and some gelling properties of Krueo Ma Noy (Cissampelos pareira) peçtin. Carbohyd Polym 58:391–400

Tongkham N, Juntasalay B, Lasunon P, Sengkhamparn N (2017) Dragon fruit peel pectin: microwave-assisted extraction and fuzzy assessment. Agric Nat Resour 51:262–267

Valdes A, Burgos N, Jimenez A, Garrigos MC (2015) Natural pectin polysaccharides as edible coatings. Coatings 5:865–886

Voragen AGJ, Coenen G, Verhoef RP, Schols HA (2009) Pectin, a versatile polysaccharide present in plant cell walls. Struct Chem 20:263–275

Wang H, Ding J, Ren N (2016) Recent advances in microwave-assisted extraction of trace organic pollutants from food and environmental samples. Trends Anal Chem 75:197–208

Wang W, Chen W, Zou M, Lv R, Wang D, Hou F, Feng H, Ma X, Zhong J, Ding T, Ye X, Liu D (2018) Applications of power ultrasound in oriented modification and degradation of pectin: a review. J Food Eng 234:98–107

Xu S-Y, Liu J-P, Huang X, Du L-P, Shi F-L, Dong R, Huang X-T, Zheng K, Liu Y, Cheong K-L (2018) Ultrasonic-microwave assisted extraction, characterization and biological activity of pectin from jackfruit peel. LWT Food Sci Technol 90:577–582

Yang Y, Wang Z, Hu D, Xiao K, Wu J (2018) Efficient extraction of pectin from sisal waste by combined enzymatic and ultrasonic process. Food Hydrocoll 79:189–196

Zaid RM, Mishra P, Tabassum S, Wahid ZA, Sakinah AMM (2019) High methoxyl pectin extracts from Hylocereus polyrhizus's peels: extraction kinetics and thermodynamic studies. Int J Biol Macromol 141:1147–1157

Zhang W, Xu P, Zhang H (2015) Pectin in cancer therapy: a review. Trends Food Sci Technol 44:258–271
Acknowledgements
This study was supported by FYL-2018-3481 project of Yıldız Technical University Scientific Research Projects Coordinator.
Additional information
Publisher's Note
Springer Nature remains neutral with regard to jurisdictional claims in published maps and institutional affiliations.
About this article
Cite this article
Karbuz, P., Tugrul, N. Microwave and ultrasound assisted extraction of pectin from various fruits peel. J Food Sci Technol (2020). https://doi.org/10.1007/s13197-020-04578-0
Revised:

Accepted:

Published:
Keywords
Fruits

Peel

Pectin

Ultrasound

Microwave

Extraction