Abstract
Lemon peel powder (LPP) obtained after drying (microwave, infrared, and oven) showed the lowest (58.72%) DPPH-radical scavenging activity in oven-dried and the highest (67.84%) in infrared-dried LPP while that of fresh lemon peel remained 63.22%. Orange peel powder (OPP) showed the lowest DSA (61.65) after microwave and the lowest (63.54%) after infrared-drying while that of fresh orange peel was 63.48%. Total phenolics were between 114.58 (fresh) and 179.69 mgGAE/100 g (oven) in LPP and between 158.54 (fresh) and 177.92 mgGAE/100 g (infrared) in OPP. The total flavonoid contents were 380.44 (fresh)–1043.04 mg/100 g (oven) in case of LPP and 296.38 (fresh)–850.54 mg/100 g (oven) in case of OPP. The gallic acid contents were 2.39 (fresh)–14.02 mg/100 g (oven) in LPP. The (+)-catechin contents were 1.10 (fresh)–49.57 mg/100 g (oven) for LPP and 0.82 (fresh)–7.63 mg/100 g (infrared) in case of OPP. The oleic acid content was 22.99 (infrared)–58.85% (fresh) in LPP-oil and 28.59 (microwave)–61.65% (fresh) in OPP-oil. The linoleic acid contents were 13.76 (fresh)–36.90% (oven) in LPP-oil and 14.14 (fresh)–37.08% (infrared) in case of OPP-oil. The drying techniques showed profound but variable effects on radical scavenging activity, total phenolics, flavonoid, carotenoids, phenolic compounds and fatty acid composition of both LPP and OPP and oven-drying (60 °C) was the most effective in improving these bioactive constituents.
Access options
Buy single article
Instant access to the full article PDF.
US$ 39.95
Tax calculation will be finalised during checkout.
Subscribe to journal
Immediate online access to all issues from 2019. Subscription will auto renew annually.
US$ 79
Tax calculation will be finalised during checkout.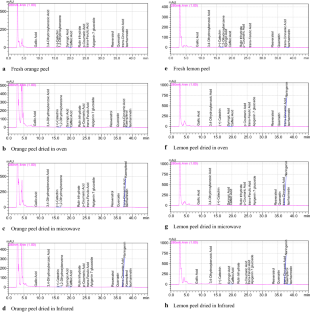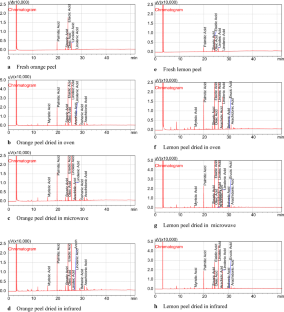 References
Abd-El Ghfar MHA, Ibrahim HM, Hassan IM, Abdel Fattah AA, Mahmoud MH (2016) Peels of lemon and orange as value-added ıngredients: chemical and antioxidant properties. Int J Curr Microbiol App Sci 5(12):777–794

Abou-Arab AA, Mahmoud MH, Abu-Salem FM (2016) Bioactive compounds content citrus peel as affected by drying processess. Int J Nutr Food Eng 10(4):240–243

Akter M, Ahmed M, Eun JB (2010) Dietary fibre components, antioxidant activities and hydration properties of ripe persimmon (Diospyros kaki L. cv. Daebong) peel powders as affected by different washing treatments. Int J Food Sci Tech 45:1464–1471

Albishi T, John JA, Al-Khalifa AS, Shahidi F (2013) Phenolic content and antioxidant activities of selected potato varieties and their processing by-products. J Funct Food 5:590–600

AOAC (1990) Official methods of analysis, 15th edn. Association of Official Analytical Chemists, Washington

Bocco A, Cuvelier ME, Richard H, Berset C (1998) Antioxidant activity and phenolic composition of Citrus peel and seed extracts. J Agric Food Chem 46(6):2123–2129

Chen ML, Yang DJ, Liu SC (2011) Effects of drying temperature on the flavonoid, phenolic acid and antioxidative capacities of the methanol extract of citrus fruit (Citrus sinensis (L.) Osbeck) peels. Int J Food Sci Technol 46:1179–1185

Chen ZT, Chu HL, Chyau CC, Chu CC, Duh PD (2012) Protective effects of sweet orange (Citrus sinensis) peel and their bioactive compounds on oxidative stress. Food Chem 135:2119–2127

Deng LZ, Mujumdar AS, Yang WX, Zhang Q, Zheng ZA, Wu M, Xiao HW (2020) Hot air impingement drying kinetics and quality attributes of orange peel. J Food Process Preserv 44(1):e14294

Dhanavade MJ, Jalkute CB, Ghosh JS, Sonawane KD (2011) Study of the antimicrobial activity of lemon (Citrus lemon L.) peel extract. British J Pharm Toxicol 2:119–122

Fejzić A, Ćavar S (2014) Phenolic compounds and antioxidant activity of some Citruses. Bull Chem Technol Soc Bosnia Herzegovina 42:1–4

Garau MC, Simal S, Rossello C, Femenia A (2007) Effect of air-drying temperature on physico-chemical properties of dietary fibre and antioxidant capacity of orange (Citrus aurantium v. canoneta) by-products. J Food Chem 104:1014–1024

Garcia-Salas P, Gomez-Caravaca AM, Arraez-Roman D, Segura-Carretero A, Guerra-Hernandez E, Garcia-Villanova B, Fernandez-Gutierrez A (2013) Influence of technological processes on phenolic compounds, organic acids, furanic derivatives, and antioxidant activity of whole-lemon powder. Food Chem 141:869–878

Ghafoor K, Al-Juhaimi F, Choi YH (2011) Effects of grape (Vitis labrusca B.) peel and seed extracts on phenolics, antioxidants and anthocyanins in grape juice. Pak J Bot 43(3):1581–1586

Ghasemi K, Ghasemi Y, EbrahimZadeh MA (2009) Antioxidant activity, phenol and flavonoid contents of 13 Citrus species peels and tissues. Pak J Pharm Sci 22(3):277–281

Gorinstein S, Martín-Belloso O, Park YS, Haruenkit R, Lojek A, Ĉíž M, Caspi A, Libman I, Trakhtenberg S (2001) Comparison of some biochemical characteristics of different citrus fruits. Food Chem 74:309–315

Hegazy AE, Ibrahium MI (2012) Antioxidant activities of orange peel extracts. World Appl Sci J 18(5):684–688

Ho SC, Lin CC (2008) Investigation of heat treating conditions for enhanching the anti-inflammatory activity of citrus fruit (Citrus reticulata) peels. J Agric Food Chem 56:7976–7982

Hogan S, Zhang L, Li J, Zoecklein B, Zhou K (2009) Antioxidant properties and bioactive components of Norton (Vitis aestivalis) and Cabernet Franc (Vitis vinifera) winegrapes. LWT Food Sci Technol 42:1269–1274

ISO-International Organization for Standardization (1978) Animal and vegetable fats and oils preperation of methylesters of fatty acids, ISO. Geneve Method ISO 5509:1–6

Jeong S-M, Kim S-Y, Kim D-R, Jo S-C, Nam KC, Ahn DU, Lee S-C (2004) Effect of heat treatment on the antioxidant activity of extracts from citrus peels. J Agric Food Chem 52:3389–3393

Jiang N, Jin LF, Teixeira da Silva JA, IsIam MZ, Gao H-W, Liu Y-Z, Peng SA (2014) Activities of enzymes directly related with sucrose and citric acid metabolism in citrus fruit in response to soil plastic film mulch. Sci Hortic 168:73–80

King AMY, Young G (1999) Characteristics and occurrence of phenolic phytochemicals. J Am Diet Assoc 99:213–218

Khoddami A, Wilkes MA, Roberts TH (2013) Techniques for analysis of plant phenolic compounds. Molecules 18:2328–2375

Kumar AK, Narayani A, Subanthini D, Jayakumar M (2011) Antimicrobial activity and phytochemical analysis of citrus fruit peels-utilization of fruit waste. J Sci Technol 3:5414–5421

Larrauri J, Moreno CS, Calixto FS (1998) Effect of temperature on the free radical scavenging capacity of extracts from red and white grape pomace peels. J Agric Food Chem 46:2694–2697

Lee SK, Mbwambo ZH, Chung HS, Luyengi L, Games EJC, Mehta RG (1998) Evaluation of the antioxidant potential of natural products. Comb Chem High Throughput Screen 1:35–46

Li BB, Smith B, Hossain M (2006) Extraction of phenolics from citrus peels. I. Solvent extraction method. Sep Purif Technol 48:182–188

Lou SN, Lai YC, Huang JD, Ho CT, Ferng LHA, Chang YC (2015) Drying effect on flavonoid composition and antioxidant activity of immature kumquat. Food Chem 171:356–363

Mandalari G, Bennett RN, Bisignano G, Saija A, Dugo G, Faulds CB, Waldron W (2006) Characterization of flavonoids and pectin from bergamot (Citrus bergamia Risso) peel, a major byproduct of essential oil extraction. J Agric Food Chem 54:197–203

Manthey JA, Grohmann K (2001) Phenols in citrus peel byproducts. Concentrations of hydroxycinnamates and polymethoxylated flavones in citrus peel molasses. J Agric Food Chem 49:3268–3273

Marin FR, Martınez M, Uribesalgo T, Castillo S, Frutos MJ (2002) Changes in nutraceuticals composition of lemon juices according to different industrial extraction systems. Food Chem 78:319–324

Mello RE, Fontana A, Mulet A, Luiz J, Correa G, Cárcel JA (2020) Ultrasound-assisted drying of orange peel in atmospheric freeze-dryer and convective dryer operated at moderate temperature. Dry Technol 38(1–2):259–267

Nayak B, Dahmoune F, Moussi K, Remini H, Madani K, Dairi S, Aou O, Khodir M (2015) Comparison of microwave, ultrasound and accelerated-assisted solvent extraction for recovery of polyphenols from Citrus sinensis peels. Food Chem 187:507–516

Nesrine G, Mihoubi D, Kechaou N, Mihoubi B (2012) Microwave dehiydration of three citrus peel cultivars: effect on water and oil retention capacities, color, shrinkage and total phenols content. Ind Crops Prod 40:167–177

Omoba OS, Obafaye RO, Salawu SO, Boligon AA, Athayde ML (2015) HPLC-DAD phenolic characterization and antioxidant activities of ripe and unripe sweet orange peels. Antioxidants 4:498–512

Park JH, Lee M, Park E (2014) Antioxidant activity of orange flesh and peel extracted with various solvents. Preven Nutr Food Sci 19:291–298

Püskülcü H, İkiz F (1989) Introduction to statistic. Bilgehan Press, Bornova, p 333 (in Turkish)

Rafiq S, Singh B, Gat Y (2019) Effect of different drying techniques on chemical composition, color and antioxidant properties of kinnow (Citrus reticulata) peel. J Food Sci Technol 56(5):2458–2466

Ramful D, Tarnus E, Aruoma OI, Bourdon E, Bahorun T (2011) Polyphenol omposition, vitamin C content and antioxidant capacity of Mauritian citrus fruit pulps. Food Res Int 44:2088–2099

Romdhane NG, Bonazzi C, Kechaou N, Mihoubi NB (2015) Effect of air-drying temperature on kinetics of quality attributes of lemon (Citrus limon cv. lunari) peels. Dry Technol 33(13):1581–1589

Sankalpa KB, Ramachandra CT, Dinesha BL, Nidoni UK, Hiregoudar S, Beladhadi RV (2017) Effect of different drying and grinding methods on biochemical properties of sweet orange peel powder. Asian J Dairy Food Res 36(3):260–263

Sawalha SMS, Arráez-Román D, Segura-Carretero A (2009) Quantification of main phenolic compounds in sweet and bitter orange peel using CE − MS/MS. Food Chem 116:567–574

Silva da Rocha A, Rocha EK, Alves LM, Amaral de Moraes B, Carvalho de Castro T, Albarello N, Simoes-Gurgel C (2015) Production and optimization through elicitation of carotenoid pigments in the in vitro cultures of Cleomerosea Vahl (Cleomaceae). J Plant Biochem Biotechnol 24:105–113

Sun Y, Shen Y, Liu D, Ye X (2015) Effects of drying methods on phytochemical compounds and antioxidant activity of physiologically dropped un-matured citrus fruits. LWT Food Sci Technol 60:1269–1275

Swapna SR, Rekha Bhaskar M (2013) In vitro screening and identification of antioxidant activities of orange (Citrus sinensis) peel extract in different solvents. Int J Pharm Bio Sci 4(4):405–412

Wang YC, Chuang YC, Hsu HW (2008) The flavonoid, carotenoid and pectin content in peels of citrus cultivated in Taiwan. Food Chem 106:277–284

Wang L, Wang J, Fang L, Zheng Z, Zhi D, Wang S, Li S, Ho CT, Zhao H (2014) Anticancer activities of citrus peel polymethoxyflavones related to Angiogenesis and others. Biomed Res Int. https://doi.org/10.1155/2014/453972

Wang J, Law CL, Nema PK, Zhao JH, Liu ZL, Deng LZ, Gao ZJ, Xiao HW (2018) Pulsed vacuum drying enhances drying kinetics and quality of lemon slices. J Food Eng 224:129–138

Xu G, Ye X, Chen J, Liu D (2007) Effect of heat treatment on the phenolic compounds and antioxidant capacity of citrus peel extract. J Agric Food Chem 55:330–335

Yoo KM, Lee KW, Park JB, Lee HJ, Hwang IK (2004) Variation in major antioxidants and total antioxidant activity of Yuzu (Citrus junos Siebe × Tanaka) during maturation and between cultivars. J Agric Food Chem 52:5907–5913

Zielinska M, Ropelewska E, Xiao HW, Mujumdar AS, Law CL (2019) Review of recent applications and research progress in hybrid and combined microwave-assisted drying of food products: quality properties. Critic Rev Food Sci Nutr. https://doi.org/10.1080/10408398.2019.1632788
Acknowledgements
The authors would like to extend their sincere appreciation to the Deanship of Scientific Research at King Saud University for its funding the Research Group No. (RG-1441-325).
Additional information
Publisher's Note
Springer Nature remains neutral with regard to jurisdictional claims in published maps and institutional affiliations.
About this article
Cite this article
Özcan, M.M., Ghafoor, K., Al Juhaimi, F. et al. Influence of drying techniques on bioactive properties, phenolic compounds and fatty acid compositions of dried lemon and orange peel powders. J Food Sci Technol 58, 147–158 (2021). https://doi.org/10.1007/s13197-020-04524-0
Revised:

Accepted:

Published:

Issue Date:
Keywords
Lemon peel

Orange peel

Total phenol

Radical scavenging activity

Flavonoid

Carotenoid

Fatty acids

Phenolic compounds

GC

HPLC