Abstract
Sourdough is one of the oldest methods of cereal fermentation applied mainly for the sole purpose of baking and has been proven to enhance the production of microbiologically safe products. This study investigated the effect of packaging materials and storage conditions on the microbial quality and some intrinsic parameters of the sourdough bread. Pearl millet flour was naturally fermented for 72 h to obtain sourdough which was used with pearl millet flour to produce sourdough bread while the control bread was produced with pearl millet flour and yeast. The bread samples were packaged in low density polyethylene and aluminium foil and stored at −5, 4, 6, 28 and 37 °C. The total bacteria count (log cfu/g) and total fungal count (spore/g) increased with an increase in storage temperature and storage days. Fungi colonies isolated from stored bread samples include species of Rhizopus, Aspergillus, Penicillium and Mucor. A significant increase (p ≤ 0.05) in the pH and decrease in the moisture content of the bread samples were observed as storage period and storage temperature increased. Sourdough fermentation improved the microbial qualities and extended the shelf life of bread.
Access options
Buy single article
Instant access to the full article PDF.
US$ 39.95
Tax calculation will be finalised during checkout.
Subscribe to journal
Immediate online access to all issues from 2019. Subscription will auto renew annually.
US$ 79
Tax calculation will be finalised during checkout.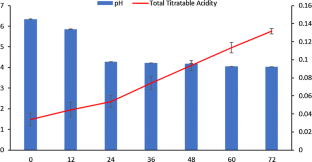 References
Adebiyi JA, Obadina AO, Mulaba-Bafubiandi AF, Adebo OA, Kayitesi E (2016) Effect of fermentation and malting on the microstructure and selected physicochemical properties of pearl millet (Pennisetum glaucum) flour and biscuit. J Cereal Sci 70:132–139

Adebowale AA, Owo HO, Sobukola OP, Obadina OA, Kajihausa OE, Adegunwa MO, Sanni LO, Tomlins K (2017) Influence of storage conditions and packaging materials on some quality attributes of water yam flour. Cogent Food Agric 3(1):1385130

Amalraj Augustine PA (2015) Influence of oxalate, phytate, tannin, dietary fiber, and cooking on calcium bioavailability of commonly consumed cereals and millets in india. Cereal Chem 92(4):389–394

Annor GA, Marcone M, Corredig M, Bertoft E, Seetharaman K (2015) Effects of the amount and type of fatty acids present in millets on their in vitro starch digestibility and expected glycemic index (eGI). J Cereal Sci 64:76–81

AOAC (2005) Official methods of analysis of aoac international. 18th Edn., Method 934.01, 993.19, 985.35, 995.11. Association of Official Analytical Chemists. Washington, DC

Arendt EK, Ryan LAM, Dal Bello F (2007) Impact of sourdough on the texture of bread. Food Microbiol 24(2):165–174

Balev DK, Staykov AS, Ivanov GY, Dragoev SG, Filizov EH (2011) Color stability improvement of chilled beef by natural antioxidant treatment and modified atmosphere packaging packaging. Am J Food Technol 6:117–128

Bajerska J, Rosell CM, El Sheikha AF (2015) Bread and its fortification: nutrition and health benefits. CRC Press

Besbes E, Bail AL, Seetharaman K (2016) Impact of local hydrothermal treatment during bread baking on soluble amylose, firmness, amylopectin retrogradation and water mobility during bread staling. J Food Sci Technol 53(1):304–314

Bhise S, Kaur A (2014) Baking quality, sensory properties and shelf life of bread with polyols. J Food Sci Technol 51(9):2054–2061

Bolourian S, Khodaparast MH (2010) Effect of lactic acid fermentation (Lactobacillus plantarum) on physiochemical, flavour, staling and crust properties of semi volume bread (Baguette). World Appl Sci J 2(5):490–498

Brown J (1986) Quality control in packaging. Bak Today 7:9–11

Brown J (1993) Advances in breadmaking technology. In: Kamel BS, Stauffer CE (eds) Advances in baking technology. Springer, Boston, pp 38–87

Chavan RS, Chavan SR (2011) Sourdough technology—a traditional way for wholesome foods: a review. Comp Rev Food Sci Food Saf 10(3):169–182

Clarke CI, Schober TJ, Arendt EK (2002) Effect of single strain and traditional mixed strain starter culture on rheological properties of wheat dough and bread quality. Cereal Chem 79:640–647

Daniyan SY, Nwokwu OE (2011) Enumeration of microorganisms associated with the different stages of bread production in futmin bakery, nigeria. Int Res J Pharm 2(7):88–91

Dashen MM, Edia-Asuke UA, Amapu TY, Adesokan DM, Olugbodi F (2016) Effect of fermented dough on the organoleptic quality and shelf-life of bread. UMYU J Microbiol Res 1(1):104–114

Deshpande HW, Poshadri A (2011) Physical and sensory characteristics of extruded snacks prepared from foxtail millet based composite flours. Int Food Res J 18:751–756

Edema MO, Sanni AI (2008) Functional properties of selected starter cultures for sour maize bread. Food Microbiol 25:616–625

Galić K, Ćurić D, Gabrić D (2009) Shelf life of packaged bakery goods—A review. Crit Rev Food Sci Nutr 49(5):405–426

Ijah UJJ, Auta HS, Aduloju MO, Aransiola SA (2014) Microbiological, nutritional, and sensory quality of bread produced from wheat and potato flour blends. Int J Food Sci. https://doi.org/10.1155/2014/671701

Katina K (2005) Sourdough: a tool for the improved flavour, texture and shelf-life of wheat bread, vol 569. VTT Technical Research Centre of Finland, VTT Publications, pp 92–81

Kotancilar HG, Gercekaslan KE, Karaoğlu MM (2009) Crumb pasting and staling properties of white and traditional vakfıkebir breads. Turk J Agric For 33(5):435–443

Lonner C, Welander T, Molin N, Dostalek M (1986) The micro-flora in a sour dough started spontaneously on typical swedish rye meal. Food Microbiol 3:3–12

Majzoobi M, Farahnaky A, Agah S (2011) Properties and shelf-life of part-and full-baked flat bread 'barbari' at ambient and frozen storage. J Agric Sci Technol 13(6):1077–1090

Monteau J, Purlis E, Besbes E, Jury V, Le-Bail A (2017) Water transfer in bread during staling: physical phenomena and modelling. J Food Eng 211:95–103

Obadina AO, Arogbokun CA, Soares AO, de Carvalho CWP, Barboza HT, Adekoya IO (2017) Changes in nutritional and physico-chemical properties of pearl millet (Pennisetum glaucum) Ex-Borno variety flour as a result of malting. J Food Sci Technol 54(13):4442–4451

Ogiehor IS, Enaighe E, Okwu GI (2004) The effects of different packaging materials and seasonal variations on the quality, changes of tapioca 'kpokpo gari' produced from cassava (Manihat esculentant crantz) during storage. Nig Annals Nat Sci 5(1):16–25

Ogunsakin OA, Banwo K, Ogunremi OR, Sanni AI (2015) Microbiological and physicochemical properties of sourdough bread from sorghum flour. Int Food Res J 22(6):2610–2618

Oluwole OB, Kosoko SB, Owolabi SO, Olatope SOA, Alagbe GO, Ogunji OA, Jegede AA, Elemo GN (2014) Effect of baking temperature on the quality of baked sweet potato crips. Br J Appl Sci Technol 4(23):3419–3429

Pitt JI, Hocking AD (2009) Fungi and food spoilage. Springer, Verlag

Ravimannan N, Sevvel P, Saarutharshan S (2016) Study on fungi associated with spoilage of bread. Int J Adv Res Biol Sci 3(4):165–167

Rosenquist H, Hansen Å (1998) The antimicrobial effect of organic acids sourdough and nisin against B. subtilis and B. licheniformis isolated from wheat bread. J Appl Microbiol 85(3):621–623

Sakandar HA, Usman K, Imran M (2018) Isolation and characterization of gluten-degrading Enterococcus mundtii and Wickerhamomyces anomalus, potential probiotic strains from indigenously fermented sourdough (Khamir). LWT 91:271–277

Singh VP, Sanyal MK, Dubey PC, Mendirtta SK (2011) Quality assessment of vacuum packaged chicken snacks stored at room temperature. J Stored Prod Postharvest Res 2(6):120–126

Torrieri E, Pepe O, Ventorino V, Masi P, Cavella S (2014) Effect of sourdough at different concentrations on quality and shelf life of bread. LWT—Food Sci Technol 56(2):508–516
Acknowledgements
This research was supported by grants from M-BoSs (African Brazil Agricultural Innovative Market Place). The authors also appreciate the Department of Food Science and Technology, Federal University of Agriculture, Abeokuta, for their technical support.
Additional information
Publisher's Note
Springer Nature remains neutral with regard to jurisdictional claims in published maps and institutional affiliations.
About this article
Cite this article
Martins, I.E., Shittu, T.A., Onabanjo, O.O. et al. Effect of packaging materials and storage conditions on the microbial quality of pearl millet sourdough bread. J Food Sci Technol 58, 52–61 (2021). https://doi.org/10.1007/s13197-020-04513-3
Revised:

Accepted:

Published:

Issue Date:
Keywords
Pearl millet

Sourdough bread

Fermentation

Microbial analysis

Intrinsic parameters