Abstract
In this study, the rheological properties of dough prepared from gluten free flours (rice, sorghum, moong, water chestnut and unripe banana) and wheat dough were determined. Pasting properties and viscoelastic properties were analyzed using rheometer and dough rheology experiment was performed on texture analyzer. Water chestnut flour exhibited highest peak viscocity (22.6 Pa s), trough viscosity (12.1), breakdown viscosity (10.5 Pa s) and final viscosity (14.92 Pa s) than others while unripe banana flour showed highest setback viscosity (4.54 Pa s). Pasting temperature was found to be highest for sorghum followed by wheat and others. The highest elastic (G′) and loss (G″) module were obtained for moong flour. Wheat and gluten free flours were found to exhibit thixotropic effect. Moong flour dough was found to be the stickiest (dough stickiness 57.83 g) followed by WCF, UBF, wheat, rice and sorghum. Similar trend was observed for dough strength. These flours can be proved as key materials for the gluten-free products market and can provide additional inexpensive advantage to the food processing industry
This is a preview of subscription content, log in to check access.
Access options
Buy single article
Instant access to the full article PDF.
US$ 39.95
Price includes VAT for USA
Subscribe to journal
Immediate online access to all issues from 2019. Subscription will auto renew annually.
US$ 99
This is the net price. Taxes to be calculated in checkout.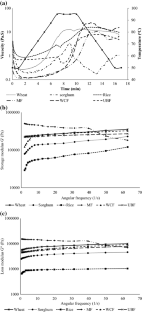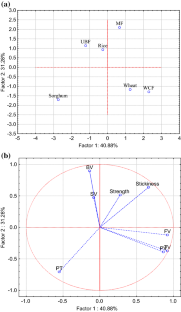 References
Abdou ES, Sorour MA (2014) Preparation and characterization of starch/carrageenan edible films. Int Food Res J 21(1):189–193

Angioloni A, Collar C (2012) High legume-wheat matrices: an alternative to promote bread nutritional value meeting dough viscoelastic restrictions. Eur Food Res Technol 234(2):273–284

Anton AA, Ross KA, Lukow OM, Fulcher RG, Arntfield SD (2008) Influence of added bean flour (Phaseolus vulgaris L.) on some physical and nutritional properties of wheat flour tortillas. Food Chem 109(1):33–41

Arendt EK, O'Brien CM, Schober T, Gormley TR, Gallagher E (2002) Development of gluten-free cereal products. Farm Food 12:21–27

Brites C, Trigo MJ, Santos C, Collar C, Rosell CM (2012) Maize-based gluten free: influence of processing parameters on sensory and instrumental quality. Food Bioprocess Technol 3:707–715

Catassi C, Fasano A (2008) Celiac disease. Curr Opin Gastroen 24(6):687–691

Crockett RIP, Vodovotz Y (2011) Effects of soy protein isolate and egg white solids on the physicochemical properties of gluten-free bread. Food Chem 129(1):84–91

Demirkesen I, Mert B, Sumnu G, Sahin S (2010) Rheological properties of gluten-free bread formulations. J Food Eng 96(2):295–303

Ghiasi K, Varriano-Marston K, Hoseney CR (1982) Gelatinization of wheat starch II. Starchsurfactant Interact Cereal Chem 59:86

Gani A, Haq SS, Masoodi FA, Broadway AA (2010) Physico-chemical, Morphological and pasting properties of starches extracted from water chestnuts (Trapanatans) from three lakes of Kashmir. India Braz Arch Biol Technol 53(3):731–740

Ghodke SK (2009) Effect of guar gum on dough stickiness and staling in Chapatti-An Indian unleavened flat bread. Int J Food Eng. https://doi.org/10.2202/1556-3758.1317

Houben A, Höchstötter A, Becker T (2012) Possibilities to increase the quality in gluten-free bread production: an overview. Eur Food Res Technol 235:195–208

Ikeda S, Nishinari K (2001) ''Weak gel''-type rheological properties of aqueous dispersions of nonaggregatedj-carrageenan helices. J Agric Food Chem 49(9):4436–4441

Juszczak L, Witczak T, Ziobro R, Korus J, Cieslik E, Witczak M (2012) Effect of inulin on rheological and thermal properties of gluten-free dough. Carbohydr Polym 90:353–360

Karim A, Norziah MH, Seow CC (2000) Methods for the study of starch retrogradation. Food Chem 71:9–36

Kaur L, Singh J, McCarthy OJ, Singh H (2007) Physico-chemical, rheological and structural properties of fractionated potato starches. J Food Eng 82:383–394

Krupa-Kozak U, Altamirano-Fortoul R, Wronkowska M, Rosell CM (2012) Breadmaking performance and technological characteristic of gluten-free bread with inulin supplemented with calcium salts. Eur Food Res Technol 235:545–554

Lazaridou A, Duta D, Papageorgiou M, Belc N, Biliaderis CG (2007) Effects of hydrocolloids on dough rheology and bread quality parameters in gluten-free formulations. J Food Eng 79(3):1033–1047

Matos ME, Rosell CM (2013) Quality indicators of rice based gluten free bread-0like products: relationships between dough rheology and quality characteristics. Food Bioprocess Technol 6:2331–2341

Mezger TG (2006) Rheology Handbook, 2nd edn. Vincentz Network, Hannover

Miles MJ, Morris VJ, Orford PD, Ring SG (1985) The roles of amylose and amylopectin in the gelation and retrogradation of starch. Carbohydr Res 135:271–281

Mir S, Yasin T, Halley TJ, Siddiqi HM, Nicholson T (2011) Thermal, rheological, mechanical and morphological behavior of HDPE/chitosan blend. Carbohydr Polym 83(2):414–421

Nair KCM, Kumar PP, Thomas S, Schit SC, Ramamurthy K (2000) Rheological behavior of short sisal fiber- reinforced polystyrene composites. Compos Pt A Appl Sci Manuf 31(11):1231–1242

Nunes MH, Moore MM, Ryan LA, Arendt EK (2009) Impact of emulsifiers on the quality and rheological properties of gluten-free breads and batters. Eur Food Res Technol 228:633–642

Ogah AO, Afiukwa JN (2014) Characterization and comparison of mechanical behavior of agro fiber-filled high-density polyethylene bio-composites. J Reinf Plast Comp 33(1):37–46

Patil SP, Arya SS (2016) Influence of additives on dough rheology and quality of Thepla: an Indian unleavened flatbread. Food Meas 10(2):327–335. https://doi.org/10.1007/s11694-016-9310-7

Sciarini LS, Ribotta PD, Leon AE, Pérez GT (2012) Incorporation of several additives into gluten free breads: effect on dough properties and bread quality. J Food Eng 111:590–597

Seetharaman K, Tziotis A, Borras F, White PJ, Ferrer M, Robutti J (2001) Thermal and functional characterization of starch from Argentinean corn. Cereal Chem 78:379–386

Singh N, Kaur L, Ezekiel R, Gurraya HS (2005) Microstructural, cooking and textural characteristics of potato (Solanumtuberosum L.) tubers in relation to physico-chemical and functional properties of their flours. J Sci Food Agric 85:1275–1284

Son J, Gardner DJ, O'Neill S, Metaxas C (2003) Understanding the viscoelastic properties of extruded polypropylene wood plastic composites. J Appl Polym Sci 89(6):1638–1644

Tabatabaei SH, Carreau PJ, Ajji A (2009) Rheological and thermal properties of blends of a long-chain branched polypropylene and different linear polypropylene. Chem Eng Sci 64(22):4719–4731

Tiboonbun W, Sungsri-in M, Moongngarm A (2011) Effect of replacement of unripe banana flour for rice flour on physical properties and resistant starch content of rice noodle. World Acad Sci Eng Technol 81:608–611

Xu SY, Shoemaker CF (1986) Gelatinization properties of water chestnut starch and Lotus root starch. J Food Sci 51(2):445–449
Acknowledgements
Authors thank University Grants Commission, Government of India for financial support.
Ethics declarations
Conflict of interest
Authors do not have any conflict.
Additional information
Publisher's Note
Springer Nature remains neutral with regard to jurisdictional claims in published maps and institutional affiliations.
About this article
Cite this article
Patil, S., Sonawane, S.K., Mali, M. et al. Pasting, viscoelastic and rheological characterization of gluten free (cereals, legume and underutilized) flours with reference to wheat flour. J Food Sci Technol 57, 2960–2966 (2020). https://doi.org/10.1007/s13197-020-04328-2
Revised:

Accepted:

Published:

Issue Date:
Keywords
Gluten free

Rheology

Pasting properties

Viscoelastic properties

Thixotropic effect