Abstract
Research linking superior athletic performance to uniform colors pervades psychological research for more than a decade now. The current archival research explored the performance of American collegiate basketball teams during the national annual tournament in a period spanning seven seasons (2012–18). Previous attempts to explore the effect were fraught with confounding variables (e.g., the home-field-advantage, relative endowments of resources). We failed to detect an effect and the results remained null when several colors were tested. Based on the findings it is reasonable to conclude that uniform colors do not exert substantial influence over winning in relatively long-duration low aggression team sports. Future research should take into account a targeted sport taxonomy in assessing whether the effect exists in other types of competitions.
Access options
Buy single article
Instant access to the full article PDF.
US$ 39.95
Tax calculation will be finalised during checkout.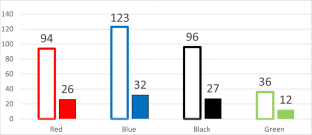 References
Attrill, M. J., Gresty, K. A., Hill, R. A., & Barton, R. A. (2008). Red shirt colour is associated with long-term team success in English football. Journal of Sports Sciences, 26(6), 577–582.

Caldwell, D. F., & Burger, J. M. (2011). On thin ice: Does uniform color really affect aggression in professional hockey? Social Psychological and Personality Science, 2(3), 306–310.

Cohen, J., Cohen, P., West, S. G., & Aiken, L. S. (2003). Applied multiple regression/correlation analysis for the behavioral sciences. Hillsdale: Erlbaum.

Dijkstra, P. D., & Preenen, P. T. (2008). No effect of blue on winning contests in judo. Proceedings of the Royal Society of London B: Biological Sciences, 275(1639), 1157–1162.

Farrelly, D., Slater, R., Elliott, H. R., Walden, H. R., & Wetherell, M. A. (2013). Competitors who choose to be red have higher testosterone levels. Psychological Science, 24(10), 2122–2124.

Feltman, R., & Elliot, A. J. (2011). The influence of red on perceptions of relative dominance and threat in a competitive context. Journal of Sport and Exercise Psychology, 33(2), 308–314.

Frank, M. G., & Gilovich, T. (1988). The dark side of self-and social perception: black uniforms and aggression in professional sports. Journal of Personality and Social Psychology, 54(1), 74–85.

García-Rubio, M. A., Picazo-Tadeo, A. J., & González-Gómez, F. (2011). Does a red shirt improve sporting performance? Evidence from Spanish football. Applied Economics Letters, 18(11), 1001–1004.

Greenlees, I. A., Eynon, M., & Thelwell, R. C. (2013). Color of soccer goalkeepers' uniforms influences the outcome of penalty kicks. Perceptual and Motor Skills, 117(1), 1–10.

Greenlees, I., Leyland, A., Thelwell, R., & Filby, W. (2008). Soccer penalty takers' uniform colour and pre-penalty kick gaze affect the impressions formed of them by opposing goalkeepers. Journal of Sports Sciences, 26(6), 569–576.

Hill, R. A., & Burton, R. A. (2005). Red enhances human performance in contests. Nature, 435, 293.

Jamieson, J. P. (2010). The home field advantage in athletics: A meta-analysis. Journal of Applied Social Psychology, 40(7), 1819–1848.

Julio, U. F., Miarka, B., Rosa, J. P., Lima, G. H., Takito, M. Y., & Franchini, E. (2015). Blue judogi may bias competitive performance when seeding system is not used: Sex, age, and level of competition effects. Perceptual and Motor Skills, 120(1), 28–37.

Kocher, M. G., & Sutter, M. (2008). Shirt colour and team performance in football. Myths and facts about football: The economics and psychology of the World's Greatest Sport. Cambridge Scholars Publishing, Newcastle upon Tyne, 125–131.

McGuire, E. J., Courneya, K. S., Widmeyer, W. N., & Carron, A. V. (1992). Aggression as a potential mediator of the home advantage in professional ice hockey. Journal of Sport and Exercise Psychology, 14(2), 148–158.

Meier, B. P., Robinson, M. D., & Clore, G. L. (2004). Why good guys wear white: Automatic inferences about stimulus valence based on brightness. Psychological Science, 15(2), 82–87.

Mentzel, S. V., Schücker, L., Hagemann, N., & Strauss, B. (2017). Emotionality of colors: An Implicit Link between Red and Dominance. Frontiers in Psychology, 8, 317.

LeMaire, J., Short, S. E., Ross-Stewart, L., & Short, M. W. (2007). The effect of uniform color on athletes' readiness for competition and perceptions of opponents' attributes. Journal of Sport & Exercise Psychology, 29.

Piatti, M., Savage, D. A., & Torgler, B. (2012). The red mist? Red shirts, success and team sports. Sport in Society, 15(9), 1209–1227.

Rea, L. M., & Parker, R. A. (1992). Designing and conducting survey research. San Francisco: Jossey-Boss.

Rowe, C., Harris, J. M., & Roberts, S. C. (2005). Sporting contests: Seeing red? Putting sportswear in context. Nature, 437(7063), E10.

Seife, C. (n.d.). Red does not enhance human performance in the Olympics. Retrieved from https://pdfs.semanticscholar.org/ad13/854f20943354e561b1ab175d2dc58c022670.pdf

Sorokowski, P., Szmajke, A., Hamamura, T., Jiang, F., & Sorokowska, A. (2014). "Red wins", "black wins" and "blue loses" effects are in the eye of beholder, but they are culturally universal: A cross-cultural analysis of the influence of outfit colours on sports performance. Polish Psychological Bulletin, 45(3), 318–325.

Webster, G. D., Urland, G. R., & Correll, J. (2012). Can uniform color color aggression? Quasi-experimental evidence from professional ice hockey. Social Psychological and Personality Science, 3(3), 274–281.
Ethics declarations
Conflict of interest statement
On behalf of all authors, the corresponding author states that there is no conflict of interest.
About this article
Cite this article
Goldschmied, N., Lucena, J. Sweating the uniform colors and success in sport connection: Time to put the effect to rest?. Curr Psychol 40, 953–956 (2021). https://doi.org/10.1007/s12144-018-0015-4
Keywords
Uniform colors

Athletic performance

Aggression

Red

Blue

White