Abstract
The purpose of this study was to examine word learning efficiency in at-risk first grade students (N = 93) participating in a yearlong study evaluating a multicomponent intervention targeting word reading and decoding skills. As part of each intervention lesson, students participated in a 1 to 3-min sight word reading activity in which high-frequency words were read from a list until mastered, at which point the word dropped off the list. This study explored factors predicting the number of exposures required for item reading mastery (N = 145 words). Specifically, we explored how the number of word exposures required to reach mastery varied as a function of linguistic features of the words and cognitive characteristics of the students. Using item-level crossed-random effects models, we found students required an average of 5.65 exposures for mastery, with word features representing word length, vocabulary grade, and imageability being significant predictors of learning efficiency. We also found a significant interaction between pretest word reading skill and imageability of a word, with this semantic feature being especially important for the poorest readers. Results indicate that in the absence of typical word recognition skills, poor readers tend to rely on other sources of information to learn words, which tend to be related to the semantic features of words.
This is a preview of subscription content, log in to check access.
Access options
Buy single article
Instant access to the full article PDF.
US$ 39.95
Price includes VAT for USA
Subscribe to journal
Immediate online access to all issues from 2019. Subscription will auto renew annually.
US$ 99
This is the net price. Taxes to be calculated in checkout.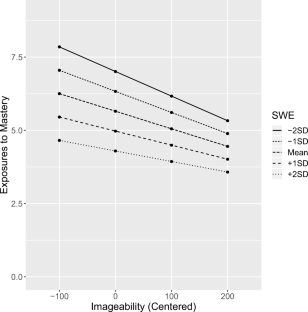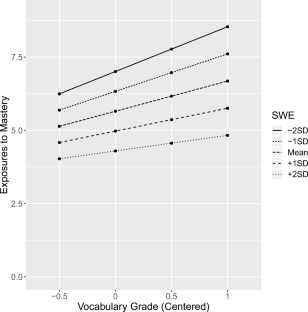 Notes
1.

Please note that this measure was developed based on word frequency. It was not developed to explore specific questions related to the acquisition of specific grapheme-phoneme correspondences, specific vowel patterns, or multisyllabic words.
References
Balota, D. A., Yap, M. J., Cortese, M. J., Hutchison, K. A., Kessler, B., Loftis, B., Neely, J. H., Nelson, D. L., Simpson, G. B., & Treiman, R. (2007). The English lexicon project. Behavior Research Methods, 39, 445–459.

Bates, D., & Maechler, M. (2009). Package 'lme4'(Version 0.999375-32): linear mixed-effects models using S4 classes. Available (April 2011) at http://cran.r-project.org/web/packages/lme4/lme4.pdf.

Bryk, A. S., & Raudenbush, S. W. (1992). Hierarchical linear models for social and behavioral research: Applications and data analysis methods. Newbury Park, CA: Sage.

Castles, A., & Nation, K. (2006). How does orthographic learning happen? In S. Andrews (Ed.), From inkmarks to ideas: Challenges and controversies about word recognition and reading (pp. 151–179). London, UK: Psychology Press.

Cho, S. J., Partchev, I., & De Boeck, P. (2012). Parameter estimation of multiple item response profile model. British Journal of Mathematical and Statistical Psychology, 65(3), 438–466.

Coltheart, M. (1981). The MRC psycholinguistic database. The Quarterly Journal of Experimental Psychology Section A, 33(4), 497–505.

Coltheart, V., Laxon, V. J., & Keating, C. (1988). Effects of word imageability and age of acquisition on children's reading. British Journal of Psychology, 79(1), 1–12.

Compton, D. L. (2002). The relationships among phonological processing, orthographic processing, and lexical development in children with reading disabilities. The Journal of Special Education, 35(4), 201–210.

Compton, D. L., Appleton, A. C., & Hosp, M. K. (2004). Exploring the relationship between text-leveling systems and reading accuracy and fluency in second-grade students who are average and poor decoders. Learning Disabilities Research & Practice, 19(3), 176–184.

Cunningham, A. E., Perry, K. E., & Stanovich, K. E. (2001). Converging evidence for the concept of orthographic processing. Reading and Writing, 14, 549–568.

De Boeck, P. (2008). Random item IRT models. Psychometrika, 73, 533–559.

Ehri, L. C. (2005). Learning to read words: Theory, findings, and issues. Scientific Studies of Reading, 9, 167–188.

Ehri, L. C. (2014). Orthographic mapping in the acquisition of sight word reading, spelling memory, and vocabulary learning. Scientific Studies of Reading, 18(1), 5–21.

Ehri, L. C., & Saltmarsh, J. (1995). Beginning readers outperform older disabled readers in learning to read words by sight. Reading and Writing, 7(3), 295–326.

Fuchs, D., Fuchs, L. S., Thompson, A., Otaiba, S. A., Yen, L., Yang, N. J., et al. (2001). Is reading important in reading-readiness programs? A randomized field trial with teachers as program implementers. Journal of Educational Psychology, 93(2), 251–267.

Gough, P. B., Juel, C., & Griffith, P. L. (1992). Reading, spelling, and the orthographic cipher. In P. B. Gough, L. C. Ehri, & R. Treiman (Eds.), Reading acquisition (pp. 35–48). Hillsdale, NJ: Erlbaum.

Harm, M. W., & Seidenberg, M. S. (2004). Computing the meanings of words in reading: Cooperative division of labor between visual and phonological processes. Psychological Review, 111(3), 662–720.

Harris, A., & Jacobson, M. (1982). Basic reading vocabulary. New York, NY: Macmillan.

Kearns, D. M., Steacy, L. M., Compton, D. L., Gilbert, J. K., Goodwin, A. P., Cho, E., Lindstrom, E. R., & Collins, A. A. (2016). Modeling polymorphemic word recognition: Exploring differences among children with early-emerging and late-emerging word reading difficulty. Journal of learning disabilities, 49(4), 368–394.

Keenan, J. M., & Betjemann, R. S. (2008). Comprehension of single words: The role of semantics in word identification and reading disability. In E. Grigorenko (Ed.), Single-word reading: Behavioral and biological perspectives (pp. 191–209). Lawrence Erlbaum Associates Publishers: Mahwah, NJ.

LaBerge, D., & Samuels, S. J. (1974). Toward a theory of automatic information processing in reading. Cognitive psychology, 6(2), 293–323.

Marinus, E., & de Jong, P. F. (2010). Variability in the word-reading performance of dyslexic readers: Effects of letter length, phoneme length and digraph presence. Cortex, 46(10), 1259–1271.

Menton, S., & Hiebert, E. H. (1999). Literature anthologies: The task for first-grade readers (Report No. CIERA-R-1-009). In Ann Arbor, MI: Center for the Improvement of Early Reading Achievement. (ERIC Documentation Service No. ED436754.)

Nation, K., & Snowling, M. J. (1998). Semantic processing and the development of word-recognition skills: Evidence from children with reading comprehension difficulties. Journal of Memory and Language, 39(1), 85–101.

National Center for Education Statistics. (2015). The Nation's Report Card: Reading 2015. National Center for Education Statistics, Institute of Education Sciences. Washington, D.C.: U.S. Department of Education.

Ouellette, G. P. (2006). What's meaning got to do with it: The role of vocabulary in word reading and reading comprehension. Journal of educational psychology, 98(3), 554–566.

Paivio, A., Yuille, J. C., & Madigan, S. A. (1968). Concreteness, imagery, and meaningfulness values for 925 nouns. Journal of experimental psychology, 76, 1–25.

Perfetti, C. (2007). Reading ability: Lexical quality to comprehension. Scientific studies of reading, 11(4), 357–383.

Perfetti, C., & Stafura, J. (2014). Word knowledge in a theory of reading comprehension. Scientific Studies of Reading, 18(1), 22–37.

Perfetti, C. A. (1985). Reading ability. Oxford University Press.

Perfetti, C. A. (1992). The representation problem in reading acquisition. In P. B. Gough, L. C. Ehri, & R. Treiman (Eds.), Reading acquisition (pp. 145–174). Hillsdale, NJ: Lawrence Erlbaum Associates.

Pickering, S., & Gathercole, S. E. (2001). Working memory test battery for children (WMTB-C). Psychological Corporation.

Plaut, D. C., McClelland, J. L., Seidenberg, M. S., & Patterson, K. (1996). Understanding normal and impaired word reading: Computational principles in quasi-regular domains. Psychological Review, 103(1), 56–115.

R Development Core Team. (2012). R: A language and environment for statistical computing. Vienna, Austria: R Foundation for Statistical Computing ISBN 3-900051-07-0, URL http://www.R-project.org/.

Reitsma, P. (1983). Printed word learning in beginning readers. Journal of Experimental Child Psychology, 36, 321–339.

Scarborough, H. S., Neuman, S., & Dickinson, D. (2009). Connecting early language and literacy to later reading (dis) abilities: Evidence, theory, and practice. Approaching difficulties in literacy development: Assessment, pedagogy, and programmes, 23, 39.

Seidenberg, M. S., & McClelland, J. L. (1989). A distributed, developmental model of word recognition and naming. Psychological review, 96(4), 523–568.

Share, D. L. (1995). Phonological recoding and self-teaching: Sine qua non of reading acquisition. Cognition, 55(2), 151–218.

Siegelman, N., Rueckl, J. G., Steacy, L. M., Frost, S. J., van den Bunt, Mark, Zevin, J. D., Pugh, K. R., Compton, D. L., Morris, R. D., & Seidenberg, M. S. (in press). Sensitivity to letter to sound regularities as a building block in literacy acquisition: Insights from individual-differences. Journal of Memory and Language.

Steacy, L. M., & Compton, D. L. (2019). Examining the role of imageability and regularity in word reading accuracy and learning efficiency among first and second graders at-risk for reading disabilities. Journal of Experimental and Child Psychology, 178, 226–250.

Steacy, L. M., Kearns, D. M., Gilbert, J. K., Compton, D. L., Cho, E., Lindstrom, E. R., & Collins, A. A. (2017). Exploring individual differences in irregular word recognition among children with early-emerging and late-emerging word reading difficulty. Journal of Educational Psychology, 109(1), 51–69.

Strain, E., Patterson, K., & Seidenberg, M. S. (1995). Semantic effects in single-word naming. Journal of Experimental Psychology: Learning, Memory, and Cognition, 21(5), 1140.

Taylor, J. S. H., Duff, F. J., Woollams, A. M., Monaghan, P., & Ricketts, J. (2015). How word meaning influences word reading. Current Directions in Psychological Science, 24(4), 322–328.

Taylor, S. E., Frackenpohl, H., White, C. E., Nieroroda, B. W., Browning, C. L., & Brisner, E. P. (1989). EDL core vocabularies in reading, mathematics, science, and social studies. Orlando, FL: Steck-Vaughn Company.

Torgesen, J. K., Wagner, R. K., & Rashotte, C. A. (1999). Test of word reading efficiency. Austin, TX: Pro-Ed.

Van den Noortgate, W., De Boeck, P., & Meulders, M. (2003). Cross-classification multilevel logistic models in psychometrics. Journal of Educational and Behavioral Statistics, 28, 369–386.

Wagner, R. K., Torgesen, J. K., & Rashotte, C. A. (1999). Comprehensive test of phonological processing. Austin, TX: PRO-ED.

Wang, H., Nickels, L., Nation, K., & Castles, A. (2013). Predictors of orthographic learning of regular and irregular words. Scientific Studies of Reading, 17(5), 369–384.

Waters, G. S., Bruck, M., & Seidenberg, M. (1985). Do children use similar processes to read and spell words? Journal of Experimental Child Psychology, 39, 511–530.

Waters, G. S., Seidenberg, M. S., & Bruck, M. (1984). Children's and adults' use of spelling-sound information in three reading tasks. Memory & Cognition, 12, 293–305.

Wechsler, D. (1999). Weschler abbreviated scale of intelligence. San Antonio, TX: The Psychological Corporation.

Yarkoni, T., Balota, D., & Yap, M. (2008). Moving beyond Coltheart's N: A new measure of orthographic similarity. Psychonomic bulletin & review, 15(5), 971–979.

Zeno, S. M., Ivens, S. H., Millard, R. T., & Duvvuri, R. (1995). The educator's word frequency guide (CD-Rom). New York: Touchstone Applied Science Associates.
Acknowledgments
We thank the teachers, principals, and administrators of the Metro Nashville Public Schools for their interest and cooperation.
Funding
This research was financially supported in part by grant R01HD056109 and grant P20HD091013 from the Eunice Kennedy Shriver National Institute of Child Health & Human Development (NICHD).
Ethics declarations
Disclaimer
The authors are responsible for the paper's content, which does not necessarily represent the views of the NICHD or the National Institutes of Health.
Additional information
Publisher's note
Springer Nature remains neutral with regard to jurisdictional claims in published maps and institutional affiliations.
Appendix
Appendix
About this article
Cite this article
Steacy, L.M., Fuchs, D., Gilbert, J.K. et al. Sight word acquisition in first grade students at risk for reading disabilities: an item-level exploration of the number of exposures required for mastery. Ann. of Dyslexia (2020). https://doi.org/10.1007/s11881-020-00198-7
Received:

Accepted:

Published:
Keywords
Dyslexia

Efficiency

High-frequency words

Imageability

Intervention

Reading disabilities

Word reading