Abstract
Purpose
While forehead cooling has been studied in patients with insomnia in the absence of comorbid medical/psychiatric disorders, it has never been evaluated in patients with insomnia in the presence of co-morbid medical/psychiatric disorders.
Methods
Veterans with chronic insomnia disorder and co-morbid medical and psychiatric conditions received 4-week open-label, in-home, nightly treatment with a forehead cooling device (14–16 °C) along with personalized sleep hygiene following baseline assessments. Pre- and post-treatment, participants completed the Insomnia Severity Index (ISI), the Generalized Anxiety Disorder 7-item scale (GAD-7), and the Patient Health Questionnaire 9-item scale (PHQ-9). Participants recorded daily sleep and anxiety/arousal symptoms.
Results
Of 24 veterans (20 men, 42.2 ± 9.5 years), 17 (71%) had marked insomnia severity improvement (a decrease of > 8 on the ISI) and 10 (42%) participants scored 7 or below on the ISI at post-treatment reflecting remission. Participants reported reductions in sleep onset latency (SOL) (F = 12.9, p < 0.001), and wakefulness after sleep onset (WASO) (F = 8.4, p < 0.001) across treatment. They also had significant reductions in insomnia severity (t = 10.04, p < 0.001), anxiety (t = 3.59, p = 0.002), and depression (t = 7.75, p < 0.001) from pre- to post-treatment.
Conclusion
This pilot study shows that 4-week nightly use of a forehead cooling device produces improvements in insomnia, anxiety, and depressive symptoms in veterans with chronic insomnia disorder and co-morbid medical and psychiatric conditions. Controlled studies are warranted to determine the role of this therapy in the management of insomnia in veterans.
Trial registration
Not required as a small sample size feasibility study.
This is a preview of subscription content, log in to check access.
Access options
Buy single article
Instant access to the full article PDF.
US$ 39.95
Price includes VAT for USA
Subscribe to journal
Immediate online access to all issues from 2019. Subscription will auto renew annually.
US$ 99
This is the net price. Taxes to be calculated in checkout.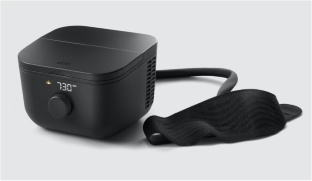 References
1.

Hughes JM, Ulmer CS, Gierisch JM, Nicole Hastings S, Howard MO (2018) Insomnia in United States military veterans: an integrated theoretical model. Clin Psychol Rev 59:118–125

2.

Mysliwiec V et al (2020) The management of chronic insomnia disorder and obstructive sleep apnea: synopsis of the 2019 U.S. Department of Veterans Affairs and U.S. Department of Defense Clinical Practice Guidelines. Ann Intern Med

3.

Schutte-Rodin S, Broch L, Buysse D, Dorsey C, Sateia M (2008) Clinical guideline for the evaluation and management of chronic insomnia in adults. J Clin Sleep Med 4(5):487–504

4.

Lader M (2011) Benzodiazepines revisited—will we ever learn? Addiction 106(12):2086–2109

5.

Nofzinger EA, Buysse DJ, Germain A, Price JC, Miewald JM, Kupfer DJ (2004) Functional neuroimaging evidence for hyperarousal in insomnia. Am J Psychiatry 161(11):2126–2128

6.

Nofzinger EA, Buysse DJ, Miewald JM, Meltzer CC, Price JC, Sembrat RC, Ombao H, Reynolds CF, Monk TH, Hall M, Kupfer DJ, Moore RY (2002) Human regional cerebral glucose metabolism during non-rapid eye movement sleep in relation to waking. Brain 125(Pt 5):1105–1115

7.

Nofzinger E et al Frontal cerebral hypothermia: a new approach to the treatment of insomnia. Sleep

8.

Roth T et al (2018) A novel forehead temperature-regulating device for insomnia: a randomized clinical trial. Sleep 41(5)

9.

Yang M, Morin CM, Schaefer K, Wallenstein GV (2009) Interpreting score differences in the Insomnia Severity Index: using health-related outcomes to define the minimally important difference. Curr Med Res Opin 25(10):2487–2494

10.

Blevins CA, Weathers FW, Davis MT, Witte TK, Domino JL (2015) The posttraumatic stress disorder checklist for DSM-5 (PCL-5): development and initial psychometric evaluation. J Trauma Stress 28(6):489–498

11.

Keane TM, Fairbank JA, Caddell JM, Zimering RT, Taylor KL, Mora CA (1989) Clinical evaluation of a measure to assess combat exposure. Psychol Assess 1(1):53–55

12.

Saunders JB et al (1993) Development of the alcohol use disorders identification test (AUDIT): WHO collaborative project on early detection of persons with harmful alcohol consumption-II. Addiction 88(6):791–804

13.

Donnelly KT, Donnelly JP, Dunnam M, Warner GC, Kittleson CJ, Constance JE, Bradshaw CB, Alt M (2011) Reliability, sensitivity, and specificity of the VA traumatic brain injury screening tool. J Head Trauma Rehabil 26(6):439–453

14.

Kroenke K, Spitzer RL, Williams JB (2001) The PHQ-9: validity of a brief depression severity measure. J Gen Intern Med 16(9):606–613

15.

Spitzer RL, Kroenke K, Williams JBW, Löwe B (2006) A brief measure for assessing generalized anxiety disorder: the GAD-7. Arch Intern Med 166(10):1092–1097

16.

Monk TH et al (1994) The Pittsburgh sleep diary. J Sleep Res 3(2):111–120

17.

Germain A, Hall M, Krakow B, Katherine Shear M, Buysse DJ (2005) A brief sleep scale for posttraumatic stress disorder: Pittsburgh Sleep Quality Index Addendum for PTSD. J Anxiety Disord 19(2):233–244

18.

Lichstein KL, Durrence HH, Taylor DJ, Bush AJ, Riedel BW (2003) Quantitative criteria for insomnia. Behav Res Ther 41(4):427–445

19.

Morin CM, Belleville G, Bélanger L, Ivers H (2011) The Insomnia Severity Index: psychometric indicators to detect insomnia cases and evaluate treatment response. Sleep 34(5):601–608

20.

Smith MT, Perlis ML, Park A, Smith MS, Pennington JM, Giles DE, Buysse DJ (2002) Comparative meta-analysis of pharmacotherapy and behavior therapy for persistent insomnia. Am J Psychiatry 159(1):5–11

21.

Karlin BE, Trockel M, Taylor CB, Gimeno J, Manber R (2013) National dissemination of cognitive behavioral therapy for insomnia in veterans: therapist- and patient-level outcomes. J Consult Clin Psychol 81(5):912–917

22.

Wu JQ, Appleman ER, Salazar RD, Ong JC (2015) Cognitive behavioral therapy for insomnia comorbid with psychiatric and medical conditions: a meta-analysis. JAMA Intern Med 175(9):1461–1472

23.

Drake CL et al (2019) Treating chronic insomnia in postmenopausal women: a randomized clinical trial comparing cognitive-behavioral therapy for insomnia, sleep restriction therapy, and sleep hygiene education. Sleep 42(2)

24.

Dutschmann M, Herbert H (1996) The Kolliker-Fuse nucleus mediates the trigeminally induced apnoea in the rat. Neuroreport 7(8):1432–1436

25.

Panneton WM, Gan Q, Juric R (2010) The rat: a laboratory model for studies of the diving response. J Appl Physiol (1985) 108(4):811–820

26.

Ulmer CS et al (2018) Posttraumatic stress disorder diagnosis is associated with reduced parasympathetic activity during sleep in US veterans and military service members of the Iraq and Afghanistan wars. Sleep 41(12)
Acknowledgments
The authors gratefully acknowledge the contributions of the staff at Campos Research, Pittsburgh, PA who recruited and screened participants and ensured completion of all measures across the study. We thank the staff at Ebb Therapeutics, Inc. who developed the devices for use in the study, ensured that participants received their devices, and were available to troubleshoot any specific device-related questions that arose from participants and staff and provided sleep education to participants as needed. Finally, we thank the participants for allowing us to work with them on this study.
Funding
This study was funded by Ebb Therapeutics.
Ethics declarations
Conflict of interest
Dr. Nofzinger is the inventor, founder, and chief medical officer of Ebb Therapeutics, the company that developed and is commercializing the forehead cooling device used in this study. Drs Neylan and Mysliwiec have received research funding unrelated to this work (TCN: VA: RX001939; NIMH: R01MH115020; NIA: R01AG060477; R01AG064314).
Ethics approval
This study was approved by Campos Research and was performed in accordance with the ethical standards laid down in the 1964 Declaration of Helsinki and its later amendments.
Consent to participate
All subjects provided informed consent prior to their inclusion in the study.
Consent for publication
No individuals are identified in this report.
Additional information
Publisher's note
Springer Nature remains neutral with regard to jurisdictional claims in published maps and institutional affiliations.
About this article
Cite this article
Mysliwiec, V., Neylan, T.C., Chiappetta, L. et al. Effects of a forehead cooling device in veterans with chronic insomnia disorder and co-morbid medical and psychiatric conditions: a pilot study. Sleep Breath (2020). https://doi.org/10.1007/s11325-020-02126-w
Received:

Revised:

Accepted:

Published:
Keywords
Insomnia

Veterans

Device

Therapy