Abstract
Autonomous weeding robots are a productive and more sustainable solution over traditional, labor-intensive weed control practices such as chemical weeding that are harmful to the environment when used excessively. To achieve a fully autonomous weed control operation, the robots need to be precisely guided through the crop rows without damaging rice plants and they should be able to detect the end of the crop row and make turns to change rows. This research attempted to integrate GNSS, compass and machine vision into a rice field weeding robot to achieve fully autonomous navigation for the weeding operation. A novel crop row detection algorithm was developed to extract the four immediate rows spanned by a camera mounted at the front of the robot. The extracted rows were used to determine a guide-line that was used to precisely maneuver the robot along the crop rows with an accuracy of less than a hundred millimeters in variable circumstances such as weed intensity, growth stage of plants and weather conditions. The GNSS and compass were used for locating the robot within the field. A state-based control system was implemented to integrate the GNSS, compass and vision guidance to efficiently navigate the weeding robot through a pre-determined route that covers the entire field without damaging rice plants. The proposed system was experimentally determined to deliver good performance in low weed concentrations with an accuracy of less than 2.5° in heading compensation and an average deviation from the ideal path of 45.9 mm. Though this accuracy dropped when the weed concentration increased, the system was still able to navigate the robot without inflicting any serious damage to the plants.
This is a preview of subscription content, log in to check access.
Access options
Buy single article
Instant access to the full article PDF.
US$ 39.95
Price includes VAT for USA
Subscribe to journal
Immediate online access to all issues from 2019. Subscription will auto renew annually.
US$ 99
This is the net price. Taxes to be calculated in checkout.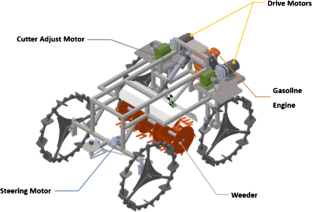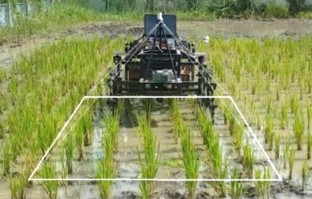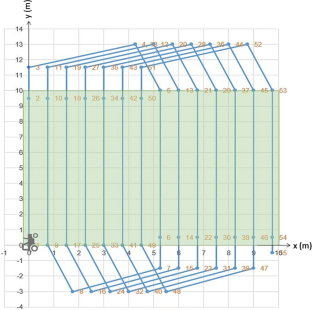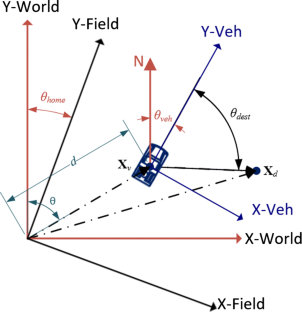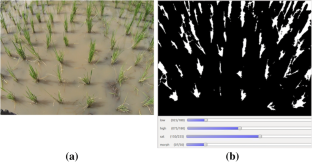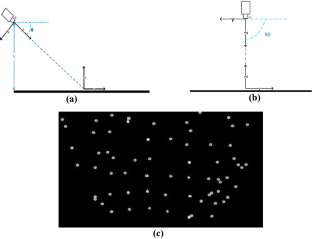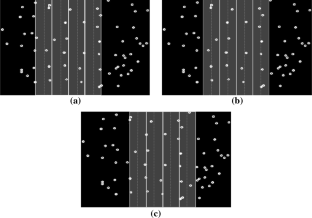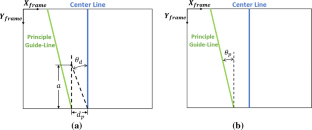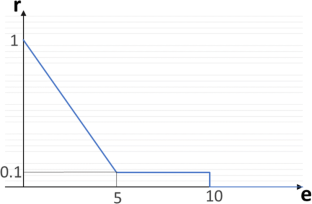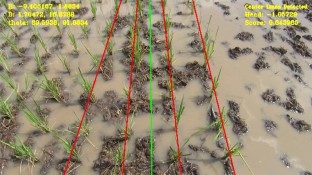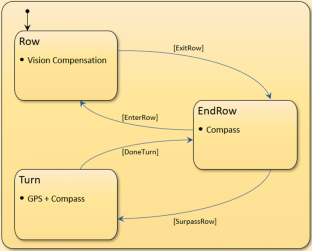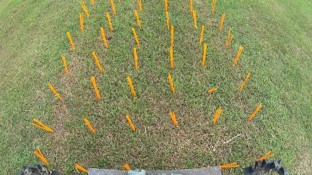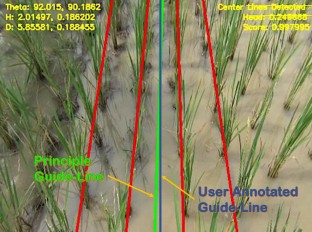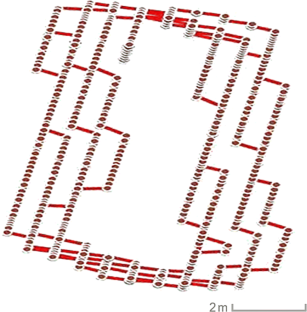 References
Asif, M., Hussain, S., Israr, A., & Shaikh, M. F. (2010). A vision system for autonomous weed detection robot. International Journal of Computer and Electrical Engineering,2(3), 486–491. https://doi.org/10.7763/IJCEE.2010.V2.182.

Bechar, A., & Eben-Chaime, M. (2014). Hand-held computers to increase accuracy and productivity in agricultural work study. International Journal of Productivity and Performance Management,63(2), 194–208. https://doi.org/10.1108/IJPPM-03-2013-0040.

Bechar, A., & Vigneualt, C. (2016). Agricultural robots for field operations: Concepts and components. Biosystems Engineering,149, 94–111. https://doi.org/10.1016/j.biosystemseng.2016.06.014.

Bengochea-Guevara, J. M., Conesa-Muñoz, J., Andújar, D., & Ribeiro, A. (2016). Merge fuzzy visual serving and GPS-based planning to obtain a proper navigation behavior for a small crop-inspection robot. Sensors,16(3), 276. https://doi.org/10.3390/s16030276.

Bogue, R. (2016). Robots poised to revolutionize agriculture. Industrial Robot,43(5), 450–456. https://doi.org/10.1108/IR-05-2016-0142.

Choi, K. H., Han, S. K., Han, S. H., Park, K., Kim, K., & Kim, S. (2015). Morphology-based guidance line extraction for an autonomous weeding. Computers and Electronics in Agriculture,113, 266–274. https://doi.org/10.1016/j.compag.2015.02.014.

Edan, Y., Han, S., & Kondo, N. (2009). Automation in Agriculture. In S. Nof (Ed.), Springer handbook of automation (pp. 1095–1128). Berlin, Heidelberg, Germany: Springer. https://doi.org/10.1007/978-3-540-78831-7_63.

Gee, C., Bossu, J., Jones, G., & Truchetet, F. (2008). Crop/weed discrimination in perspective agronomic images. Computers and Electronics in Agriculture,60(1), 49–59. https://doi.org/10.1016/j.compag.2007.06.003.

Gottschalk, R., Xavier, P. B., Angela, R., Gonzalo, P., & Alvaro, S. M. (2010). Real-time image processing for the guidance of a small agricultural field inspection vehicle. International Journal of Intelligent Systems Technologies and Applications,8, 434–443. https://doi.org/10.1109/MMVIP.2008.4749582.

Grift, T., Zhang, Q., & Ting, K. C. (2008). A review of automation and robotics for the bioindustry. Journal of Biomechatronics Engineering,1(1), 37–54.

Hague, T., Tillett, N. D., & Wheeler, H. (2006). Automated crop and weed monitoring in widely spaced cereals. Precision Agriculture,7(1), 21–32. https://doi.org/10.1007/s11119-005-6787-1.

Hansen, K., & Andersen, J. D. (1997). Understanding the Hough transform: Hough cell support and its utilisation. Image and Vision Computing,15(3), 205–218. https://doi.org/10.1016/S0262-8856(96)01128-6.

Hashimoto, Y., Murase, H., Morimoto, T., & Torii, T. (2001). Intelligent systems for agriculture in Japan. IEEE Control Systems Magazine,21(5), 71–85. https://doi.org/10.1109/37.954520.

Huber, P. J. (1981). Regression (pp. 153–198). New York, USA: Wiley. https://doi.org/10.1002/0471725250.ch7.

Ji, R., & Qi, L. (2011). Crop-row detection algorithm based on Random Hough Transformation. Mathematical and Computer Modelling,54(3–4), 1016–1020. https://doi.org/10.1016/j.mcm.2010.11.030.

Kise, M., & Zhang, Q. (2008). Development of a stereovision sensing system for 3D crop row structure mapping and tractor guidance. Biosystems Engineering,101(2), 191–198. https://doi.org/10.1016/j.biosystemseng.2008.08.001.

Li, Y., & Lafruit, G. (2016). Convergent multi-view geometric error correction with pseudo-inverse projection homography. In: 2016 IEEE International Conference on 3D Imaging (IC3D), 1–8. https://doi.org/10.1109/IC3D.2016.7823461.

Marchant, J. A., & Brivot, R. (1995). Real time tracking of plant rows using a Hough transform. Real-Time Imaging,1(5), 363–371. https://doi.org/10.1006/rtim.1995.1036.

Montalvo, M., Pajares, G., Guerrero, J. M., Romeo, J., Guijarro, M., Ribeiro, A., et al. (2012). Automatic detection of crop rows in maize fields with high weeds pressure. Expert Systems with Applications,39, 11889–11897. https://doi.org/10.1100/2012/484390.

Mousazadeh, H. (2013). A technical review on navigation systems of agricultural autonomous off-road vehicles. Journal of Terramechanics,50(3), 211–232. https://doi.org/10.1016/j.jterra.2013.03.004.

Muad, A.M., Hussain, A., Samad, S.A., Mustaffa, M.T., & Majlis, B.Y. (2004). Implementation of inverse perspective mapping algorithm for the development of an automatic lane tracking system. In: 2004 IEEE Region 10 Conference TENCON 2004, 1(A), 207–210. https://doi.org/10.1109/tencon.2004.1414393.

Nagasaka, Y., Tamaki, K., Nishiwaki, K., Saito, M., Kikuchi, Y., Motobayashi, K. (2013). A Global Positioning System guided automated rice transplanter. In: 4th International Federation of Automatic Control (IFAC) Conference on Modelling and Control in Agriculture, Horticulture and Post-Harvest Industry, 46(18), 1–335. https://doi.org/10.3182/20130828-2-SF-3019.00009.

Rovira-Mas, F., Zhang, Q., & Reid, J. F. (2008). Stereo vision three-dimensional terrain maps for precision agriculture. Computers and Electronics in Agriculture,60(2), 133–143. https://doi.org/10.1016/j.compag.2007.07.007.

Russ, J. C. (2011). Processing Binary Images. In J. C. Russ (Ed.), The image processing handbook (6th ed., pp. 443–509). Bocca Raton, Florida, USA: CRC Press, Taylor & Francis Group.

Shalal, N., Low, T., McCarthy, C., & Hancock, N. (2013). A review of autonomous navigation systems in agricultural environments. In 2013 Society for Engineering in Agriculture Conference: Innovative Agricultural Technologies for a Sustainable Future (pp. 10–25). Barton, ACT: Engineers Australia.

Sogaard, H., & Olsen, H. J. (2003). Determination of crop rows by image analysis. Computers and Electronics in Agriculture,38(2), 141–158. https://doi.org/10.1016/S0168-1699(02)00140-0.

Veness, C. (2002). Calculate distance, bearing and more between Latitude/Longitude points. Retrieved March 02, 2019, from https://www.movable-type.co.uk/scripts/latlong.html.

Woebbecke, D. M., Meyer, G. E., Bargen, K. V., & Mortensen, D. A. (1995). Color indices for weed identification under various soil, residue, and lighting conditions. Transactions of the ASAE,38(1), 259–269. https://doi.org/10.13031/2013.27838.

Yang, W., Wang, S., Zhao, X., Zhang, J., & Feng, J. (2015). Greenness identification based on HSV decision tree. Information Processing in Agriculture,2(3/4), 149–160. https://doi.org/10.1016/j.inpa.2015.07.003.

Zhang, Y., & Xiao, D. (2014). An image encryption scheme based on rotation matrix bit-level permutation and block diffusion. Communications in Nonlinear Science and Numerical Simulation,19(1), 74–82. https://doi.org/10.1016/j.cnsns.2013.06.031.
Acknowledgements
This research was financially supported by Agriculture and Research Development Agency (ARDA), Thailand. We would like to thank Prof. Manukid Parnichkun and Assoc. Prof. Matthew N. Dailey of Asian Institute of Technology, Thailand for their insight and assistance in this research. We also thank our colleagues at the Asian Institute of Technology for the technical expertise and support that greatly aided this research.
Additional information
Publisher's Note
Springer Nature remains neutral with regard to jurisdictional claims in published maps and institutional affiliations.
Appendix
Appendix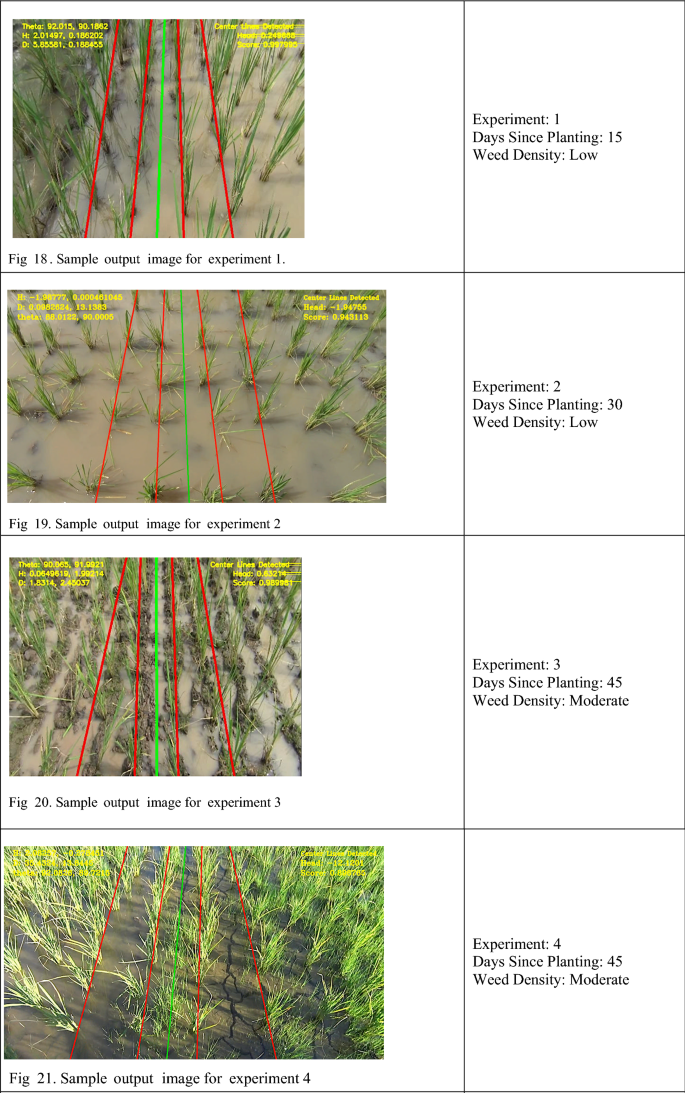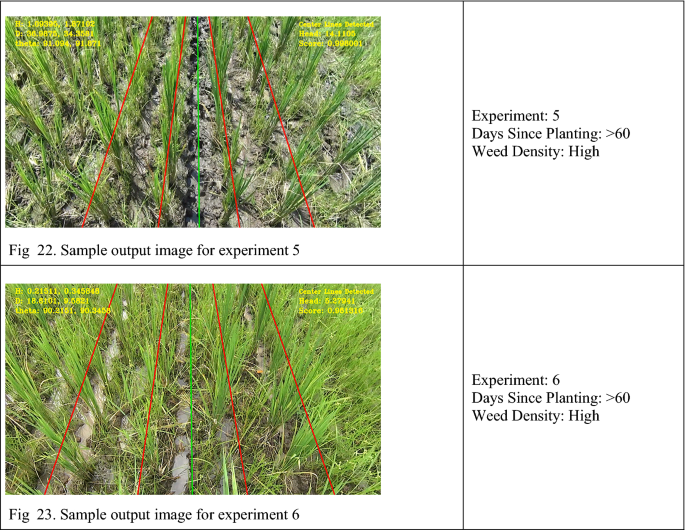 About this article
Cite this article
Kanagasingham, S., Ekpanyapong, M. & Chaihan, R. Integrating machine vision-based row guidance with GPS and compass-based routing to achieve autonomous navigation for a rice field weeding robot. Precision Agric 21, 831–855 (2020). https://doi.org/10.1007/s11119-019-09697-z
Keywords
Autonomous navigation

Rice weeding

Computer vision-based row guidance

Location using GNSS and compass