Abstract
The volume-specific surface area (VSSA) of a particulate material is one of two apparently very different metrics recommended by the European Commission for a definition of "nanomaterial" for regulatory purposes: specifically, the VSSA metric may classify nanomaterials and non-nanomaterials differently than the median size in number metrics, depending on the chemical composition, size, polydispersity, shape, porosity, and aggregation of the particles in the powder. Here we evaluate the extent of agreement between classification by electron microscopy (EM) and classification by VSSA on a large set of diverse particulate substances that represent all the anticipated challenges except mixtures of different substances. EM and VSSA are determined in multiple labs to assess also the level of reproducibility. Based on the results obtained on highly characterized benchmark materials from the NanoDefine EU FP7 project, we derive a tiered screening strategy for the purpose of implementing the definition of nanomaterials. We finally apply the screening strategy to further industrial materials, which were classified correctly and left only borderline cases for EM. On platelet-shaped nanomaterials, VSSA is essential to prevent false-negative classification by EM. On porous materials, approaches involving extended adsorption isotherms prevent false positive classification by VSSA. We find no false negatives by VSSA, neither in Tier 1 nor in Tier 2, despite real-world industrial polydispersity and diverse composition, shape, and coatings. The VSSA screening strategy is recommended for inclusion in a technical guidance for the implementation of the definition.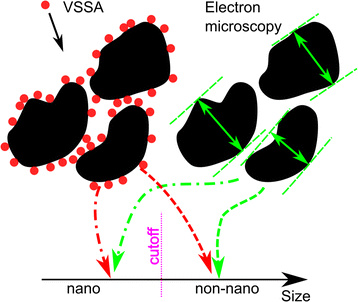 Notes
Particle coatings obtained from solutions tend to be porous, which is difficult to avoid regardless whether the coating layer is metal oxide, polymeric, or metallic (Iler 1979; Ayral et al. 1998). The porosity of the coatings on titanium dioxide is mainly dealt with in the patent literature (US Patent 3,928,057 1975). These coatings are seen throughout the literature as either "porous" or "dense" coatings consisting of sodium silicate and or sodium aluminate. Almost every manufacturer has at least a couple of grades with durable microporous coatings.
References
Ayral A, El Mansouri A, Vieira MP, Pilon C (1998) Porosity of sol–gel derived silica coatings on glass substrates. J Mater Sci Lett 17(11):883–885

Babick F, Mielke J, Wohlleben W, Weigel S, Hodoroaba V-D (2016) How reliably can a material be classified as a nanomaterial? Available particle-sizing techniques at work. J Nanopart Res 18:158

Babick F, Richter A (2006) Sound attenuation by small spheroidal particles due to visco-inertial coupling. The Journal of the Acoustical Society of America 119(3):1441–1448

Brunauer S, Emmett PH, Teller E (1938) Adsorption of gases in multimolecular layers. J Am Chem Soc 60(2):309–319

Dabrowski A (2001) Adsorption–from theory to practice. Adv Colloid Interf Sci 93(1–3):135–224

DIN 66137–2 (2004) Bestimmung der Dichte fester Stoffe – Teil 2: Gaspyknometrie

European Commission (2011), Commission recommendation of 18 October 2011 on the definition of nanomaterial (2011/696/EU); 2011. Off J Eur Union

Galarneau A, Villemot F, Rodriguez J, Fajula F, Coasne B (2014) Validity of the t-plot method to assess microporosity in hierarchical micro/mesoporous materials. Langmuir 30(44):13266–13274

Gibson N, Rauscher H, & Roebben G (2016) Comments on the article by a. J. Lecloux (J Nanopart Res (2015) 17:447) regarding the use of volume-specific surface area (vssa) to classify nanomaterials. J Nanopart Res 18(8):1–8

Hackley VA, Stefaniak AB (2013) "Real-world" precision, bias, and between-laboratory variation for surface area measurement of a titanium dioxide nanomaterial in powder form. J Nanopart Res 15(6)

Iler RK (1979) The chemistry of silica: solubility, polymerization, colloid and surface properties and biochemistry of. Wiley, Silica

ISO 15901–3 (2007) Evaluation of pore size distribution and porosimetry of solid materials by mercury porosimetry and gas adsorption–part 3: analysis of micropores by gas adsorption

ISO 9277 (2010) Determination of the specific surface area of solids by gas adsorption–BET method

Kreyling, WG, Semmler-Behnke, M & Chaudhry, Q (2010) A complementary definition of nanomaterial. Nano Today 5:165–168

Lecloux AJ (1981) Texture of catalysts. In: Anderson JR, Boudart M, editors. Catalysis–science and technology. vol. 2. Springer, Berlin, p. 171–230

Lecloux AJ, Bronckart J, Noville F, Dodet C, Marchot P, Pirard JP (1986) Study of the texture of monodisperse silica sphere samples in the nanometer size range. Colloids and Surfaces 19:359–374

Lecloux AJ (2015) Discussion about the use of the volume-specific surface area (VSSA) as criteria to identify nanomaterials according to the EU definition. J Nanopart Res 17(11)

Lippens BC, de Boer JH (1965) Studies on pore systems in catalysts: V. The t method Journal of Catalysis 4(3):319–323

Pena JBV, Kund K, Hempelmann U, Wohlleben W, Koch T, Burke A et al (2014) Basic comparison of particle size distribution measurements of pigments and fillers using commonly available industrial methods. Publications Office of the European Union

Radlinski AP, Mastalerz M, Hinde AL, Hainbuchner M, Rauch H, Baron M et al (2004) Application of SAXS and SANS in evaluation of porosity, pore size distribution and surface area of coal. Int J Coal Geol 59(3–4):245–271

Rauscher H, Roebben G, Sanfeliu AB, Emons H, Gibson N, Koeber R, et al. (2015) Towards a review of the EC recommendation for a definition of the term "nanomaterial": part 3: scientific-technical evaluation of options to clarify the definition and to facilitate its implementation. Eur Commission JRC report 95675. http://publications.jrc.ec.europa.eu/repository/handle/JRC95675. Accessed 06.02.2017

Roebben G, Rauscher H, Amenta V, Aschberger K, Sanfeliu AB, Calzolai L, et al. (2014) Towards a review of the EC Recommendation for a definition of the term "nanomaterial"–part 2: assessment of collected information concerning the experience with the defintion. Eur Commission JRC report 91377. http://publications.jrc.ec.europa.eu/repository/handle/JRC91377. Accessed 06.02.2017

SCENIHR [Scientific Committee on Emerging and Newly Identified Health Risks] (2010) Scientific Basis for the Definition of the Term "Nanomaterial", European Commission, DG Health & Consumers, Brussels, available at: http://ec.europa.eu/health/scientific_committees/emerging/docs/scenihr_o_030.pdf. Accessed 06.02.2017

Schneider P (1995) Adsorption isotherms of microporous-mesoporous solids revisited. Appl Catal A Gen 129(2):157–165

Stark WJ, Stoessel PR, Wohlleben W, Hafner A (2015) Industrial applications of nanoparticles. Chem Soc Rev 44:5793–5805

Temmerman PJD, Verleysen E, Lammertyn J, Mast J (2014) Semi-automatic size measurement of primary particles in aggregated nanomaterials by transmission electron microscopy. Powder Technol 261:191–200

US Patent 3,928,057 (1975): TiO2 pigment coated with porous alumina/silica and dense silica

Van Doren E, De Temmerman PJ, Francisco M, Mast J (2011) Determination of the volume-specific surface area by using transmission electron tomography for characterization and definition of nanomaterials. Journal of Nanobiotechnology 9(1):17
Acknowledgements
This work has received funding from the European Union's Seventh Programme for research, technological development and demonstration under grant agreement number 604347-2 (NanoDefine). We sincerely acknowledge André Lecloux for evaluating our isotherms by his t-plot fitting methodology, funded by n° 310584 (NANoREG). The authors wish to acknowledge EM measurements by Philipp Müller (BASF, Germany), Toni Uusimäki (EAWAG, Switzerland) and Sigrid Benemann (BAM, Germany) as well as BET measurements by Annett Zimathies (BAM, Germany) and He pycnometry and BET measurements by Franziska Lindemann (BAM, Germany) on the NanoDefine materials.
Ethics declarations
This study was funded by the European Union's Seventh Programme for research, technological development, and demonstration under grant agreement number 604347-2.
Conflict of Interest
AB, AG, HF, WW are employees of companies producing particulate materials, including nanomaterials. HR, JM, MG, VDH declare having no conflict of interest. The funding sources had no part in writing the paper. The authors alone are responsible for the content of the article.
Additional information
Wendel Wohlleben and Johannes Mielke contributed equally to this article.
Electronic supplementary material
Rights and permissions
Open Access This article is distributed under the terms of the Creative Commons Attribution 4.0 International License (http://creativecommons.org/licenses/by/4.0/), which permits unrestricted use, distribution, and reproduction in any medium, provided you give appropriate credit to the original author(s) and the source, provide a link to the Creative Commons license, and indicate if changes were made.
About this article
Cite this article
Wohlleben, W., Mielke, J., Bianchin, A. et al. Reliable nanomaterial classification of powders using the volume-specific surface area method. J Nanopart Res 19, 61 (2017). https://doi.org/10.1007/s11051-017-3741-x
Received:

Accepted:

Published:

DOI: https://doi.org/10.1007/s11051-017-3741-x
Keywords