Abstract
This paper evaluates whether and how weather conditions affect museum attendance. As a case study, we examine the daily attendance at the Museo Regionale della Ceramica (Regional Museum of Ceramics) in Caltagirone, Sicily (Italy), over the period starting from 1 January 2008 to 31 December 2016. In addition to the daily and monthly fixed effects and the influence of tourism, which are investigated by the available literature, we document a significant effect of weather conditions, specifically temperature and rainfall, which work in an asymmetric way across the different seasons. Temperature has a significant non-monotonic effect on museum attendance, with an increase having a positive impact in low-temperature (non-summer) months and a negative impact in high-temperature (summer) season; rainfalls encourage museum visits but only during summer months. Some long-term projections concerning the impact of weather modifications upon museum attendance due to climate change are proposed and discussed.
Access options
Buy single article
Instant access to the full article PDF.
US$ 39.95
Tax calculation will be finalised during checkout.
Subscribe to journal
Immediate online access to all issues from 2019. Subscription will auto renew annually.
US$ 119
Tax calculation will be finalised during checkout.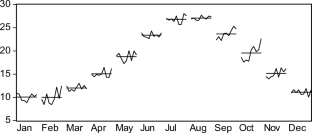 Notes
1.

However, remember that the Museum of Ceramics in Caltagirone is not a state museum, and we limit our attention here to the paid admittance.

2.

Caltagirone is in inner Sicily; the daily maximum temperature in August (the hottest month) is around 34.5 °C while the daily minimum temperature in February (the coldest month) is around 6.2 °C (average values over the last decade).

3.

The results of these regressions are not reported in the table, for the sake of brevity. They are available from the authors upon request.

4.

Detailed results, not reported for the sake of brevity, are available from the authors. Consider that the correlation between the time series of tourist arrivals and overstays is above 0.9. Also note that overnight stays in Sicily are hardly affected by museum visits to Caltagirone, so this variable can certainly be considered exogenous.

5.

The quadratic effect of the temperature can resemble the outcome in Dubois et al. (2016). Of course, this does not mean that this temperature is the "optimal" one. Needless to say, this value is the "aggregate" result of heterogeneous individual behaviours.

6.

During the summer months, the average daily attendance is 20.99 and the average temperature is 25.26; during the non-summer months, the average attendance is 11.09 and the average temperature 14.00.

7.

The LMF test statistics on residual autocorrelation is 11.91 with p value 0.001; White's test on homoscedasticity gives TR2 statistics equal to 231.0 with p = 0.000.

8.

The number of censored observations, corresponding to the value equal to zero, is 379.

9.

Available economic studies providing simulations on the effect of climate change generally consider variation of temperature included in the interval of 1.5–3.0 °C (Dell et al. 2014).
References
Agnew M, Palutikof J (2006) Impacts of short term climate variability in the UK on demand for domestic and international tourism. Clim Res 21:109–120

Alvarez-Diaz N, Rossello-Nadal J (2010) Forecasting British tourist arrivals in the Balearic Islands using meteorological variables. Tour Econ 16:153–168

Amelung B, Nicholls S, Viner D (2007) Implications of global climate change for tourism flows and seasonality. J Travel Res 45:285–296

Archibald CL, Butt N (2018) Using Google search data to inform global climate change adaptation policy. Clim Chang 150:447–456

Becken S, Hay JE (2007) Tourism and climate change: risks and opportunities. Channel View Publication, Toronto

Brida JG, Dalle Nogare C, Scuderi R (2016) Frequency of museum attendance: motivation matters. J Cult Econ 40:261–283

Canales P, Pardo A (2011) Assessing weather risk in sun and sand destinations. Envir Econ 2:50–61

Candela G, Figini P (2012) The economics of tourism destinations. Springer Publishing, Heidelberg

Cellini R, Cuccia T (2013) Museum and monument attendance and tourism flow: a time series analysis approach. Appl Econ 45:3473–3482

Cellini R, Cuccia T (2018) How free admittance affects charged visits to museums: an analysis of the Italian case. Oxf Econ Pap 70:680–698

Connolly M (2008) Here comes the rain again: weather and the intertemporal substitution of leisure. J Labor Econ 26:73–100

Cuccia T, Rizzo I (2011) Cultural seasonality in cultural destinations: empirical evidence from Sicily. Tour Manag 32:589–595

Cuffe HE (2018) Rain and museum attendance: are daily data fine enough? J Cult Econ 42:213–241

Dell M, Jones BF, Olken BA (2014) What do we learn from the weather? The new climate-economy literature. J Econ Lit 53:740–798

Dubois G, Ceron J-P, Gössling S, Hall CM (2016) Weather preferences of French tourists: lessons for climate change impact assessment. Clim Chang 136:339–351

Falk M (2014) Impact of weather conditions on tourism demand in the peak summer season over the last 50years. Tour Manag Persp 9:24–35

Farber HS (2005) Is tomorrow another day? The labor supply of New York city cabdrivers. J Polit Econ 113:46–82

Farber HS (2015) Why you can't find a taxi in the rain and other labor supply lessons from cab drivers. Q J Econ 130:1975–2026

Fatoric S, Seekamp E (2017) Are cultural heritage and resources threatened climate change? A systematic literature review. Clim Chang 142:227–254

Fernandez-Blanco V, Prieto-Rodriguez J (2011) Museums. In: Towse R (ed) A handbook of cultural economics, Second edn. Edward Elgar Publishing, Northampton, pp 290–296

Finger R, Lehmann N (2012) Modeling the sensitivity of outdoor recreation activities to climate change. Clim Res 51:229–236

Frey BS, Meier S (2006) The economics of museum. In: Ginsburgh VA, Throsby D (Eds) Handbook of the economics of art and culture, North Holland, Amsterdam, p 1017–1047

Hewer MJ, Gough WA (2016) Weather sensitivity for zoo visitation in Toronto, Canada: a quantitative analysis of historical data. Int J Biometeorol 60:1645–1660

Hewer MJ, Gough WA (2018) Thirty years of assessing the impacts of climate change on outdoor recreation and tourism in Canada. Tour Manag Persp 26:179–192

Katz RW, Murphy AH (eds) (1997) Economic value of weather and climate forecasts. Cambridge University Press, Cambridge

Kotler N, Kotler P (1998) Museum strategy and marketing. Jossey-Bass Publisher, San Francisco

Lise W, Tol RSJ (2002) Impact of climate on tourist demand. Clim Chang 55:429–449

Maccini S, Yang D (2009) Health, schooling, and economic consequences of early-life rainfall. Am Econ Rev 99:1006–1026

McKercher B, Shoval N, Park N, Kahani A (2015) The [limited] impact of weather on tourist behavior in an urban destination. J Travel Res 54:442–455

Muller A, Grandi M (2000) Weather derivatives: a risk management tool for weather-sensitive industries. Geneva Papers on Risk and Insurance - Issues and Practice 25:273–287

Nicholls S, Holecek DF, Noh J (2008) Impact of weather variability on golfing activity and implications of climate change. Tour Anal 13:117–130

Perkins DR (2018) Using synoptic weather types to predict visitor attendance at Atlanta and Indianapolis zoological parks. Int J Biometeorol 62:127–137

Phauner DJ, Smith VK (2005) Recreation demand models. In: Mler KG, Vincent JR (eds) Handbook of environmental economics, vol 2. Elsevier, Amsterdam, pp 671–761

Prieto-Rodriguez J, Fernandez-Blanco V (2006) Optimal pricing and grant policies for museums. J Cult Econ 30:169–181

Seaman BA (2011) Empirical studies of demand for the performing arts. In: Ginsburg VA, Throsby D (eds) Handbook of the economics of arts and culture. Elsevier, Amsterdam, pp 415–472

Shi J, Skuterud M (2015) Gone fishing! Reported sickness absenteeism and the weather. Econ Inq 53:388–405

Su AT, Cheng CK, Lin YJ (2014) Modeling daily visits to the 2010 Taipei International Flora Exposition. Urban Forestry and Urban Greening 13:725–733

Weaver D (2011) Can sustainable tourism survive the climate change? J Sustain Tour 19:5–15

Wilkins E, De Urioste-Stone S, Weiskittel A, Gabe T (2018) Effects of weather conditions on tourism spending: implications for future trends under climate change. J Travel Res 57:999–1011

Zirulia L (2017) Should I stay or should I go? Weather forecast and the economics of 'short breaks'. Tour Econ 22:837–846

Zivin JG, Neidell M (2014) Temperature and the allocation of time: implications for climate change. J Labor Econ 32:1–26
Acknowledgment
The Authors thank Paolo Figini, Antonello Scorcu and three anonymous referees for helpful comments.
Additional information
Publisher's note
Springer Nature remains neutral with regard to jurisdictional claims in published maps and institutional affiliations.
About this article
Cite this article
Cellini, R., Cuccia, T. Weather conditions and museum attendance: a case-study from Sicily. Climatic Change 154, 511–527 (2019). https://doi.org/10.1007/s10584-019-02453-2
Received:

Accepted:

Published:

Issue Date: