Abstract
China has launched energy quota right trading system, as one of the sustainable operations, since 2016 to cap the total energy consumption, however the economic and energy saving effect of this new policy is unclear. Based on the input and output panel data of China's 29 manufacturing sub-industries, this paper constructs the non-parametric optimization model under the command-and-control and the energy quota right trading scenario, to compare their potential economic gains and energy savings of these two polices for Chinese manufacturing industries. Results show that, whether at overall level or at the sub-industries level, the economic potential and energy-saving potential from energy quota right trading are higher than those from command-and-control. However, a part of energy-saving potential will be squeezed out due to the negative externality of the energy market trading. We suggest the well integration of both command-and-control and the market mechanism to achieve a Win–Win development.
This is a preview of subscription content, log in to check access.
Access options
Buy single article
Instant access to the full article PDF.
US$ 39.95
Price includes VAT for USA
Subscribe to journal
Immediate online access to all issues from 2019. Subscription will auto renew annually.
US$ 199
This is the net price. Taxes to be calculated in checkout.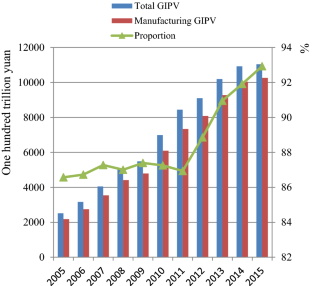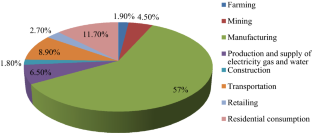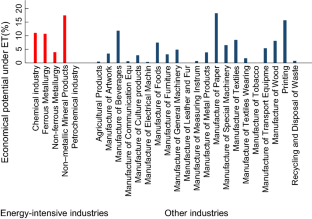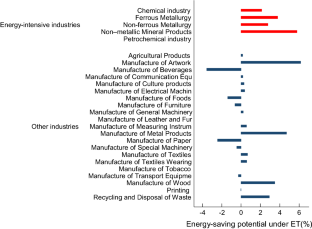 Notes
1.

According to Fujii et al.(2016), inclusive capital stocks such as human, environmental and produced capital stocks can be set evaluation indicators to evaluate urban sustainable development. Considering the research objects (manufacturing industries) and the availability of data, we refer to Fujii et al.(2016) and measure the sustainable development from economic (gross industrial product value) and environmental (energy-saving) performance two perspectives in this paper.

2.

3.

The stochastic frontier model can set specific function form. On one hand, the model can separate the technical inefficiency from residual error (in this paper, the technical inefficiency implies that energy technical inefficiency), and all estimates have precise standard errors. On the other hand, according to Battese and Coelli (1995), we can also examine influence factors of the energy technical inefficiency and explore how these factors affect the energy technical inefficiency. Based on the above considerations, we decide to change the non-parametric method and employ the stochastic frontier method.

4.

Including raw coal, cleaned coal, other washed coal, coke, coke oven gas, other gas, crude oil, gasoline, kerosene, diesel oil, fuel oil, liquefied petroleum gas, refinery gas, natural gas, heat power and electricity.

5.

In this paper, we do not consider the Power generation, which is the sixth energy-intensive industry in China.

6.

Detailed information about the top five energy-intensive industries can be found in Table 7.
References
Battese, G. E., & Coelli, T. J. (1995). A model for technical inefficiency effects in a stochastic frontier production function for panel data. Empirical Economics,20, 325–332.

Chen, L., Zhang, B. Y., Hou, H. P., & Taudes, A. (2013). Impact of carbon trading market on small highway freight company: the case of China. Advances in information Sciences and Service Sciences,5, 188–195.

Choi, Y., Zhang, N., & Zhou, P. (2012). Efficiency and abatement costs of energy-related CO2 emissions in China: A slacks-based efficiency measure. Applied Energy,98, 198–208.

Cui, L. B., Fan, Y., Zhu, L., & Bi, Q. H. (2014). How will the emissions trading scheme save cost for achieving China's 2020 carbon intensity reduction target. Applied Energy,136, 1043–1052.

Du, L. M., & Mao, J. (2015). Estimating the environmental efficiency and marginal CO2 abatement cost of coal-fired power plants in China. Energy Policy,85, 347–356.

Du, L. M., Wei, C., & Cai, S. H. (2012). Economic development and carbon dioxide emissions in China: Provincial panel data analysis. China Economic Review,23, 371–384.

Färe, R., Grosskopf, S., & Pasurka, C. A. (2013). Tradable permits and unrealized gains from trade. Energy Economics,40, 416–424.

Färe, R., Grosskopf, S., & Pasurka, C. A. (2014). Potential gains from trading bad outputs: The case of U.S. electric power plants. Resource and Energy Economic,36, 99–112.

Fujii, H., Cao, J., & Managi, S. (2016). Firm-level environmentally sensitive productivity and innovation in China. Applied Energy,184, 915–925.

Fujii, H., & Managi, S. (2016). An evaluation of inclusive capital stock for urban planning. Ecosystem Health and Sustainability,2, 1–17.

Fujii, H., & Managi, S. (2017). Wastewater management efficiency and determinant factors in the Chinese industrial sector from 2004 to 2014. Water,9, 586.

Guo, F., Zhao, T., Wang, Y. N., & Wang, Y. (2016). Estimating the abatement potential of provincial carbon intensity based on environmental learning curve model in China. Natural Hazards,84, 685–705.

Han, K., Ahn, C. K., & Lee, M. S. (2014). Performance of an ammonia-based CO2 capture pilot facility in iron and steel industry. International Journal of Greenhouse Gas Control,27, 239–246.

Han, R., Tang, B. J., Fan, J. L., Liu, L. C., & Wei, Y. M. (2016). Integrated weighting approach to carbon emission quotas: an application case of Beijing–Tanjin–Hebei region. Journal of Cleaner Production,131, 448–459.

Huang, Y., Liu, L., Ma, X. M., & Pan, X. F. (2015). Abatement technology investment and emissions trading system: a case of coal-fired power industry of Shenzhen, China. Clean Technologies and Environmental Policy,17, 811–817.

Johnstone, N., Managi, S., Rodríguez, M. C., Haščič, I., Fujii, H., & Souchier, M. (2017). Environmental policy design, innovation and efficiency gains in electricity generation. Energy Economics,63, 106–115.

Lee, M., & Zhang, N. (2012). Technical efficiency, shadow price of carbon dioxide emissions, and substitutability for energy in the Chinese manufacturing industries. Energy Economics,34, 1492–1497.

Lin, B. Q., & Ouyang, X. L. (2014). Analysis of energy-related CO2 (carbon dioxide) emissions and reduction potential in the Chinese non-metallic mineral products industry. Energy,68, 688–697.

Liu, Y., & Wei, T. Y. (2014). Linking the emissions trading schemes of Europe and China combining climate and energy policy instruments. Mitigation and Adaptation Strategies for Global Change,21, 1–17.

Qin, X. S., & Sun, C. H. (2014). The measurement of capital stock of China's sub–industries. Review of Industrial Economics,13, 54–72. (in Chinese).

Teng, F., Wang, X., & Zhiqing, L. V. (2014a). Introducing the emissions trading system to China's electricity sector: challenges and opportunities. Energy Policy,75, 39–45.

Teng, F., Wang, X., & Zhiqing, L. V. (2014b). Introducing the emissions trading system to China's electricity sector: challenges and opportunities. Energy Policy,75, 39–45.

Wang, P., Dai, H. C., Ren, S. Y., Zhao, D. Q., & Masui, T. (2015). Achieving Copenhagen target through carbon emission trading: economic impacts assessment in Guangdong Province of China. Energy,79, 212–227.

Wang, K., & Wei, Y. M. (2014). China's regional industrial energy efficiency and carbon emissions abatement costs. Applied Energy,130, 617–631.

Wang, K., Wei, Y. M., & Huang, Z. M. (2016). Potential gains from carbon emissions trading in China: A DEA based estimation on abatement cost savings. Omega,63, 48–59.

Xu, J. H., Fleiter, T., Eichhammer, W., & Fan, Y. (2012). Energy consumption and CO2 emissions in China's cement industry: a perspective from LMDI decomposition analysis. Energy Policy,50, 821–832.

Yu, S. W., Agbemabiese, L., & Zhang, J. J. (2016). Estimating the carbon abatement potential of economic sectors in China. Applied Energy,165, 107–118.

Yu, S. W., Zhang, J. J., Zheng, S. H., & Sun, H. (2015). Provincial carbon intensity abatement potential estimation in China: A PSO-GA-optimized multi-factor environmental learning curve method. Energy Policy,77, 46–55.

Zhang, Y. J., Hao, J. F., & Song, J. (2016a). The CO2 emission efficiency, reduction potential and spatial clustering in China's industry: Evidence from the regional level. Applied Energy,174, 213–223.

Zhang, X., Qi, T. Y., Ou, X. M., & Zhang, X. L. (2017). The role of muti-region integrated emissions trading scheme: A computable general equilibrium analysis. Applied Energy,185, 1860–1868.

Zhang, C., Wang, Q. W., Shi, D., Li, P. F., & Cai, W. H. (2016b). Scenario-based potential effects of carbon trading in China: An integrated approach. Applied Energy,182, 177–190.
Acknowledgements
We gratefully acknowledge the financial support from the National Natural Science Foundation of China (No. 91746112). Research Center on Low-carbon Economy for Guangzhou Region.
About this article
Cite this article
Zhang, N., Zhang, W. Can sustainable operations achieve economic benefit and energy saving for manufacturing industries in China?. Ann Oper Res 290, 145–168 (2020). https://doi.org/10.1007/s10479-018-2955-3
Keywords
Manufacturing industries

Command and control

Energy quota right trading

Economic potential

Energy-saving potential

China