Abstract
Allatotropin (AT), a neuropeptide isolated on the basis of its ability to stimulate the synthesis of juvenile hormones (JHs) in insects, has also been found in other groups. In addition to this function, AT has proved to be myotropic. In the present study, we analyze its expression in the free-living turbellarian Mesostoma ehrenbergii (Platyhelminthes: Typhloplanida) and its probable functional relationship with the muscle tissue. The results show the presence of an AT-like peptide in neurons located in different regions of the body of the flatworm. The analysis of the presence of the peptide together with phalloidin labeling suggests a functional relationship between the peptide and the muscle tissue. This is particularly evident at the level of the pharynx, where the peptide induces contractions at concentrations of 10−14 and 10−12 M, suggesting that it is actually acting as a myoregulator. Detection of AT in several groups of protostomes but apparently not in deuterostomes suggests that this peptide could be a synapomorphic feature of protostomes. Indeed, the presence of AT in organisms that do not undergo metamorphosis could suggest that it was first involved in myotropic activities, being the induction of the synthesis of JHs a secondary function.
Access options
Buy single article
Instant access to the full article PDF.
US$ 39.95
Tax calculation will be finalised during checkout.
Subscribe to journal
Immediate online access to all issues from 2019. Subscription will auto renew annually.
US$ 119
Tax calculation will be finalised during checkout.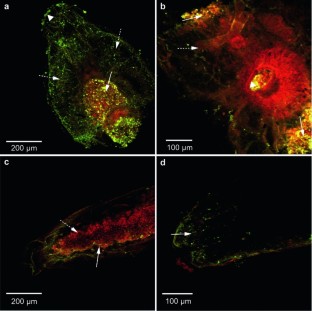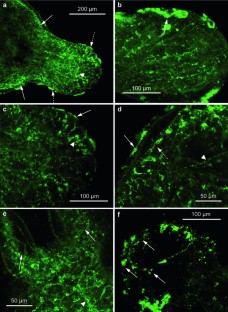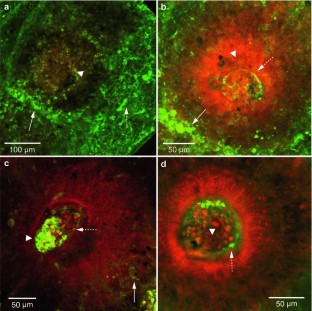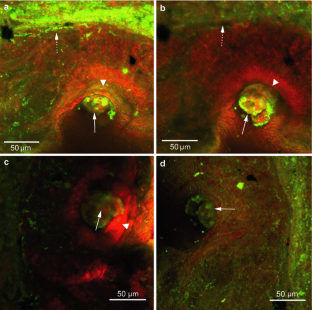 References
Abdel-latief M, Meyering-Vos M, Hoffmann KH (2003) Molecular characterisation of cDNAs from the fall armyworm Spodoptera frugiperda encoding Manduca sexta allatotropin and allatostatin preprohormone peptides. Insect Biochem Mol Biol 33:467–476

Adami ML, Damborenea C, Ronderos JR (2011) Expression of a neuropeptide similar to allatotropin in free living turbellaria (Platyhelminthes). Tissue Cell 43:377–383

Duve H, East PD, Thorpe A (1999) Regulation of lepidopteran foregut movement by allatostatins and allatotropin from the frontal ganglion. J Comp Neurol 413:405–416

Duve H, Audsley N, Weaver RJ, Thorpe A (2000) Triple co-localisation of two types of allatostatin and an allatotropin in the frontal ganglion of the lepidopteran Lacanobia oleracea (Noctuidae): innervation and action on the foregut. Cell Tissue Res 300:153–163

Egger B, Steinke D, Tarui H, De Mulder K, Arendt D, Borgonie G, Funayama N, Gschwentner R, Hartenstein V, Hobmayer B, Hooge M, Hrouda M, Ishida S, Kobayashi C, Kuales G, Nishimura O, Pfister D, Rieger R, Salvenmoser W, Smith J III, Technau U, Tyler S, Agata K, Salzburger W, Ladurner P (2009) To be or not to be a flatworm: the acoel controversy. PLoS ONE 4:e5502

Elekonich MM, Horodyski FM (2003) Insect allatotropins belong to a family of structurally-related myoactive peptides present in several invertebrate phyla. Peptides 24:1623–1632

Grimmelikhuijzen CJP, Graff D, Koizumi O, Westfall J, McFarlane ID (1991) Neuropeptides in coelenterates: a review. Hydrobiologia 216(217):555–563

Grimmelikhuijzen CJP, Leviev I, Carstensen K (1996) Peptides in the nervous system of cnidarians: structure, functions and biosynthesis. Int Rev Citol 167:37–89

Grimmelikhuijzen CJP, Williamson M, Hansen GN (2002) Neuropeptides in cnidarians. Can J Zool 80:1690–1702

Gustafsson MKS, Halton DW, Kreshchenko ND, Movsessian SO, Raikova OI, Reuter M, Terenina NB (2002) Neuropeptides in flatworms. Peptides 23:2053–2061

Hansen GN, Williamson M, Grimmelikhuijzen CJP (2002) A new case of neuropeptide coexpression (RGamide and LWamides) in hydra, found by whole-mount, two-color double-labeling in situ hybridization. Cell Tissue Res 308:157–165

Hernandez-Martinez S, Li Y, Lanz-Mendoza H, Rodriguez MH, Noriega FG (2005) Immunostaining for allatotropin and allatostatin-A and -C in the mosquitoes Aedes aegyti and Anopheles albimanus. Cell Tissue Res 321:105–113

Jing J, Sweedler JV, Cropper EC, Alexeeva V, Park JH, Romanova EV, Xie F, Dembrow NC, Ludwar BC, Weiss KR, Vilim FC (2010) Feedforward compensation mediated by the central and peripheral actions of a single neuropeptide discovered using representational difference analysis. J Neurosci 30:16545–16558

Johnston RN, Shaw C, Halton DW, Verhaert P, Baguña J (1995) GYIRFamide: a novel FMRFamide-related peptide (FaRP) from the triclad turbellarian, Dugesia tigrina. Biochem Biophys Res Commun 209:689–697

Johnston RN, Shaw C, Halton DW, Verhaert P, Blair KL, Brennan G, Price DA, Anderson PAV (1996) Isolation, localization, and bioactivity of the FMRFamide-related neuropeptides GYIRFamide and YlRFamide from the marine turbellarian Bdelloura candida. J Neurochem 67:814–821

Kataoka H, Toschi A, Li JP, Carney RL, Schooley DA, Kramer SJ (1989) Identification of an allatotropin from adult Manduca sexta. Science 243:1481–1483

Koladich PM, Cusson M, Bendena WG, Tobe SS, McNeil JN (2002) Cardioacceleratory effects of Manduca sexta allatotropin in the true armyworm moth Pseudaletia unipuncta. Peptides 23:645–651

Koopowitz H (1996) In vivo visualization of living flatworm neurons using Lucifer yellow intracellular injections. J Neurosci Methods 69:83–89

Kreshchenko ND (2008) Functions of flatworm neuropeptides NPF, GYIRF and FMRF in course of pharyngeal regeneration of anterior body fragments of planarian, Girardia tigrina. Acta Biol Hung 59:199–207

Kreshchenko ND, Sedelnikov Z, Sheiman IM, Reuter M, Maule AG, Gustafsson MKS (2008) Effects of neuropeptide F on regeneration in Girardia tigrina (Platyhelminthes). Cell Tissue Res 331:739–750

Lee KY, Horodyski FM, Chamberlin ME (1998) Inhibition of midgut ion transport by allatotropin (Mas-At) and Manduca FRLFamides in the tobacco hornworm Manduca sexta. J Exp Biol 201:3067–3074

Lentz TL (1966) Histochemical localization of neurohumors in a sponge. J Exp Zool 162:171–180

Lwalaba D, Hoffmann KH, Woodring J (2009) Control of the release of digestive enzymes inthe larvae of the fall armyworm, Spodoptera frugiperda. Arch Insect Biochem Physiol 73:14–29

Matthews HJ, Audsley N, Weaver RJ (2007) Interactions between allatostatins and allatotropin on spontaneous contractions of the foregut of larval Lacanobia oleracea. J Insect Physiol 53:75–83

McVeigh P, Mair GR, Atkinson L, Ladurner P, Zamanian M, Novozhilova E, Marks NJ, Maule AG (2009) Discovery of multiple neuropeptide families in the phylum Platyhelminthes. Int J Parasitol 39:1243–1252

Mousley A, Marks NJ, Halton DW, Geary TG, Thompson DP, Maule AG (2004) Arthropod FMRFamide-related peptides modulate muscle activity in helminths. Int J Parasitol 34:755–768

Paemen L, Tips A, Schoofs L, Proost P, Van Damme J, De Loof A (1991) Lom-AG-Myotropin: a novel myotropic peptide from the male accesory glands of Locusta migratoria. Peptides 12:7–10

Park C, Hwang J, Kang S, Lee B (2002) Molecular characterization of a cDNA from the silk moth Bombyx mori encoding Manduca sexta allatotropin peptide. Zool Sci 19:287–292

Riccillo FL, Ronderos JR (2010) Allatotropin expression during the development of the fourth instar larvae of the kissing-bug Triatoma infestans (Klüg). Tissue Cell. doi:10.1016/j.tice.2010.07.011

Rudwall AJ, Sliwowska J, Nässel DR (2000) Allatotropin-like neuropeptide in the cockroach abdominal nervous system: myotropic actions, sexually dimorphic distribution and colocalization with serotonin. J Comp Neurol 428:159–173

Santini MS, Ronderos JR (2007) Allatotropin-like peptide released by malpighian tubules induces hindgut activity associated to diuresis in the Chagas disease vector Triatoma infestans (Klüg). J Exp Biol 210:1986–1991

Santini MS, Ronderos JR (2009a) Daily variation of an allatotropin-like peptide in the Chagas disease vector Triatoma infestans (Klüg). Biol Rhythm Res 40:299–306

Santini MS, Ronderos JR (2009b) Allatotropin-like peptide in malpighian tubules: insect renal tubules as an autonomous endocrine organ. Gen Comp Endocrinol 160:243–249

Scheng Z, Ma L, Cao MX, Li S, Jiang RJ (2007) Biochemical and molecular characterization of allatotropin and allatostatin from the Eri silkworm, Samia cynthia ricini. Insect Mol Biol 37:90–96

Sterkel M, Riccillo FL, Ronderos JR (2010) Cardioacceleratory and myostimulatory activity of allatotropin in Triatoma infestans (Klüg). Comp Biochem Physiol A 155:371–377

Truesdell PF, Koladich PM, Kataoka H, Kojima K, Suzuki A, McNeil JN, Mizoguchi A, Tobe SS, Bendena WG (2000) Molecular characterization of a cDNA from the true armyworm Pseudaletia unipuncta encoding Manduca sexta allatotropin peptide. Insect Biochem Mol Biol 30:691–702

Veenstra JA (2011) Neuropeptide evolution: neurohormones and neuropeptides predicted from the genomes of Capitella teleta and Helobdella robusta. Gen Comp Endocrinol 171:160–175

Veenstra JA, Costes L (1999) Isolation and characterization of a peptide and its cDNA from the mosquito Aedes aegypti related to Manduca sexta allatotropin. Peptides 20:1145–1151

Veenstra JA, Lehman HK, Davis NT (1994) Allatotropin is a cardioacceleratory peptide in Manduca sexta. J Exp Biol 188:347–354

Weyrer S, Rutzler K, Rieger R (1999) Serotonin in porifera? Evidence from developing Tedania ignis, the caribbean fire sponge (demospongiae). Mem Queensl Mus 44:659–665

Wikgren MC, Reuter M (1985) Neuropeptides in a microturbellarian whole mount immunocytochemistry. Peptides 6:471–475
Acknowledgments
The authors wish to thank Dr. Fernando G. Noriega (Florida International University Florida-USA) for generously supplying us with Allatotropin and Allatotropin antibody and Mr. J. Alonso for the assistance in the field work. This study was financed with funds from the PICT 01287 (SECyT—Argentina). The authors also wish to thank to the anonymous reviewers for having greatly improved this manuscript with their comments and criticisms.
Additional information
Communicated by T. Bartolomaeus.
Electronic supplementary material
Below is the link to the electronic supplementary material.
Supplementary material 1 (MPG 10074 kb)
About this article
Cite this article
Adami, M.L., Damborenea, C. & Ronderos, J.R. An allatotropin-like neuropeptide in Mesostoma ehrenbergii (Rhabdocoela, Platyhelminthes). Zoomorphology 131, 1–9 (2012). https://doi.org/10.1007/s00435-012-0146-3
Received:

Revised:

Accepted:

Published:

Issue Date:
Keywords
Mesostoma ehrenbergii

Neuropeptides

Myoregulators

Platyhelminthes

Allatotropin

Phalloidin