Torsion of testicular appendage
Keywords
Hydrocele 
Testicular Torsion 
Hypoechoic Mass 
Scrotal Skin 
Scrotal Pain 
These keywords were added by machine and not by the authors. This process is experimental and the keywords may be updated as the learning algorithm improves.
A 12-year-old boy was evaluated for acute onset of pain in the right scrotum. There was no history of fever or dysuria. On examination, point tenderness was found superior to the right testicle with a bluish skin discoloration. Both testes were normal to palpation. On US, a hypoechoic mass was seen adjacent to the right epididymal head. While the mass had no internal vascularity, there was adjacent hyperemia typical of torsion of a testicular appendage (Figs. 
1
and
2
).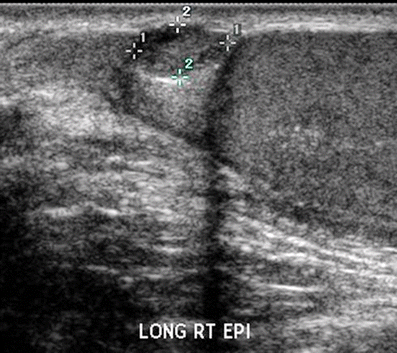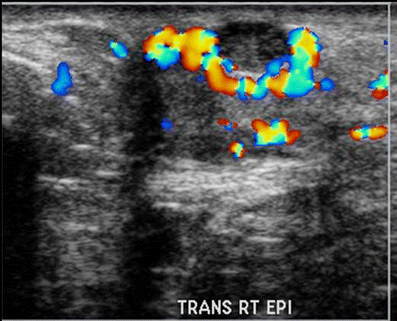 Testicular appendages are remnants of the embryonic mesonephric and paramesonephric ducts. Torsion of testicular appendage is a common cause of acute scrotal pain in prepubertal males [1]. A firm nodule superior to the testicle with bluish discoloration of the skin (blue dot sign) is a characteristic physical finding. US findings are typical as described above. Other associated findings are scrotal skin thickening and reactive hydrocele [1, 2]. US is usually done to rule out testicular torsion and epididymo-orchitis. Management is essentially conservative.
References
1.

Strauss S, Faingold R, Manor H (1997) Torsion of the testicular appendages: sonographic appearance. J Ultrasound Med 16:189–192

PubMed

Google Scholar

2.

Cohen HL, Shapiro MA, Haller JO et al (1992) Torsion of the testicular appendage: sonographic diagnosis. J Ultrasound Med 11:81–83

PubMed

Google Scholar