Oxidative Stress in Kidney Diseases: The Cause or the Consequence?
Abstract
Exaggerated oxidative stress (OS) is usually considered as a disturbance in regular function of an organism. The excessive levels of OS mediators may lead to major damage within the organism's cells and tissues. Therefore, the OS-associated biomarkers may be considered as new diagnostic tools of various diseases. In nephrology, researchers are looking for alternative methods replacing the renal biopsy in patients with suspicion of chronic kidney disease (CKD). Currently, CKD is a frequent health problem in world population, which can lead to progressive loss of kidney function and eventually to end-stage renal disease. The course of CKD depends on the primary disease. It is assumed that one of the factors influencing the course of CKD might be OS. In the current work, we review whether monitoring the OS-associated biomarkers in nephrology patients can support the decision-making process regarding diagnosis, prognostication and treatment initiation.
Keywords
Oxidative stress 
Biomarkers 
Chronic kidney disease 
Introduction
Chronic kidney disease (CKD) is a public health problem that, depending on country, affects approximately 8–13% of population, involving both males and females (Fig. 1a) in all ages (Fig. 1b, c) (Bruck et al. 2016; Chronic Kidney Disease Prognosis et al. 2010). The main causes of CKD are: diabetes mellitus, hypertension, glomerulonephritis and cardiovascular diseases (Fig. 1d) (Mucha et al. 2016; Vassalotti et al. 2010). CKD is frequently progressive and the progression depends on both the primary disease as well as other factors, such as diet, smoking, coexisting obesity, etc. The initial suspicion of CKD is based on the clinical symptoms, such as proteinuria, erythrocyturia or hematuria, edema or hypertension. However, the final diagnosis must be confirmed by kidney biopsy (Mucha et al. 2016), which is an invasive diagnostic method—for that reason the researchers and nephrologists are looking for a safer and less-invasive diagnostic methods (Mucha et al. 2014). The researchers discovered numerous serum or urine components, that can contribute to the pathogenesis of kidney diseases and therefore, might be taken under consideration as potential biomarkers. However, there is still little consensus regarding the applicability of each of these markers and search for new biomarkers in CKD continues.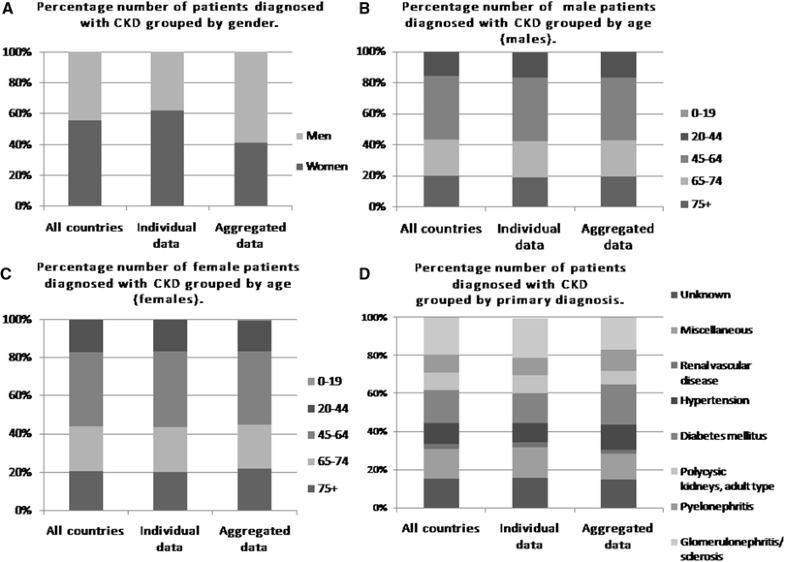 Some of the newly identified biomarkers in CKD are related to oxidative stress (OS). Indeed, it is currently known that several renal diseases might be related to coexisting OS (Small et al. 2012). Generally, exaggerated OS can be considered as a disturbance in regular function of organism's cells and molecules. In order to control the OS level, the organism utilizes a natural ability to keep the balance between pro- and antioxidant systems (Scholze et al. 2016). It is believed that the main mediators of OS are reactive oxygen species (ROS). Transiently increased concentrations of ROS play a significant role in maintaining organism's homeostasis, as they are a part of the redox-related signaling, and also in the immune defense system, as they are produced in high amounts in inflammation. However, the long-lasting excessive levels of ROS may lead to oxidation of DNA, lipids or proteins (Matsuyama et al. 2009; Small et al. 2012) and cause cellular damage in CKD patients (Scholze et al. 2016). Recently, this issue becomes even more important, as a number of redox modulators are considered as potential therapeutics in various human diseases, e.g., in a range of malignancies either as single compounds (Muchowicz et al. 2014; Trzeciecka et al. 2016) or in combinations with more classical therapies (Chou et al. 2017).
Endogenous ROS are generated by several main enzymatic processes such as cellular respiration (by the mitochondrial electron transport chain) or activity of nicotinamide adenine dinucleotide phosphate (NADPH) oxidase enzyme complex. Exogenous-derived ROS are usually induced by external factors, such as chemical pollutants, some drugs or UV light exposure. Among ROS, the most essential ones are free radicals: superoxide and hydroxyl (·HO), as well as non-radical molecules: hydrogen peroxide (H2O2) and singlet oxygen. On the other hand, ROS can be removed by our intrinsic enzymatic systems, such as superoxide dismutase (SOD), catalase, glutathione- and thiol-dependent enzymatic chains and other natural components (Fig. 2). There is also a range of antioxidant chemical agents that can be introduced to the organism, e.g., in a diet (Di Meo et al. 2016).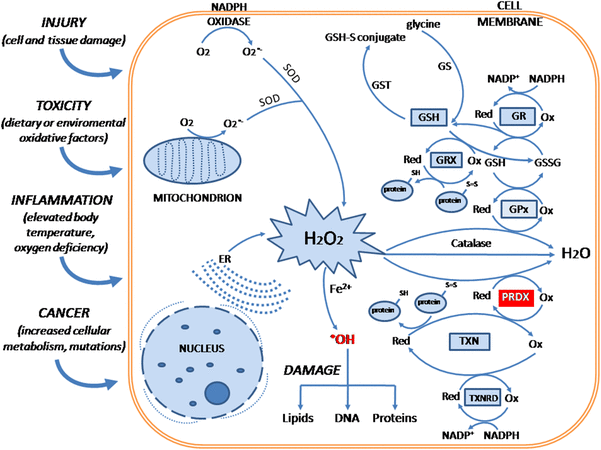 Regarding the kidney physiology, the main principle of proper redox regulation is to maintain the balance of electrolytes and physiological buffer systems to keep renal functions (Palm and Nordquist 2011). Additionally, kidneys remove a whole range of toxins and waste metabolites (Aveles et al. 2010), which otherwise would accumulate in the organism inducing an imbalance in redox homeostasis (Poulianiti et al. 2016). Therefore, OS should be both seen as a potential cause and a consequence of CKD.
Biomarkers of OS
Potentially, a wide range of molecules can be used as OS biomarkers. All of the presented OS biomarkers can be measured, depending on their origin (e.g., serum, plasma, urine or tissue) or chemical form using various biotechnological techniques such as: enzyme-linked immunosorbent assays, radioimmunoassay, gas chromatography/mass spectrometry, liquid chromatography/mass spectrometry, immunolabeling, immunohistochemistry, etc. (Ho et al. 2013). Regardless of the disease, it ought to be mentioned that proper identification and validation of markers should follow a number of guidelines in order to produce meaningful observations (Brennan et al. 2010; O'Leary et al. 2014).
Oxidative Stress in a CKD Patient
Causes
There are different mechanisms that could explain the existence of elevated OS in patients suffering from CKD. The basic characteristics of renal patients are as follows: advanced age, diabetes and renal hypertension, all of which predispose them to increasing levels of OS comparing to the general population. Another cause of OS in CKD patients is inflammation. There is a correlation between renal dysfunction and the mediators and markers of inflammation such as C-reactive protein, interleukin (IL)-6, tumor necrosis factor-α and fibrinogen, which proves that CKD is an inflammatory process itself (Cachofeiro et al. 2008). In response to activation of polymorphonuclear neutrophils, the MPO is generated and activated ROS excretion. Indeed, serum MPO was found to be associated with markers of inflammation in CKD patients (Kisic et al. 2016). The potential roles for other OS-related markers have been described above. Generally, the dysregulated systemic redox status can be already detected at an early stages of CKD (Miranda-Diaz et al. 2016) and it tends to increase along with the progression of the renal disease, which translates into gradual exaggeration of generalized tissue injury in CKD patients and contributes to CKD-associated comorbidities (Tucker et al. 2015). This exaggeration of OS mediators is not accompanied with an increase of antioxidant capacity of the body (Karamouzis et al. 2008), which induces a deepening imbalance in redox status of the CKD patient. Additionally, an obvious factor contributing to OS in late-stage CKD is a dysregulated metabolic waste disposal.
Notably, renal replacement therapy with maintenance hemodialysis does not improve the OS conditions in CKD patients after they progressed into ESRD. Conversely, each session of hemodialysis induces OS, because of ROS excretion on the surface of dialysis membranes (Peuchant et al. 1994), partly due to activation of phagocytes (Himmelfarb et al. 2001). Hemodialysis also tends to further exhaust the antioxidant capacity of the body (Jackson et al. 1995). Interestingly, vitamin E-coated dialysis membranes have been recently shown to reduce the levels of oxidative genetic damage in hemodialysis patients (Rodriguez-Ribera et al. 2017). Other studies suggested that applying cinacalcet (Ari et al. 2014) or lowering dialysate sodium (Macunluoglu et al. 2016) can improve systemic OS in maintenance hemodialysis patients. What is less understood are the causes underlying increased OS in patients undergoing continuous ambulatory peritoneal dialysis (CAPD) (Mehmetoglu et al. 2012). According to a recent study, in CAPD patients there is a noticeable distortion in OS management caused by increased enzymatic activity of SOD combined with a decrease in the activities of catalase and glutathione peroxidase (Ertan et al. 2017). Another study suggests that elevated plasma cyclophilin A can be one of the mediators of OS and inflammation in dialyzed patients (Jin and Vaziri 2017). Generally, however, patients undergoing CAPD are considered less predisposed to OS-related disorders than the hemodialyzed patients (Stepniewska et al. 2015).
Consequences
Systemic OS can significantly contribute to endothelial dysfunction (Annuk et al. 2005) along with exaggeration of atherosclerosis (Esper et al. 2006) and development of CVD (Paoletti et al. 2005). As excessive ROS are genotoxic (Stopper et al. 2004; Stoyanova et al. 2010), OS may be a factor contributing to higher malignancy rates in ESRD patients (Shang et al. 2016). Also, the structural changes induced by ROS in β2-microglobulin are correlated with the incidence of amyloidosis due to inflammatory processes in renal patients (Capeillere-Blandin et al. 1991). Other OS-related problems in CKD include aggravation of hypertension (Mathis et al. 2012), and also neurologic disorders (oxidation of myelin), anemia (decrease in erythrocyte lifespan), inflammation (activation of nuclear factor κB: NF-κB), fibrosis and accelerated aging (reviewed in Vaziri 2004). Lastly, OS can alter multiple functions of the body through oxidation of hormones, such as parathyroid hormone (Hocher et al. 2012).
Clinical Biomarkers
To help better understanding and monitoring of CKD progression there are few basic biomarkers such as serum creatinine, which is the main biomarker of kidney function used in clinical approach and it is used to estimate glomerular filtration rate (making eGFR), which correlates serum creatinine level with sex, age and weight of patient. However, those parameters are not fully applicable in diagnosis and prognosis of kidney injury. First of all, there are numerous limitations that enable using serum creatinine to estimate actual renal function, e.g., noticeable reduction of GFR can be present before a visible rise of creatinine level which may lead to irreversible loss of kidney function before the change of serum creatinine level. Moreover, creatinine in general is a poor biomarker that precludes the early diagnosis of acute renal injury and differentiation between various causes. That is why creatinine is an unreliable biomarker of kidney damage and there is a large need for searching an appropriate one (Malyszko 2010).
Recently, a new type of biomarker has been proposed, namely the neutrophil gelatinase-associated lipocalin (NGAL), the member of lipocalin family, which is expressed at low levels in several human tissues (including kidney) and possesses the ability to scavenge iron molecules, which are rapidly induced and released from the injured distal nephron (Mishra et al. 2003). Because of small molecular size (25 kDa) and resistance to degradation, NGAL is rapidly excreted and may be easily detected in urine. NGAL has recently been validated as a useful biomarker of CKD progression (Malyszko et al. 2008), and also an indicator of acute kidney injury in kidney transplantation patients (it may be used as a predictive biomarker for delayed graft function following kidney transplantation) (Malyszko et al. 2009). Importantly for this work, production of NGAL has been reported as an indicator of a response to OS before organ dysfunction can be detected by other biomarkers in acute kidney injury (Haase et al. 2011).
Conclusions
In summary, monitoring OS biomarker levels seems a promising way to improve nowadays diagnostic methods in CKD. The main question of the redox-focused studies in renal diseases is about the correlation between disturbance in balance of pro- and antioxidant systems and its influence for the development and progression of kidney failure. To study this phenomenon, it is needed to find a set of biomarkers that can be easily monitored and used for a non-invasive detection of redox disturbance in CKD. In future, it may help in the better understanding of the CKD etiology and make patient treatment and care more efficient.
Copyright information
© The Author(s) 2017
Open AccessThis article is distributed under the terms of the Creative Commons Attribution 4.0 International License (http://creativecommons.org/licenses/by/4.0/), which permits unrestricted use, distribution, and reproduction in any medium, provided you give appropriate credit to the original author(s) and the source, provide a link to the Creative Commons license, and indicate if changes were made.