Next up
Thicker Frontal Process of Maxilla
Your browser needs to be JavaScript capable to view this video
Try reloading this page, or reviewing your browser settings
You're watching a preview of subscription content. Log in to check access
This video elucidates the fundamentals of managing certain difficult situations and variation of the anatomy encountered during the primary surgery that will help the ophthalmology and otolaryngology residents. The video illustrates three difficult scenarios; thick frontal process of maxilla; lacrimal sac in sinus, and lacrimal sac diverticulum. It lucidly explains surgical tips to deal with such difficulties.
Dacryocystorhinostomy is a commonly performed procedure for nasolacrimal duct obstructions of several etiologies. Powered endoscopic dacryocystorhinostomy is less commonly performed because of the higher levels of expertise needed to perform it including the requirement of advance instrumentation.
The video serves as a useful link to the chapters with similar titles in the 2nd edition of the textbook 'Principles and Practice of Lacrimal Surgery' and also 'Atlas of Lacrimal Drainage Disorders', both edited and authored respectively by the author of this video, Dr Mohammad Javed Ali and published by Springer. The reader gets great details and bibliography, and images from these sources in addition to the surgical steps illustrated in the video for complete knowledge.
Introduction
This video teaches the ophthalmology and otolaryngology residents the basics of identifying and managing certain difficult situations and anatomical variations observed during primary endoscopic dacryocystorhinostomy. It is produced by a globally renowned expert in the field.
About The Author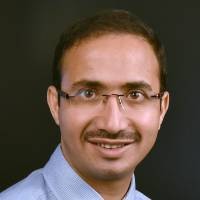 Mohammad Javed Ali is an internationally recognized clinician-scientist and currently heads the Govindram Seksaria Institute of Dacryology at the L.V. Prasad Eye Institute, India. He is currently the Hong-Leong Professor at NUHS, Singapore, and Gast Professor at FAU, Germany. Javed is among the rare recipients of the Senior Alexander Von Humboldt Award and the Shanti Swarup Bhatnagar Prize, the highest multi-disciplinary scientific award by the Government of India. He described 3 new diseases of the lacrimal system along with their classifications and clinicopathologic profiles. He was honoured by the 2015 ASOPRS Merrill Reeh Award for his path-breaking work on etiopathogenesis of punctal stenosis. His textbook "Principles and Practice of Lacrimal Surgery" is considered to be the most comprehensive treatise on the subject and his other treatise 'Atlas of Lacrimal Drainage Disorders', is the first of its kind. He is a section editor for 9 journals and has to his credit 423 publications at the time of this writing and has delivered 312 conference lectures, including 12 keynote addresses. He has conducted 25 instruction courses and 29 live surgical workshops and has been honoured by 32 national and international awards.
About this video
Author(s)

Mohammad Javed Ali

DOI

https://doi.org/10.1007/978-981-15-9702-2

Online ISBN

978-981-15-9702-2

Total duration

12 min

Publisher

Springer, Singapore

Copyright information

© Producer, under exclusive license to Springer Nature Singapore Pte Ltd. 2020
Video Transcript
[MUSIC PLAYING]
Hello, everyone. My name is Mohammad Javed Ali. And today, we will discuss certain difficult scenarios that surgeons may encounter during the performance of a primary endoscopic dacryocystorhinostomy. A brief about myself– I head the Govindram Seksaria Institute of Dacryology at the LV Prasad Eye institute in India. And I exclusively practice lacrimal sciences, both as a clinician, and also, as a basic-science scientist.
Well, this is an important slide. It's a sagittal cadaveric section that shows the lateral wall of the nasal cavity. And the instrument points to the exposed lacrimal sac and nasolacrimal duct following the osteotomy.
Now, as you can see, the lacrimal sac and the nasolacrimal ducts stand proudly onto the lateral wall. And the basic principle of dacryocystorhinostomy is to create an anastomosis between the lacrimal sac and the nasal cavity after removing the overlying bone, like we can see here.
Now, certain difficulties may arise, either because of anatomical variations or because of pathologies. And here, we will discuss exclusively those difficulties that can be encountered in a primary endoscopic DCR. And the references beneath would give you further details.
The first that will be discussed is the thick frontal process of maxilla. In certain patients with Asian ethnicities, one can encounter a really thick frontal process that may not be amenable to removal with the help of punch. In these cases, we would use drills specifically designed DCR burrs. And also, we would discuss how we would go about doing that.
The second scenario would be sac-in-sinus syndrome, which is a rare anomaly, where the lacrimal sac is entirely within the boundaries of the ethmoid sinus. And thus can be preoperatively also diagnosed, but is mostly an endoscopic diagnosis.
The third would be lacrimal-sac diverticulum, which is, again, a rare acquired or a congenital anomaly. And how do we avoid some syndromes or subsequent diverticulitis, is what we would discuss.
For every difficulty, we will have one surgical example where we will talk about the intraoperative encounters. How do we go about diagnosing that particular condition endoscopically? How do we manage difficulties that come in the way? And what are the tips for successful outcomes?
So let's hope that we go through this exciting journey together. And I hope that in the end, both the beginners and the experienced surgeons would find the steps very useful whenever they encounter these difficulties. Thank you.