Next up
Anatomical Landmarks
Your browser needs to be JavaScript capable to view this video
Try reloading this page, or reviewing your browser settings
You're watching a preview of subscription content. Log in to check access
This video describes the anatomical landmarks and main steps of a full thoracoscopic middle lobectomy. The additional lymph node dissection is not reported in the video. The technique is based on a fissure-first approach and uses multiple small-diameter ports. No access incision is needed. The procedure is performed using a high-definition camera system and a deflectable scope, mounted on a robotic scope positioner. The combination of this optic and the robotic scope positioner greatly enhances vision and provides a very accurate viewing angle. Dedicated thoracoscopic instruments are used in the surgery, and vessels are controlled by means of a vessel-sealing device or an endostapler.
Introduction
The video will be of high interest and practical assistance for all surgeons who wish to learn about the technique of robotically assisted lobectomy and the benefits that it offers. It will be an invaluable aid in negotiating the steep learning curve.
About The Author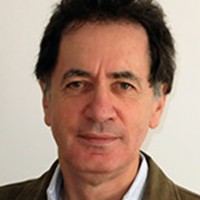 Dr. Dominique Gossot is the Head of the Thoracic Department at Institut Mutualiste Montsouris in Paris, France. He is a member of several scientific societies such as the Society of Thoracic Surgeons (STS), the European Association for Cardiothoracic Surgery (EACTS), the European Society of Thoracic Surgeons (ESTS) and the Société Française de Chirurgie Thoracique et Cardio-Vasculaire (SFCTCV). He endorsed the publications of more than 170 articles, including 95 as first author. He is the author of Atlas of endoscopic major pulmonary resections, Springer, whose second edition was released in 2018.
About this video
Author(s)

Dominique Gossot

DOI

https://doi.org/10.1007/978-3-030-32896-2

Online ISBN

978-3-030-32896-2

Total duration

11 min

Publisher

Springer, Cham

Copyright information

© The Author(s) 2019
Video Transcript
This video describes a thoracoscopic middle lobectomy. The complementary mediastinal lymph node dissection will not be reported, as it is common to any other right major pulmonary resection. A full thoracoscopic approach with multiple ports is used based on the fissure. We use a deflective, or high definition scope that is fixed on a scope holder, and dedicated instruments.