Next up
Introdution to Otosclerosis
Your browser needs to be JavaScript capable to view this video
Try reloading this page, or reviewing your browser settings
You're watching a preview of subscription content. Log in to check access
This video describes preoperative considerations and patient selection for stapes surgery and explains the technical nuances critical to a successful hearing outcome. Stapedotomy, which involves removal of part of the stapes bone, is performed in patients with otosclerosis, a condition characterized by abnormal bone growth around the stapes that results in conductive hearing loss. This pathology is present in 2.5% to 10% of the adult population, although the prevalence of clinically significant hearing loss is estimated at 0.4%. The surgery is performed through the external auditory canal with either a microscope or an endoscope, and while it is straightforward in concept, a variety of complexities may be encountered in practice. This video covers all steps in an endoscopic stapedotomy, including raising the tympanic membrane, confirming stapes fixation, removing the stapes, and replacing it with a prosthetic device. One case is shown in detail and short clips from multiple cases are then used to reinforce key points. The video will offer valuable assistance in negotiating the learning curve for this procedure.
Introduction
This segment provides an overview of the surgical procedures discussed in this video.
About the Author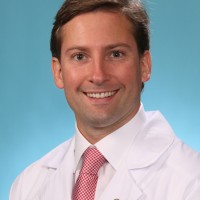 Cameron C. Wick MD, is an Assistant Professor in the Department of Otolaryngology, Washington University School of Medicine, St. Louis, MO, USA. He holds board certification from the American Board of Otolaryngology as well as Neurotology subcertification. Dr. Wick graduated from Wright State University Boonshoft School of Medicine in 2010 and subsequently completed an Otolaryngology-Head & Neck Surgery Residency at University Hospitals Case Medical Center, Cleveland, OH, and an Otology-Neurotology Fellowship at University of Texas Southwestern Medical Center, Dallas, TX. He has been a member of various committees of the American Academy of Otolaryngology – Head and Neck Surgery, including the Otology-Neurotology Education Committee. He is also Co-chair of the Young Members Committee of the American Neurotology Society. Dr. Wick is an editorial review board member for CSurgeries.com and acts as a reviewer for a number of journals. He is the author of almost 40 peer-reviewed journal papers and many book chapters.
About this video
Author(s)

Cameron C. Wick

DOI

https://doi.org/10.1007/978-3-030-16716-5

Online ISBN

978-3-030-16716-5

Total duration

21 min

Publisher

Springer, Cham

Copyright information

© The Author(s) 2019
Video Transcript
[MUSIC PLAYING]
Hello. My name is Cameron Wick. In this video, I will review otosclerosis and stapes surgery. Stapes surgery can be a highly effective treatment for the hearing loss associated with otosclerosis. However, there are many nuances to patient selection, appropriate counseling, and the surgical steps for successful outcomes.
This video will provide a comprehensive overview of otosclerosis, including its pathophysiology, preoperative assessment, the stapedotomy technique, the stapedectomy technique, and finally, some of the other anatomical considerations when working in the middle ear space.
My preferred technique is to use endoscopes for middle ear surgery, including stapes procedures. Other surgeons may prefer the classic microscopic approaches. Regardless, the critical steps for successful stapes surgery remain the same and will be highlighted in this video. I hope that the clear view achieved with the endoscopic approach will facilitate a highly educational video series for you.