Asian Contributions to Communication for Development and Social Change
Living reference work entry
Abstract
The debates on the role of media and communications in promoting sustainable development acknowledge the multiple experiments that were undertaken from the 1940s and 1950s as being key to laying the foundations of the field we now call development communication or communication for development. Yet, as has been emphasized over the years, it is the agriculture communication and extension experiments at the University of the Philippines, Los Baños, that would herald the pioneering contestation of development thinking using media and communication in Asia. Considered together with the Asian Tigers' approaches toward radical economic development, the Asia's schools, institutions, organizations, and governments demonstrated that there was a different way of thinking about and doing development beyond what the western modernist theories and perspectives were proffering.
This chapter is a celebration of the Asian contributions to development communication, which was a term employed by the pioneers of the field. Over the years, other terms have come into use, including communication for development and social change. While the emphasis has been placed in the fact that these were pioneering contributions, this chapter examines the specific attributes of such a contribution and how, considered in retrospective, students of society will come to appreciate the fundamental aspects of theory and practice today that trace their origins to these experiments. The chapter highlights seven of these contributions in order to demonstrate the fundamental concerns that drive the agenda, processes, and partnerships in the field. The chapter acknowledges that the field has moved on; there is a growing danger of a growing disregard for history, as if the field just emerged without a historical context. Yet it is this very historicity, in Asia, as much as in Latin America and Africa, that continues to shape the practice on the ground, even in the face of the historical revisionism of modernist development approaches mostly being promoted by international development institutions.
Keywords
Development communication 
Participation 
Development thinking 
Knowledge management 
Capacity building 
ICT for development 
Introduction
The chapter aims to celebrate the contributions from Asia to the theory and practice of development communication. There are many reasons for this. First, there is an increased western footnoting of the history of the field, in which the pioneering contributions from the Asian region are being footnoted and written out of global scholarship in development communication. Such an aversion is very much orientalist (Said 1978), with the consequence that the liberatory and postcolonial ideals that shaped the emergence of the field have been submerged under the hysteria of instrumentalist participatory communication or social and behavior change communication. It seems to us, there is a deliberate proposition suggesting that either the field emerged from the west or it just emerged from without. The release of various books, handbooks, or articles on the field by major western publishers is a case in example. Second, there is an increased emphasis in a media-centric discourse that either celebrates media and development or social and behavior change communication. This is not problematic in itself. Yet, it seems as if development communication is just about changing people's behaviors, as reflected in the preeminence of social and behavior change models and theories. Third, there is a need to remind current students of society, of the specific attributes of the pioneering contributions from Asia that shaped the theory and practice of development communication, and continue to do so in much of the global south. This is the main agendum of this chapter.
The chapter acknowledges the simultaneous pioneering contributions from Latin America, observing that the emphasis on liberation and deconstruction of inequality provided a postcolonial prose and discourse for rejecting the modernist development, which continues to undergo what Mansell (1982) describes as "superficial revisionism." Particularly for this chapter, the discussion demonstrates that for Asia, there were seven areas of focus that would shape the emergence of the field of development communication. Consideration of these areas allows for the appreciation of the fact that, at its center, development communication remains as alternative theory of development in practice that rejects and undermines the modernist, capital-intensive, or technology-driven development models that emerge from the metropoles of western capitals and think tanks. These seven contributions were (1) participatory planning (Bessette 2004; Quebral 2012), (2) rural communication (Sainath 2016; Loo 2009; Verghese 1976), (3) learning as capacitation (Cadiz and Dagli 2010); (4) devcom degree training (Quebral 1988, 2012), (5) mainstreaming development communication, (6) ICT (information, communication technologies) for development (Agrawal 2006; Kumar 1981; Mansell 2017), and (7) evaluation frameworks (Campilan et al. 2009).
Development Communication in Asia: Overview
Development communication or, as widely accepted now, communication for development has been described as a phenomenon more akin to the Third World (Quebral 1976/2012) or the developing countries. As a planned social intervention, Quebral categorically stated that its allegiance is to the poor, the powerless, and the disadvantaged in developing societies, many of whom are found in Asia. The pro-poor emphasis is also evident in the Latin American scholarship and experiments (Freire 1970; Gutierrez 1971/1988). In fact, development communication actually grew in response to the pressing problems of underdevelopment, namely, poverty, unemployment, high population growth, inequality, environmental degradation, malnutrition, and even ethnic conflicts (Ongkiko and Flor 2003; Quebral 1988, 2012).
Hence, the Asian version of development communication thinking and practice is closely tied up with Quebral's (1976/2012, 9) definition of the concept as "the art and science of human communication linked to transitioning of communities from poverty in all its forms to a dynamic, overall growth that fosters equity and the unfolding of individual potential." This is an important definition for students of society to ponder, perhaps in more ways than one. In referring to the "art," Quebral recognized that the creative industries are critical in providing pedagogy of the oppressed. In the Philippines and Asia as a whole, music, folk media, theater, and indigenous communications, groups of men and women were already creating productions and performances that aimed to empower people. Also critically, is the fact that development communication is a collective endeavor, whose process of empowerment is not scripted off site. For Quebral, art was always about two things, co-design and learning. Likewise, the incorporation of science was in a way prophetic. Current debates in the field emphasize the evidence-based, method-driven, and theory-informed discussions, focus being on investment thinking. In fact one of the most tenuous debates today concerns the contestation between learning-based and evidence-based approaches and perspectives (Lennie and Tacchi 2013).
Alongside the pioneering experiments at the University of the Philippines, Los Baños, where Nora Quebral and colleagues would introduce development communication degree training programs in the 1960s (within the College of Agriculture) and the 1970s (within a new College of Development Communication), were other schools and institutes within the region. Over and above the numerous experiments that are too many to accommodate in this discussion, a couple stand out for their overall contribution to the field. This chapter explores the key ones.
Asian Contributions to Development Communication
In Asia, development communication struggled to be recognized as a legitimate field of study and practice in the early years. Quebral (1976/2012) discussed the suspicions that stakeholders had with this concept. For governments, they were concerned with the focus on empowering people. For other development organizations, the focus on promoting the country's goals appeared as a form of legitimation of authoritarian governments. But now, it is acknowledged as a discipline in its own right. It has established its own body of knowledge, built up its theories, and accumulated good practices in various development themes and settings.
Among other regions in the world, Asia has been the setting of many development struggles. It is, thus, expected that development communication will find it as a good breeding ground in shaping the philosophy and theory that drive its actual practice on ground. To acknowledge categorically what those from Asia have contributed to its growth and to its evolving challenges is but a fitting tribute. The topics discussed in succeeding paragraphs may not be that comprehensive; they are, however, indications of how vibrant the field has remained despite that "the old guards have left and institutional support for the field petered out" (Quebral 2002).
Contributions of Asian scholars, practitioners, and community partners to development communication or devcom, as mentioned earlier, include participatory planning, rural communication, learning as capacitation, devcom degree training, mainstreaming devcom, ICT for development, and evaluation frameworks. They are not meant to be mutually exclusive as some features of one tend to be also present in others.
Schools of Thought
Manyozo (2012) introduces the six schools of thought that he argues have shaped the emergence and current approaches to the theory and practice of development communication, namely, Bretton Woods, Latin American, African, Indian, Los Baños, and the Communication for Social Change Schools. Devcom literature will be incomplete without acknowledging that two of its schools of thought originated from Asia: the Indian School and the Los Baños School. Though influenced by different circumstances and development challenges, both produced systematic, theory-based, and method-informed development communication practice through time (Manyozo 2012). In its emergence, the Indian School focused more on broader social issues such as family planning, dynasty, gender equality, and social harmony. Today, it is characterized more by the use of folk media, indigenous communication, entertainment-education, development broadcasting, and use of information and communication technologies (ICTs) for development.
The Los Baños School, on the other hand, grew out of its earlier agricultural extension function, it being situated in an agricultural university. Hence, it focuses more on new farm practices and technologies yielded by agricultural research. In terms of media, Los Baños School in early years thrived on the use of broadcast-based distance learning, development broadcasting, community newspapers, and others that fall under the category of community media. The growth of both schools can be attributed also to the assistance, financial and otherwise, extended by universities from the West. What has not been explored well in development communication scholarship is the Chinese approaches and practices in development communication, which seem to have a deeper history than many anticipate. Over the years and until today, both schools are engaged in developing and testing theories on how people-oriented communication may well serve the goals and facilitate the process of human development. So what were the key contributions from Asia to development communication?
Participatory Planning
Asia's landmark contribution to devcom is undisputedly in the area of participatory planning. Though devcom evolved parallel with other western communication models, its thrust has always been co-design – the engagement of relevant stakeholders in the development process itself. As elucidated by Quebral (2002), the devcom philosophy includes that "the people be participants in their own development."
While many development workers would easily buy-in the noble idea of participatory planning, there was no clear method, model, nor guide readily available that would show the way. This is especially so in Asia where many countries are still living with the remnants of their colonization days, thus their tendency to cling to the modernization and diffusion mindset. The early experiments in integrated pest management would emphasize this notion of participatory planning. Ironically, in some of these experiments, the funding and support has come from western partners and stakeholders.
Giving flesh to the concept of participatory planning would also occur around 2001–2002 when the International Development Research Centre (IDRC) of Canada piloted the Isang Bagsak (IB) program in Cambodia, Vietnam, and Uganda. The learning program was undertaken by teams of Asian researchers and development practitioners. The program would field-test and implement a carefully designed communication approach anchored on participation called participatory development communication or PDC (Bessette 2003). It was applied in the implementation of community-based natural resource management projects (CBNRM) in selected rural communities of the three pilot countries.
PDC refers to "a new form of dialogue that aims to engage local communities in the process of charting their own future" (Kavanagh et al. 2006). It employs clearly planned communication activities to facilitate community participation in a development initiative (Bessette 2004). Community participation in turn means facilitating the active involvement of different community groups including the development and research agents working with the community and decision-makers (Bessette 2004). It is planned to facilitate dialogue among stakeholders to achieve an agreed upon goal. It puts premium on learner participation and ownership of the learning process.
As a methodology, PDC follows a logical process composed of ten clear steps (Fig.
1
): (1) establishing relationship with local community and understanding local setting, (2) involving local community in identification of problem and solutions, (3) identifying relevant stakeholders, (4) identifying communication objectives and activities based on needs, (5) identifying appropriate communication tools, (6) preparing and pretesting communication materials, (7) facilitating building of partnerships, (8) producing an implementation plan, (9) planning the monitoring and evaluation, and (10) planning the sharing and utilization of results. All throughout the cycle, communication facilitates the participation of the community stakeholders. On top of this, the process also builds mutual understanding and collaboration which favorably push the development process forward.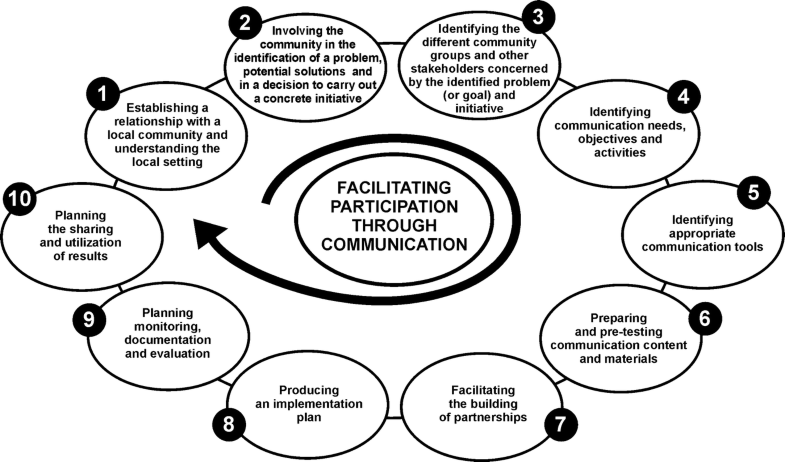 One year of pilot testing (2001–2002) led to the refining of steps and activities of PDC using the peculiarities of the Southeast Asian (SEA) setting. The process was again worked out in the field using selected SEA countries in 2003–2005; this time adding the Philippines to Cambodia and Vietnam. This leveling up of experience contributed to the firming up of the steps in the PDC process and the wider application of PDC to other NRM settings.
Evidence generated about Isang Bagsak indicate that the participatory nature of appraisal, planning, implementation, and evaluation as well as engagement in constant dialogues and innovative communication methods helped raise awareness about existing NRM problems. This in turn enabled community members to agree and work on their own solutions. Bottom-up communication provided local government and researchers the window to actively engage with their respective communities and later on secure commitment from them (Cadiz and the College of Development Communication IBSEA Program 2004).
Non-Asian scholars might have started the operationalization of PDC, but it has been enriched together with their Asian counterparts. In no certain measure was it nurtured and brought to fruition in the Asian setting. This peculiar context in the region and the deep involvement of Asian players in the process provided the needed flavor and medium where PDC was able to mold its authentic form.
Rural Communication
Writing in the 1970s, Quebral (
1976/2012
, 4) observed that "when we speak of development today, we are mainly concerned with the majority of people in the developing societies, most of whom live in the countryside." This is a fundamental observation. Yes over the years, the attention has shifted from rural to other economic and social issues that exist in urban economies as well, but the rural was always the starting point. For Quebral, mastering development in the rural space would provide the blueprint for dealing with urban development questions, after all, they were both products of marginalization, exclusion, and inequality. It therefore makes sense that much of the pioneering experiments in Asia aimed to address problems of rural communication as well. Two of these problems stood out. Problems existing as a result of inadequate communication systems and literacy in the rural area and the problem of communication between policy makers and rural audiences. In emphasizing the significance of the rural polity, Quebral (
1976/2012
, 11, 14) argue that:
One problem in the developing country is to get the majority into the dialogue. Where the old and new media are concentrated in cities, the rural populace is virtually voiceless. What is passed of as public opinion is urban opinion. How to give voice to the voiceless is a concern of the development communicator. […] When we speak of the poor and the disadvantaged, are they still in the rural areas? They are the families of small farmers, labourers and fishermen most of whom are still in the rural areas though many of them have migrated to urban slums. They are also the indigenous people who live apart from the main population and are economically and socially deprived.
To deal with these challenges, three strategies of development communication emerged, both of which aimed to bring the rural population into the decision-making space. First were the development journalism experiments in India, the Philippines, and the whole region. As has been noted before (Agrawal
2006
; Kumar
1981
; Manyozo
2012
), India's approaches to development communication were rooted in its pre-colonial rich traditions of folk media and indigenous knowledge communication; the post-independent entertainment-education experiments; and of course, the growth of indigenous language press. Important to mention is that India has relied on its academic institutions to expound development communication thinking and practice (Manyozo
2012
). Notable among the academic centers were the University of Poona, the Centre for the Study of Developing Societies, the Christian Institute for the Study of Religion and Society, and the University of Kerala. A major experiment in development journalism would emerge with the
Hindustan Times
in the 1960s, when George Verghese introduced a column on rural issues, "Our Village
Chhatera
," based upon a village located about 25 miles from Delhi (Verghese
1976
,
2009
). This initiative enabled the
Hindustan Times
newspaper to "win the affection of a village community and encouraged it to grow" (Verghese
1976
, 3). As explored by Eric Loo (
2009
) in great detail, alongside this experiment, were other similar experiments in development journalism focusing on rural populations that would take hold in the whole Asia.
Second, were community communication experiments. Community communication has long been part of development communication literature, but it is noticeably not widely spoken of in the Asian setting, though its practice is pervasive. Community media such as community radio or newspapers are usually associated with it. The strongest distinction of this domain is its being interactive and participatory. It may or may not be mediated (Berrigan 1979). Even if it is mediated, the medium is only a means to facilitate the social interaction in small groups. If it is not mediated, it uses interpersonal or indigenous means for communicating like folk songs and theater. It is associated with grassroots and, hence, is biased toward stories, orality, proverbs (Manyozo 2012), and other folk media.
Historically, Asian countries would have closer affinity with community communication given their cultural tradition for being communal rather than individualistic. Farmers, women, or youth usually decide and behave on what the community thinks, feels, and believes in despite the irrationality and inconvenience this may create. Despite the advent of ICTs, many of the intended stakeholders of devcom are located in areas with very limited access to electricity, virtual connectivity, and other modern communication infrastructure. As such, community communication as an area of practice is highly relevant in development communication.
As experienced in many rural areas of Asia, community communication facilitates community decision-making, problem-solving, conflict resolution, interest articulation, advocacy, and social mobilization (Ongkiko and Flor 2003). In the 1960s and 1970s, development programs in the Philippines particularly those associated with population experimented on the use of folk media to promote family planning methods among the rural poor (Flor 2004). Employed were puppet shows, shadow plays, rural theater, folk songs, balagtasan (poetic debate), and balitaw (an extemporaneous exchange of love verses between a man and a woman). These helped popularize the message as the medium enabled it to cater both to the heart and head.
In later years, the traditional media were tapped to boost environmental conservation campaigns. Legends and myths about mountains, rivers, and other natural landscapes became popular as a way of explaining how man can harm the spirits that reside in nature and how the latter can take their vengeance and punish man (Oroza 2008). Though folklore may run against the grain of science, they definitely were effective to some extent. Fear of nature's wrath worked to minimize man's abuse of nature as commonly shared in informal and media discussions and documented in some academic studies.
In one particular case, community communication facilitated the coffee farmers' adaptation to climate variability in Cavite, Philippines (Ilagan 2013). As part of their regular routine, four to five farmers gathered together after visiting their farms to talk about what was happening with their coffee plants. They discussed as peers or coequals about how climate has become so erratic and highly variable such that their coffee plants also became unproductive. In the course of their gatherings, they shared and studied deeper the information gathered from extension workers, traders, and cooperative officials about their problem. As they experimented on the technological advice they obtained from various sources, they themselves sorted out what worked.
As a result, the coffee farmers adapted their farming practices to climate variability by introducing another crop for intercropping, adjusting their time of fertilizer application and harvesting, more frequent weeding, regular pruning, covering of harvested coffee beans, and stocking their harvest before selling. All these they have learned from intensive discussions of the realities they were facing and the price they have to pay for changing some of their practices. In other words, the adaptation practices were not something merely "extended" to them (as in typical agricultural extension work) but out of their own self-discoveries of what will work for them at certain cost. These adaptations manifest their potentials that were being unfolded as they went through the community communication experience.
Third were the considerations for inclusive Rural Communication Services (RCS). RCS refers to the provision of need-based, interactive, ICT-enabled, participatory communication processes (FAO 2014). It is delivered regularly to the rural population to perform three major functions: (1) facilitate equitable access to knowledge and information, (2) enable social inclusion in decision-making, and (3) build stronger links between rural institutions and local communities.
For the first function, it strategically employs interpersonal and mediated communication (community media, ICTs) to enable stakeholders to access information and knowledge for their unmet needs. For the second, it purposively selects participatory methods to engage stakeholders in various stages of development work, i.e., planning, implementation, monitoring, and evaluation. For the third, it provides platforms through which institutions and members of local communities can be linked together and work in partnership in meeting their common needs.
While many might think that RCS is just a new name for agricultural extension, it is quite different in that it does not subscribe to the one-way information service flow. It does not focus only on the farmers but tries to bring into partnership the research and extension services, local institutions, NGOs, academe, media, and private sector so that the needed communication services are orchestrated well to serve the needy population (Torres et al. 2015).
In 2011–2013, the Agriculture Information Service (AIS), Ministry of Agriculture in Bangladesh, ventured into the establishment of RCS primarily through rural radio and mobile phones in Patukhali, Barguna district, a distant coastal village in southern part of the country. The demand for agriculture information was high in this area due to the effects of climate change on their already marginal and saline farmlands. Radio and mobile phones were noted in the baseline study as the most available and highly accessed media in the area.
Following the basic project planning cycle, various stakeholders were identified, information/communication needs assessed, RCS strategy crafted, action plans and budget laid down, and mechanisms for participatory monitoring and evaluation completed. All these involved the participation of relevant stakeholders through a series of meetings. Likewise, sustainability plan was put in place as early as the conception of the project. With radio as the locomotive medium, rural radio planning and programming were done together with the needed capacitation for various stakeholders.
After 2 years, a rural communication unit (RCU) was set up at AIS, manned by personnel redeployed from existing AIS units. RCU coordinates with the different stakeholders for their contributions to RCS: research institutions for the needed technologies, extension service for field demonstrations and training, academe for baseline and other needed studies, community media for local awareness raising, farmer groups for organizing listenership groups, youth for their performance numbers in community assemblies, and women in gathering local news. Everybody helped in monitoring radio listenership.
RCU coordinates with the rural radio station, called Krishi Radio, set up in the pilot area. Stakeholders listened to radio programs mostly through mobile phones. Program content during the pilot focused on the introduction of the saline-tolerant rice variety (STRV). Radio and mobile phones were gradually complemented by computer-based services provided by AIS in the established ICT centers in villages.
When FAO funding ended, the project was continued by IFAD in 2015–2017 in cooperation with the Local Government Engineering Department. This time, three more existing rural radio stations were tapped in Radio Nalta, Radio Lokobetar, and Radio Sundarban, all located in poverty-stricken coastal areas in the south. Program content was expanded to include climate-resilient technologies, aside from STRV, that address water siltation, soil erosion, deforestation, and others as expressed by members of local communities.
Despite some constraints, the initiative brought about appreciable outcomes: improved institutional and local capacities in the design and implementation of communication strategies; initial establishment of an RCU unit to respond to information priorities demanded by farmers; strengthened linkages among institutions in agricultural extension, research, information services, as well as NGOs, local government, and farmer organizations; effective use of rural radio talk shows for explaining demanded technologies; proactive crafting of sustainability efforts; and drawing out of lessons learned that drive iterative planning.
The four rural radio stations have formed an alliance called "Voice of the Coastal People" and have organized a number of listener groups whose members also form part of the radio program production and hosting. There have been 100 listener clubs established, with 15–20 members per listener club, or a total of 15,000 listeners for all the four rural radio stations. Being part of the communities, these volunteers know exactly what information would cater best to their needs and how these may be delivered in the most comprehensible manner.
Learning as Capacitation
For devcom to create a dent on poverty and an appreciable impact on development, it needs a critical mass of practitioners who would be able to operationalize consistently its philosophy, theories, methods, tools, and techniques. While there are tertiary level schools that produces professionals, the need for a sizeable number to help multiply the efforts in a shorter time can only be augmented by nonformal training courses.
A number of devcom trainings must have been undertaken in various parts of Asia by more than a hundred devcom training providers spread out all over the region. As documented and captured in CCComdev Web Portal (cccomdev.org/index), these providers include universities, development organizations, NGOs, media organizations, and some civil society organizations. The full profile, contact details, and description of courses offered by nonformal education providers in Asia can readily be accessed from the portal using the training map and under training opportunities.
One regional program can be cited to have contributed to the systematic capacitation of devcom practitioners, development workers, and other development actors in the region: the Adaptive Learning and Linkages in Community-Based Natural Resource Management or ALL in CBNRM. This program evolved out of IB and was implemented in 2006–2008. Its thematic focus broadened from PDC to a wider array of participatory development approaches. It may be considered significant in terms of the breadth of geographical coverage, program objectives and content, number of institutional learning facilitators, number of learning groups, and combination of learning modalities.
ALL in CBNRM is an adaptive learning network and a collaborative program for CBNRM covering six countries in SEA: Cambodia, Indonesia, Lao, the Philippines, Thailand, and Vietnam. Adaptive learning implies customized learning that should enable people to cope with their changing environment. It is based on the premise that learning from experience empowers people to respond more effectively to new uncertainties, enabling them to change old ways of doing things and allowing them to make better decisions (Cadiz and Dagli 2010). In all these, communication plays a central role.
As a capacity building program, ALL in CBNRM was designed for CBNRM researchers and practitioners in SEA working in different ecosystems such as forestry, coastal, and wetlands. It aims to create a community of participatory-oriented NRM researchers and practitioners, a wider knowledge base and network, and develop synergies among the community or network members. Here, the community covered a regional level but was more virtual, mediated by an online medium, the Internet.
Content-wise, it adopted the perspectives and methods of participatory research and development including social and gender analysis, adaptive and social learning, participatory rural appraisal, participatory action research, and participatory monitoring and evaluation (Cadiz and Dagli 2010). The program was facilitated by a regional partnership of recognized institutional players in rural development: the Regional Community Forestry Training Center for Asia and the Pacific (RECOFTC), International Potato Center-Users' Perspectives with Agricultural Research and Development (CIP-UPWARD), Community-Based Natural Resources Management Learning Center (CBNRM LC), International Institute of Rural Reconstruction (IIRR), and CDC- UPLB. Using adaptive learning, they worked with nine learning groups composed of CBNRM researchers, development workers, and local community members engaged in NRM.
The program involved the participation of nine learning groups from the academe, NGOs, government agencies, and people's organizations engaged in CBNRM. Each of the group was in itself a case in search for more solid, dynamic, and ultimately, useful and meaningful learning processes (Campilan et al. 2009). Learning within and across groups took place through a combination of face-to-face discussions, regional workshops, field mentoring, technical back stopping, and regional online discussions.
Based on program evaluation conducted in a participatory manner, ALL in CBNRM accomplished several outcomes (CDC-UPLB
2008
). In terms of capacity development, improved capacity of the individual led to improved capacity of the group, which in turn led to improved capacity of the organization. Subsequently, this led to development outcomes at the community level (Fig.
2
). More specifically, the change in individual knowledge, attitude, and practices led to strengthened teamwork and improved group processes. This then led to improved organizational performance vis-a-vis their mandates. Consequently, it led to improved communities' capacities, their livelihoods, and to conserved natural resource base.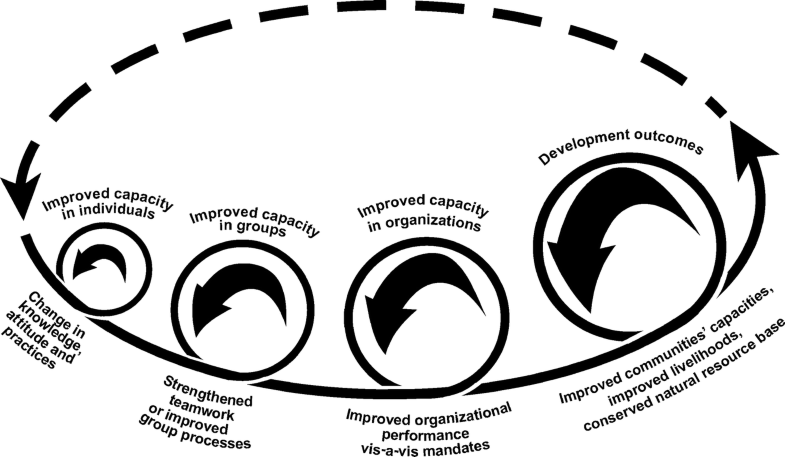 Other reported outcomes were manifested by strengthened collaboration and partnerships, heightened trust building, enhanced women participation and development, stronger community-based organizations, improved livelihood, and more active community participation in agricultural technology development (CDC-UPLB 2008).
The program also contributed improvements in policy, governance, and conservation of the NRM sites. Moreover, it enabled the facilitators and learning groups to produce knowledge and learning resources. In a way, all these paved the way for the mainstreaming of adaptive learning and networking in CBNRM at local and regional level (CDC-UPLB 2008). It appears that adaptive learning strategies are effective way to respond to, cope with, and reshape people's new reality – although gradually and not without challenges (Campilan et al. 2009).
Knowledge Exchange as Capacitation
As early as 2010, an initiative to link devcom practitioners across various countries in the regions, and among regions in the world to create a space for knowledge sharing in devcom, has been put in place. Called the Collaborative Change Communication (CCComdev), it is being spearheaded by FAO in partnership with academia, community media organizations, farmer organizations, and field projects. Content covers the themes on agriculture, forestry, natural resource management, food security, climate change, and resilience, among others.
CCComdev primarily uses a global web portal for worldwide access as well as regional hubs for Asia (ComdevAsia.org), Africa (Yen Kasa Africa), and Latin America (Onda Rural). It aims to create a global community of practice, strengthen partnerships, and promote knowledge sharing among a variety of rural actors including farmer organizations, community media, rural institutions, universities, research organizations, and development and communication practitioners.
The ComdevAsia.org is managed by AMARC (World Association of Rural Radio Broadcasters) Asia Pacific office. As a regional platform, it documents experiences and promotes knowledge sharing and joint initiatives in communication applied to agriculture and rural development. It supports communication, development, and community media practitioners based in Asia Pacific in the areas of sharing experiences and knowledge resources on communication for rural development, strengthening capacities and facilitating fruitful partnerships at regional and country level, and promoting a regional agenda and advocating for devcom in the rural sector. It is still a work in progress.
The online platform features good practices and lessons learned on devcom as applied to rural development challenges in Asia and the Pacific. It regularly posts news and updates keeping an eye on what's going on in the region. It also offers multimedia resources, useful links, and virtual community where registered members can connect to participate in thematic group discussions and online exchanges with colleagues in the region and even worldwide.
A notable activity of the platform was the conduct of regional virtual consultation last 2014 on three concerns affecting family farming: contribution of community media and ICTs to family farming; trends, challenges, and priorities for rural communication services; and a common agenda to promote south-south collaboration in devcom. Participants included those from the farmers' associations, media organizations, devcom practitioners, development organizations, civil society organizations, and academicians. Results have been collected to constitute a compendium that could help guide policy and program direction for devcom in family farming.
Professional Degrees in Devcom
Quebral (2002), the devcom torch bearer herself, acknowledged that the Los Baños School does not have the monopoly nor the ownership of intellectual property rights to devcom study and teaching. But it is to her credit, and the devcom faculty she worked with, that the first and the only three-tiered formal degree program in devcom can be found only in Asia – the Philippines that is. Based at the College of Development Communication (CDC), University of the Philippines, Los Baños (UPLB), the course offerings in devcom were started in the 1970s for the baccalaureate (BS) and masters (MS) and in the 1980s for the doctoral (PhD) degree. It also offers the Master of Professional Studies in devcom jointly with the UP Open University. Through the years, the BS Devcom curriculum has been adopted as a regular program offering in nine other universities all over the country.
The undergraduate curriculum at CDC-UPLB is unique as it does not only cover core courses in communication and related social sciences. It also includes elective technical courses readily available in other colleges in the same university such as agriculture, environment, nutrition, human ecology, and forestry, among others. This is to equip the students with technical grounding on the context when they eventually get employed in either the government or private sector.
The MS Devcom program prepares the student to be grounded both in devcom theory and practice and enable them to apply these as they serve at mid-level career positions. The PhD Devcom aims to produce competent planners and leaders of institutions engaged in communication designed primarily to assist development work.
Outside the country, the CDC has helped institutions to establish postgraduate devcom programs perceived from local perspectives and contexts. A case in example being CDC's collaboration with the Kasetsart University in Thailand, helping the latter develop a postgraduate program in devcom, Manyozo (2012) observes that Kasetsart's devcom courses, such as broadcasting for development, writing for development, or communication systems management, reflect the influence of the agricultural origins of the Los Baños development communication. Similar programs have emerged in India (Govind Ballabh Pant University of Agriculture and Technology), Europe (University of Reading), and Africa (Universities of Malawi, Mozambique, and Zambia). It is important to note that some of these programs do not necessarily offer subjects directly dealing with development, poverty reduction, economics, or sociology, but their philosophical orientation leans toward poverty reduction as well as the farming and rural communities since the "sheer number and its central role in the economy give the rural family the edge" when it comes to development communication training (Quebral, 1976/2012, 5).
Mainstreaming of Devcom in Civil Service
Mainstreaming devcom has always been one of the big challenges for the practice. Initially and while there are project funds, support to devcom is steadfast. Once project ends, devcom ends with it. The experience of Sarawak, Malaysia, in mainstreaming devcom in state civil service is an exception. Sarawak is a rich state, but at some point its officials realized the value of devcom in bringing about the needed social transformations among its populace.
No less than the former Chief Minister Tun Pehin Sri Abdul Taib Mahmud acknowledged the value and contributions of devcom in state governance. He is among the noted leaders in Asia who applied devcom principles in his work during his term. In addition, the current State Secretary made this pronouncement: "Development communication is people-centric and that should be the core of any development project that intends to bring about change among its intended stakeholders," (Sarawak Tribune, June 23, 2015). He knew that in any major development plan, there is an urgent need to listen to the people's fears as well as aspirations. Support from the people of Sarawak is crucial for the success and smooth implementation of the development program.
In 2015, the state was about to roll out its Sarawak Corridor of Renewal Energy (SCORE) program, a master plan for its socioeconomic development until 2030. Aware of people's lack of awareness and hesitant support to SCORE, the State Secretary decisively chose to bring in devcom to the state civil service.
Immediately, he called for sensitization and orientation seminar about devcom among other state officials and heads of key agencies to insure that everybody will be on the same page about devcom. A few months later, all heads of key government offices representing various sectors (energy, forestry, agriculture, health, education, lands management, indigenous peoples, etc.) were gathered in a 4-day devcom strategic planning course. Not satisfied with the short training, the head of the state through the Sarawak Development Institute (SDI) arranged for an 18-week mentoring program for officers of major government agencies and statutory bodies. He likewise promised to send the five outstanding performers to be sent to graduate programs in devcom abroad under full scholarship.
Recognizing further that continuous partnership with a devcom institution would be key to strengthening his devcom pillar in governance, SDI sought for a memorandum of understanding with a devcom service provider in the Philippines. Though the document took time to get approved, it took only a few weeks for another major decision to be made: a Development Communication Centre for the Sarawak state has to be established. It is to serve as a research and training center in devcom for civil servants in support of the government development programs.
In December 2017, the first devcom training under the DevCom Center's programs was carried out. The set of officers earlier trained, and a devcom student, about to complete her PhD in devcom, took over the training with invited devcom resource persons. Sarawak is now on its way in making devcom a mainstay of their state development programs and operations. More programs are being developed by the Center to cater to Sarawak's needs.
ICT for Development
Discourses of ICT for development have their roots in some of the experiments carried out in the region. The emphasis then was not just about the penetration of technology in the rural areas. It was about ethical inclusion of socially marginalized groups who were being digitally marginalized as well. As such, from a political economy perspective, ICT for development has always been about breaking up of knowledge monopolies, so as to ensure the access and participation of citizens in the knowledge society (Mansell 2017). This was the case with the landmark SITE experiment in India. This experiment emerged in light of the questions of broadcasting and how it could be employed to serve the ethnically and culturally diverse post-independent India. Even though one concern in India always revolved around heavy state intervention in media and communication policy, the focus on employing local rural radios in rural and regional areas was always critical (Kumar 1981). Over the years, various policies and committees have highlighted the need for establishing local radio stations within various districts, to provide educational broadcasting for both formal and nonformal instruction (Agrawal 1981; Kumar 1981).
It would make sense, therefore, that in the 1950s and in collaboration with UNESCO, India introduced a carefully designed network of rural radio forums, known as the Charcha Mandals (Kumar 1981; Masani 1976). These forums provided rural development information especially on agriculture, which was transformed into horizontal communications through participatory discussions (Agrawal 2006, 1981). Binod Agrawal (2006, 5) observes the positive impact these listening forums were having, noting that the "summative impact evaluation indicated positive outcome of radio rural forum. Impressive knowledge gains as a result of radio listening were reported across illiterates and literates, agriculturists and non-agriculturists, village leaders and others." By 1960, the Indian government scaled out the project nationally by ensuring that these forums were part of the country's development plans (Manyozo 2012).
Probably building on the rural farm forum project, the Indian government would introduce two rural television projects; the Satellite Instructional Television Experiment (SITE) which would be followed up by Kheda Communication Project (Agrawal
1981
,
2006
; Kumar
1981
). Binod Agrawal (
2006
, 6) notes, regarding SITE:
The one-year experiment aimed to provide direct broadcasting of instructional and educational television in 2400 villages in the states of Andhra Pradesh, Bihar, Karnataka, Madhya Pradesh, Orissa and Rajasthan. Over 500 conventional television sets spread over 335 villages in Kheda district, Gujarat was also part of SITE. Satellite technologists had called SITE as leapfrogging from bullock cart stage to satellite communication, which did not discriminate between rural poor and urban rich for information and communication.
Even the educational model might have seemed very top-down and driven by technology, a major aspect of India's approach to ICT for development was the emphasis in the sociocultural context in which technology was made to operate. It was not just about technology. Important to mention is that all these ICT for development experiments were taking place alongside other national and regional development communication experiments.
Evaluation Framework for Capacity Development
As capacity development becomes a main staple in devcom interventions, the need for it to be part of evaluating the results, outcomes, and impacts has become an imperative. But beyond the typical changes in knowledge, attitudes, and practices that pervade devcom evaluation, two considerations arise: how can capacity development be effectively and meaningfully monitored and evaluated? What approaches may be used to systematically assess both the process and outcomes of capacity development?
This concern was at the heart of the "Evaluating Capacity Development" or ECD initiative launched in 2006 by CIP-UPWARD. It brought together nine Asian partner organizations working in ALL in CBNRM into an informal network. The network then embarked on the following tasks: develop and pilot methods for evaluating capacity development processes and outcomes, promote the effective use of evaluation by organizations engaged in capacity development efforts, and facilitate wider learning and use of evaluation in capacity development (Vernooy et al. 2009). These organizations represented the academe, regional network, and community-based organizations from China, Mongolia, the Philippines, and Vietnam. Developed and tried was the so-called 5Cs evaluation framework for capacity development: context, content, capacity, the capacitated, and capacity development process (Campilan et al. 2009).
Context refers to existing historical, sociopolitical, and environmental conditions and realities in the area where capacity building takes place. It includes local needs and interests, previous efforts, resources at hand, and policy situation. Content has to do with the themes and topics covered by the learning strategies. ECD, being attached to ALL in CBNRM as the capacity development program, focused on the earlier ten themes of PDC (Fig. 1). Capacity refers to the practices and other competencies that need to be improved among individuals, learning groups, and organizations where they belong. Under ECD, CBNRM-focused capacities were as follows: identifying and addressing rural development issues coherently, dynamically, from multiple perspectives and grounded reality; working with other stakeholders and bridging worlds of knowledge, expertise, points of view, aspirations, and interests; conducting participatory action, research addressing key challenges, or exploring new opportunities; designing and supporting viable CBNRM strategies in local context; as well as designing and using effective participatory monitoring and evaluation strategies that reinforce learning.
Beyond individual capacities and onto organizational capacities, these were defined as the ability of the organization to "be" (i.e., to maintain its specific identity, values, and mission); its ability to "do," that is, to perform functions and achieve stakeholder satisfaction; and its ability to "relate," that is, to manage external interactions while retaining autonomy (Campilan et al. 2009).
Capacitated refers to the learning participants – they could be researchers and practitioners as individual members, their learning groups as a collective entity, and the CBNRM organizations as the formal unit where the individuals and groups belong. They have been clearly identified at the onset of the initiative. Capacity development process refers to the learning strategies employed. The ECD initiative exemplified an egalitarian, partner-driven, open-learning approach and a responsive support system to empower all partners (Campilan et al. 2009). It employed a number of clearly defined learning strategies all throughout the ECD timeline. These included introductory workshop, online team discussions for the PDC themes, face-to-face regional forums, midterm workshop, online team evaluation and planning, cross-visits, and writeshop.
The experience enabled the participants to draw from their individual and collective experiences a basis for building up a practice-informed theory of ECD using the 5Cs. As an insight derived from the experience, it is recommended though that an adaptive mode of learning be used to continuously refine the concept and methods as better understanding of the context and the capacitated are acquired in the process.
Conclusions and Challenges
The chapter acknowledges that various practices and experiments in communication for development did emerge in different parts of the world, and in fact, for much of the global South, these would precede western modernity and development thinking. The Asian contributions have become widely celebrated as being the foundation stone of the field that is also known as communication for development and social change. The reason is that unlike other schools of thought that emerged in 1950s/1960s, the Asian contributions were supported by a comprehensive package of theory and scholarly experiments. These institutions have, over the years, comprised the Universities of the Philippines Los Baños, Kasetsart, Hyderabad, and regional research centers such as Southeast Asian Regional Center for Graduate Study and Research in Agriculture (SEARCA). It is out of these experiments and scholarly endeavors that the field of development communication would emerge as a distinct discipline of study.
It can thus be observed that the Asian contributions to the growth of development communication revolve more around practice and development of methodological models and techniques. More efforts on theorizing are needed to allow for a more robust growth of the discipline in the region.
Suffice to highlight however that these contributions have also been facilitated by technical and funding assistance from UN agencies and international development funding agencies. Though outsiders, the enabling environment they provided has favored the Asians to bring development communication practice to what it is today.
This discussion has thus attempted to spell out the seven areas in which Asia made original and substantial contributions to the field. As has been explored in the chapter, these contributions comprise the following aspects: (1) participatory planning, (2) rural communication, (3) learning as capacitation; (4) devcom degree training, (5) mainstreaming devcom, (6) ICT for development, and (7) evaluation framework for capacity development. Central to these contributions was the idea that a well-skilled graduate with the relevant tools for living with people could bring people and relevant stakeholders to co-create development interventions that would benefit families and communities in ways that they could explain and experience at that local level. And it is the cumulative contributions of these local-level interventions that would bring about social change. In this case, social change was not considered a social force that sweeps through a society, a community – rather social change is a confluence, a sum of gradual changes taking place in various local communities. This is the essence of the Asian contributions – and it explains why, then as well as now, a development communicator should first and foremost master the skills and tools for community engagement.
Yet with increasing influence of donor funding and multiple players, standardization of capacity building initiatives becomes a problem. There are increasing cases where capacity building through training has become arbitrary, rather than selective. Some important but simple questions may need to be raised to better rationalize the proliferation of development communication trainings – what knowledge, attitudes, and skills are needed to accomplish the task? Is training in development communication the best option to pursue the task? Nevertheless, some concept building initiatives are still relatively new in Asia and in the formative stage like ECD. More systematization is needed so that a practice-driven theory in evaluating capacity development in development communication may be enhanced to stand a firm ground.
The chapter recommends that a strong political will from a development communication champion can be a game changer. The afore-discussed Sarawak experience shows how a typically top-down state governance can introduce radical change if there is a devcom champion around. How do we look for or build devcom champions? Mainstreaming development communication is one such approach. There are now few successes in the area of mainstreaming devcom in development work. But on the whole and despite years of field work, capacitation, technical assistance, and evidences gathered, devcom in Asia is still considered a suspicious or unwelcome guest in many development programs. Development planners see it as something they can do without; and for project implementers, it is just a burdensome add-on to their undertakings. While some windows of opportunities are slowly opening up, the scale of appreciation for devcom remains insignificant. This is borne out by the simple fact that every time we do development communication in Asia, the first thing that will be asked of us is "what is devcom?"
Copyright information
© Springer Nature Singapore Pte Ltd. 2018