Absentee Landlords and Agriculture
Living reference work entry
DOI:
https://doi.org/
10.1007/978-94-007-6167-4_56-1
Keywords
Farm Operator 
Wetland Reserve Program 
Part Owner 
Absentee Ownership 
Male Tenant 
These keywords were added by machine and not by the authors. This process is experimental and the keywords may be updated as the learning algorithm improves.
Introduction
Absentee landlords of agricultural land do not live on their land but lease it to others to farm. These can include retired farmers and ranchers, individuals who inherit land but live elsewhere, and those who buy land for recreational or investment purposes and reside elsewhere (Petrzelka et al. 2013).
An "unprecedented level of absentee ownership" of rangelands has occurred in the US West (Haggerty and Travis 2006, p. 825); and in the Midwest, an increasing number of farmland owners are no longer living on their land or even in the state where their land is located (Duffy and Smith 2008). However, no nationwide data set exists on this growing group of agricultural landowners, and little research exists about differences between residential landlords (who reside on the land) and absentee landlords (who reside elsewhere). Absentee ownership and absentee landlords of agricultural land are major issues that are poorly understood, yet have ethical, social, and environmental implications.
This entry discusses absentee landlords in the larger context of US agricultural land ownership. Trends in US agricultural and absentee landownership as they relate to rented farmland are first examined. Then, an overview of research on agricultural landlord-tenant operator relationships is presented, discussing both resident and absentee landlords and incorporating ethical, social, and environmental implications which may occur with the landlord-tenant relationship. The entry provides suggestions for future work on the topic of absentee landlords and concludes by providing information on organizations working with absentee landlords.
Overview of US Agricultural Ownership
In the early twentieth century, most rented farmland in the United States was operated (i.e., farmed) by full tenants (who owned none of the land they operated), reflecting in large part the legacy of plantation agriculture in the south, with many former slaves working as sharecroppers for white landowners. The Great Depression and World War II brought the collapse of full tenancy and sharecropping. Since that time, a growing share of US farmers are part owners, who rent in addition to own land they farm (Jackson-Smith and Petrzelka, forthcoming).
Figure
1
illustrates that the overall proportion of land that is operated by the owner in the United States has not changed dramatically over time. What has changed is the proportion of land that is owned and operated by part owners. Approximately 922 million acres of US farmland (42 % of the Nation's land base) was operated in 2007 (U.S. Census of Agriculture
2012
). Thirty-seven percent of this land was operated by full-owners (i.e., they own all the land they operate). Part owners comprised one-quarter of US farms, owned slightly less than half of the total land they operated, and dominated the market for rented farmland. Their importance in the US farm sector increased rapidly from the 1920s through the early 1980s and has remained relatively constant since then. Currently, full tenants comprise just 6 % of farms and operate 9 % of farmland.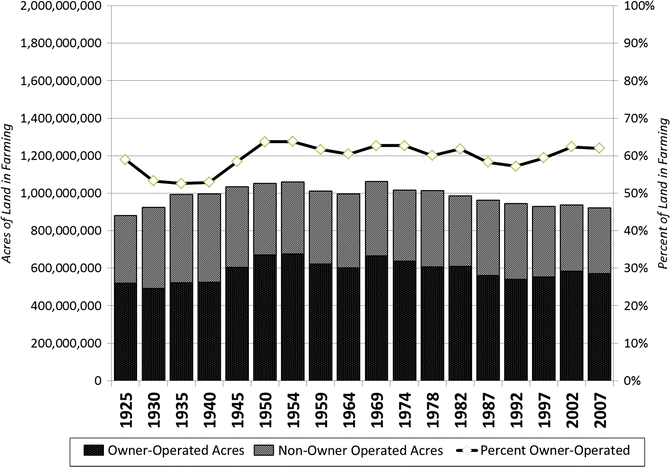 Figure
2
shows the proportion of US farmland rented or leased by county, according to the 2007 Census of Agriculture. There is a general tendency for many of the most commercially important agricultural areas to see higher rates of land leasing (Nickerson et al.
2012
). As evidenced, several geographic regions (including the Midwestern corn belt, Great Plains wheat region, Central Valley in California, Lower Mississippi Delta, and Atlantic Seaboard) have a majority of farmland that was operated by someone other than the owner. These variations in rates have been explained in part by laws in some states that limit farmland ownership by corporations, nonfarmers, or non-US residents (Nickerson et al.
2012
).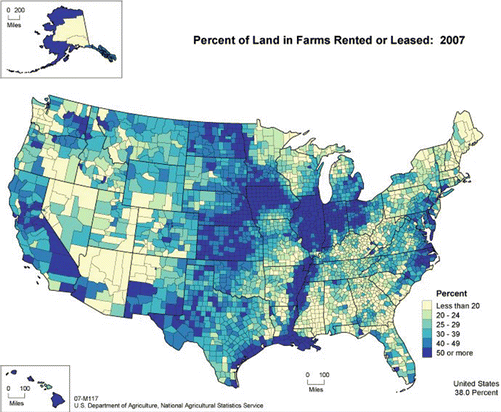 The US Census of Agriculture does not collect data from agricultural landlords. However, national trends on agricultural landlords have been collected by the Agricultural Economics and Land Ownership Survey (AELOS), conducted by the National Agricultural Statistics Service of the US Department of Agriculture (USDA). AELOS collects information from both landowners and tenants and is the only nationwide source of information about agricultural landlords. The most recent AELOS survey was conducted in 1999. Findings show only 13 % of individual (or partnership) landlords lived on the farmland that they rented out (i.e., were resident landowners rather than absentee). While about a third of these landlords lived on some type of farm, the largest group reported residences in cities, towns, or urban areas. This urban group provided nearly 45 % of the total rented acreage reported in the 1999 AELOS. Demographically, most private farmland landlords were relatively older – over half were over 65 and these individuals provided 50 % of all leased farmland in the United States. Most private landlords also reported jointly owning their farmland, and female landlords were likely to lease out more of the land they own (Jackson-Smith and Petrzelka, forthcoming).
The AELOS has been conducted only twice (in 1988 and 1999), and therefore, it is difficult to infer trends or derive information about current agricultural landlord patterns. More detailed and recent data come from smaller geographies. For example, the Iowa Land Ownership Survey has collected panel data from a representative statewide sample of land parcels and landowners in Iowa since 1949 (Duffy and Smith 2008). (Data has been collected in 1949, 1958, 1970, 1976, 1982, 1992, 1997, and 2002.) While national trends suggest that the total proportion of farmland that is owner-operated land (thus not rented) has hovered near 60 % since World War II, the Iowa study shows a pronounced decline in the proportion of land under owner-operator status (dropping from 55 % in 1982 to 40 % in 2007). Scholars who have conducted research on absentee landowners in small geographic pockets speculate that this decline in owner-operator status is partly because of the aging of the farmland owner population. For example, in Iowa, the share of land owned by persons over 65 increased from 29 % in 1982 to 55 % in 2007 (Duffy and Smith 2008). This change is also reflected in the increased importance of older female agricultural landlords across the Midwest (Petrzelka and Marquart-Pyatt 2011).
Based on the limited research and data on absentee landowners of agricultural land, it appears the majority of these landowners fall under the category of nonoperator owners. These nonresident landowners, as compared to those living on the land, are much more likely to live in urban areas, less dependent financially upon the land, and much more likely to own land for amenity reasons (e.g., recreation, vacationing) than production purposes (Petrzelka et al. 2009; Petrzelka 2012).
Overview of Agricultural Landlords: Resident and Absentee
With the large amount of farmland rented, the landlord-tenant relationship clearly plays a significant role in US agriculture. The few empirical studies on the landlord-tenant relationship in the United States mainly focus on resident landlords and show that tenants often have substantial managerial control over the land. For example, Gilbert and Beckley (1993) studied decision making in two Wisconsin townships and found landlords and tenants in agreement that the tenants were the primary decision makers for operational decisions on the farm such as types of commodities to grow, application of particular soil conservation practices, and participation in specific federal programs.
Effland et al. (1993) examined landlords' involvement in farm management decisions using the 1988 AELOS data and historical documents and found that female landlords were less likely to make farm management decisions than male landlords and were more dependent on the farmland for income. In addition, women were more likely to have inherited their farmland and tended to be older than male landlords. Also using the 1988 AELOS data, Rogers and Vandeman (1993) found those landlords who were more involved in decision making had past farming experience, lived closer to the land, and rented on a crop-share basis (wherein typically landlord and tenant share management decision making, risks, and benefits) rather than a cash rent basis (wherein tenant pays rent for use of the land, typically makes all management decisions, incurs all risk, obtains all benefits). Rogers and Vandeman (1993) also found that female landlords were less likely than male landlords to participate in choices of fertilizer and chemical practices on leased land and that younger landlords, both male and female, were more involved in on-farm management decisions, as were those who identified themselves as farmers.
Constance et al. (1996) were the first to analyze both resident and absentee landlords in their Missouri study of landlords' involvement in decision making on rented agricultural land. Decision making focused on crops grown, tillage practices, types of pesticides, pesticide application, and participation in soil conservation and water quality programs. The researchers found resident and absentee landlords were most likely to be involved in conservation program decisions, least likely to be involved in pesticide decisions and overall, and less involved in all of the decision-making practices. Focusing more specifically on predictors of landlord involvement in pesticide selection, Constance et al. (1996) found among resident landlords that being male, having a higher dependence upon the farmland for income, and having a farming background were the most significant factors predicting involvement. For absentee landlords, the distance the landlord lived from the land was a predictor (where those living closer were more involved) as was a higher dependence upon the farmland for income and age; with younger landlords more involved, the researchers argued, possibly due to their increased environmental consciousness.
While many landlords and tenants in Gilbert and Beckley's 1993 study reported they were very satisfied with the landlord-tenant relationship, the researchers argue (1993, p. 578) that in some instances, the tenants appeared to be exploiting their landlords, who are often "retired farmers, small landowners, and widows."
This potential exploitation resulting from the landlord-tenant relationship is evidenced in studies from Iowa. In a study of resident and absentee landlords, Eells (2008) found deception of female landlords occurring with some tenant relationships. This deception occurred particularly in terms of potential soil conservation measures, which would be presented to the female landlord by the male tenant most often in "an authoritative way as not being very practical or effective" (p. 67). Wells (2003) found maintaining peace in the family overrode preferences on conservation decisions for female resident and absentee landlords, particularly when ownership of the land was shared with family members and even more so when the tenant was also a family member. Female agricultural landlords interviewed noted the difficulty in sharing ownership with siblings as many decisions were made in order to keep peace in the family, and self-censorship by female landlords occurred with their male relatives and tenants. Carolan (2005, p. 396) also found self-censorship would occur by female landlords in Iowa who were reluctant to discuss implementing sustainable agricultural practices on their land with their tenants, fearing they would "scare away good tenants." Carolan (2005, p. 402) stated, "all of the female landlords described inequitable power relations between themselves and their male tenants. Specifically, they expressed feelings of exclusion [and] alienation [from the farm decision making]."
Expanding this research beyond Iowa, a 2011 study of landlords in four Great Lakes counties (Petrzelka and Marquart-Pyatt 2011) found female absentee landlords are less likely to be involved in decision making on their land if they are older, when their financial reliance on the land is greater, if they are retired, if they inherited the land, when they co-owned the land with a sibling, and when a local farmer was their tenant. For male absentee landlords, involvement in decision making on their land is reduced only when a local farmer farms the land. Thus, the subordinate landlord-dominant tenant possibility suggested by Gilbert and Beckley in 1993 appears to be occurring most frequently with female landlords.
Issues and Implications of Absentee Landownership
In 1993, Rural Sociologist Gene Wunderlich noted, "The change in the structural relationship between farming and land ownership implies potential changes in who bears risk, makes production and investment decisions, protects the environment, and supports the community. Who, between farmer and landowners, decides whether farmland will go into a conservation reserve? Are non-operator owners less risk averse in production decisions than operator owners? Are absentee landowners as concerned about pesticide contamination of drinking water as resident owners? How are school budgets and community facilities affected by the level of absentee taxpayers?" (1993, p. 549).
The issues and implications Wunderlich posed in 1993 are even more relevant today. Those highlighted here include land management decision-making authority, agri-environmental behaviors, and impacts on local community well-being.
In general, the minimal research on resident and absentee landlords has consistently found that landlords of agricultural land allow their tenants to make operational decisions and that female landlords are less involved in decision making regarding land use compared with males. When looking specifically at involvement in conservation decision making, female landlords were much more likely to censor themselves, particularly when they co-owned the land and their tenants were family members. While a growing share of farmland owners are women, primarily widows (Duffy and Smith 2008), female landlords may still find themselves in a disadvantaged position because of patriarchal structures in rural communities.
The handful of studies which exist consistently suggest a power relationship between landlords and tenants. Contemporary research that explores how this power relationship is mediated by social relationships (gender, families, race or ethnic identity, and other direct social ties) and geography could both assist organizations working with absentee (and resident) agricultural landlords, as well as help advance social theories of ownership, rent, and power (Jackson-Smith and Petrzelka, forthcoming).
A second power issue is based on changes in the structure of agriculture and the relative availability of agricultural land. As demand for farmland increases because of rising global commodity prices, and where available prime land required for commercial agriculture in the U.S. is in short supply, farm operators are forced to compete with one another to gain access to farmland. In areas with declining populations and increased consolidation of farming operations, landlords may have few options to rent out their land, which places tenants in a stronger position. In both cases, the actual relative power of the landlord and tenant is likely to be mediated by gender, family ties, and other social relationships (Jackson-Smith and Petrzelka, forthcoming).
Regarding environmental implications, scholars studying the adoption of conservation practices in agriculture have often assumed that farm operators are more likely to make investments in conservation practices (particularly control of soil erosion) when they have secure long-term access to and personal ownership interests in their farmland (e.g., Featherstone and Goodwin 1993; Caswell et al. 2001). Nonoperator owners are less likely to be enrolled in USDA conservation programs such as Conservation Reserve Program (CRP) or the Wetlands Reserve Program (WRP) (Nickerson et al. 2012) consistent with research that found that tenants were less likely than owner operators to adopt conservation practices that provide benefits over the longer term (Soule et al. 2000).
In part, this can be explained by distance from the land. The farther removed physically absentee landowners are from their land, the more isolated they are from local social networks and contacts, both of which are well-established criteria for promoting recommended land management practices. In comparison to resident landowners, absentee owners are much less likely to have personal contact with local extension and natural resource agency program staff, leading to lower levels of scientific and traditional management knowledge about local environmental conditions (Redmon et al. 2004; Petrzelka et al. 2009). Further, they are less familiar with the traditional land/farming culture and less attuned to conventional sources of information and agency.
Additionally, farmland owners without social ties to the local community may be less aware of (and perhaps care less about) the effects of land management on neighboring property owners. Yung and Belsky (2007) found that absentee owners' goals for their land, such as increased wildlife, have resulted in detrimental environmental impacts on neighboring lands, and subsequent social issues, as the economic livelihood for those depending on the land is damaged.
One of the challenges is how to engage absentee owners in the community(ies) nearest where their land is located and provide education on the collective impact of their behavior. Some local conservation groups have attempted to pair new absentee landlords and experienced ranch managers in an informal effort to facilitate exchange of information and ideas (Yung and Belsky 2007). It would be beneficial to conduct specific case studies to examine how these matchmaking efforts are working, both in terms of logistic and administrative mechanisms but also subsequent community impacts and longitudinal conservation effects on the landscape.
Additionally, there is little research on the role of absentee ownership on social issues such as community well-being, yet as absentee ownership increases, social relations in the community increasingly transcend locality. Theoretically, absentee landowners may be expected to be less engaged in community activities (because of the distance they live from the land and/or lack of strong social ties). This idea, though, has received relatively little empirical research.
It has been suggested that since some farm program payments are paid directly to landlords of agricultural land, when a large percentage of these landlords live in urban areas, it raises questions about whether farm program payments benefit rural community economies as intended (Drabenstott 2005; Nickerson et al. 2012). One study examined the impact of absenteeism on rural community property tax revenues and found the benefits of Alabama's low property tax rates benefit absentee owners more than the local community, limiting the ability of local governments to meet citizen needs (Majumdar 2011). More studies looking at the community impacts of absentee ownership are needed.
Summary
In summary, agricultural landlords are an understudied group, absentee farm landlords even more so. At present, no nationwide data set exists on this growing group of agricultural landowners. Yet, given the changing patterns of agricultural land ownership, the power issues occurring within decision making on the land, and ethical, social, and environmental implications of absentee landownership, absentee landlords are a group we can no longer neglect.
Various organizations have begun working with these landlords. For example, the Women Caring for the Land program (http://www.wfan.org/Women_Caring.html) provides a manual for female landlords (resident and absentee) that assists women in "learning more about their rights as landowners, about best management practices, about communicating effectively with their tenants, and about state and federal cost-share and loan programs available to help them." The report can be found here: http://www.wfan.org/Women_Caring_files/WCLManualForWeb3-12.pdf. The Conservation Connect program in Iowa (http://www.absenteelandowners.org/) provides information to absentee landowners who are interested in natural resources conservation and who want to gain more information about available conservation programs, resources, and support. And Drake University's Sustainable Farm Lease program provides landowners a tool kit of information that, among other things, introduces "landowners to the principle issues regarding the use of a lease agreement to promote a sustainable farm operation" and promotes "creative lease contracts that take landowner and tenant needs into consideration while enabling tenant's to conserve farm resources" (http://sustainablefarmlease.org/).
Copyright information
© Springer Science+Business Media Dordrecht 2013