Ultrahigh Molecular Weight Polyethylene
Reference work entry
DOI:
https://doi.org/
10.1007/978-3-662-44324-8_591
Ultrahigh molecular weight polyethylene (UHMWPE), also known as high-modulus polyethylene (HMPE), is a subset of the thermoplastic polyethylene. Polyethylene is a polymer formed from ethylene (C
2
H
4
), which is a gas having a molecular weight of 28 g/mol. The generic chemical formula for polyethylene is –(C
2
H
4
)
n
–, where
n
is the degree of polymerization. A schematic of the chemical structures for ethylene and polyethylene is shown in Fig.
1
.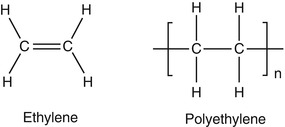 Copyright information
© Springer-Verlag Berlin Heidelberg 2016