Opisthorchis viverrini
Reference work entry
DOI:
https://doi.org/
10.1007/978-3-662-43978-4_2231
Name
Greek: opisthen = behind; orchis = testicle. Latin: viverrinus = civet cat-like; thus the name is closely related to the position of the male sexual organs inside the worm and to one of the main final hosts. English: Civet cat worm.
Geographic Distribution/Epidemiology
These worms occur in Thailand, focally in Laos, Vietnam, Cambodia, Japan, and India. About 20–30 millions of humans are estimated to be infected.
Morphology/Life Cycle
The adult translucent worms measure about 7–9 × 3–4 mm and can be morphologically differentiated at one side from
Clonorchis
by their testes (Fig.
1
), which appear deeper lobulated than those of
Opisthorchis felineus
. In contrast to
C. sinensis
, there are always only four branches of each of the two testes. The life cycle runs similarly to that of
Clonorchis sinensis
.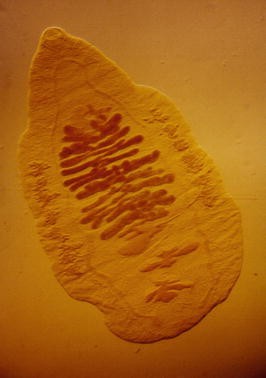 Copyright information
© Springer-Verlag Berlin Heidelberg 2016