Disaster Risk Reduction and Resilience Through Partnership and Collaboration
Living reference work entry
DOI:
https://doi.org/
10.1007/978-3-319-71067-9_49-1
Definitions
Disaster risk arises when hazards interact with vulnerabilities. Hazard is defined as a potentially damaging physical event, phenomenon, or human activity that may cause the loss of life or injury, property damage, social and economic disruption, or environmental degradation. Hazards can include latent conditions that may represent future threats and can have different origins: natural (geological, hydrometeorological, and biological) or induced by human processes (environmental degradation and technological hazards). Vulnerability is defined as the conditions determined by physical, social, economic, and environmental factors or processes, which increase the susceptibility of a community to the impact of hazards (UNISDR 2005).
Resilience is defined as the capacity of a system, community, or society potentially exposed to hazards to adapt by resisting or changing in order to reach and maintain an acceptable level of functioning and structure. This is determined by the degree to which the social system is capable of organizing itself to increase this capacity for learning from past disasters for better future protection and to improve risk reduction measures (UNISDR 2005).
Reducing the damage caused by both natural and man-made hazards through an ethic of prevention and through building resilience to these hazards is essential for achieving sustainable development. Disaster risk reduction is the concept and practice of reducing disaster risks through systematic efforts to analyze and reduce the causal factors of disasters. Disaster risk reduction practices need to be multi-hazard and multi-sectoral, inclusive, and accessible in order to be efficient and effective. Hence, partnership and collaboration are instrumental in advancing knowledge and mutual learning and in enhancing capacities for disaster risk management.
Partnership is a shared commitment, in which all partners have a right and an obligation to participate and contribute and where each will be affected equally by the benefits and disadvantages arising from the partnership (Carnwell and Carson 2005). Collaboration is a means of making "partnership" work. That is, "collaboration," the verb, is what we do when we engage successfully in a "partnership," partnership being the noun. The notion of sharing and agreeing is evident in both partnership and collaboration, with an emphasis on social and communication skills required to work together toward a common goal.
Introduction
Over the last decade, disasters have affected over 1.5 billion people across the world, and damages are estimated to have exceeded US$1.5 trillion (Hemingway and Gunawan 2018). Disaster in this chapter refers primarily to large tsunami inundation that can inflict significant loss of life and damage to properties. A tsunami is a series of waves travelling at high speeds, generated by an abrupt displacement of large volumes of water in the ocean. It may be caused by a submarine earthquake or landslide or by a volcanic eruption or nuclear explosion in the deep ocean and by meteorite impact in the ocean. Characterized as a catastrophic disaster of epic proportion, the 26 December 2004 Indian Ocean Tsunami – hereafter referred to as the Andaman Cross-boundary Tsunami (ACT) – served a rude wake-up call. This disastrous ACT killed about 250,000 people worldwide, including 68 deaths in Malaysia. Since then a series of eight destructive tsunamis had occurred, including the catastrophic Fukushima triple disaster on 11 March 2011 that killed more than 20,000 people and that caused major radiation leaks. The next mega tsunami is long overdue, according to recent research (Sieh et al. 2015).
To mitigate the risk of tsunamis, it is critical to develop disaster risk reduction and resilience (DRRR) capability. For this purpose, the United Nations has formulated the Hyogo Framework for Action 2005–2015 (HFA): Building the Resilience of Nations and Communities to Disasters (UNISDR 2005). This is subsequently updated by the Sendai Framework for Disaster Risk Reduction: 2015–2030 (SFDRR) (UNISDR 2015). The HFA and SFDRR call for an integrated approach to DRRR, incorporating a multi-sectoral and transdisciplinary international collaboration and partnerships (ICP) across borders. DRRR entails the capability to understand hazard, identify vulnerability, anticipate risk, mitigate the impact, and bounce back rapidly through survival and adaptation. Catastrophic disasters such as massive tsunami inundations would invariably result in poverty, create disruptions in food supply, and cause unemployment. Hence, DRRR should formulate policy and programs that contribute to the United Nations Sustainable Development Goals (UN-SDGs), such as poverty elimination (SDG1), hunger reduction (SDG2), and meaningful employment (SDG8). This chapter focuses on local challenges, solutions, and inspirational stories of DRRR programs in Malaysia, the effects of which can serve as feedback to and enhance advocacy for regional and global DRRR programs.
The ACT has demonstrated the vulnerability of Malaysia to tsunami risk (Koh et al. 2009). Malaysia, in coordination with countries in the region, has developed DRRR programs. A good understanding of tsunami and its occurrence is essential. A tsunami is formed when the seafloor is abruptly raised or lowered. It may also be caused by a violent horizontal displacement of water, as in the case of a large submarine landslide beneath the ocean (Tan et al. 2017). Destructive tsunamis are usually caused by the occurrence of large submarine earthquakes, with epicenters located near the ocean floor. These usually occur in regions characterized by high seismic activities due to the collision of two tectonic plates. All oceanic regions are potentially vulnerable to tsunami hazard. However, tsunamis are more concentrated in the Pacific Ocean and its marginal seas, an area known as the Pacific Ring of Fire. As tsunami waves travel toward the shallow shore and beach, their wave heights and current velocities are increased, potentially to dangerous levels. DRRR research must identify beaches that harbor dangerous tsunami hazard, vulnerability, and risk. The community living in tsunami hazard zones must be warned against such hazards and risks.
This chapter is organized as follows. Section "Introduction" describes the nature, origin, occurrence, and risks of tsunamis. It articulates the urgent need for DRRR programs, laying the foundation for the remaining sections. Section "Hyogo and Sendai Framework on DRRR" provides a brief introduction to HFA and SFDRR. The HFA has inspired nations to organize a series of 11 South China Sea Tsunami Workshops (SCSTWs) to promote ICP for DRRR. Section "South China Sea Tsunami Workshops" highlights the SCSTWs objectives, activities, and outcomes. Section "USM International Collaboration and Partnership" outlines contributions of Universiti Sains Malaysia (USM) toward the DRRR programs. Success of DRRR is highly dependent on hazard awareness and education (HAE) to reduce vulnerability and mitigate risk (Johnston and Benton 1998). Investment in ICP for DRRR requires political will and partnerships among government, the private sector, and civil society at the national, regional, and global levels. It will also require coherence between policies and initiatives both domestically and internationally (Maltais et al. 2018). Section "Hazard Advice and Services for DRRR" is dedicated to HAE to enable DRRR management at the national and local community levels. Section "Sustainable Development Solution Network (SDSN)" briefly describes ICP programs in the Sunway University to promote the UN-SDGs and DRRR. Section "Concluding Remarks" provides the summary and concluding remarks for the chapter.
Hyogo and Sendai Framework on DRRR
The World Conference on Disaster Reduction was held from 18 to 22 January 2005 in Hyogo, Japan, and adopted the Framework for Action 2005–2015 (HFA): Building the Resilience of Nations and Communities to Disasters. The conference provided a unique opportunity to promote a strategic and systematic approach to reducing vulnerabilities and risks to hazards. It underscored the need for, and identified ways of, building the resilience of nations and communities to disasters. HFA demands for a global call to governments to use knowledge, innovation, and education to build a culture of safety and resilience at all levels. However, evidence suggests that there are only very few effective initiatives that have been successfully implemented under the HFA. Integrating DRRR into education is a key factor for reducing the adverse impact of future disasters (Zhou et al. 2014). Disaster risk arises when hazards interact with vulnerabilities due to physical, social, economic, and environmental conditions. Efforts to reduce disaster vulnerability and risks must be systematically integrated into policies, plans, and programs, and they must be supported through bilateral, regional, and international cooperation and partnerships.
The HFA has identified HAE as an important strategic measure in DRRR (UNISDR 2005). As the successor framework to the HFA, the SFDRR further highlights the critical role of HAE in the post-disaster recovery, rehabilitation, and reconstruction phase (UNISDR 2015). The Sendai Framework SFDRR provides a mechanism to identify social, economic, cultural, and political factors and processes that require urgent transformation. This transformation is needed to provide practical solutions for DRRR and to foster equitable, resilient, and sustainable development through research (Munene et al. 2018). SFDRR enhances ICP for more coherent approaches on DRRR, including climate change risk and adaptation. ICP helps to enhance risk management capabilities by bridging the gap between science, policy, and practice, by developing efficient management of trans-boundary crises and by assisting developing countries in securing resources to improve their research and innovation capacities in DRRR. Male staff and experienced staff have a higher level of engagement in ICP compared to female staff and early career academics due in part to a lack of institutional support and job security (Amaratunga et al. 2018). This gender and social inequality need to be addressed. The important role of HAE will be discussed in section "Hazard Advice and Services for DRRR".
South China Sea Tsunami Workshops
Inspired by the HFA, a series of SCSTWs was first organized by the Academia Sinica and the National Central University at Taipei, Taiwan, on 5–7 December 2007. A special issue based upon selected articles presented at the SCSTW1 was published in the Journal of Asian Earth Sciences in 2009. The first objective of SCSTWs is to cultivate HAE programs in the region. The second objective is to promote scientific research, collaboration, and partnerships at the national, regional, and global levels. These highly successful series of SCSTWs have helped to develop DRRR capability for reducing tsunami vulnerability and mitigating its risk. The authors were given the honor to organize the Third SCSTW3 in USM on 3–5 November 2009, attended by 100 plus participants from 20 nations. Two proceedings were published to explore a variety of important issues related to tsunamis and other natural disasters. The first book focuses on the first objective of cultivating HAE capability (Koh et al. 2011a). The second book covers the second objective of promoting ICP (Koh et al. 2011b). The ICP network established through the 11 SCSTWs has helped to enhance ICP DRRR programs.
The series of 11 SCSTWs organized between 2007 and 2019 is listed as follows.
2007 Academia Sinica and National Central University, Taipei, Taiwan, China

2008 Shanghai Jiao Tong University, Shanghai, China

2009 Universiti Sains Malaysia, Penang, Malaysia, USM

2011 Syiah Kuala University, Aceh, Indonesia

2012 Chinese Academy of Science, Beijing, China

2013 Nanyang Technological University, Singapore

2014 National Central University, Taichung, Taiwan, China

2015 Changsha University of Science and Technology, Changsha, China

2016 National Marine Environmental Forecasting Center, Beijing, China

2018 National University Singapore, Singapore

2019 Zhejiang University, Hangzhou, China
USM International Collaboration and Partnership
Disaster Research Nexus (DRN)
Universiti Sains Malaysia (USM) started to embrace Education for Sustainable Development (ESD) and "University as a Living Lab" approach since the year 2000 through the concept of Kampus Sejahtera (Healthy Campus) and University in a Garden (Koh et al. 2006). USM was appointed the Regional Centre of Expertise (RCE Penang) on ESD by the United Nations since 2005. RCE Penang works in partnership with key stakeholders to bring about change for sustainability at the community level. RCE Penang consists of a partnership network of individuals, organizations, and groups who are committed to building a more sustainable future through education and learning. The network includes partners from the public, education, and business sectors, who work together to develop and implement innovative ESD projects and programs in Penang and beyond. Recognizing the importance of DRRR in supporting ESD and UN-SDGs, USM seeks to develop programs and resources to mitigate the adverse effects of disasters such as extreme floods, earthquakes, landslides, and tsunamis. To meet this objective, the Disaster Research Nexus (DRN) was established to coordinate the development of technology, human capability, and expertise to understand, monitor, model, and manage the risks associated with these disasters (Koh et al. 2012).
The mission of the DRN is to advance knowledge by conducting cutting-edge research on disaster and its mitigation and to cultivate school and public HAE. Using an interdisciplinary framework, the DRN fosters information sharing and promotes integration of activities among communities, researchers, practitioners, nongovernment agencies, and policy-makers. It supports and conducts research and provides educational opportunities for the next generation of hazard scholars and professionals. The prime objectives consist of conducting fundamentally sound research of deep scientific interest, to produce results that are reliable, accurate, and of practical use to both society and industry. The DRN works to enhance partnership and networking with other centers and institutes within and outside the nation to address a broad spectrum of issues related to DRRR. It conducts rigorous and cutting-edge research on modelling of natural disasters such as tsunamis (Koh et al. 2009; Teh et al. 2018a, 2009; Tan et al. 2017), as well as on climate-induced risk to coastal water resources and vegetation (Teh et al. 2018b, 2019). Other research includes on-site damage monitoring, in-depth risk assessment, and disaster management. Its research and community outreach activities seek to maintain a balance among the social, economic, and ecological dimensions of development.
Centre for Global Sustainability Studies (CGSS)
USM is committed to promoting sustainability among the community within and outside the campus through education and research activities. For this, USM has established the Centre for Global Sustainability Studies (CGSS) in 2009 to mainstream sustainability across USM community. Working in partnerships with all relevant sectors within the university and with sustainability organizations, governments, and NGOs, CGSS promotes sustainable agenda, paying attention to the marginalized bottom billion. In 2018, CGSS in collaboration with the Hamburg University of Applied Sciences Research and Transfer Centre known as "Sustainable Development and Climate Change Management" (FTZ-NK) has successfully organized the fourth World Symposium on Sustainable Development at Universities (WSSD-U-2018) on 28–30 August 2018 in USM campus. The theme was "Universities as Living Labs for Sustainable Development: Supporting the Implementation of the UN-SDGs." WSSD-U-2018 gathered academicians and students from different parts of the world to share their experience and knowledge in promoting sustainability at their universities. WSSD-U promotes innovative approaches, methods, and projects for promoting sustainability at the university by enhancing teaching, research, and outreach activities and campus greening. Several papers presented at WSSD-U-2018 were selected for publication in the award-winning Springer World Sustainability Series (Teh and Koh 2020; Woo et al. 2020).
CGSS is also the organizer of the International Conference on Sustainable Development (ICSDG) in 2016 and 2019, with the objective of promoting research, outreach activities, and ICP in UN-SDGs. CGSS offers the 2-year Master in Sustainable Development Practice (MSDP), which is a global multi- and interdisciplinary graduate degree program that prepares students to identify and address the challenges of sustainable development. The degree program is also offered by 31 universities in 6 continents worldwide, helping in promoting ICP for the UN-SDGs. MSDP fosters cross-disciplinary collaboration and partnership that facilitate students from around the world to participate in collective assignments and learning experiences through live video conferences. The program is monitored by the Global Association Board of MDP and supported by the Earth Institute, Columbia University, New York, USA. The six core clusters are designed to facilitate seamless integration of program contents and outcomes: health (policy and management), science and engineering (energy and ecology), social science (law and economics), management (finance and ICT), and global classroom. MSDP caters to a diverse group of professionals in the fields such as policy, education, and practitioners. MSDP graduates are ready to contribute to DRRR and UN-SDGs.
Hazard Advice and Services for DRRR
Achieving DRRR goals requires close ICP among disaster management organizations, in which trust and control are viewed as core elements for building confidence among collaboration partners. In all disaster response and recovery cycles, trust and control are essential and are deemed complementary and mutually reinforcing (Kalkman and de Waard 2017). It is mandatory to establish authoritative agency to develop best practice for delivery of trusted hazard advice and services, supported by cutting-edge science and hazard impact research (Hemingway and Gunawan 2018). In the UK, the Natural Hazards Partnership (NHP) is formed among 17 UK public bodies to provide authoritative and consistent risk assessment information to communities and governments. In Malaysia, a consortium consisting of several government agencies and higher education institutes (HEI) such as USM, Sunway University, CGSS, and DRN provides tsunami hazard advice and services. The following three subsections outline tsunami hazard advice and services provided: (i) school HAE, (ii) public HAE, and (iii) tsunami risk management.
School Hazard Awareness and Education
Hazard awareness and education (HAE) has two primary functions: (a) to enrich awareness and education on hazard, vulnerability, and risk and (b) to enable translating HAE to informed decision and actions for community protection during a disaster (Frankenberg et al. 2013). HAE provides the community with the necessary tools such as information, skills, and knowledge to cope with disaster (Johnson et al. 2014). The schools have the primary responsibility of delivering HAE development toward building community resilience against disaster risk (Shaw et al. 2011). As an educational institution having close link with the community, schools have a principle role in building community resilience against disasters through their mandate for education, information sharing, and their broad stakeholder networks (Oktari et al. 2015, 2017). A brief narrative involving two case studies on HAE in schools is warranted to show how HAE in schools had played an important role in saving lives in two tsunami events in Japan (2011 Tohoku tsunami) and Thailand (2004 Indian Ocean tsunami). Since then in Japan, the concept of "tendenko" has gained increasing acceptance that calls for everyone to immediately initiate evacuation by himself or herself, mandating the trust that others in the family and the community to do likewise (Arce et al. 2017).
The famous Kamaishi Miracle witnessed during the Fukushima triple disaster of 11 March 2011 demonstrated how effective HAE at schools saved the lives of 2900 students in Kamaishi (Shaw et al. 2013). Having learned from HAE in schools, the students of Kamaishi East Junior High School quickly ran out of the school to higher ground immediately after the earthquake. Their quick action prompted the children and teachers of the neighboring Unosumai Elementary School to follow and drew in local residents. As they continued to run, older students, with knowledge learned from HAE, supported the younger children, and together they reached a safe location, while the mega-tsunami destroyed their schools and the whole town. Their prompt response was the fruit of a tsunami HAE program that Kamaishi schools had been working on over the past several years. The importance of HAE in schools was similarly demonstrated during the 2004 ACT in Thailand. A 10-year-old British girl saved hundreds of lives in the Phuket beaches by initiating the beach evacuation upon recognizing the impending tsunami. She had previously learned from HAE in school that the abrupt recession of coastal water is a clear physical sign of an impending tsunami (King and Gurtner 2005).
Public Hazard Awareness and Education
The physical occurrence of a tsunami cannot be prevented; however, tsunami disaster can be mitigated by appropriate tsunami DRRR programs, including public HAE program. Disaster risk management comprises a combination of components that are undertaken before, during, and after a tsunami disaster event. Central to the disaster risk management cycle is HAE and effective communication with the public about tsunami hazard, vulnerability, risk, and mitigation (Kurita et al. 2006). However, HAE does not necessarily translate into effective preparatory attitude and behavior for disaster mitigation. Concerted efforts are required to persuade and motivate people at risk to convert HAE knowledge into effective preparation and action for disaster mitigation (Abunyewah et al. 2018). Awareness is location-specific and depends on a variety of factors such as education, culture, and the policies of local administration and national governments (Anh et al. 2017). Awareness alone, however, does not ensure disaster risk preparedness. While local inhabitants may have a high level of awareness about coastal hazards in general, many tend to underestimate their risk severity, a failure that could lead to increase risk during a disaster, particularly in vulnerable and impoverished neighborhood.
A recent research reported that residents in an impoverished neighborhood of Jakarta (Pluit) have invested little in evacuation strategies and in training against coastal disasters, despite having a high level of awareness (Esteban et al. 2017). Hazard and risk communication must be undertaken to persuade people to adopt self-protective behaviors and practices. Residents exposed to tsunami hazard need to be well-informed about the various types of risk management and mitigation procedures available to them. HAE through the school curriculum can be effectively integrated with home-based disaster preparedness as they are closely linked (Johnston et al. 2005). Public HAE is essential in preparing the public against disasters (Esteban et al. 2017). A risk perception and preparedness survey conducted by Ronan et al. (2001) on school children revealed that those who had been involved in HAE programs displayed more stable risk perceptions, showed reduced hazard-related fears, and demonstrated an increased awareness of critical hazard-related protective behaviors compared to children not exposed to HAE. More importantly, following HAE in schools, children are more likely to interact with and educate their parents and community on HAE issues, which in turn would increase home-based preparedness for disaster mitigation (Johnston et al. 2005).
Outside of the school system, increasing HAE may be achieved through media activities, such as television, radio, and Internet campaigns, and via the distribution of information leaflets, brochures, posters and videos, and public information meetings. Providing HAE risk information to the public has a positive result in an increase in public trust on risk mitigation and planning competence. However, HAE and risk information and community engagement should be provided to a community at least once every 3 years, to ensure risk knowledge does not decrease with time. This is important because public ignorance and complacency can increase over time due to long intervals between successive hazard events. This observation was clearly demonstrated in a study conducted by Johnston et al. (2005) on tsunami preparedness among communities living in coastal Washington in the USA. Because of time lag, levels of preparedness within the resident community were recorded at "low to moderate," despite distributing tsunami information through several media, despite erecting tsunami warning and evacuation signs, and despite providing maps and public displays illustrating tsunami inundation zones.
Tsunami Risk Management in Malaysia
The fundamental basis for tsunami risk management consists of the following steps: (A) identify hazard zones, (B) develop inundation maps, (C) disseminate evacuation maps, (D) turn vague concerns and abstract issues into clarified and concrete action plans, and (E) implement the plan during a tsunami event. To achieve these goals, the following infrastructure components are needed: (a) adequate seismic network, (b) robust numerical models, (c) sufficient deep-sea bed pressure sensors, (d) dense coastal tide gauges, and (e) effective school and public HAE Programme (Koh et al. 2007). For Malaysia, tsunami inundation maps for affected coastal areas are developed from numerical simulation of TUNA-RP model (Koh et al. 2017). These inundation maps are useful tools in tsunami HAE programs for schools and the public and for risk managers. An intergovernment consortium of Malaysian government agencies and universities led by the Malaysian Meteorological Department and the National Disaster Management Agency have conducted several tsunami HAE and survey programs in three coastal communities identified as tsunami hazard zones: Penang, Langkawi, and Kudat. A mixed methodology approach was utilized, using key informant interviews, site surveys, and questionnaire surveys to understand the HAE level in the population (Arce et al. 2017).
The programs followed closely the HFA and SFDRR Framework for DRRR and had incorporated the wisdom gained from past tsunami events such as the 2004 Indian Ocean tsunami and the 2011 Tohoku tsunami. Interviews with teachers, school principals, and community leaders were conducted, followed by focus group discussions involving schools, NGOs, local government agencies, and universities. Workshops, ground thrusting, and tabletop exercises were conducted to train and obtain feedback from participants, leading to informed decisions and actions. Expected strategic outcomes include development of substantial strategic, operational, and tactical capability on community DRRR for tsunami risk mitigation. Technical outputs include early warning systems at schools and beaches, and training modules include tsunami inundation maps, tsunami evacuation routes, and safe assembly points. These technical outputs are useful for conducting regular tsunami evacuation drills and for identifying safe evacuation routes and assembly points. Figure
1
shows an example of safe evacuation routes and assembly points for Zone 1 in Kudat town, while Fig.
2
demonstrates the simulated tsunami inundation map for Kudat for a potential submarine mass failure off the coast of Brunei (Gee et al.
2007
; Tan et al.
2017
) with slide slopes of (a) 2° and (b) 4°.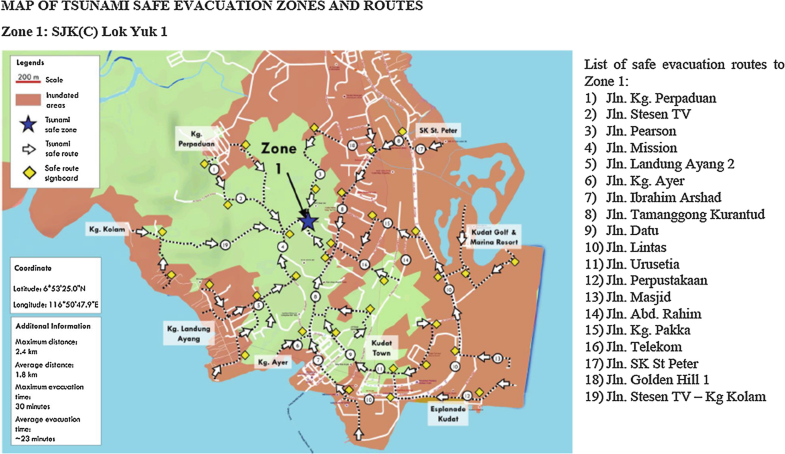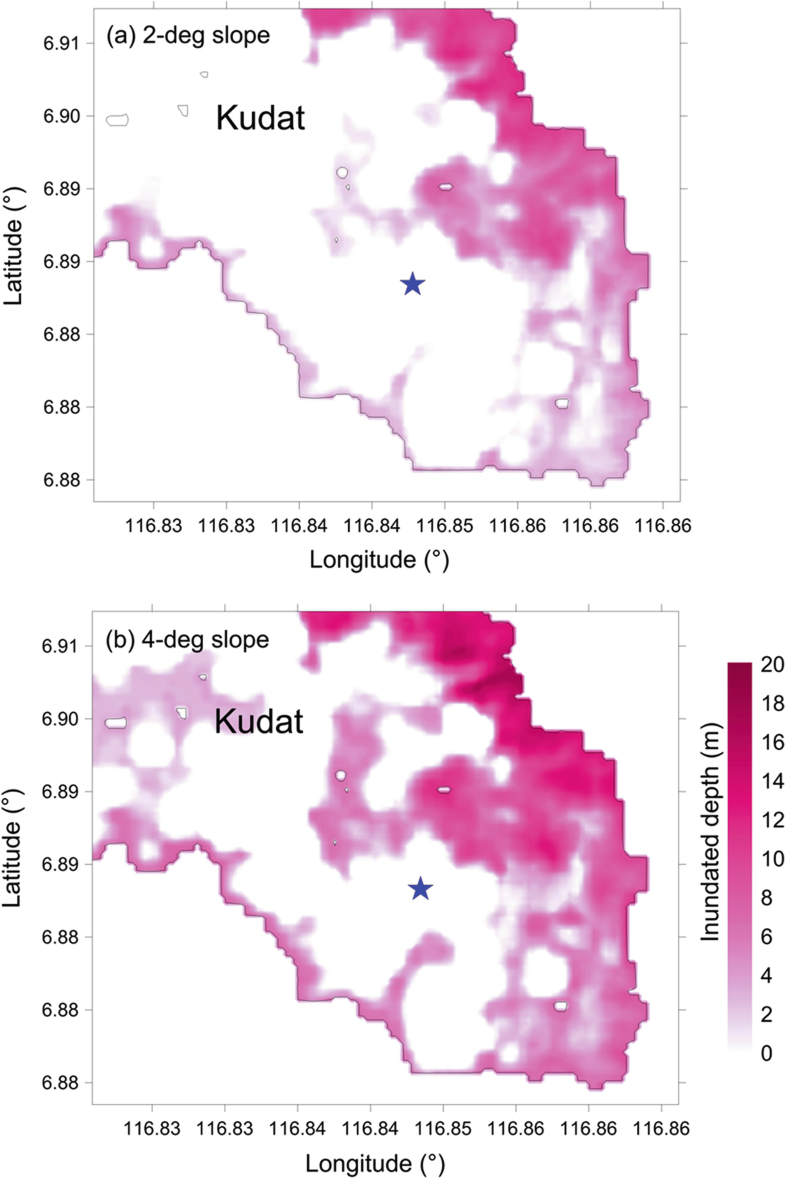 Sustainable Development Solution Network (SDSN)
Working in close partnership with the Sustainable Development Solution Network (SDSN), the Jeffrey Sachs Center on Sustainable Development (JSC) was established in 2016 to promote United Nations SDGs. To enhance SDG 17: Partnerships for the goals, JSC actively promotes UN-SDGs partnership, advocacy, community outreach, research and training across the ASEAN region via master's degree program, workshops, seminars and training courses on UN-SDGs. The ASEAN Ministers Workshop on UN-SDGs was conducted on 25–26 April 2017 in Kuala Lumpur to promote regional partnership among ASEAN member states to reorder their implementation priorities for UN-SDGs. The high-level executive training course was conducted on 30–31 October 2017 in Sunway City, Malaysia, to empower leaders to elevate the region to the forefront of global UN-SDG achievement. Guided by world-class faculty, this course will equip leaders in the ASEAN region with insights and approaches for SDG programming, policy, and multi-stakeholder collaborations. In partnership with world-class faculty, JSC offers the Master in Sustainable Development Management (MSDM) degree program to train the next generation of professionals to spearhead UN-SDGs and DRRR worldwide.
Concluding Remarks
Hazardous events such as tsunamis, earthquakes, storm surges, and landslides are natural geo-meteorological occurrences that are not possible to prevent by any conceivable human interventions. However, such hazardous events can turn into disasters only if the communities are vulnerable due to physical, social, economic, and environmental conditions. Disaster risk can be reduced by reducing the vulnerability via DRRR programs including HAE and effective risk management. Effective DRRR and risk management programs must subscribe to best practice as mandated by the HFA and the SFDRR. These DRRR program and research can be enhanced by international collaboration and partnership ICP such as the series of 11 SCSTWs. Higher education institutes such as DRN, CGSS, USM, and JSC can play a vital role in promoting and enhancing DRRR via research, outreach, and HAE and ICP programs. HAE in schools are particularly effective in achieving DRRR as schools are an integral component of the community.
A large tsunami inundation as seen in 2004 ACT has inflicted enormous loss of lives to a densely populated coastal community such as Banda Aceh. It remains a big challenge to devise effective DRRR strategy for Banda Aceh simply because of the size of the population that needs to be relocated to limited higher ground further inland. This challenge is compounded by the proximity of Banda Aceh to the tsunami source. However, many lives can be saved if the community is well-prepared in advance, equipped with knowledge learned from HAE programs and other DRRR measures, and with adequate infrastructures put in place for safe and orderly evacuation. Lives can be saved if the community has received adequate and regular training and preparation from HAE programs that are well-planned and implemented. Further, pre-existing social-cultural vulnerability should be identified, and mitigation measures put in place. Pre-existing social-cultural vulnerability can be intensified in times of disaster, creating a condition of multiple vulnerabilities, as reported in a research conducted on a small marginalized group of Thai women in Ishinomaki city after the 2011 Fukushima triple disaster (Pongponrat and Ishii 2017).
Several concluding remarks are in order. First, the top priority of HAE is to save lives. Second, a review on eight major natural disasters in Indonesia that were followed by outbreaks of waterborne and airborne infectious disease highlighted the critical importance of integrating health education into school and community DRRR programs to create communities that are resilient to diseases after a disaster (Pascapurnama et al. 2018). Third, DRRR must incorporate strategy for the protection of marginalized minority (Pongponrat and Ishii 2017). Gender inequality, language barriers, immigration statues, and limited social network for support are vulnerabilities that threaten these marginalized people more than they do to others. A disaster resilience strategy for these marginalized minorities in times of disaster is urgently needed to promote gender equality (SDG5) and to reduce social inequality (SDG10). Fourth, DRRR strategy must incorporate social-economic measures to reduce poverty (SDG1), improve food security (SDG2), and empower meaningful employment (SDG8). Disasters create local poverty, disrupt food supply, and cause a loss of employment for some for extended period. Finally, DRRR should build city that is sustainable and safe (SDG11) and that is resilient to shocks (SDG9).
Copyright information
© Springer Nature Switzerland AG 2019
Section editors and affiliations