Universal Health Coverage: Healthcare System for Universal Health Coverage Under Partnerships
Living reference work entry
DOI:
https://doi.org/
10.1007/978-3-319-71067-9_18-1
Definitions
Universal coverage (UC) or universal health coverage (UHC) signifies a healthcare system in which all people have access to the promotive, preventive, curative, rehabilitative, and palliative health services they need. UHC must also be of sufficient quality to ensure its efficacy while also affordable. UHC is about financial protection, but it is also critical to ensuring the quality of healthcare services, which requires the effective coordination of various service providers from the perspectives of their service users (WHO definition).
Definitions of UHC in the United Nations' Sustainable Development Goals (SDGs), SDG target 3.8 and SDG indicators 3.8.1 and 3.8.2, are as follows (United Nations):
SDG target 3.8: Achieve universal health coverage, including financial risk protection, access to quality essential healthcare services, and access to safe, effective, quality, and affordable essential medicines and vaccines for all.

SDG indicator 3.8.1: Coverage of essential health services (defined as the average coverage of essential services based on tracer interventions that include reproductive, maternal, newborn and child health, infectious diseases, noncommunicable diseases, and service capacity and access, among the general and the most disadvantaged population).

SDG indicator 3.8.2: Proportion of population with large household expenditures on health as a share of total household expenditure or income.
Introduction
UHC aims to ensure that every individual and community, irrespective of their circumstances, receive the healthcare services they need without risking financial hardship (WHO 2017). The path to UHC shows that countries across the world have been heeding the call and generating reforms geared toward accelerating the implementation of UHC (Wehrmeister et al. 2016). The United Nations General Assembly decision of September 2015 reflects the momentum behind UHC through the adoption of 17 Sustainable Development Goals related to healthcare (SDGs), which included identifying UHC as an SDG health target (SDG 3.8: "achieve universal health coverage, including financial risk protection"). The UHC target lies at the core of the other 12 health targets, and the healthcare goal itself closely interlinks with the other 16 SDGs. The SDGs reflected the challenges and lessons learned from the discussions of the Millennium Development Goals (MDGs), particularly those in developing countries (Saw et al. 2013; Yasuoka et al. 2016).
UHC received attention in the Declaration for Transforming Our World endorsed by heads of government, which preceded the identification of the SDGs: UHC is linked with the central commitment in the SDGs to leave no one behind, "to promote physical and mental health and well-being, and to extend life expectancy for all, we must achieve universal health coverage and access to quality health care. No one must be left behind" (Declaration for Transforming Our World 2015).
Under some conditions, the goal of UHC can be considered an expression of the right to healthcare. UHC was selected as one of the health targets in SDGs to implement the inclusive health goal (Goal 3) and is in alignment with human rights standards. The most pressing issue is conferring priority to provision and access of healthcare services to poor and disadvantaged communities. Given priority and strategies adopted to secure their participation in the development of national health plans, the SDGs have potential to drive health communities.
The aligned goals of UHC and the SDGs call for greater and immediate international assistance (Chapman et al. 2016). The SDG Goal 17, strengthen the means of implementation and revitalize the global partnership for sustainable development toward UHC, consistent with the requirements of the right to health, could allow access to healthcare service to about one billion people who currently do not have the access. In this sense, equity is key to health systems under a partnership in general, but specifically critical for UHC, so that all people have access to the services they need without experiencing financial hardship (Thomson et al. 2017). Therefore, access must not only include the use of health services and the direct cost of care for a country's population, but it must also be made available for all demographic segments. In particular, the most disadvantaged must not be left behind. The spirit of SDGs has led to an increased emphasis on monitoring distributions across dimensions of inequality.
Achieving UHC requires improvement of physical, economic, and social access to and quality of healthcare services. The combined efforts of the international community have resulted in a successful reduction in childhood mortality for those under the age of 5, which was estimated at 12.6 million per year in 1990 and has now decreased to 5.6 million in 2016 (WHO 2017). However, the 2017 UHC Global Monitoring Report reported that half of the world's population (3.5 billion people) still does not have access to high-quality basic services in healthcare (WHO 2017). Disparities exist even within the same country, particularly in rural areas, for low-income groups, women, people with disabilities, and ethnic minorities. In socially vulnerable groups, many people are unable to access healthcare services. Furthermore, 800 million people in the world are currently experiencing medical costs exceeding 10% of their total household expenditure, and nearly 100 million people worldwide fall below the poverty threshold each year due to medical costs.
This entry evaluates the extent to which the UHC target in the SDG Goal 17 conforms to the requirements of the right to healthcare through health partnerships which promote collaboration between countries and global initiatives for strengthening and achieving UHC.
What Is the Universal Health Coverage?
Achieving Health Equity
Clearing the objective of equitable UHC is needed because it implies commonly accepted definitions of universality, accessibility, need, and effective coverage which are policies and concepts under discussion (Frenz and Vega
2010
). Without clear definitions and reference points to assess the performance and consistency of health policies, governments would fail to turn goals into reality. Furthermore, the objectives focus on ideal outcomes rather than on practical policy options to achieve equity-enhancing universal healthcare development (Universal Health Coverage Partnership
2018
). As a result, even though most countries espouse the universality of health services and declare equity principles, the stark reality falls short of 100% achievement to a wide variety of degrees. The figure below shows dimensions of universal health coverage with equity (Fig.
1
). Equitable universal coverage means creating access and providing effective coverage for the entire population ("breadth"), for all necessary care ("depth"), at affordable costs and under conditions that are not burdensome, as well as offering particular benefits to address the differential needs of the least well-off ("height") (Tomita and Watabe
2017
).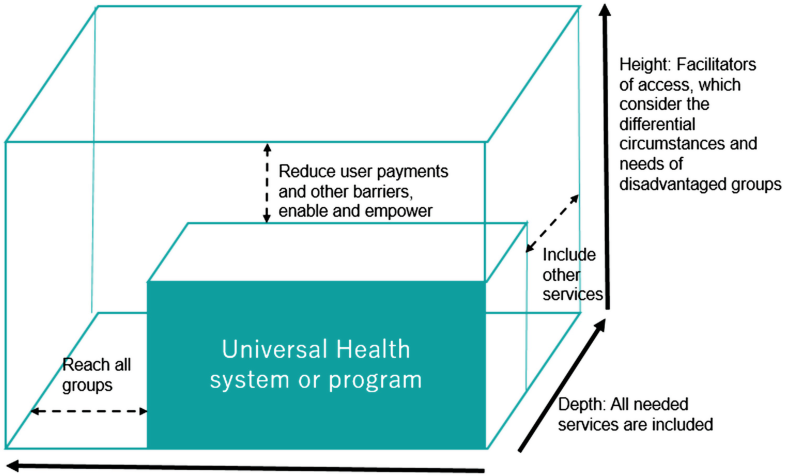 All countries provide some degree of healthcare coverage and financial protection; perhaps none can claim to have attained UHC in a substantively comprehensive way. Several health systems in East Asia still lack adequate information on whether coverage meets the healthcare needs of their populations and how they ensure that patients receive appropriate services at costs that households and systems can afford. When the coverage does not meet important population needs, inequity in financing is compounded, and households are at risk of impoverishment (Yip and Hsiao 2009). Inadequate investment in primary healthcare could increase inequities in both the access and finance components since affordable access to outpatient care could avoid the necessity of having to pay for hospitalization (Tangcharoensathien et al. 2015).
Strengthening physical access by improving geographical coverage of healthcare services and strengthening financial access by extension of financial risk protection mechanisms are essential parallel synergistic interventions to achieve favorable UHC (Balabanova et al. 2013). The higher the coverage of skilled birth attendance (SBA), the smaller the rich–poor disparities have been found to be (Neal et al. 2015). In countries with low SBA coverages of less than 30%, the rich–poor disparities tend to be large, at around 60% points, whereas countries with high coverage display a much smaller disparity at less than 20% points. Functioning close-to-client primary healthcare (PHC), in which the majority of the poor have access, acts as a major hub in translating UHC political intentions into practical (Tilton and Thomas 2011). Comprehensive benefits package results in high levels of financial risk protection, preventing non-poor households from becoming poor due to medical payments (Limwattananon et al. 2012).
In anticipation of growing healthcare needs and challenges, several governments have committed to doubling its healthcare expenditure over the next 5 years. Where the prevailing philosophy is still a mix of self-reliance, individual responsibility for one's health, and collective responsibility in maintaining healthcare affordability, equity in access and finance is also a question of contributory roles and responsibilities of the different stakeholders, as well as the arrangements and orderings that they put in place.
Unless healthcare interventions are designed to promote equity, efforts to attain UHC would have the unintended consequence of bringing early and accelerated gains for the most advantaged sections of society and leaving the disadvantaged behind. A situation can be envisioned where the national average of service coverage improves, but inequalities worsen simultaneously (Hosseinpoor et al. 2016). The causes of differential healthcare needs and inequitable access are found in wider social inequalities, originating in the socioeconomic and political structure of society (Bowen et al. 2015). Healthcare systems can be powerful equalizers to realize the human right to healthcare, can empower socially disadvantaged and marginalized populations, and can positively influence the broader socioeconomic and political determinants of health equity.
UHC Index
Essential healthcare services are services for which all countries, regardless of their demographic, epidemiological, or economic profile, are expected to provide coverage (defined as the average coverage of essential services based on tracer interventions that include reproductive, maternal, newborn, and child health and infectious diseases, noncommunicable diseases, and service capacity and access, among the general and the most disadvantaged population) (Boussichas and Nossek 2014).
Summarizing coverage of essential healthcare services is one approach to integrate an index which combines tracer indicators of health service coverage into a single measure. The UHC service coverage index is an indicator that is computed to facilitate country ownership and usage for monitoring UHC within the SDGs. The index was constructed from geometric means of 16 tracer indicators from sufficient data (Table
1
). The index consists of the average coverage for a subset of nine tracer indicators. The indicators are measured on a percentage scale from 0% to 100% (Fig.
2
).
Table 1
Contents of UHC service coverage index
Reproductive, maternal, newborn, and child health (=RMNCH)
1. Family planning (FP)
2. Antenatal care 4+ visits (ANC)
3. Child immunization (DTP3)
4. Care-seeking behavior for children with suspected pneumonia (pneumonia)
Infectious disease control (=Infectious)
1. TB effective treatment coverage (TB)
2. HIV treatment (ART)
3. Insecticide-treated nets (ITN)
4. At least basic sanitation (WASH)
Noncommunicable diseases (=NCD)
1. Normal blood pressure (BP)
2. Mean fasting plasma glucose (FPG)
3. Cervical cancer screening (CCS)
4. Tobacco control (tobacco)
Service capacity and access (=Capacity)
1. Hospital bed density (hospital)
2. Health worker density (HWD)
3. Access to essential medicines (AEM)
4. IHR core capacity index (IHR)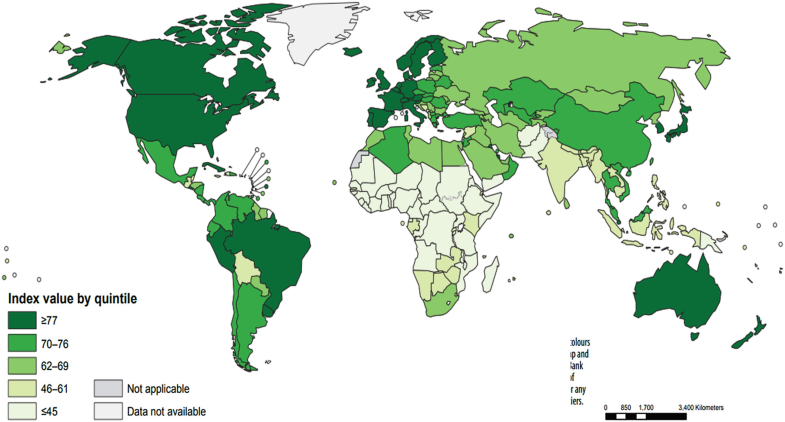 According to the values of the UHC service coverage index in 2015, the range was from 22 to 86 across 183 countries, and the median value was 65 (Fig.
2
). The UHC service coverage index is highest in Europe and Northern America (77) and Eastern Asia (77), while sub-Saharan Africa (42) and Southern Asia (53) have the lowest average values. The strongest gradient across regions is for the service capacity and access subindex; the mean value for sub-Saharan Africa is only 27 compared with 99 in Eastern Asia (Table
2
, Fig.
2
).
Table 2
UHC service coverage index by World Bank regions, 2015
| Regions | UHC service coverage index | Service capacity and access |
| --- | --- | --- |
| Global | 64 | 71 |
| Africa | 46 | 37 |
|  Northern Africa | 64 | 77 |
|  Sub-Saharan Africa | 42 | 27 |
| Asia | 64 | 71 |
|  Eastern Asia | 77 | 99 |
|  Southern Asia | 53 | 47 |
|  Southeastern Asia | 59 | 63 |
|  Central Asia | 70 | 93 |
|  Western Asia | 65 | 79 |
| Europe and Northern America | 77 | 96 |
| Latin America and the Caribbean | 75 | 88 |
| Oceania | 74 | 84 |
The NCD subindex is fairly evenly distributed across regions and less correlated with other categories. Tobacco use is low in some areas with weaker healthcare systems (such as sub-Saharan Africa and Southern Asia) and high areas with standardized healthcare systems such as in Europe. Regarding gaps in this index, small differences among countries are not meaningful: many country values are close together, and uncertainty exists in the measurement of tracer indicators where countries have low data availability. Hence, looking at the gaps in selected essential healthcare services would help understand the number of people with actual coverage.
Sustainable Finance for UHC
The socioeconomic and political contexts are fundamental factors for UHC because countries take different routes in making progress toward UHC. However, different financing sources are used to cover different population groups. Payroll-tax-financed contributory schemes cover public and private sector employees and frequently take the form of mandatory social health insurance (SHI) (Tandon and Cashin 2010). The poor are usually covered by tax-financed mechanisms either directly managed by the Ministry of Health or as part of SHI. Most countries in Asia have gradually shifted from full contributions to tax funding, depending on the government's fiscal space and, most importantly, political leadership. Countries find it difficult to expand coverage of the informal sector through contributory schemes due to ineffective mechanisms in enforcing contribution payments.
Many families worldwide suffer financial hardship as a result of seeking essential healthcare. UHC focuses on two issues: (1) "catastrophic spending on health," which is out-of-pocket spending (without reimbursement by a third party) exceeding a household's ability to pay, and (2) "impoverishing spending on health," which occurs when a household is forced by an adverse health event to divert spending away from nonmedical budget items such as food, shelter, and clothing to such an extent that expenditure on these items results in the family falling below the poverty line.
The world is becoming more interconnected than ever before. Therefore, promoting investment for least developed countries (LDCs) is crucial for sustainable development, since LDCs are vulnerable to debt and require financial support from other countries. Sustaining this progress in UHC requires that a country's healthcare financing system is routinely sufficient and that the finances and resources are suitable for its people to have access to sustainable, financially protected, and high-quality healthcare services.
Evidence and experience have shown that public resources are fundamental to ensuring efficient and equitable progress to UHC. Commitment to UHC also means significant governmental fiscal commitment. An increase in healthcare finances alone will not necessarily achieve UHC, especially if it is not used effectively to ensure priority services and interventions to marginalized people. The way funds flow through a system and ultimately reach frontline service providers matters for ensuring access to and quality of healthcare. Since public funds are the cornerstone of sustainable financing for UHC in most countries, the public financial management system (PFM; i.e., institutions, policies, and processes that govern the use of public funds) usually plays a key role in how to use funds. Making better use of public budgets for UHC involves returning to the basics of the budgetary process and ensuring that PFM and health financing objectives connect with each other. Developing program-based budgets allows funds to access service packages and interventions. Specific measures may be called upon to address particular healthcare budgeting needs, such as allowing the pooling of healthcare funds across different revenue sources, providing mechanisms for intergovernmental transfers to improve equity, allowing payment of healthcare providers for service outputs and performance, and giving providers the flexibility to manage their resources and deliver services (WHO 2017).
UHC for Sustainable Development
Integrated People-Centered Health Services (IPCHS)
The WHO published the interim WHO strategy on integrated people-centered health services (IPCHS) in March 2015. At the WHO General Assembly in May 2016, all member states adopted a resolution to strengthen comprehensive people-centered health services. Among them, referring to SDG 3 and Goal 3.8, member states also adopted the IPCHS framework to tackle UHC. The framework requires the building of a universal healthcare system that responds to the needs of people and the broad integration of health services. Achieving UHC, which would be a key factor for health-related SDGs, requires a shift from designing health systems focused on individual diseases and medical institutions, to a design based on the whole-people approach, such as outlined in the IPCHS (Maeda et al. 2014).
The global strategy on IPCHS has suggested ways to design comprehensive healthcare systems. Healthcare systems are specifically contextual, and no single model of IPCHS is a "one-size-fits-all" type of solution (WHO 2015). A common set of principles and five strategies are presented to boost countries' efforts to better coordinate care around people's needs. These strategies draw on experiences in various countries over recent years and wide-ranging consultation with experts at the global, regional, and national levels. The information is related to global guidelines and policy commitments, regional strategies, initiatives in the areas of UHC, primary healthcare, and healthcare systems which improve the social determinants of health.
The IPCHS framework proposes five interdependent strategies for healthcare services to become more integrated and people-centered. It calls for reforms to reorient healthcare services, putting individuals, families, and communities at their center, supported by responsive services that better meet their needs and respect their preferences. These reforms also incorporate a human rights approach and access to healthcare as a basic right without distinction of ethnicity, religion, gender, age, disability, or economic and social condition (Kieny et al. 2017). The framework incorporates the comments and suggestions gathered through a broad stakeholder consultation process: a web-based public consultation open to individuals and organizations and regional member state consultations.
Partnerships for UHC
Strong, cooperative partnerships are necessary for UHC at all levels of authority, between governments, the private sector, and civil society. While partnerships in the SGD Goal 17 have a potential to promote collaboration between countries and global initiatives for strengthening and achieving UHC, it also signifies political commitments to UHC through facilitating accountability and knowledge sharing. UHC receives special attention by heads of governments/institutions and foundations that precede the identification of the SDGs. These instances include efforts by major health and development organizations such as the World Health Organization, World Bank Group, Oxfam, Gates Foundation, International Labour Organization, and the United Nations Children's Fund (UNICEF) (WHO Media Releases 2015).
UHC partnerships comprise a broad mix of health experts working hand in hand to promote UHC by fostering policy dialogue on strategic planning and health systems governance, developing health financing strategies, supporting their implementation, and enabling effective development cooperation in countries (a process commonly referred to as IHP+ – International Health Partnership and Related Initiatives) (Transforming IHP+ 2017). Under IHP+, political commitment, financial resources, and long-standing work experience have been combined with technical expertise in health systems, both in the international and national fields.
Since 2011, partnerships have expanded steadily, reaching 35 member countries worldwide to date. Under the leadership in each country, a roadmap comprising a set of activities to strengthen the national health system has been defined to make significant progress toward UHC. Reinforcing country capacities and the leadership of the Ministry of Health contributes to building resilient and effective health systems on a sustainable basis. Bridging the gap between global commitments and country implementation on the ground includes a country-level resource for UHC 2030, the global movement to build stronger health systems for UHC (UHC partnership).
Moving Toward UHC
Countries are increasingly incorporating UHC values within their national directives. The goals of UHC include three dimensions: that the population that is covered by pooled funds, the proportion of direct health costs is covered by pooled funds, and healthcare services are covered by those funds (WHO 2017). These dimensions help to identify the direction in which a country seeks to shift its health system. However, comparatively little information exists on practical methods on how a country can transition its health system toward UHC (Reich et al. 2016).
In response to growing demands for a systematic assessment of global experiences with UHC, the government of Japan and the World Bank collaborated in a 2-year multicountry research program to analyze the processes of transitioning toward UHC. The program included 11 countries (Bangladesh, Brazil, Ethiopia, France, Ghana, Indonesia, Japan, Peru, Thailand, Turkey, and Vietnam), representing various geographical, economic, and historical contexts. The aim was to detect common challenges, opportunities, and useful insights on how to move toward UHC. The 11 countries were selected intentionally to represent a range of income levels and healthcare systems. All selected countries have expressed commitment to UHC as a key national aspiration but were at different points in the process to adopt UHC (Table
3
).
Table 3
The 11 countries in the UHC study by Japan and the World Bank
|   | Group A | Group B | Group C | Group D |
| --- | --- | --- | --- | --- |
| Status of UHC policies and programs | Agenda setting; piloting new programs and developing new systems | Initial programs and systems in place, implementation in progress; the need for further systems development and capacity building to address the remaining population not yet covered | Strong political leadership and citizen demand lead to new investments and UHC policy reforms; systems and programs developed to meet new demands | Mature systems and programs; continuous adjustments required to meet changing demands and rising costs |
| Status of health coverage | Low population coverage, at the early stage of UHC | A substantial share of population gain access to services with financial protection, but population coverage is not yet universal, and coverage gaps remain in access to services and financial protection | Universal population coverage achieved, but countries are focusing on improving financial protection and quality of services | Universal coverage with comprehensive access to health services and effective financial protection |
| Participating countries | Bangladesh and Ethiopia | Ghana, Indonesia, Peru, and Vietnam | Brazil, Thailand, and Turkey | France and Japan |
Group A countries are still establishing national policy agendas for shifting toward UHC; Group B countries have made substantial progress toward UHC, but still face substantial gaps in coverage; Group C countries have recently achieved multiple UHC policy goals, but face new challenges in sustaining coverage; and Group D countries have mature health systems with UHC but still need to adjust their national policies to meet changing circumstances. The study included an in-depth analysis of Japan's experience in achieving population coverage in 1961 and its subsequent 50-year history in maintaining universal coverage.
The study analyzed each country using a common analytical framework and focused on three themes: the political economy and policy process for the adoption, expansion, and maintenance of UHC; healthcare financing policies to enhance healthcare coverage; and policy approaches for meeting the human resources requirements for UHC. These themes were selected because financing and human resources represent two essential pillars of a functioning healthcare system and the political economy plays a key role in shaping policy decisions. This Health Policy Report summarizes the results of the multicountry study.
In Japan, the private sector has played a major role in assuring access and provision of healthcare services (Fukuda 2016). Japan has maintained several risk pools but achieves social equity through a combination of standardized benefits and provider payments across its 3300 insurance plans, intergovernmental transfers of subsidies, and transfers between funds to maintain equity in contributions and expenditures. However, these redistributive mechanisms are not keeping pace with Japan's rapidly aging population, and disparities are widening in the premium rates collected by different risk pools and plans (Taneda 2017). Japan has not been able to create an integrated risk pool, in large part, because better-off entrenched groups do not want their premium rates increased, which illustrates the political, economic challenges of improving fairness in a fragmented system.
Although all the countries in the study seek to diversify sources of revenue for UHC, they have used different strategies to move toward UHC. France and Japan are seeking to reduce their reliance on payroll premium contributions and are turning to other forms of tax revenues. Brazil has allowed the growth of private voluntary health insurance. Over time, the share of private spending has increased, and the percentage of the total represented by "out-of-pocket spending" in Brazil is, at 30%, the highest among Group C and Group D. Twenty-one countries with a large informal sector, such as Thailand, have found it difficult to expand coverage through payroll taxes alone and have increased their use of general revenues. By contrast, low-income countries such as Bangladesh and Ethiopia are seeking ways to expand their narrow tax base by introducing new payroll taxes under a social insurance program. However, this approach has substantial equity implications (as noted previously), since it could steer government resources toward workers in the formal sector and away from less affluent farmers and informal sector workers.
UHC requires revitalized and enhanced global partnerships, which involve mobilizing all available resources from governments, civil societies, private sectors, and other actors between countries. This study shows that providing UHC for a nation requires different forms of cross subsidization, both from rich to poor and low-risk groups (i.e., the young) to high-risk demographics like the elderly. All 11 countries included in this study face substantial resource constraints in achieving or maintaining UHC. This study also shows that open-ended fee-for-service payment systems typically lead to cost escalation. Many countries responded by introducing measures to contain costs. However, these measures can erode coverage and undermine financial protection. Enhanced support for developing countries to increase the availability of financial data and developing measures of progress on the SDGs seems essential for delivering UHC objectives.
Future Directions
UHC is an investment in human capital and a foundational driver of inclusive and sustainable economic growth and development (World Health Organization 2018). To drive UHC through SDG Goal 17, ensuring that all citizens have access to healthcare services that they need without facing financial hardship is key to improving the well-being of a country's population.
The value of partnerships, including those within the private sector, lies in the virtue that the whole is greater than the sum of its parts. Any group is made stronger through collaboration, rather than by operating alone. To function properly, partners need to share accountability, so that all constituents have a vested interest in collaboration and contribution, particularly to the beneficiaries. Sharing success and attribution may not be easy in partnerships. Partners have different roles and responsibilities in achieving a shared result; therefore, deciding how to measure success may not be straightforward.
The UHC data have revealed major gaps in the healthcare system. The more citizens are aware of these gaps, the closer they are to identifying what they must do to improve healthcare coverage. If the world is serious about meeting its goal of achieving universal health coverage by 2030, far more awareness and proactivity are needed. To this end, several countries have expressly addressed the importance of the goal of the partnership of UHC through the SDG Goal 17 to provide essential healthcare services for all people under the global collaboration and worldwide outreach.
Copyright information
© Springer Nature Switzerland AG 2019
Section editors and affiliations