Green Cities
Living reference work entry
DOI:
https://doi.org/
10.1007/978-3-319-71061-7_22-1
Definition
A green city definition is disciplinary and multidisciplinary in scope and mostly depends on the local needs and focus of policies. The most common expectations are that a green city will have clean air and water with pleasant streets and parks, if one is looking at the ecological values. It will be resilient in the face of natural disasters, and the risks of disease outbreaks in the city are very low: this is from public health perspective. Green cities promote positive environmental behavior like use of public transport, and their ecological impact is relatively small; this is from social well-being perspective (Kahn
2006
). What makes the green city different from a conventional city is that it focuses more on environmental quality and livability. It demands for a more compact mixed-used development, low-energy transportation, renewable energy consumption, and a low ecological footprint (Fei et al.
2016
). A more inclusive definition proposed by Beatley (
2012
) claims green cities are:
Cities that strive to live within their ecological limits, by reducing their ecological footprints and recognizing their connections with and impacts on other cities and communities and the larger planet

Cities that are green and that are designed for and function in ways analogous to nature

Cities that aim to achieve a circular rather that a linear metabolism, which nurtures and develops positive symbiotic relationships with and between its hinterland (whether that be regional, national, or international)

Cities that strive toward local and regional self-sufficiency and take full advantage of and nurture local/regional food production, economy, power production, and many other activities that sustain and support their populations

Cities that facilitate and encourage more sustainable, healthy lifestyles

Cities that emphasize a high quality of life and the creation of highly livable neighborhoods and communities
Green city design is therefore a plan to balance economy and environment. Some examples include clustered development, high-density residential areas, and live-work communities (Campbell, 1996: 307). Another way to build a green city is through bioregionalism, which is rescaling communities and the economy according to the ecological boundaries. The current concept of green city is about building city and maintaining various activities within its environmental limits that will help to withstand any environmental problems from future environmental changes.
Introduction
Urban population since 1950 has grown by five times from 0.7 billion to 3.9 billion in 2014. Cities occupy only 2% of the earth's land, but they account for more than 70% of its energy consumption and by 2050 will host 75% of the population (Gardner 2016a). The future of environmental sustainability, therefore, will be decided in these cities. As a result, cities across the world are moving toward meeting the sustainable development goals, particularly SDG 11, that aims to make cities and human settlements inclusive, safe, resilient, and sustainable. Sustainability has become a major focus for urban planners and government officials. Urban sustainability can be defined as: "A sustainable city is a vibrant human settlement that provides ample opportunities, in harmony with the natural environment, to create dignified lives for all citizens" (Gardner 2016b: 46). Furthermore, a sustainable city exists in harmony with nature, respecting and implementing the ecological principles of diversity, adaptiveness, interconnectedness, resilience, regenerative capacity, and symbiosis in its development and planning activities. One of the ways cities worldwide are attempting to reach their sustainability goals is by becoming "green cities." Green city is a very broad concept and is widely used by governments and cities to achieve economic, environmental, and sociocultural sustainability goals.
The future of urban sustainability depends on how cities address three issues:
1.

The built environment – in developed countries cities are less dense, and the high demand for residential and other infrastructures in these nations requires an investment of $20 trillion annually to fulfill the demands. The urban built environment depends on the flow of resources as it consumes 40% of all water, 70% of timber products, and 45% of energy.

 

2.

Urban economy – cities are economic engines where 80% of global GDP is produced. They also consume 60–80% of the energy and 75% of natural resources and emit 75% of global carbon emissions. The economic output and resource consumption are not equally distributed across world cities; the future depends on how cities in developing countries balance growth and well-being.

 

3.

Poverty, sanitation, and health – large concentration of population makes cities the centers of poverty worldwide. One in seven people in urban areas live in poverty, and many urban residents in poor nations lack drinking water and sanitation facility. In addition, nearly 1.5 billion urban residents live in areas with poor air quality. The green city concepts offer some possible ways to establish a balance between environment, economy, and social well-being (Gardner 2016a).

 
Green City Index
To refine the definition, a Green City Index was developed by the Economist Intelligence Unit with funding from Siemens (EIU
2012
). The Green City Index (GCI) measures cities on approximately 30 indicators across 8–9 categories: CO
2
emissions, energy, buildings, land use, transport, water and sanitation, waste management, air quality, and environmental governance. About half of the indicators in each Index are quantitative – usually data from official public sources, like CO
2
emissions per capita, water consumption per capita, recycling rates, and air pollutant concentrations. The remaining indicators are qualitative assessments of the city's environmental policies such as the city's commitment to sourcing more renewable energy, traffic-congestion-reduction policies, and air quality codes. The indicators were used to create a GCI for cities in each continent (see the European Index, Fig.
1
). Specific indicators were developed for each continent's index; for example, the Africa Index included indicators like access to electricity and potable water and the percentage of people living in informal settlements. Depending on the score, each city received an overall Index ranking. The European and the US and Canada cities were ranked numerically, while five performance bands were created for cities in Asia, Latin America, and Africa – well above average, above average, average, below average, and well below average.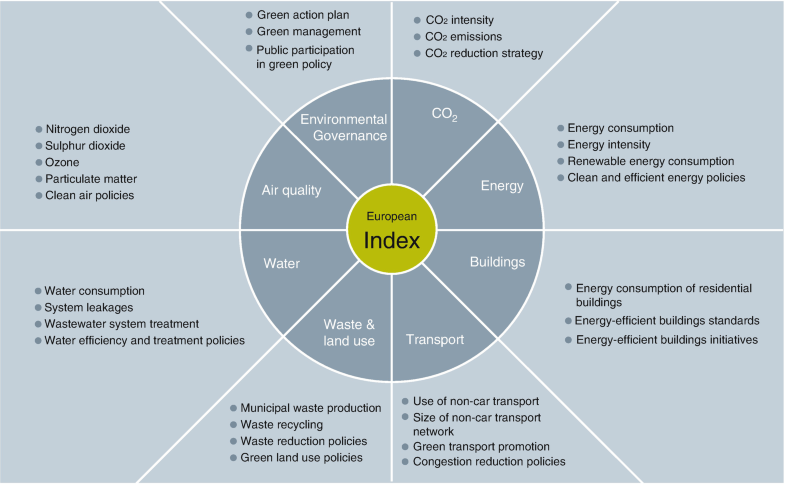 Characteristics of a Green City
There are many benefits of making cities green. The most important benefit of greening city is that it makes the city livable. Greening roofs help to purify air and water, reduce artificial warming from buildings, and increase biological diversity. In Toronto, it was found that green roofs resulted in a reduction in ambient air temperature of 0.5–2 °C (Renner 2016). Green city also brings economic benefits such as higher property values. For example, after the construction of the High Line Park in New York City, the neighborhood attracted nearly $4 billion in investment. Ultimately, green city can improve human health and social well-being as well. In Denmark, green spaces led to a decrease in stress level and obesity (Beatley 2012). Three characteristics of green city that deliver these benefits are green economy/growth, green infrastructure, and green urbanism.
Green Economy/Growth
According to the Organisation for Economic Co-operation and Development (OECD), "Green growth means fostering economic growth and development while ensuring that natural assets continue to provide the resources and environmental services on which our well-being relies" (in GIZ and ICLEI 2012). This definition emphasizes on the economic growth and development aspect of cities. The "green" aspect of green growth is to reduce negative environmental externalities, like air pollution and CO2 emissions, and reduce consumption of natural resources and environmental services, including water, energy, and land. This can be achieved with effective policies and programs that integrate environment and the economy.
Most development theories still believe economic growth as the route to prosperity; therefore, all urban planning and development must show their contribution to the economy. In a green economy, governments, corporate and industry actors, nonprofit organizations, and educational institutions will play a key role in fostering local economies. An inclusive and green economy has goals to reduce both poverty and inequality, in addition to preventing further climate change and its negative impacts. An inclusive green economy "promotes energy efficiency, non-motorized mobility, investment in green technologies and employment, the creation of incentive systems for sustainable production, operations and consumption patterns, greening municipal purchase and the establishment of standards, among many others" (GIZ and ICLEI 2012: 3). To transition to a green economy, the cities should contribute to reaching the following goals: (1) an eco-effective and eco-efficient economic structure; (2) creation of green jobs; (3) poverty eradication and inclusiveness; (4) urban form and design for eco-effective infrastructures; (5) energy and resource efficiency in the physical infrastructure; (6) renewable energy production and sourcing; (7) a valued urban ecosystem; (8) innovation, research, and development; and (9) stakeholder involvement (GIZ and ICLEI 2012).
Criticism of green economy or sustainable capitalism as an oxymoron has cast some doubts on its viability. Nevertheless, US cities are rapidly working toward a green economy as a public-private partnership proven to be a tool to attain sustainability. Chicago since the 1990s has initiated several programs to promote green economy; some notable examples include the Greencorps Chicago to provide green skills training for its residents; NeighborSpace to develop and protect green spaces; Urban Heat Initiative to reduce urban heat and improve air quality by promoting green roof systems; Chicago Center for Green Technology to educate green design for professionals; Green Exchange, the nations' largest sustainable business community; Chicagoland Green Collar Jobs Initiative to create a skilled workforce; Green Business Chicago to certify companies meeting green standards; Sustainable Chicago 2015 plan to improve transit, upgrade the water system, and modernize energy infrastructure; and the Building New Chicago, a $7 billion revitalization program, to create the largest bike-share program in North America (Lamphere and Shefner 2017). These examples suggest that cities can create a path toward sustainability by integrating green agendas in their economic plans.
OECD (
2013
) has identified four potential benefits for cities pursuing green growth: (1) create jobs by considering energy efficiency retrofits of buildings, (2) increase a city's attractiveness to firms and skilled labor by increasing the efficiency of the transport system, (3) produce more local green goods and services by identifying the potential for green specialization and fostering green technology research and development and innovation, and (4) increase the value of urban land through redevelopment project that infill development and eco-districts. In addition, cities promoting green growth can help tackle climate change by reducing the emission of greenhouse gases (GHGS) from the city and reducing GHGs from consumption, which means cities must not only reduce GHG emission produced within their boundaries but also the GHGs generated by producing goods and services for the city's residents that are produced outside the city's borders. Some examples of minimizing impacts on natural resources and environmental services are by transforming land-use planning, transport, buildings, energy, waste, and water (Table
1
).
Table 1
Urban activities that can reduce cities' environmental impacts (OECD 2013)
Sector

Activities

Land-use planning

Zoning that allows for a mix of land uses so as to reduce travel distances between home, work, and other activities

Tax reform to encourage the development of underused lands in urban cores and to discourage urbanization of undeveloped land in the urban fringe

Transport

Expanding and/or improving public transport

Physical improvements to encourage walking and cycling

Attaching a price to personal vehicle travel (e.g., congestion charges

Buildings

Retrofitting existing building stock to increase energy efficiency

Minimum energy efficiency standards for new buildings

Energy

Installing distributed renewable energy generation (e.g., solar panels)

District heating and cooling systems

Fees that discourage peak energy use

Waste

Recycling household and industrial waste

Waste-to-energy and landfill methane-to-energy systems

Fees that discourage waste generation

Water

Fees that encourage water conservation

Governance mechanisms to improve efficiency of water delivery
Green Infrastructure
Another facet of green cities is the green infrastructure (GI) development. The Landscape Institute (
2013
) defines GI as:
GI is the network of natural and semi natural features, green spaces, rivers and lakes that intersperse and connect villages, towns and cities. Individually, these elements are GI assets, and the roles that these assets play are GI functions. When appropriately planned, designed and managed, the assets and functions have the potential to deliver a wide range of benefits—from providing sustainable transport links to mitigating and adapting the effects of climate change.
The city of Ahmedabad, India, defines GI as:
A livable, environmentally sustainable and efficient city for all its citizens; a city with robust social and physical infrastructure, vibrant economy and a distinct identity; a globally preferred investment destination. (Mell 2017)
Green infrastructure includes grassed areas, trees, landscaping, and water bodies. GI offers multiple functions to increase access to green spaces, which in turn deliver socioeconomic, health, education, and business opportunities to the people. Economic benefits of green areas include more motivated workers, increased property values, reduced sickness absence, rural tourism, agricultural employment, reduced pollution leading to reduced health costs, encouraging healthy lifestyles, creating jobs in community-owned green spaces, conservation employment, flood risk reduction, and reducing the heat island effect (Antrobus 2011). Importantly, GI is seen as an important aspect of climate change mitigation and adaptation in enhancing the overall resilience of the city. Some of the ways GI can improve resilience is through flood risk management and biodiversity conservation. In the greater Manchester City area, GI is integrated in its Catchment Flood Management Plan (Antrobus 2011), and in Ahmedabad, the riverfront project reduced the impact of flooding from the Sabarmati River (Mell 2017).
In developing countries, GI is key to manage their environmental resources efficiently and tackling environmental problems. GI offers an alternative to conventional infrastructure by promoting a more holistic approach to climate adaptation and protection of clean water and limiting the impacts of flooding and the urban heat effect, in addition to promoting health, well-being, and economic opportunities for local people and businesses (Mell 2017). In India, GI is promoted to facilitate socioeconomic and environmental improvements. The newly launched 100 Smart Cities initiatives by the government include GI as a critical component. GI in India is measured by the area of green space in urban areas. Using a m2 metric per person, it was found that Chandigarh, a planned city comprised of 54 m2 person, New Delhi 21 m2 (including green belt area), Bengaluru 17 m2, and Chennai had the lowest value of only 0.46 m2 that is well below the World Health Organization's recommended level of 9 m2 per person (Mell 2017). The variation in the area of urban space indicates the multitude of values in adopting GI in urban planning by Indian cities. In Ahmedabad GI was promoted as a progressive move toward building within the city's environmental limit.
A simplest form of GI cities can require is the construction of green roofs, which are partially or completely covered with vegetation. Cities can promote green roofs through changing land-use plans and building codes, green roof statutes, subsidies and incentives, pilot programs, and information and awareness campaign. Green roofs bring many benefits such as improving air quality, increasing biodiversity, managing storm water, increasing the life of buildings, assisting with food production, and contributing to make a livable city. In addition, green roof reduces energy inputs, lessen impacts from climate change, and can help to mitigate the urban heat island effect. Countries like Germany, France, and Japan along with cities like Toronto, Canada, have adopted green roof-related regulations. For example, Toronto's Green Roof Bylaw has resulted in 444 green roofs in the city (Renner
2016
). Beatley (
2012
) has developed indicators for green infrastructure that cities can implement (Table
2
).
Table 2
Indicators of green (biophilic) infrastructure (Beatley 2012)
| Indicators | Beatley's guideline values |
| --- | --- |
| Share of population within 100 m of a park or green space | 100% |
| Existence of an integrated, connected, ecological network, "green urbanism from rooftop to region" | Ideally, unbroken green corridors from the center of the city to the edges |
| Share of city land area in wild or semi-wild nature | 10% |
| Share of forest cover in the city | 40% (less in the core, more near the periphery) |
| Extent and number of green urban features (green rooftops, green walls, trees) | 1 green rooftop per 1000 inhabitants (minimum 1 per block) |
| Kilometers per capita of walking trails | 1.61 km (1 mile) per 1000 population would be a high level |
| Number of community gardens and garden plots | 1 community garden per 2500 city residents |
Green Urbanism
Green urbanism is about building cities that are smart, secure, and sustainable. It is a concept to promote compact energy-efficient urban development with zero-emission and zero-waste urban design. Lehmann defines green urbanism as "… a conceptual model for zero-emission and zero-waste urban design, which arose in the 1990s, promoting compact energy-efficient urban development, seeking to transform and re-engineer existing city districts and regenerate the post-industrial city centre. It promotes the development of socially and environmentally sustainable city districts" (
2010
: 1). Green urbanism is an interdisciplinary concept that consists of three pillars – energy and materials, water and biodiversity, and urban planning and transport – that interact to build a holistic city (Fig.
2
).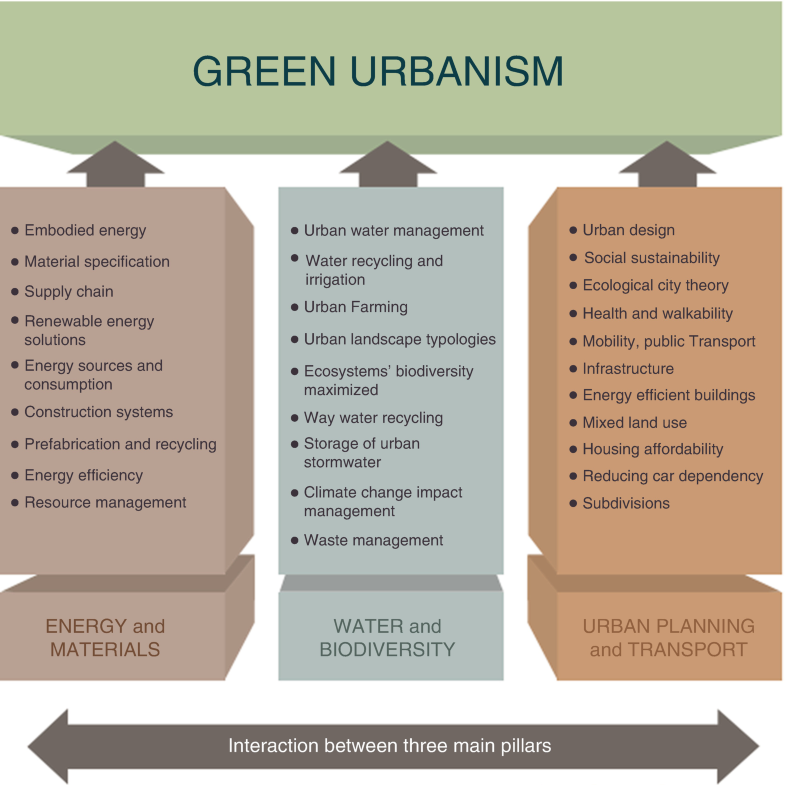 According to Newman (
2010
), there are seven features of green urbanism and seven types of cities that could be built:
1.

Renewable energy city – In this model urban areas should be powered by renewable energy produced within cities integrated into their land use and make it an important component of the urban economy. Masdar City in the UAE is an example of a 100% renewable energy city. Other examples include North Port Quay in Australia, which is designed to be 100% renewable; Freiburg, Germany; and Vancouver, Canada. In addition to having a small ecological footprint, renewable energy makes cities healthy and livable by promoting diverse forms of transportation.

 

2.

Carbon-neutral city – Becoming carbon-neutral is the new mantra for nations, cities, corporations, and households. There are three steps to become carbon-neutral: (1) reducing energy use everywhere from building and transportation sectors, (2) using renewable energy as much as possible, and (3) offsetting CO2 emission by purchasing carbon credits or planting trees. Examples of cities phasing out fossil fuel use and are progressing toward a carbon-neutral future are New Castle, Sydney, Vaxjo, and Vancouver.

 

3.

Distributed city – This framework advocates for a decentralized system of power and water distribution system. In the past 100 years, cities' power and water systems have become more centralized and inefficient in reducing the city's ecological footprint. The distributed water system is built around the natural water cycle that uses rain and local groundwater sources to feed into the system and then recycle "gray" water locally and "black" water regionally to ensure a significant reduction in water use. Similarly, renewable energy produced and consumed at the local level can prevent power loss during long-distance distribution. Toronto, Canada, and Malmo, Sweden, have successfully implemented a distributed power system by installing rooftop solar panels and water management systems.

 

4.

Biophilic city – This city type uses natural processes as part of the city's infrastructure. They rely on green infrastructure, which is maintaining and recreating wetlands, urban forests, community gardens, parks, and green spaces, which benefits the city and its residents by providing fresh food, clean water, climate moderation, and cleaning the air. Urban agriculture is widely implemented as part of integrating ecology into urban landscape.

 

5.

Eco-efficient city – This type of cities aims to reduce their ecological footprint by reducing waste and resource use. They do this by adopting a circular or closed system of resource use and waste recycling. Eco-efficiency can be achieved in developing nations by using human resources to sort, recycle, and reuse materials by local industries, buildings, and food production. A good example of an eco-efficient city is the Hammarby Sjostad neighborhood in Stockholm that uses biogas generated from wastewater and organic waste generated by the residents.

 

6.

Placed-based city – Here cities focus their economic agendas to reflect local place identity and are localizing energy, food, materials, and economic development to strengthen local community. The belief is that having such activities in the community developed a sense of place among the residents who then adopt sustainable lifestyle to enhance the city's image. They become part of the change process. According to Newman, "The more place-oriented and locally self-sufficient a city's economy is, the more it will reduce its ecological footprint and the more it will ensure that its valuable ecological features are enhanced" (p. 158).

 

7.

Sustainable transport city – These cities promote walkability, mass-transit systems, cycling, and renewable energy as the source of power. This transformation serves two purposes – reducing greenhouse gas emission and managing traffic congestion. Three ways cities can transition to sustainable transportation are (1) high-density planning and urban form, which promotes walking and makes public transport efficient; (2) infrastructure priorities and transit planning, investing in electric rail system can bring multiple benefits from addressing fuel scarcity to decarbonizing the economy; and (3) street planning and mobility management, this is about building "streets not roads" where people can walk, cycle, and be safe.

 
Examples of Green City Across the World
The top 20 green cities in the world are in Europe and North America and include cities like Copenhagen, Stockholm, Oslo, San Francisco, Vancouver, and New York City. These cities' green agendas include green economy to transportation to waste management. Below are some of the characteristics of green cities across the continents as highlighted in the Green City Index (EIU 2012). It includes examples of cities that have achieved a great level of sustainability and highlights sectors cities need improvement.
Characteristics of Green Cities in Europe
Oslo uses the highest share of renewable energy at 65%. The Index average is 7%.

Copenhagen and Berlin's residential buildings consume almost 40% less energy than the Index average.

In Stockholm, 68% of people cycle or walk to work, the highest percentage in the European Index. In contrast, in Helsinki, another Scandinavian city of similar size, only 16% do so.

Riga offers the longest public transport network at 8.6 km per km2, almost four times the Index average of 2.3 km per km2.

In Kiev, 74% of the population uses public transport to get to work. This is the highest figure in the European Index and Kiev ranks 30th overall.

Tallinn consumes the least amount of water, only 138 liters per person per day, compared with the Index average of 288 l.

Amsterdam has the lowest water leakage rate of 4%, in Sofia this is 61%.

Helsinki recycles 58% of its waste, compared with the Index average of only 18%.
Characteristics of Green Cities in North America
Electricity consumption by cities ranges widely, from 10 gigajoules per capita in Cleveland to 152 gigajoules in Atlanta.

New York is the most densely populated city in the Index, with almost 10,700 residents per km2, compared with the Index average of 3,100.

Atlanta has almost three times as many LEED-certified energy-efficient buildings as the Index average (18.3 buildings per 100,000 people versus the Index average of 6.4 buildings).

Vancouver has the longest public transport network in the US and Canada Index, but it is New Yorkers who use public transport most frequently to get to work (37%).

About 90% of US residents use their cars to get to work.
Characteristics of Green Cities in Latin America
Mexico City has the highest level of energy efficiency, only using 0.3 gigajoules of electricity to generate $1,000 of GDP (Index average, 0.8 gigajoules).

All cities regularly monitor air pollution and have some kind of code to improve air quality.

Rio de Janeiro and Curitiba have the longest public transport networks, with an estimated 8.7 km and 8.5 km per km2, respectively, compared with the Index average of 5 km.

Wastewater is often not treated adequately: 8 of 17 cities treat 50% or less of their wastewater before discharging it.

In Medellin, only 7 in 100 residents own a car or motorcycle. In Buenos Aires this figure is 66 in 100 residents.

Water leakage is a challenge for all cities. The lowest water loss is 21% in Monterrey; the highest amount is lost in Rio de Janeiro, at more than 58%.
Characteristics of Green Cities in Asia
Tokyo created the first cap and trade system in Asia in April 2010. The scheme aims to cut energy-related CO2 emissions by 6% by 2015 and an additional 17% by 2020.

Population density ranges from fewer than 1,000 people per km2 in Wuhan to more than 27,000 people per km2 in Mumbai.

Seoul has the densest public transport network in the Asian Green City Index. 6.6 km per km2 versus the average of 1.7 km per km2.

Tokyo has the lowest water leakage rate in the Asian Index, at 3%, compared with the index average of 22%. Jakarta had the highest water leakage rate, at 50%.

In Manila, only 12% of the population has access to sanitation.
Characteristics of Green Cities in Africa
South African cities generate on average 3 t of CO2 emissions from electricity consumption per person. That is more than 5 times the figure for North African cities and 60 times the figure for the other cities in sub-Saharan Africa.

Cairo is by far the most densely populated city, with 19,000 residents per km2, compared with an average of 3,500 in the other African cities.

Cape Town and Johannesburg have the greenest space in the African Index, at an estimated 290 m2 and 231 m2 per person, respectively. The Index average is 74 m2.

An estimated 38% of residents live in informal settlements across the 15 cities; in Maputo the figure is 70%.

Waste production figures range from 160 kg per capita each year in Addis Ababa to more than 1,000 kg in Pretoria.

Residents' access to sanitation also varies widely, from 49% in Maputo to 99% in Casablanca.

Durban has a target to become a zero-waste city within 20 years and carbon-neutral by 2050.
The global comparison of cities shows that cities are at various level of achieving sustainability. The difference is stark along the economic status of the nation and region. As expected, cities in the USA and Canada and Europe are the wealthiest and greenest among the regions. Latin American cities lead Asian and African cities for the number of parks, open spaces, and other green areas. Asian cities are by far the densest among the regions; US and Canada cities trail the rest. The North American cities have highest per capita CO2 emissions than Europe and Asia combined. Latin American cities lose the most water across the five regions. Far more US and Canada city residents travel to work by car than in European cities. The US and Canada cities consume by far the most water among the five regions. Asian cities have higher sulfur dioxide concentration levels than European and Latin American cities combined. European cities produce the most waste per capita, followed closely by Latin American and African cities. Particulate matter pollution in Asian cities far outstrips levels in Latin American and European cities. The above analysis reveals that there are different pathways to measure and achieve green city status. It is also evident that cities can learn from each other in making their programs cost-effective and inclusive to promote sustainability.
Planning and Development of Green City
Cities are the centers of future economic growth that will generate national wealth and offer millions of people a hope for a better quality of life. Globally, urban areas are under pressure from rapid migration from rural areas to cities that is also affecting urban environments. Ecologically sensitive land is under threat, and infrastructure to deliver public services is under strain. Furthermore, extreme weather events caused by climate change threaten urban areas through flooding, droughts, and storms. The future of urban areas is gathering knowledge on the best practices and implementing them worldwide. The EIU (2012) nicely concluded the future direction for the cities to become sustainable:
Governments everywhere need to collaborate on a uniform standard for environmental data, so that a given city in one part of the world can easily compare its results to any other, in order to learn from its peers and improve its performance. Guaranteeing sustainable growth in the face of overwhelming urbanization is one of the world's biggest tests in the coming decades. To meet the challenge, we must ensure that proven strategies and initiatives become the reality in the majority of the world's growing cities. (46)
Urban Greening
Urban greening movement began in the 1960s and 1970s as cities lost population to the suburbs leaving behind vacant lots. Communities started to create community gardens to address urban blights. Today's most successful community garden programs in the USA were started in the 1970s: Green Guerillas in New York City, TreePeople in Los Angeles, Philadelphia Green in Philadelphia, and P-Patch in Seattle (Carlet et al. 2017). An example of greening cities is implementing urban agriculture projects, which can transform vacant properties into multifunctional and sustainable spaces and provide an opportunity for residents to reconnect with food production, improve food access, and promote sense of community through gardening (Carlet et al. 2017). In addition, urban agriculture can become an effective way to transform postindustrial landscapes into urban farms, community gardens, and parks. Furthermore, urban agriculture can provide a supply of fresh food and water, as well as regulate climate, air, and water quality, and various cultural services. Urban agriculture has many benefits. Researchers from the Ohio State University in Cleveland, a city of 400,000 residents, farmed more than 18,000 vacant lots and found it could provide 46–100% of fresh produce, 94% of poultry and eggs, and 100% honey. This would save the city 29–100 million in food money (Grewal and Grewal 2012).
Urban greening is nowadays incorporated in sustainability plans and environmental programs by local governments and organizations that recommend diverse treatments and interventions. Some of the interventions include (Carlet et al.
2017
):
1.

Conversion of neglected urban parcels and public rights-of-way into parks, trails, and open space – redesigning empty lots into green space will provide social and ecological benefits to the residents.

 

2.

Vacant land/lot greening as neighborhood stabilization strategies – removal of construction debris and planting native grass and flowers.

 

3.

Temporary pop-up interventions – pop-up gardens, parklets, and "open streets" are community-focused urbanism that connects people and places.

 

4.

Green infrastructure – one of the simplest forms of GI is rain gardens that also helps reduce storm water runoff.

 

5.

Urban agriculture – it is the act of raising animals and growing fruits and vegetables within city boundaries. Community gardens are the most form of urban agriculture that is used as a community development tool and to grow fresh produce for local businesses.

 
The Green City Index recommends a seven-step pathway to a greener city (EIU
2012
):
1.

Good governance and leadership at the metropolitan level: Although national policies will provide direction for sustainability, city-level leadership is just as crucial. For best results, national legislation should leave enough autonomy for cities to address their issues and make their own investment decisions. National policies should be complementary and not competitive with cities' goals.

 

2.

A holistic approach: Best-performing cities in the Green City Index took a holistic approach to environmental problems; they recognized that performance in one category, such as transport, is linked to success in others such as air quality. For example, Curitiba in the 1960s implemented integrated programs to curb rapid population growth. These included polices across departments, including strategies to limit urban sprawl, create pedestrian areas, and provide low-cost rapid transit. More programs like creation of green areas, waste recycling and management, and sanitation were added later.

 

3.

Wealth is important, but at the initial stages of development, the right policies matter more: It is true; a correlation exists between greater wealth and better environmental performance across the cities. It is found affluent cities can invest more money in infrastructure and set aside more generous budgets for environmental oversight. However, money is not everything. Cities with below-average income have outperformed those with higher income (Bogota, Accra). They can produce better results by implementing low-cost projects such as tree planting and payment for waste pickers. The EIU writes (2012), "A central issue for cities in the developing world is to work towards limiting the environmental impact of rising consumption today, rather than waiting for attitudes to change as incomes grow. This can be done by investing in efficient infrastructure, initiating public education campaigns and setting targets – for example, for more renewable energy, green spaces and air quality as well as addressing the growth of informal settlements" (41).

 

4.

Civic engagement: Comparison of cities revealed that cities scoring high in the Green City Index had more volunteerism in the city. Involving people in environmental decisions is considered an essential element toward a green city. More needs to be done to increase citizens' participation in the decision-making process and access to programs and policies.

 

5.

The right technology: Technology can play a significant role in reducing environmental impacts and reduce costs for energy, water, or waste disposal. For example, in London technological levers were projected to reduce the city's total CO2 emission by 44%. Sectors' technology can have an impact include retrofitting buildings to save energy, waste management, landfill construction to capture methane gas, water filtration and distribution, and adoption of renewable energy like solar power.

 

6.

The green and brown agenda need to go hand in hand: Brown agenda focuses on human health and poverty reduction, and green agenda looks to improve sustainability of ecosystems. In many cities, economic growth or brown agenda tends to dominate urban policies; however, the two agendas go hand in hand. Some of the benefits of green agendas include reduction of municipal waste and sewage, improve the efficiency of energy and water provision, and even create jobs and wealth through investment in infrastructure.

 

7.

Tackle informal settlements: The EIU claims the reason for many African cities ranking low on the Green City Index is because of the 70% of the urban population living in slums. Informal settlements that exist outside of formal planning policies lead to higher pollution through inadequate sewerage and waste management. Inclusion of these settlements in the overall urban agenda tends to lower solid waste pollution.

 
Conclusion
Historically, urbanization has always had a negative impact on the environment. Development of cities was at the cost of natural destruction: clearing forest, polluting rivers and air, and leveling mountains. This trend continues even today across the world. In the decades after the 1970s environmental movement, cities are repositioning themselves as balancing development and environmental conservation. Sustainability has taken hold in urban planning, even though it may not take the center stage; environmental values were always discussed. Campbell (1996) discussed how urban planners presented three perspectives on sustainability: (1) The economic development planners view the city as a place where production, consumption, distribution, and innovation happen. Here, the city competes with others for markets and new industries. Space has economic value for highways, market areas, and commuter zones. (2) The environmental planner sees the city as a consumer of resources and generator of wastes. The city always poses threat to nature because of its conversion of resources and land. City space is seen as ecological space for greenways, river basins, and ecological niches. (3) The equity planner sees the city as a space of conflict over the distribution of resources, of services, and of opportunities. The competition happens among different social groups in the city itself. Here, space is a social space of communities, neighborhood organizations, and labor unions. Campbell called them the three corners of the triangle, and the goal of this model is to get to the center where all three goals can be met. In other words, sustainable development can be achieved by getting to the center.
Therefore, green city as a sustainable concept is not about greenery or ecological systems alone, but it is about achieving all three – economic, ecological, and equity – with the least possible impact on the environment. In fact, the goal should be to improve the environment while doing green city planning and development. Countries can build sustainable cities by investing in infrastructure and capacity development to narrow social development gaps by increasing access to good-quality public transportation, water and sanitation, health, education, housing, and energy services. Also, they can invest in urban resilience to use more renewable energy sources, create jobs through green growth, retrofit buildings and increase green areas, and adopt adaptation and mitigation strategies. Cities can also improve efficiency in the use of water and electricity and effectively manage waste and recycling systems. Green city can be a vital component for urban planners and governments in achieving sustainable urban development.
Copyright information
© Springer Nature Switzerland AG 2019
Section editors and affiliations