Corporate Security (Structure, Roles, Duties)
Living reference work entry
DOI:
https://doi.org/
10.1007/978-3-319-69891-5_19-1
Keywords
Corporate security 
Crime prevention 
Environmental design 
Ethics and compliance 
Workplace violence 
Collective bargaining agreement 
Electronic security systems 
Design basis threat 
Classical persuasion model – CARVER 
Definition
Corporate security is responsible for overseeing the physical protection of a company's property, personnel, data, and intellectual assets, as well as identifying, mitigating, and managing security and safety threats to the company's resilience and continuation.
Introduction
Corporate Security focuses on the application of governance practices to ensure company principles, polices, and procedures are identified and applied as designated within the organization. Two major changes in corporate security since September 11, 2001, include the types of people who serve as directors and the policies implemented (Nemeth 2018). Initially, the majority of security directors had been retired law enforcement officers who worked predominantly in inner cities, trying to reduce crime and assist the public. Corporate America's mentality was that retired law enforcement officers would be good directors because they had the experience and expertise in dealing with security and criminal matters (Nemeth 2018). Organizations today are seeking security professionals with former military experience or law enforcement backgrounds, as well as an advanced degree in business, security, or management (McCrie 2016). These directors need to know about both public and private security notions, including: community policing, crime prevention through environmental design, electronic access control and monitoring systems, loss prevention, protection of intellectual property, how to deal with active shooters, and implementing emergency management (Nemeth 2018).
Changes in corporate security's policies occurred as a result of its global function in today's society. The security management team is responsible for surveying, mitigating, and managing an organization's footprint (McCrie
2016
; Nemeth
2018
). It ensures the continuance of an organization when a disaster strikes through planning and strategy development. Any potential threat must be considered and reviewed by security personnel (McCrie
2016
). The team must also take into consideration that not all strategies will fit an organization's security profile (see Fig.
1
). For example, security procedures from hospitals, retail stores, and education facilities will be significantly different. Organizations must adhere to security regulations and standards based on their city, state, and federal classifications, as well as the industries' governing bodies.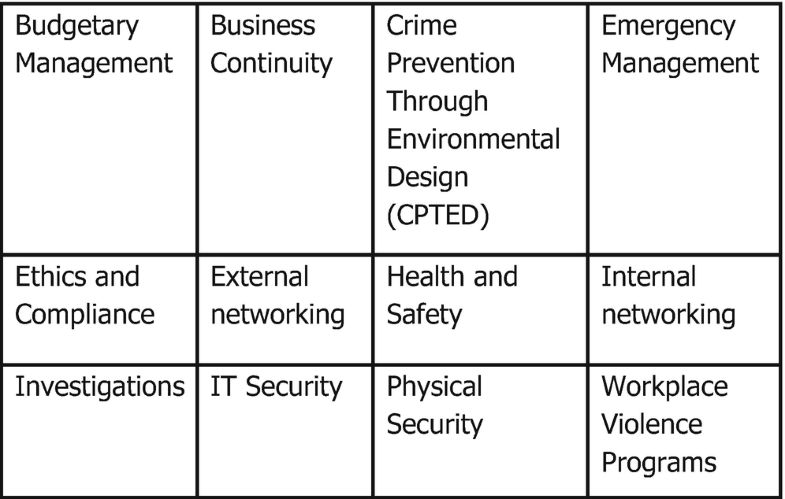 Corporate Security continues to face challenges as corporations expand and increase their profits, requiring private security to protect its assets (McCrie 2016). Many organizations are now hiring Chief Security Officers (CSO). The CSO is an organization's most senior executive accountable for the development and oversight of policies and programs (The Hallcrest Report II). The CSO is part of the C-Suite (i.e., titles beginning with "chief") which is usually the most senior executives in the organization (e.g., Chief Executive Officer, Chief Marketing Officer, Chief Financial Officer).
Chief Security Officer
The CSO is responsible for the protection of life and property of all those working at or visiting the company's facilities. The main duties of the CSO is to forge interdepartmental connections (e.g., Facilities, IT, Legal, Communications, Human Resources and Procurement) and to develop policies and strategies that safeguard and protect all assets owned by the organization. It is important for the CSO to stay current regarding all internal and external security and safety related issues. The CSO must ensure the security staff are properly trained and equipped to deal with potential issues that arise and mitigate these hazards as quickly as possible (see "Personnel Security: Training" in this encyclopedia). CSOs manage all investigations and formulate strategies to respond to serious events that may impact the organization. Events, such as labor disputes, weather conditions, power disruptions, terrorism, and active shooter incidents, can impact an organization on multiple levels. Their ability to interface with external organizations, from law enforcement agencies to local community groups, is vital to their success, as is their ability to understand accounting and budgeting responsibilities. Finally, CSOs must be able to communicate their visions to the organization effectively.
Challenges for Corporate Security Department
So, what exactly are the challenges of Corporate Security department? In this section, the six challenges that corporate security departments face (i.e., Budgets, Electronic Security Systems, Workplace Violence including Active Shootings, Fire Safety, Communications and interfacing with External Agencies) are discussed.
Conclusion
Corporate security will continue to face internal and external challenges. A paradigm shift in security has occurred due to the introduction of new technology, methods, and trends in response to threats and criminal actions against corporations. As quickly as a threat is discovered in business, it is the responsibility of the corporate security department to mitigate it. This takes strategy, financing, and support from senior management to mitigate risks and operate an effective corporate security department.
Copyright information
© Springer Nature Switzerland AG 2019